Cranberry Sauce with Red Wine and Figs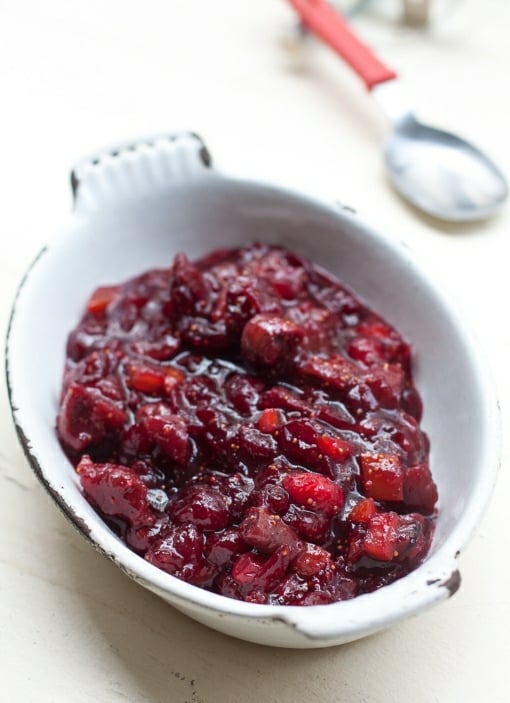 People often ask me what Parisians do for Thanksgiving. And while many French holidays are celebrated in America, Thanksgiving is one that doesn't cross the Atlantic.
I've done a Thanksgiving dinner for friends and it takes quite a bit of time to find and assemble all the ingredients. And although a few stores that cater to American expats stock everything, it's more fun to make fresh pumpkin puree for pies, break up a pain au levain for stuffing, and to get a free-range French turkey – which I found out that many poultry sellers with rotisseries will pop it on their spit-roaster for you, which is a boon for those in Paris with dinky ovens.
And, if I may be so bold, Thanksgiving is a holiday where we spend eating food that doesn't especially appeal to people outside of the United States. The French eat pumpkins, but roasted, and not in dessert. (Nor with marshmallows!) The French version of stuffing, or farce is mostly meat, with a bit of seasonings to round out the flavor. And flour-thickened brown gravy isn't quite the same as sauce au jus de volaille.
So while we Americans love all that stuff for nostalgic reasons, people in France don't have that same set of references we do, and most seem to politely "appreciate" it, but I don't know any French people who hoard molasses or stuffing mix, or spend the few months prior to November downloading Thanksgiving recipes.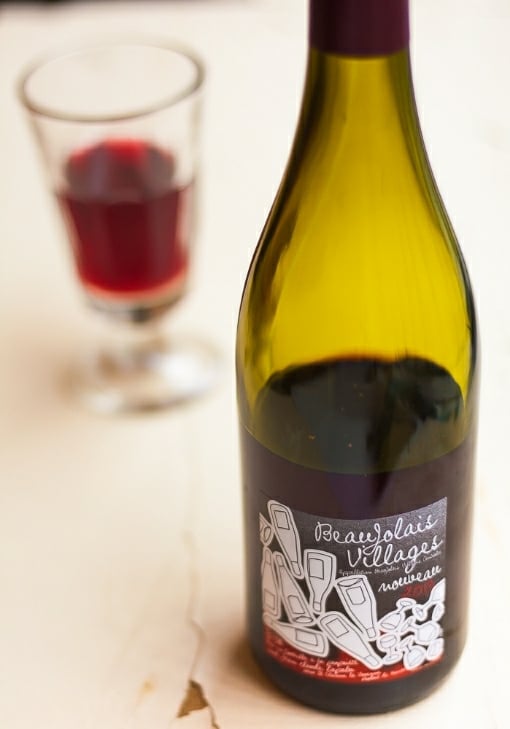 One French fête that Thanksgiving neatly coincides with is the release of Beaujolais Nouveau, which happens annually on the third Thursday of November. The wine is very young and while there are signs promoting its release in windows of wine bars and shops in Paris, few of my high-fallutin' wine friends will drink it. But there are some of us that will drink anything, so I usually have a glass or two, just to get into the spirit of things.
Another thing you see around Paris in November are fresh cranberries. Purveyors get them for les américains, and those little bags of red bead-like berries command a premium price – bien sûr. After the holiday passes, though, no one seems to have gotten the memo that you're supposed to reduce the price after Thanksgiving because the panic to buy them is over. So it's not economical to stock up and freeze them for future use.
I invest in them annually because I love cranberries and so do my American friends. And more and more, a few of my French friends do, too. This year, I decided to combine what was left of a bottle of Beaujolais Nouveau with a bag of my precious red gems, along with dried figs, to extend the pricey bounty. And I served it forth, giving thanks to my friends and family who gather around the table with me, not just on one particular day of the year – but for all the other times that we do as well.
Cranberry Sauce with Red Wine and Figs
Adapted from
Epicurious
You can use any red wine that you like, one that's fruity will work best – gamay, merlot, syrah, and Brouilly all are good choices. If you can't get the candied orange, you can omit it or add the zest of 2-3 oranges. The figs work well as they don't compete too much with the cranberries, which should be the star. But other diced, dried fruits would work; such as apricots, prunes, or pineapple. Light raisins would be nice, or perhaps go the all-berry route with dried cranberries or sour cherries.
1

cup (250ml)

fruity red wine

1

cup (170g)

diced dried figs

,

hard stems removed

12

ounces (340g)

fresh or frozen cranberries

1/2

cup (100g)

diced candied orange

3/4

cup (150g)

sugar

1/8

teaspoon

powdered allspice or cinnamon

2

teaspoons

apple cider or red wine vinegar
In a non-reactive saucepan, heat the red wine and diced figs together until the wine is hot. Cover, remove from heat, and let stand 30 minutes, to soften the figs.

Drain the figs then add the wine back to the saucepan along with the cranberries, candied orange, sugar, and allspice or cinnamon and cook, covered, over medium heat until the cranberries have burst and are softened, about 10 minutes.

Remove from heat and stir the figs and the vinegar into the cranberries.
Notes
The sauce can be made up to one week ahead and refrigerated. Let come to room temperature before serving.
Related Recipes