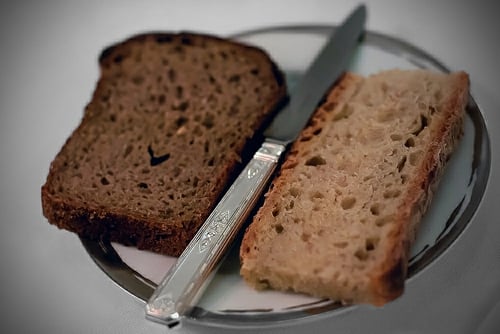 A few years ago, a good friend who has sadly moved away, was kind enough to take me to Restaurant Le Meurice for dinner. The first memory of walking into the done-up dining room was the way the waiters brought her an Hermès stool for her purse, which was an Hermès Kelly bag. The second memory I have, was shortly after when we sat down and they asked if we wanted apéritifs. I'd heard about the house apéritif they were serving back then, which was famous, so I ordered one.
Out came a tall glass of bubbly, tinged with sweet rose liqueur and a giant bow made of orange peel flopping off the side of the glass. I can deal with ordering something I didn't like, but was irked me was that I had to ask the waiter three times for it. Finally, after thirty minutes, he brought out the drink, vaguely apologizing for it, saying "It's a very complicated drink for the bartender to make." Being the house cocktail notwithstanding (which you would think anyone there would know how to make in their sleep), having worked in the restaurant business, I know that when you mess up, you apologize (everyone makes mistakes; acknowledge it, and move on.) Then be a sport and comp the person their drink. It costs practically nothing and builds an immeasurable amount of good will. Not doing so is cheap.
Unlike the fabulous company, and stool for her purse, the meal wasn't especially memorable. I wasn't impressed with the single raw oyster methodically sliced into several pieces, nor was I enamored of the puff pastry cart that came around when guests were done with their meal, where diners could select your choice of oversized cream-filled puff pastry slices. I don't know about you, but the last thing I want after a lengthy meal, then a cheese course, then a dessert, then chocolates, is a slab of buttery pastry filled with cream.
Fortunately the magnificent dining room has been freshened up and taken over by a new team, headed up by Christophe Saintagne who was the chef de cuisine at the Plaza Athénée, which is currently closed for renovation, and he'd sent me a note inviting me to dinner. I still haven't been able to save up enough for an Hermès bag (or anything from there – man, those belts with the big "H" are nearly €800!) but I did bring my black Coach leather backpack, which I think looks just snazzy enough (without the "H", or even a "C") which they graciously provided a stool for, all the same.
I'm gonna call it and say that the first course was the best thing I ate in 2013. Out came an iron pot with a lid, which was set down between us along with two long forks and little bowls of sorrel mayonnaise. When they lifted the lid, we were presented with a simple tumble of vegetables cooked over a concave demi-circle of coarse, gray salt.
Each vegetable was au nature, but each one was the most marvelously flavored vegetable I ever tasted in the last ten years. I don't quite know what made them so tasty as they weren't floating in rivers of butter or cooked with herbs – they were just presented as-is. They were served very hot, not scalding, but where practically glowing with an intense heat, which concentrated the essence back into each turnip, carrot, leek, and artichoke. We were both a little speechless.
Next I had a lovely little plate called Légumes et fruits, an arrangement of tiny pears, avocados, endive and bitter greens. Since it was white truffle season (and since I was going so "healthy" with two courses composed almost entirely of vegetables, I had the Volaille Albufera, a suprême of chicken (boneless breast) in a rich, creamy sauce, with a pour of port and Cognac swirled in.
It's one of those classic French-style dishes with lots of rich sauce that make you realize that you couldn't possibly be in any other country, but had the added bonus of white truffle from Alba shaved copiously over the top. And what a bonus!
Our other favorite dish was the Chevreuil with pepper sauce, a simple preparation of Euro-deer that we forked up. After dinner, when I went into the kitchen to speak again to the chef (who we saw on the way in), I nodded toward the large fireplace in the dining room and said that on Sundays, he should open the place as a rotisserie because he's such a master at roasting meats, in addition to straightforward, exceptional presentations of vegetables, and it'd be fun to have an evening at tables around the fire in this grand room with him manning the flames. Considering he probably works twelve-to-fourteen hour days, I think he's probably find taking Sunday off with his family, though. So no dice.
At a place like this, with 3-Michelin stars (which were earned by the previous chef, but I am sure he will hold onto them), the details are often just as interesting as the food on the plates. Service is exquisite and as an American, I can detect a subtle shift in the way servers in high-end restaurants talk to Americans, who expect servers to be friendly and personable, even at this level of dining, as opposed to Europeans, who are used to service being more reserved and mannered. Although not all. Romain will say anything, to anybody. So there goes that theory, I guess.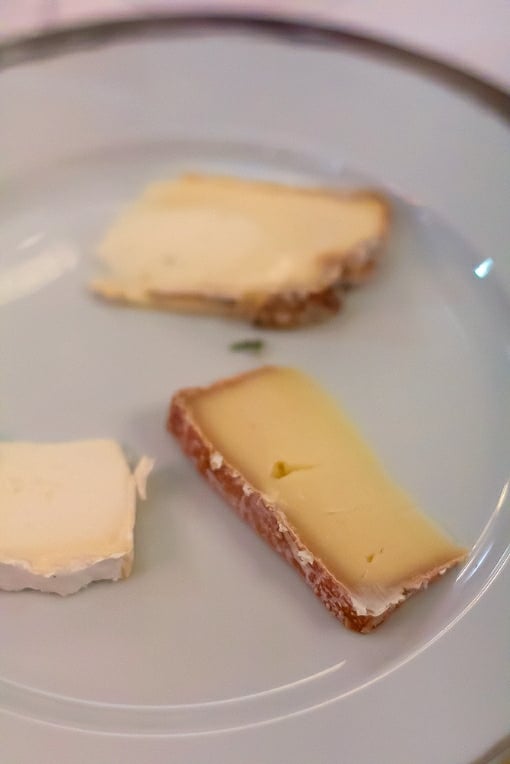 I also liked how the cheeseboard at the restaurant was "edited" – which means that instead of the usual, oversized groaning board of cheeses many starred restaurants lurch over toward you, it's a pleasure sometimes to have a more carefully selected group set forth. I waved away the usual (but excellent) suspects (Comté, Livarot, etc) because I was interested in the cheeses they had that I'd never seen before, most likely made on a smaller scale and not widely available. If only I was a better reporter, I would have remembered their names.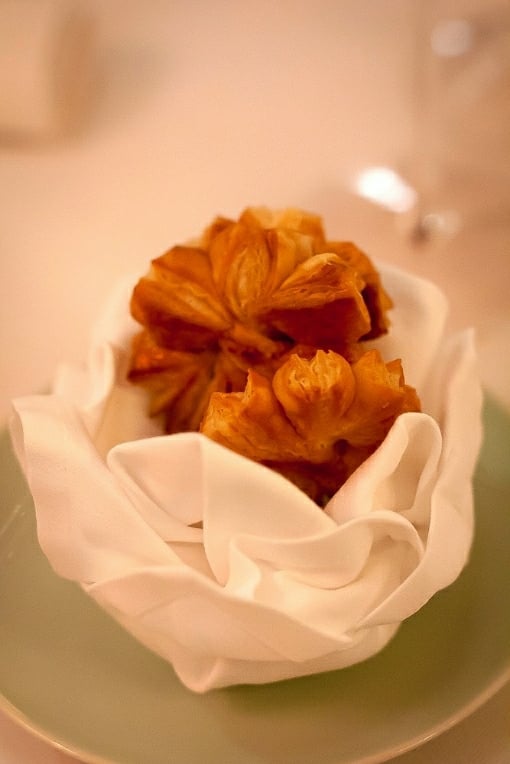 But I can report that desserts were excellent. I dialed back in on Agrumes, a dessert that won me over at the Plaza-Athénée made with Campari sorbet, candied orange zest, and a quivering pool of cool citrus jelly at the bottom of the glass. Romain had the Vacherin exotique, which was, indeed, exotic for this dessert – often a disk of meringue with ice cream or sorbet, and whipped cream.
But this time, pastry chef Cédric Grolet, took the dessert apart and created a playful bowl of meringue shards, passion fruit pulp and seeds, curls of coconut, dried pineapple, and tropical fruit sorbet. I love when pastry chefs know exactly what guests are going to want after a dinner composed of a number of diverse courses, to refocus you, via a dessert that refreshes you -rather than leaving you with the feeling that you've finally had the last mouthful you'll ever be able to eat again.
As mentioned (although it might be hard to remember, since I've gone off on so many tangents..), the staff is particularly astute and when my outgoing French other-half dropped some major hints about the house made rye bread, which was unbelievably good, on the way out, they brought us out un doggy bag with few slices for breakfast the next day, along with a mound of salted butter, which wasn't just a nice petit dejeuner, but also a delicious souvenir of the meal the night before.


(Note: We were invited by the chef of the restaurant for this meal.)