A few years ago, I had a fruit emergency. To you it might not seem that urgent, but it was springtime and I was finishing a book and needed to retest a recipe that called for persimmon puree, which I wanted to give it one last try before it went to the printer. Persimmons are fall fruits and it's impossible to find them outside of their season. As much as I searched and searched and searched, there were none to be found.
So I started keeping an emergency bag of persimmon puree in my freezer at all times. I don't know why, because I haven't had a persimmon emergency since them (but ya never know!) and I try to buy them fresh whenever I can.
Persimmons are some of the most beautiful fruits I know of. The glossy orange orbs remind me of a Japanese painting, and in fact, persimmon trees – once all the leaves drop off – resemble sparse nature drawings of prints, with bright orange fruits hanging off spindly dark branches.
The Japanese dry persimmons, called Hoshigaki. I've never tried my hand at them, but I was excited to come across this recipe for Persimmon Margaritas, in My Bueno, a terrific book of Mexican specialties culled from three generations of Mexican cooks. It's a cocktail that combines my two of my favorite things: fresh fruit and tequila.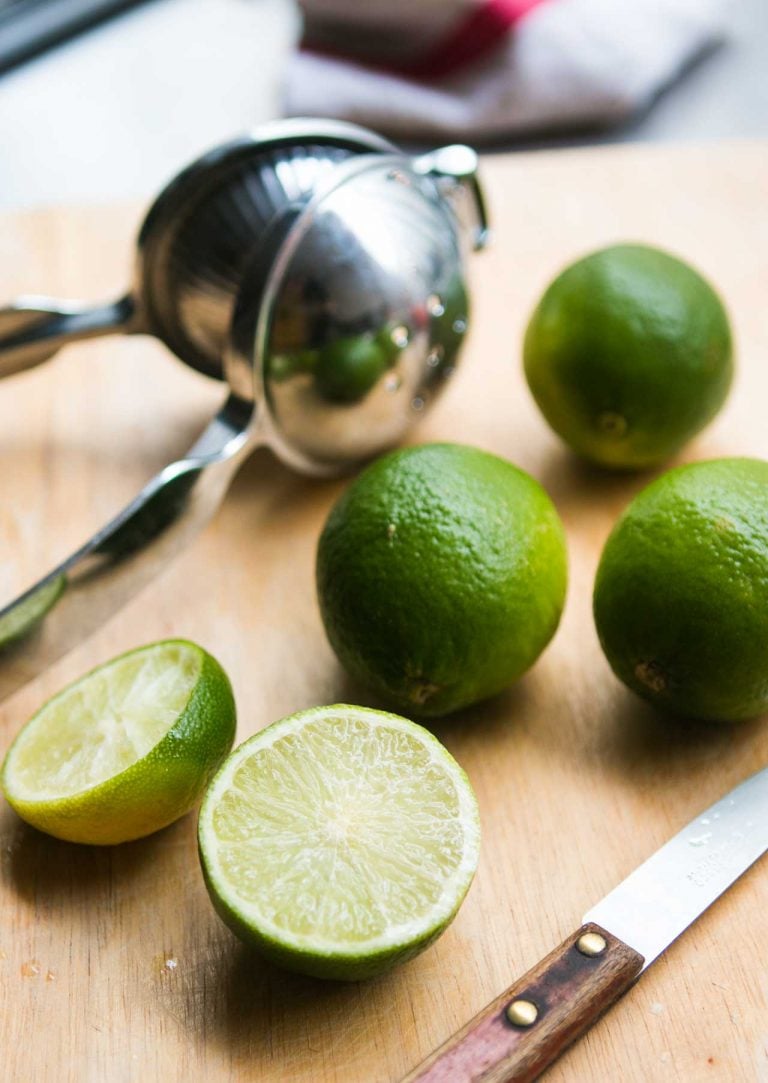 To prepare persimmon puree from a Hachiya persimmon (the ones shown above), when they are squishy soft (like a water balloon ready to burst) pull out the stem/leave, split the persimmon in two, and scoop out the pulp with a spoon. Pass the puree through a food mill or puree it in a blender or food processor. If using a Fuyu persimmon, which are firm, even when ripe, cut away the stem end, and peel the fruit like an apple. Cut the flesh into cubes and puree in a blender or food processor.
Persimmon Margaritas
Adapted from
Muy Bueno
by Yvette Marquez-Sharpnack, Veronica Gonzalez-Smith, and Evangelina Soza The authors recommend using Fuyu persimmons, although I found these margaritas also work well with Hachiya puree. The original recipe called for Fuyu persimmon puree and had twice the amount of sugar syrup that I used here. So feel free to use more, depending on the sweetness of the puree. You can start with the amount indicated and add more, to taste. The authors recommend reposado tequila. To make simple syrup, boil together equal amounts of sugar and water – 1/2 cup (125ml) water and 1/2 cup (100g) sugar – stirring until the sugar is dissolved. Remove from heat and let cool completely. Leftover syrup can be kept in the refrigerator for several weeks.
4

ounces (1/2 cup)

persimmon puree

4

ounces (1/2 cup)

tequila

1

ounce

fresh lime juice

2

tablespoons

simple syrup

,

(see headnote)

sugar

,

sea salt and ground cinnamon
Chill two margarita glasses in the freezer. Spread a thin layer of sugar on a plate, and sprinkle it with a bit of flaky sea salt and ground cinnamon.

Add the persimmon puree, tequila, lime juice and simple syrup to a cocktail shaker. Fill the shaker with ice, cover, and shake vigorously until well-chilled.

Remove the glasses from the freezer and press the rims into the sugar mixture, ensuring that the entire rim gets coated.

Divide the cocktail mixture into the glasses. Garnish with round of fresh lime if desired. They can also be served over crushed ice.
Related Recipes and Links
Cranberry Margaritas (Leite's Culinaria)
Persimmon Pudding (Simply Recipes)