My interest was piqued the other day when I was reading a popular user-generated review site, and came across a review for a restaurant in Paris. The author said they could tell they were in a good place because when they walked in, nobody was speaking English. In an international city like Paris, I don't mean to be Déborah Downer (pronounced dow-nair), but a lot of people in Paris speak English. And I find it curious that tourists don't want to go to a restaurant where there are other tourists. (Good thing they don't feel that way about hotels – I doubt there's be any place to sleep!) It's as if the presence of foreigners equals bad food.
I, for example, am often a tourist and I love eating well when I travel. I hope the presence of me and my friends dining in a restaurant, say, in Palermo or Vancouver, don't portend to potential diners poking their heads in, that a restaurant sucks.
Restaurants in Paris often offer menus in English for a couple of reasons. One is that it makes the servers lives easier as the servers (who often has their hands full), don't have to stand there and translate a menu for each and every diner. (You'll notice dining rooms in most small restaurants in Paris don't have busboys, runners, hosts, etc. The servers do it all.) And other reason is that it's easier for the diners, too.
And for his or her host as well. Such as in my case, since I often translate menus when dining with out-of-town guests and friends who don't read French. While I'm happy to run through the menu the first time for everyone, no one seems to pay attention. Then I have to go back and explain things item-by-item again. (And people always want to know things like, "If it says poulet fermier, what piece of chicken will I get?" or, "Is there going to be a sauce on that?") And by the time I've read it all through for someone, I need a glass of wine — which at this point, is a priority.
But it stuck in my craw, and I couldn't help but wondering if it's really true that the fewer people who speak English in a place has any correlation to how good the restaurant will be. I worked with a number of French people at Chez Panisse in California, and wonder how many French people may have overheard a conversation amongst them. Then, as a result, decided to go elsewhere? (I hope not, because the French people who worked there were really great cooks.)
Juveniles has been a fixture in Paris for about three decades. Owned by Tim Johnston, a Scotsman, he recently handed the reins over to his daughter, Margaux, and her boyfriend, who's in charge of the kitchen. They serve the kind of food that I'm looking for when I want unfussy, but well-prepared, French cooking. There are no silly garnishes or gimmicks. You'll find slow-braised meats, house-made terrines, and attention paid to vegetables and herbs. Because Margaux grew up in France, she's perfectly multilingual. And even though my friend and I speak French, we spoke in a mix of French and English to her, and no one appeared to be moving their tables to get away from us.
The wine list tends to wander outside of the "French" category as well, and although I started with a Juraçon sec, which was lovely, but a bit husky for a first glass/apéritif, I was happy to glide into an Italian white for the next glass. Then ending up back in France, with a bracing glass of Chablis, for a finish back en France.
(Juveniles is considered a wine bar, but is really more of a restaurant. Wine prices are very reasonable; the wines by the glass ranged in price from €4 to €6,50. Wines are also available by the bottle to go, as well.)
Aside from another table of diners, we were the only non-French people in the place. (Although my friend has a French passport.) And when the table of other English-speakers left, the owners of the place pulled down the shades, then promptly handed out new wine lists and bringing out rare, exceptional bottles, which they starting pouring for free in all our glasses. The staff quickly erased the menu on the blackboard and replaced the dishes listed with all sorts of marvelous platters of food — and get this: no main course topping out at more than €3. Margaux ran around the dining room, shaving rare black truffles (for free!) over everything, without a surcharge. And when we were done, each table was presented with a bottle of Dom Pérignon and a box of chocolates from La Maison du Chocolat. Complimentary, of course. So I guess it does pay to go to places where there are only French people dining there!
Actually, what happened was that the other table got seated with French customers, making us the lone Americans. Perhaps the French fellow sitting at the next table felt sorry for us, so he started talking to us, and even let us taste his dessert later on. But it didn't seem to bother him that we were there.
My favorite word on a restaurant menu is maison, meaning something is made in-house. So we split a meaty terrine de campagne, made on the premises, which came out with a crusty top. The other starter we shared was a soft cooked farm egg with crispy green beans and a lovely beet sauce. We were both surprised by how much we liked the beet sauce, which seemed to be simply a puree of beets, but precisely seasoned. Whatever they did to it, we liked it a lot.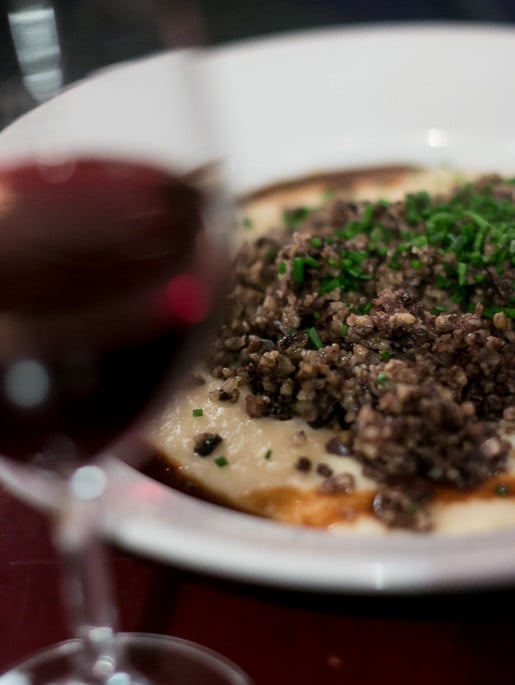 For main courses, my friend had the haggis, a nod to the Scottish heritage of the owner. (When we'd arrived, the two Frenchwomen sitting next to us were splitting the haggis.) Gosh, I didn't realize haggis was so popular in Paris. I went with the braised pork cheeks with winter vegetables and a blitz of straw potatoes.
It was terrific, although the portion was huge and I couldn't make it through it all, mostly because I'd filled up on first courses. (However, if they offered up some free black truffles, I probably could have summoned up the courage to finish them off.)
Our neighboring Frenchman, whose girlfriend had arrived, insisted I take a picture of the échine of pork that they were splitting. And they even offered us a taste.
By the time dessert rolled around, I might have passed, except it was my friend's birthday and she was eying the dessert menu like a hawk, so she ordered Donald's Chocolate Cake. I wasn't as wild about the riz au lait as I thought I'd be; perhaps if they put some of the lovely house whisky in the caramel, it could become a signature dessert. However whoever Donald is, his chocolate cake is excellent – a dense wedge of bittersweet chocolate, served with coffee ice cream. Because it was my friend's birthday, they brought us out complimentary glasses of port to go along with it.
I should also point out that as soon as that cake with the candle landed, the entire restaurant (prodded by me — which is the downside of having dinner with me on your birthday) erupted into a round of "Bon anniversaire" (aka: "Happy Birthday") in her honor. Then everyone went back to finishing their dinner.
Juveniles
47, rue de Richelieu (1st)
Tél: 01 42 97 46 49
Métro: Pyramides