Whole-Wheat Sunflower Seed Rye Bread
I had a phone interview the other day, and the journalist was so nice and interesting that we ended up talking about a whole bunch of other subjects that we didn't intend to talk about. Like a good interviewer, she didn't start off by asking the usual questions, but came up with some original ones, which was a lot more interesting than being asked for the name my favorite bistro (I have a whole list here) or who makes the best macarons in Paris, which are now available around the world. One particular subject that we talked about extensively was blogging. The interviewer asked me how long it takes to write a post.
While massaging my wrists, I thought about it for a moment and while contemplating my dwindling vision as I removed my glasses, I replied, "After writing, editing, proofreading, translating terms, adding foreign accents (sometimes by hand-coding each one), writing the recipe (it's fourteen keystrokes just to type oven temperatures – no wonder my wrists are a mess!), formatting text in internet code, taking pictures, deciding which pictures look best, eating the leftovers because I can't stand to wait any more, editing pictures, uploading pictures, and placing the pictures in the post — which is a challenge because the whole document looks like a jumble of code, rather than the pictures and text that you see here — then re-reading and proofing, and finally, publishing the post, it can take me a couple of days to get it all together."
Add to that, I love blogging and have so many things that I want to share, that I always seem to have five posts in the pipeline that I want to put up on the site as soon as possible. And I can't wait to jump into the next one.
Over the years, I've been playing around with photography, trying to take better pictures for you (and me) – not for any particular reason other than I enjoy taking pictures of food. Plus living in France, there are so many beautiful products and places, that I can't help taking a snapshot when I see something enticing. (Which I sometimes get in trouble for in Paris, if I don't ask first.) I'm not really all that interested in carefully arranged things, but I find something charming in a mess of oozing cheeses, fresh herbs tied in bundles from the market, and knocked-around avocados (with bruises and all, since I haven't quite mastered many editing tricks). Or sometimes I'll be sitting down to eat something, and it'll look kind of interesting, so I'll get up and take a few pictures. Then, one thing leads to another, then another…and before I know it, I'm racing to write up another story and a recipe to share.
Because of all the aforementioned things, it's not so speedy to publish a post. And because I've often got a bunch of other things going on, I occasionally misplace an accent grave on an "è," (or "é") or misplace some punctuation mark (which is easy to do when Americans put periods inside of quotation marks, but the British don't). (Or do.) Or something gets messed up in French, which the French do, too. I recently linked to a post by the esteemed Alliance Française on my Facebook page, and readers noted that there were a number of errors in French. If they can't get it right, how can I? ; )
In addition to loving writing and blogging about food, the other thing that I enjoy doing is my spare time is flipping through cookbooks. Sometimes it's an old favorite that I take off the shelf. Other times, it might be one hot-off-the-presses. And if something intrigues me, I either bookmark it for later, or get off my duff and bake it right away. Such was the case with Das Cookbook: German Cooking…California Style, a new book by Hans Röckenwagner, a German baker that has several restaurants and a café in Los Angeles, which unfortunately, I've never been to. And obviously need to rectify on my next visit.
Another thing the journalist asked me about was French bread. She had interviewed a New York chef who said that the best breads were from Germany — and did I want to comment on that? I have to say, I love German breads – those thick, grainy loaves that go perfect with a swipe of cheese, and are hearty enough to make a bowl of soup feel more like a meal. We have excellent French boulangeries in Paris, of course, but I like various kinds of breads and couldn't really say that I absolutely, always prefer a light, crusty baguette over a loaf of schwarzbrot. (And yes, I checked a few times to make sure I spelled that right.) But then, out-of-the-blue, a few days later over a meal at home, my French partner suddenly said that he thought German breads were the best breads dans le monde. So to each their own.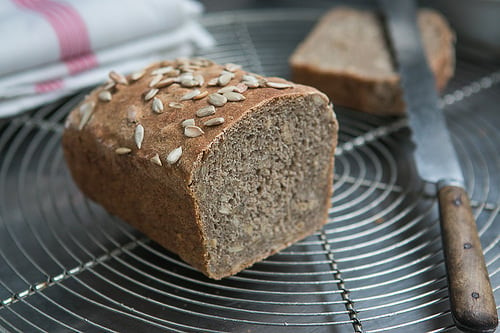 When I landed on a recipe for a dark, seed-filled loaf in Hans Röckenwagner's book, I had all the ingredients on hand, and it was simply baked in a loaf pan, no fancy baking stones or burning-hot Dutch ovens needed. So I pulled the ingredients off my shelf, proofed some yeast, and got kneading. Since we're being honest here, my bread didn't quite look like the one in the book. The crust of the one pictured in there was shiny and riddled with sunflower seeds, and mine was somewhat plain-looking.
But when I lopped off a slice and took a bite, it was perfect. It's a wonderful whole-grain bread that's not a downer to eat. I served few pieces with some goat cheese and sausages, as pre-dinner appetizers. And since it's almost winter, with the sun going down around 5pm, there's so little light in my Paris kitchen that I brought the board outside to take a snapshot. A woman walking by with her children looked at it, and said to them, "C'est très appetissant!" ("It's very appetizing.") Then I took it back inside, where we polished it off. And I couldn't have agreed with her more.
Whole-Wheat Sunflower Seed Rye Bread
Adapted from
Das Cookbook
by
Hans Röckenwagner
Please note that this bread requires three risings. Fortunately, there isn't any work to do between those risings. But allow yourself time when you make the bread. I started it the minute I woke up, and it was ready by lunch! I was thinking that next time, I may swap out a bit of the honey – perhaps 2-3 tablespoons – with mild molasses. Do make sure you toast the sunflower seeds. To do so, preheat the oven to 350ºF (180ºC) and spread the seeds on a baking sheet. Baking them, stirring once or twice, for 6 to 8 minutes. Some people like to toast nuts and seeds in a hot skillet on the stovetop, which you can do instead. I tried my own idea of brushing the bread with water and topping it with seeds before baking and most of them didn't stick. So I didn't include that suggestion here. I found this bread even better toasted. It made a nice lunch with ripe, mashed avocado on top, which I mixed with red onion, red pepper powder, a bit of olive oil, and some flaky sea salt.
1 1/2

cups (375ml)

lukewarm water

2 1/4

teaspoons (one package)

active dry yeast

,

(not instant)

2 3/4

cups (330g)

whole-wheat flour

1

cup (110g)

rye flour

,

dark or light

2 1/2

teaspoons

kosher or sea salt

1

cup (125g)

lightly toasted sunflower seeds

Vegetable oil

,

for greasing the pan
Mix the water, 1 teaspoon of honey, and the yeast into the bowl of a stand mixer. If making the bread by hand, mix them together in a large bowl. Let stand 5 to 10 minutes. Little bubbles should start to appear. (If not, you need to replace your yeast and start again.)

In a separate bowl, mix together the whole wheat and rye flours with the salt. Attach the dough hook to the mixer, or use a wooden spoon if mixing by hand. Stir the 1/4 cup (80g) honey into the yeast mixture, then gradually add the flours. If necessary, add an additional bit of flour if the dough is too wet, or another tablespoon of water if the dough is too dry. It should feel soft and moist, and when you touch it, your finger should just barely stick to it.

Knead the dough at low-to-medium speed until smooth, about 6 minutes.

Scrape the dough out onto a lightly floured countertop and knead in the sunflower seeds thoroughly, making sure that they are evenly dispersed throughout the dough. Return the dough to the mixer bowl, cover with plastic wrap or a dish towel, and let rise in a warm place until doubled, 1 1/2 to 2 hours.

Punch the dough down with your fist, cover, and let rise again until doubled, about 1 hour.

Lightly grease a 9-inch (23cm) loaf pan. Scrape the dough onto a lightly floured countertop, shape the dough into a elongated rectangle, and place the dough in the pan. Cover and let rise 1 hour. (Note that it won't rise much.)

About 15 minutes before you plan to bake the bread, preheat the oven to 350ºF (180ºC).

When the dough is ready, bake it for 45 minutes to 1 hour. It'll sound hollow when you tap it in the center. To be sure, you can use an instant-read thermometer; the bread is done when the temperature in the center is 190ºF (88ºC). Remove the bread from the oven and let cool for 20 minutes, then tilt the bread onto a cooling rack and let cool completely before slicing.
Notes
Storage: The bread will keep for up to 4 days at room temperature. It can be frozen for several months.
Related Recipes