Cranberry Sauce with Candied Oranges
It's easy to forget about Thanksgiving in Paris. There are no bags of stuffing mix clogging the aisles in the supermarkets. If you asked a clerk where is the canned pumpkin, they would look at you like you were fou (crazy). And if you open the newspaper, you won't come across any sales on whole turkeys. In fact, it's quite the opposite; a friend saw a 5 kilo turkey, an 11 pound bird, at the market the other day for €68kg, or €340 ($424).
(Although I think if you spent over four hundred dollars on a turkey, you wouldn't forget it for a long, long time.)
I suggested that the turkey vendor perhaps forgot a comma because whole turkeys are, indeed, available in Paris, and they actually excellent since most are fermier, not the plump whoppers you see in the states. The only thing you have to be careful about is that one turkey might not be enough if you're feeding a large crowd, say, a group of over six people.
Savvy Americans know to order a whole turkey in advance from their butcher and – get this: You can ask them to cook it for you. Yes, since the butchers usually have spits with roasting chickens on them, it's usually not a problem for them to slide a turkey on there. That's especially nice because most people in Paris just have one oven and it's hard to tie it up for the entire day with just a bird roasting in it when you've got so many other things to bake and cook off.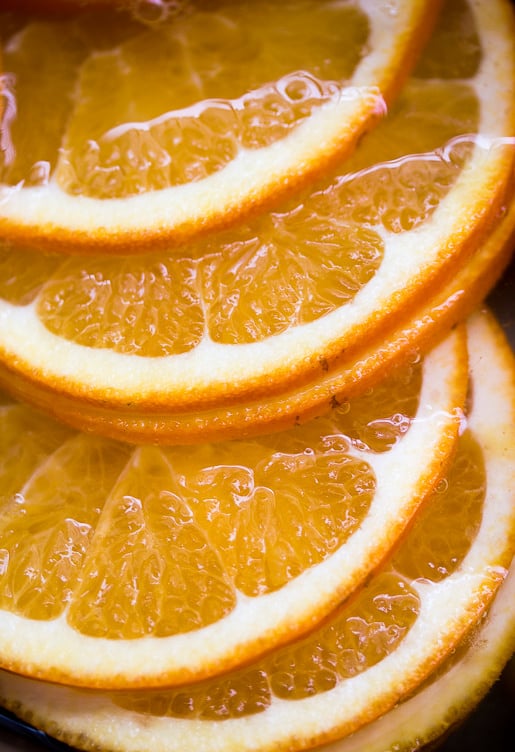 The reason I am sharing this recipe today, rather than days ago when everyone was in a tizzy posting recipes, shopping and preparing their menus, is that I kind of forgot that it's Thanksgiving. Actually, I didn't quite forget, but wasn't swept up in the frenzy because this week, and today, are just like any other week or day in Paris.
People go to work and school, banks and stores are open, and no one is setting their alarms for le vendredi noir (Black Friday), although that's starting to happen in France ever since the government loosened their restrictions on allowing sales more than the government mandated twice-yearly ones, as they did before the economy took a dip. (Tomorrow, I suspect at least one vendor selling an expensive turkey in Paris is going to have to offer a serious mark-down if he wants to sell that bird.)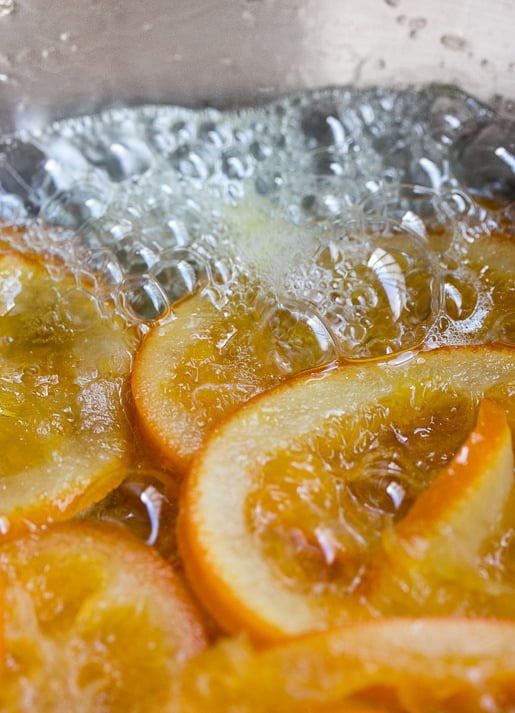 So we're celebrating tomorrow night with some friends who are making dinner. I'm pitching in and doing some baking, as well as bringing a nice bottle of Sauternes. I also happened to have a few cans of cranberry sauce that I had brought back from the states, that I was planning to bring, just for fun.
I sent my hostess a photo and she wrote back right away, threatening to blackmail me by making my canned contraband photo public. I beat her to the punch, posting it on Instagram. But when I noticed that of the four ingredients in the can, two were industrial sweeteners, I decided to take matters into my own hands.
Fortunately I had a stash of fresh cranberries in my freezer, since if a turkey was €68 a pound, I'd have to dig deeper into my pockets if I was going to have to buy fresh cranberries in Paris on Thanksgiving Day.
I candied some organic orange slices (which were normally priced), simmered up a syrup with the sharpness of cider vinegar and a hit of dark rum, then added my precious canneberges, cooking them 'til they popped. I stirred in the candied oranges, then packed it up, ready to go – getting a recipe in just under the wire.
Happy Thanksgiving!
Cranberry Sauce with Candied Oranges
Note that the orange slices may fall apart as they get close to being done. Not to worry; they're just going to be chopped up later. If you want, you can substitute 3/4 cup (180ml) orange juice for the water that you cook the cranberries in. I use dark rum, but whiskey, bourbon, or an orange-flavored liqueur, such as Grand Marnier or Cointreau, would work nicely in its place. You can double or triple the recipe if you wish.
1

large

naval orange

,

preferably unsprayed, or another variety, with seeds removed

3/4

cup (180ml)

water, plus 3/4 cup (180ml) water

1/2

cup (100g)

granulated sugar

1/2

cup, packed (90g)

light brown sugar

2

tablespoons

dark rum

1

stick cinnamon

1 1/2

tablespoons

cider vinegar

1/8

teaspoon

ground allspice

1

cup (110g)

fresh or frozen cranberries
Lop off the two ends of the orange. With a sharp, serrated knife, cut the orange into 1/3-inch (1cm) slices.

In a medium-sized nonreactive saucepan, cover the orange slices with cold water. Bring to a boil, reduce heat, and cook at a low boil for 10 minutes. Drain. Return the oranges to the saucepan. Cover with water again, bring to a boil, and cook for another 10 minutes. Drain and rinse with cold water.

Return the orange slices to the saucepan, add 3/4 cup of water and granulated sugar. Bring to a boil then reduce the heat to a low boil and cook until the liquid is reduced to a thick syrup. During cooking, turn the oranges a few times in the reducing syrup so that they candy evenly.

As the liquid cooks down, close to when there is very little in the saucepan, monitor them closely turning them frequently to avoid burning them. Remove from heat once most of the liquid is evaporated. Tilt the oranges into a colander and let cool.

In the same saucepan, add the other 3/4 cup water, brown sugar, rum, cinnamon stick, vinegar, and allspice. Bring to a boil, add the cranberries, then reduce the heat slightly and cook until the cranberries pop and just start to fall apart. Chop the candied oranges into little pieces about the size of peas and add the candied oranges to the cranberries. Cook for about a minute, then remove from heat.
Notes
Serving: Pluck out the cinnamon stick and serve the sauce warm or at room temperature. Storage: The sauce can be made up to one week in advance and refrigerated. Bring to room temperature before serving.
Related Recipes
Cranberry Sauce with Red Wine and Figs
Mom's Roast Turkey (Simply Recipes)