Thanksgiving Recipes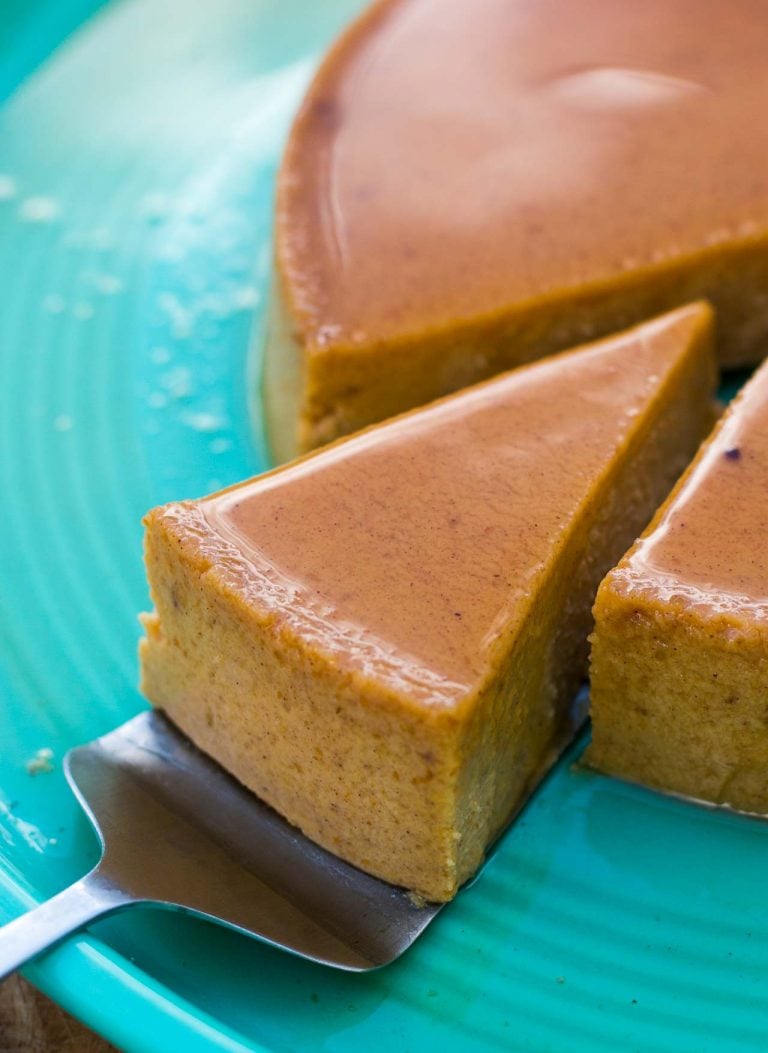 It's that time of the year again. When bakers, cooks, and even bartenders, are baking, roasting, and shaking things up for the holidays. Here's a round-up of recipes from my blog, my personal favorites, that are great for Thanksgiving and winter holiday fêtes. There are cakes, cocktails, spreads, dips, candied nuts, cheesecake, ice cream…and more!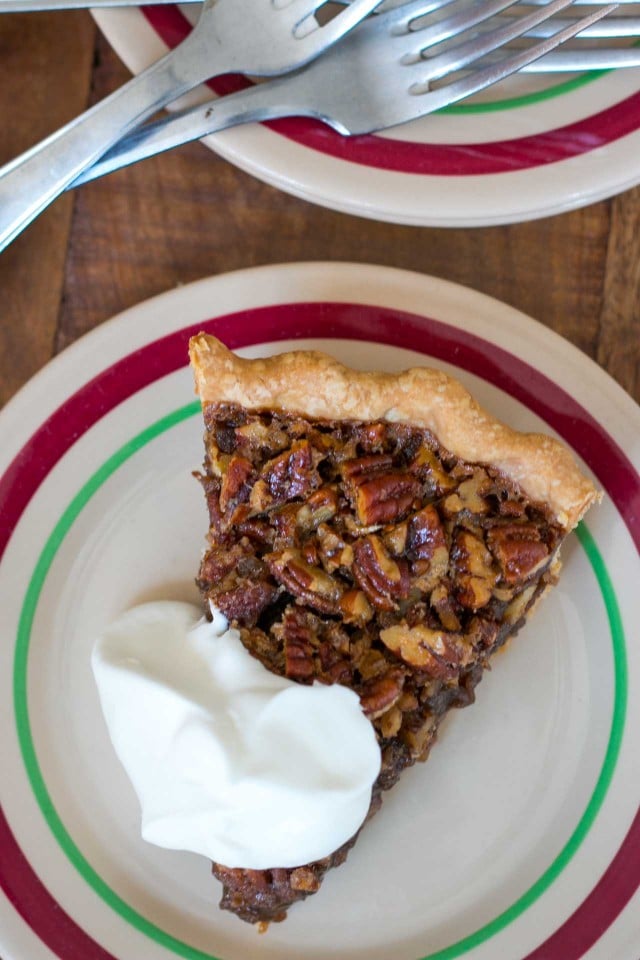 Pecan Pie with Bourbon and Ginger
What's more traditional than pecan pie for the holidays? (That wasn't really a question, because most of us already know the answer.) I love this zippy variation, with a triple dose of ginger and a belt of bourbon to boot. It's especially good with a scoop of white chocolate-fresh ginger ice cream.
Swoops of billowy marshmallows over a custard-like pumpkin filling. For those vexed by weeping meringues, this stable, silky topping is the answer to your pastry prayers!
S'mores Pie with Salted Butter Chocolate Sauce
Speaking of marshmallows, if you're looking for the ultimate do-ahead dessert, it's hard to beat this marshmallow-topped beauty. Even if you're not planning to make the pie, the Salted Butter Chocolate Sauce makes anything you put it on a thing of beauty.
Manhattans are my go-to cocktail. The foundation is just two ingredients, so they're hard to screw up, which is easy to do with so many other holiday distractions. Even better, they do the job, coming together in a great, no-nonsense, high-performance cocktail. To dial 'em up for the holidays, add a few dashes of cardamom bitters or pumpkin bitters to the mix.
Cranberry Sauce with Candied Orange
Bits of homemade candied oranges provide a sweet/tart counterpoint to tangy cranberries. I stock up on cranberries for the holidays when I see them in Paris, but those stateside will want to get extra to make this sauce again and again. It's good with ham, turkey, lamb, and a nice counterpoint to roasted root vegetables. You can also use it when building yourself a hefty turkey sandwich out of leftovers the next day.
Cranberry Sauce with Figs and Red Wine
Use some of that leftover wine to ramp up this holiday sauce, marrying two fall favorites; cranberries and figs. No leftover wine? Pas de problème: open a bottle. (I'm sure you'll find something else to do with the rest…)
A buttery base holds up a toffee-like topping of cranberries. This cake is oh-so-good on its own, but a dollop of whipped cream (perhaps flavored with cinnamon or with lemon curd folded into it?) takes it to the next level. It's also good with a scoop of cinnamon or vanilla ice cream, melting on top or alongside.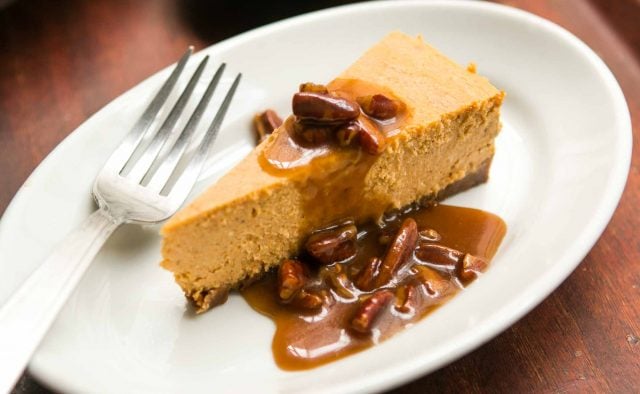 Pumpkin Cheesecake with Pecan Praline Sauce
I've been making it for well over a decade and can't resist the praline sauce that accompanies it. It's spiked with – yup – a belt of bourbon, and loaded with toasted pecans. Cheers!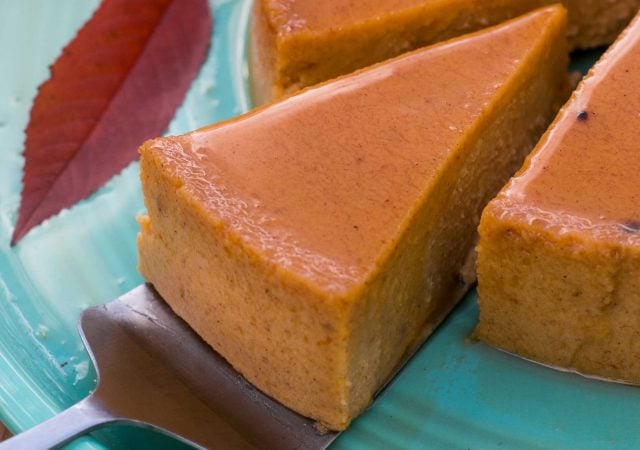 One of my favorite people, Ina Garten, provided the inspiration for this flan, a layer of creamy pumpkin custard bathed in a slick layer of dark caramel.
Start the holidays off right with this tangy shrub, a vinegar-berry elixir that's great mixed with sparkling water for a non-boozy libation, or as a base for a bourbon-fueled cocktail. I've given options for both, which should please everybody at your holiday fête.
If the idea of pumpkin jam sounds funny to you, it helps to remember that pumpkins are actually fruits. And if that doesn't do it, take a taste of this jam with just a hint of vanilla. It won over my Frenchman, who is my toughest critic. (And boy, do I have stories!)
If you're the kind of person who sets out a plate of cheese (and those are the only kinds of people that I want to dine with), guests will love a swipe of this over a cracker smeared with chèvre (goat cheese) or cream cheese, or paired with slabs of nutty Jarlsberg, Comté or Gruyère as part of a cheese board. Don't forget the nuts and dried fruit, too.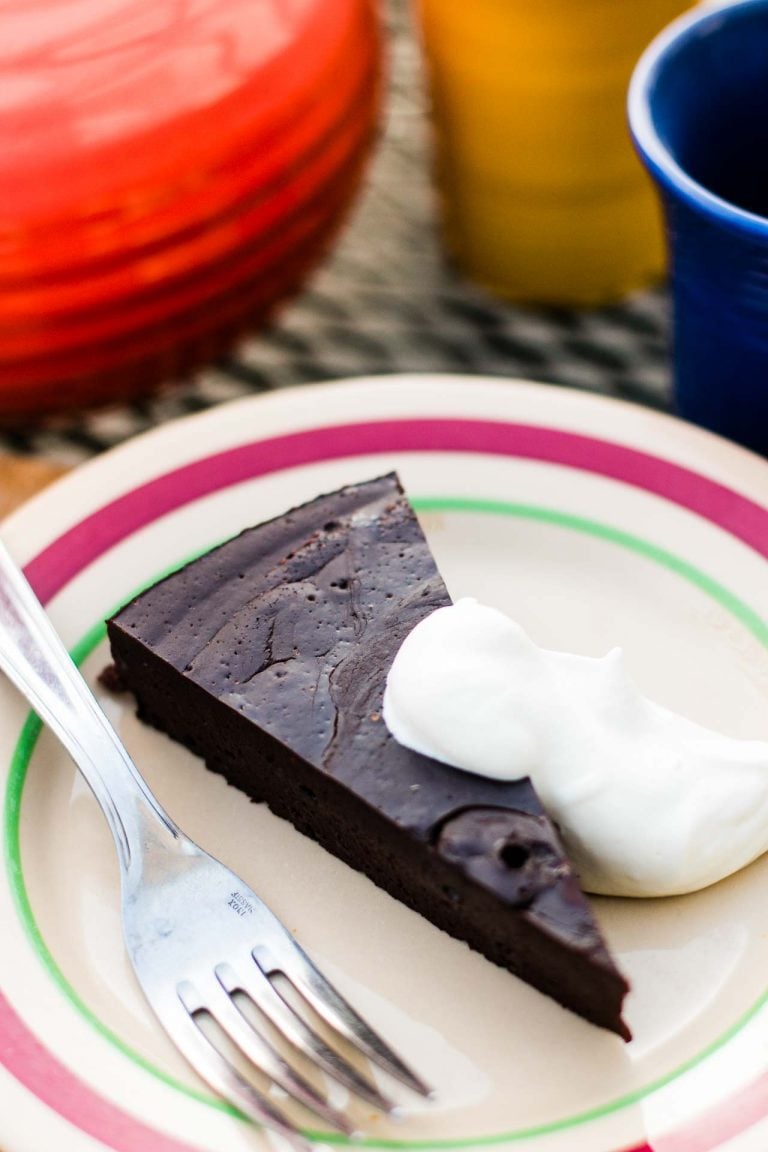 This cake got its name because it launches chocolate-lovers into orbit. But it's also an amazing do-ahead dessert, and keeps for quite a while in the refrigerator, which gives harried hosts and hostesses some time to enjoy an extra Manhattan, or two… ; )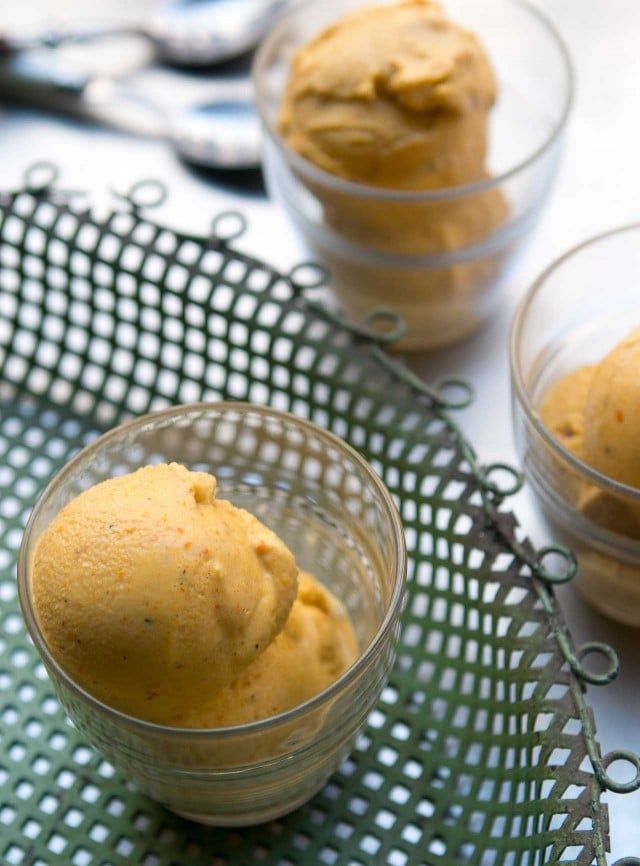 It's that time of year when you may want to keep your ice cream maker handy at all times, so you can churn and scoop up your favorite flavors. (If you're a fan of The Perfect Scoop, this year marks the ten-year anniversary of the book, and there's an updated edition with all-new photos and a bunch of new ice cream recipes.)
To reimagine the classic profiteroles for the holidays, swap out the vanilla ice cream with pumpkin ice cream, and replacing the chocolate sauce with the pecan praline sauce I noted above (that goes with the pumpkin cheesecake), or another favorite creamy caramel. Top them off with the French almonds from The Perfect Scoop; Heat 2 tablespoons of water with 2 tablespoons of sugar in a skillet, stirring until dissolved. Remove from heat and mix in 2 cups (160g) sliced almonds. Spread the coated nuts on a nonstick baking sheet, or one covered with a silicone mat, sprinkle with flaky sea salt, and bake in a 350ºF/175ºC oven, stirring once or twice while baking, until golden brown and crisp, about 20 minutes.
What to do with all those persimmons? This loaf cake is moist and packed with flavor, with a hint of spices. It's a favorite from James Beard, considered the dean of American cooking, and I think it's time to upgrade his status to include baking.
This light cake comes from my friend Alice Medrich, and is low fat, but if you'd like, you can take it in another direction and top it with cream cheese frosting. Either way, this is a great cake.
I'm always amazed when I turn out this tart. The glistening, ruby-colored pears are so pretty I almost hate to cut it. But moments later, I'm glad that I did. Along with a spoonful of nutty crème fraîche, this riff of the classic tarte Tatin will get no arguments from traditionalists. And if it does, find less judgmental dining companions.
For the love of Dorie Greenspan comes this French apple cake, which relies on a mèlange of apples for its fruit-forward flavor.
Our friends in Germany are mighty fine bakers as well and this cake from Luisa Weiss provides a generous wallop of apple flavor to any dessert buffet in each moist wedge. Almond paste is the secret to this cake and it's worth stocking up on a tube or tin of it now – or several – so you'll have them handy later.
Circling back to pecan pie, this is another favorite recipe on mine, loaded with big chunks of bittersweet chocolate, who hold their own in a crowd of pecans.
I reached deep into my past to find this pie, which was a favorite of the late Marion Cunningham. If you don't have time to peel a bushel of apples, simply mix up a sack of cranberries and raisins, and voilà…you've got a fruit pie that will be just as memorable as Marion.
Traditional mincemeat has a dubious reputation, but this one will change your mind. I promise. Bits of candied orange, dried fruits, and festive spices meld together into a tasty mixture that can be added to apple pie or pear crisp, making it go from ho-hum…to oh boy!
Israeli Couscous with Butternut Squash and Preserved Lemons
Hitting the savory side, this side dish is one of the most popular in my repertoire. The squash is a no-brainer for the winter, but swap out dried cranberries for the raisins and you've got a holiday-friendly side dish that's a break from the usual mash-up of carbs. Another bonus: This can be made in advance and rewarmed before serving.
Proving it's not too late to get on the ball, I tackled this cheese ball made with several kinds of cheeses, along with chives, dates, and a dash of hot sauce, rolled in buttered and salted pecans. If you're too high up on your horse to consider a cheese ball, Fromage forte is the way the French use up all those scraps of cheese, whipped up with plenty of garlic. It's great to spread on slices of baguette, or even crisp apples.
The French do have their version of cheese "balls." These puffs are lighter-than-air and baked to a crisp. No one can resist nibbling on these, especially if you serve them warm.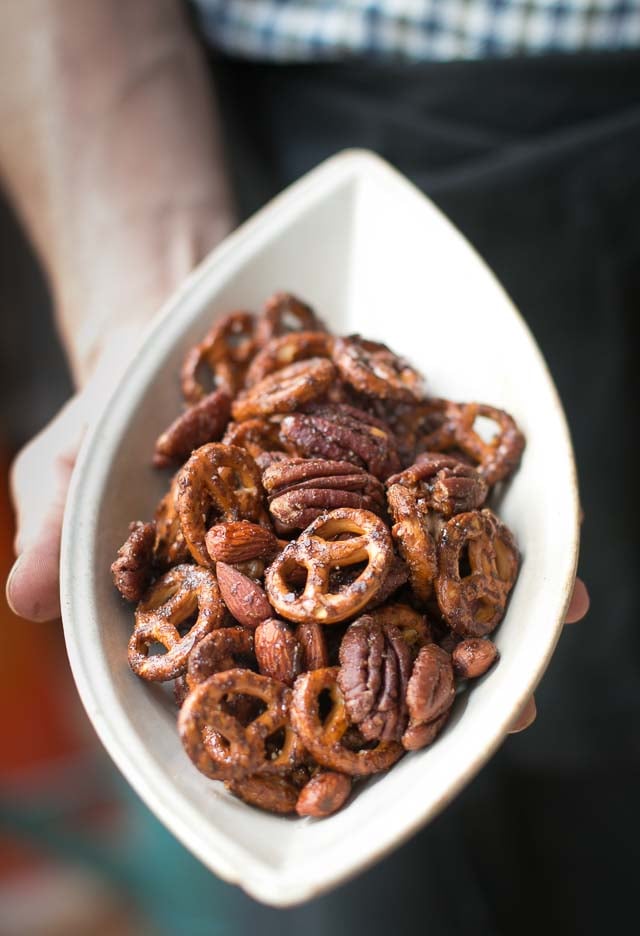 I cast a skeptical eye over recipe titles that promise something to be "the best," but in this case, I'm going there. This is The Best Cocktail Snack Ever. A crunchy mix of salty pretzels and lots of nuts, baked in a maple syrup, brown sugar, and butter mixture until crisp. You'll want to print this recipe out and put it at the top of your appetizer recipe roster.
In a hurry? Don't worry, who isn't? I don't mind opening a can of artichoke hearts and putting my food processor into service, for this Provençal-inspired spread. Do-ahead types will appreciate that it holds well in the refrigerator (ditto with the next tapenade recipe), and guests will appreciate how good it tastes spread on croutons or crackers, along with a glass of sparkling wine or Chablis.
This olive-based tapenade isn't the pits. In fact, it's even better than the usual tapenade because there's less pitting involved, getting an extra boost from dried figs, whose natural sweetness compliments the salty olives and capers. I was inspired by this one from Carrie Brown of the famous Jimtown Store in Northern California.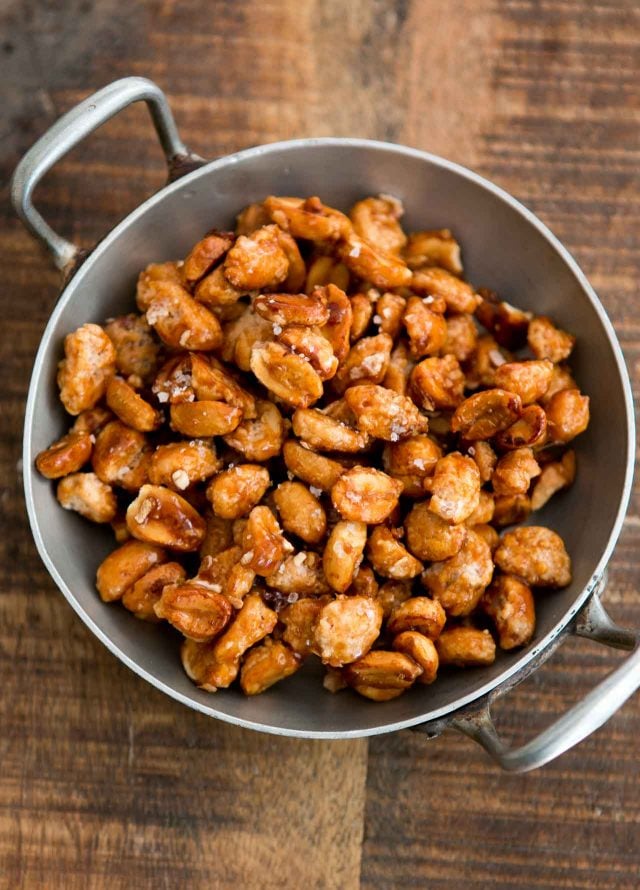 Looking for the perfect hostess gift? Instead of tying a bow around a bottle, make a batch of these candied peanuts and give them instead. I keep a stack of cellophane bags and raffia ready, to tie 'em up and give them out. Someone once told me that anyone can buy a gift; it's the homemade ones that really show that you care. If that's the case, feel free to make a batch for yourself as well. Sharing may be caring, but being selfish has its rewards, too.