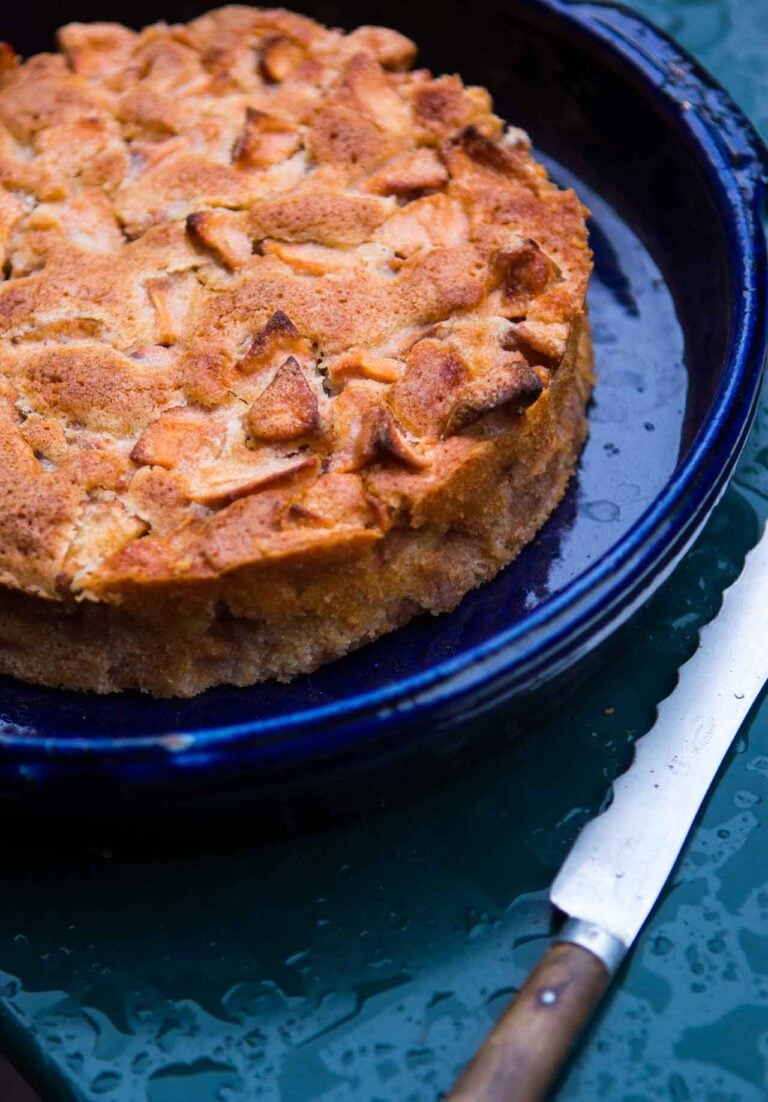 It's interesting how many views of Paris there are, which you notice if you follow the variety of voices that write about life in the City of Lights. (A mistake some writers make is to call it the City of Light, and 'lights' in actually plural.) I tend to find all the quirks and report on the sardonic side of things, which for some reason, always find their way into my life. But the main reason is that I live in Paris full time and don't just get to sampe my way through the lovely pastry shops and meet chocolatiers, but like most Parisians, I also spend a fair amount of time wrestling with perplexing bureaucracy and other idioms of life in the City of Fight Light.
For example, last week I went to the largest fabric store in Paris where I always buy étamine (cotton gauze), which I couldn't locate so I asked a salesperson to direct me there. He was having a nice chat with his co-workers but was kind enough to take a moment to tell me "Non", they didn't carry it…and went back to his conversation. After I raised an eyebrow and asked a few more times, just be sure, he and all the others in the group shook their heads, confirming with absolute certainty that they definitely did not have that in stock.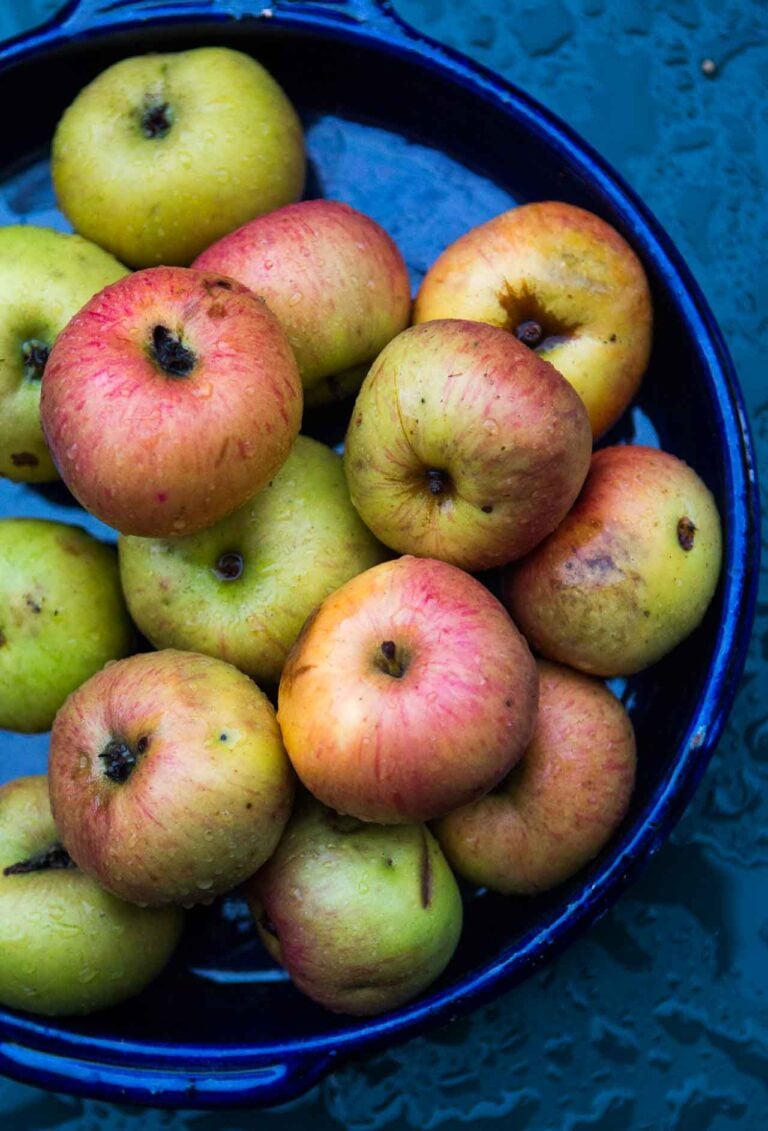 Because I was absolutely certain that they did, I went down one level and, of course, found a huge bolt of it right on top of the pile of other rolls of fabric. C'est comme ça…
Having a French partner helps, and he also helps me in the kitchen, like when Romain arrived with a bag of apples from a friend's farm in Burgundy. Some were dinged up a bit, as they weren't from the supermarché, but French apples are delicious for baking, where bumps and bruises magically disappear.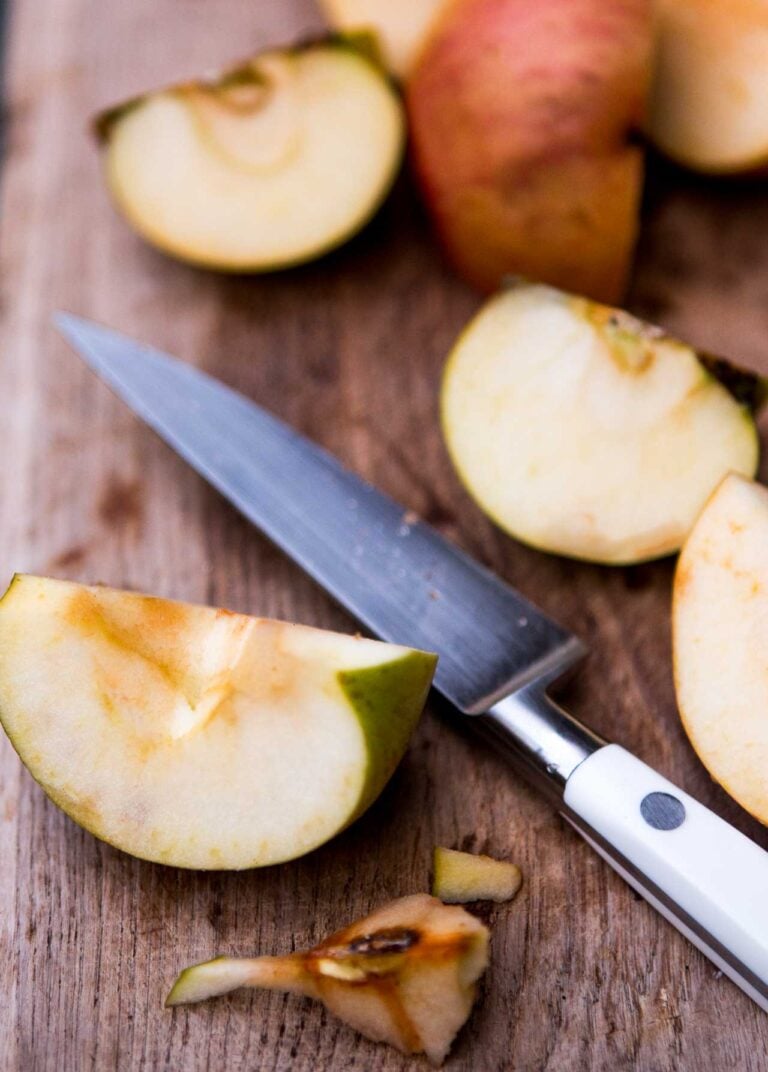 So to keep things in perspective (as best I can…) I like to read other voices from Paris, such as Dorie Greenspan, whose book, Around My French Table, is a hefty collection of her favorite recipes and stories about Paris. She lives on the opposite side of the city, in a different neighborhood. And where I am sometimes defeated by city life, as a "part-time Parisian," as she often calls herself, she manages to see the good in everything.
This is a very typique French recipe for home cooks, made with not a lot of ingredients, relying on no special techniques or hard-to-find equipment, and loved by all. The cake is easily mixed up in a bowl, scraped into a cake pan, and in less than the time it takes to run to the pâtisserie for a store-bought cake—or a seemingly simple length of fabric—you can have an authentic French cake…right from your own oven.
When a journalist interviewed me for an article about her, she ended the interview with; "So David, what is it like to sit around Dorie's French table?"
I sat there for a few moments scratching my head to remember, then not sure of what to say, I finally replied, "I've not sat around Dorie's French table." Which was true. When she comes to Paris, we generally go out exploring. The idea of sitting indoors while Paris awaits just isn't as interesting to me as sharing pastries on a park bench or hitting an outdoor market with her.
If you want to sit at Dorie's table, the line starts here. However while you wait, you can feast on her recipes, just as I'm doing.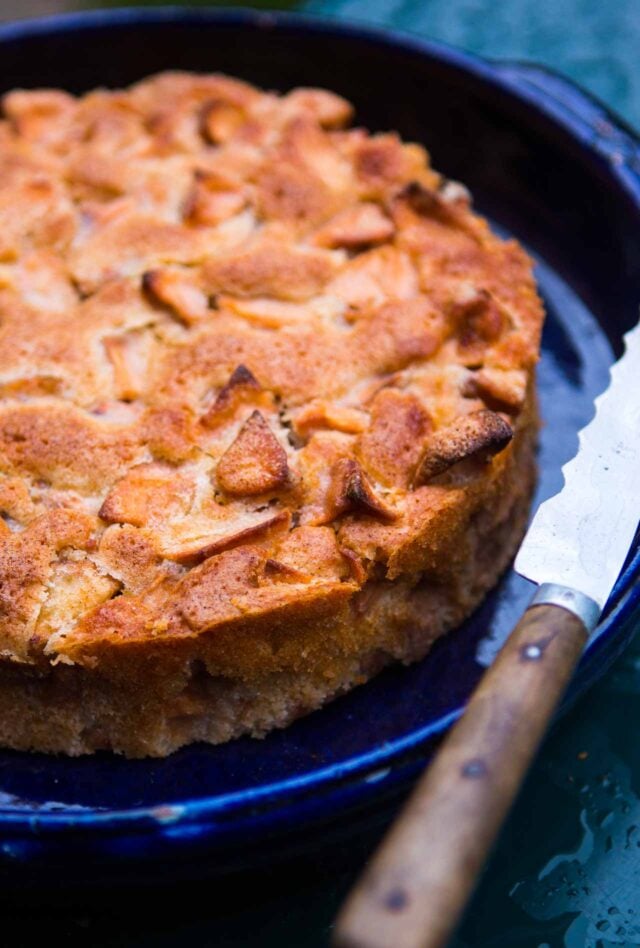 French Apple Cake
Adapted from Around My French Table by Dorie Greenspan
Dorie doesn't specify any type of apple but instead advises that you should use a mix of them. I don't know what kind mine were since Romain brought them to me. The rum is really a great flavor in this cake, but if you're avoiding alcohol, you could double or triple the vanilla to compensate. I also like this recipe because you can make it with ingredients easily on hand. Being American, I was tempted to add a dusting of ground cinnamon to the apples, but then it wouldn't be authentically French. Hence I often decide to add a dollop of crème fraîche alongside, but it's wonderful just as it is.
The original recipe uses a springform pan but if you don't have one, you can use an 8-inch (20cm) cake pan, buttering it well and lining the bottom with a circle of parchment paper before adding the batter. I've also make it in a 9-inch (23cm) cake pan and it works well, although it won't be a high.
3/4

cup (110g)

flour

3/4

teaspoon

baking powder

pinch

of salt

4

(about 2 pounds, 1kg)

large apples

,

a mix of varieties

2

large eggs

,

at room temperature

3/4

cup (150g)

sugar

3

tablespoons

dark rum

1/2

teaspoon

vanilla extract

8

tablespoons (115g)

butter

,

salted or unsalted, melted and cooled to room temperature
Preheat the oven to 350ºF (180ºC) and adjust the oven rack to the center of the oven.

Heavily butter an 8-inch (20cm) springform pan and place it on a baking sheet.

In a small bowl, whisk together the flour, baking powder, and salt.

Peel and core the apples, then dice them into 1-inch (3cm) pieces.

In a large bowl, beat the eggs until foamy then whisk in the sugar, then rum and vanilla. Whisk in half of the flour mixture, then gently stir in half of the melted butter

Stir in the remaining flour mixture, then the rest of the butter.

Fold in the apple cubes until they're well-coated with the batter and scrape them into the prepared cake pan and smooth the top a little with a spatula.

Bake the cake for 50 minute to 1 hour, or until a knife inserted into the center comes out clean. It may take less time, depending on the apples, so check the cake 5 or so minutes before the recommended baking time. Let the cake cool for 5 minutes, then run a knife around the edge to loosen the cake from the pan and carefully remove the sides of the cake pan, making sure no apples are stuck to it.
Notes
Serving: Serve wedges of the cake just by itself, or with crème fraîche or vanilla ice cream.
Storage: The cake will keep for up to three days covered. Since the top is very moist, it's best to store it under a cake dome or overturned bowl.
Related Posts and Recipes
American Baking Ingredients in Paris