It's a standard request. Whenever people ask for a restaurant suggestion in Paris, even before they open their mouth I know exactly what's coming—they want a suggestion for a restaurant that: 1) Serves traditional French food, 2) Is budget friendly, and 3) Has no tourists.
There are plenty of budget-friendly places to eat in Paris, like Chartier and L'As du Fallafel, but ones where you'll find honest traditional French cooking are harder to come by these days. If you're looking for the rare combination of good food and atmosphere, and modest prices, most of us have given up on the classic bistros and brasseries whose food slides deeper and deeper every year into the "lower than ordinary" category due to corporate takeovers.
There are a variety of reasons, and as Alec Lobrano noted in his terrific book Hungry for Paris, ".."it was accountants, who edited the menus" that were often the most responsible for doing a lot of the great old brasseries in. And nowadays most of the food in them is merely passable, but hardly memorable.
I do get a chuckle when tourists want to go to a restaurant that doesn't have tourists. Considering Paris is the most visited city in the world, you'd have to go pretty far outside of the city to find a place completely inhabited by only native French people. (Perhaps a truck stop out on the peripheral highway.) And while it's interesting what some of the younger, hip chefs are doing in Paris, it's harder and harder to find places still doing cuisine comme la maison; home-style French food, the kind one often thinks of when imagining a classic French meal in Paris.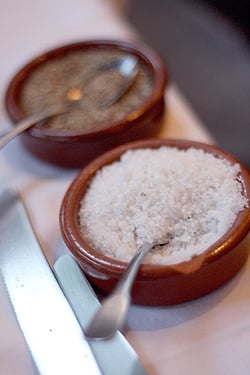 So it's with great pleasure when I send someone to A la Biche au Bois, which is slightly off the beaten path—just enough so visitors feel like they're getting away from the Left Bank, and the food is hearty and honest French fare. You might find a couple of out-of-towners lurking about (c'mon, we're not so bad, are we?), but because this place slides under the nose of most of those restaurant lists that everyone clips and clings to, there's plenty of French people in this boisterous bistro.
Few non-French folks would think of ordering hard boiled eggs with mayonnaise as a first course, but les oeufs durs mayonnaise is such a bistro classic that there's even a society in France to preserve it and keep it on menus. The version here is one of the best I've ever had.
If you're looking for a boneless breast of chicken, or sauce on the side, A la Biche au Bois isn't the place to request them. But they make a very respectable Coq au vin. In the dinged-up casserole, you'll need to drag the spoon through the thick, dark sauce to pluck out a piece of chicken. And it'll likely be a more flavorful morsel from elsewhere on the bird, which in France is one that's been cooked close to the bone.
When you get a Salade Perigourdine, out comes a oval of foie gras ringed with fat, but with it comes with still-warm toasted slices of baguette whose heat melts the duck liver just a tad, enough to soften it and highlight its creamy consistency. And no one appreciates it more when fleur de sel is brought to the table with it whose wispy flakes are the spot-on compliment to the rich foie. I always wonder why anyone even bothers to serve foie gras without it. What's the point?
The fries are some of the best in Paris. The kind that would drive the accountants crazy elsewhere. Real potatoes are used, and although they're not crisp and brittle, they taste like real potatoes, are properly salted, and were so good on my last meal there that we ordered a second platter. (And one platter is pretty huge.)
And proof that gluttony sometimes gets rewarded, the second platter of frites was darker, and more well-cooked than the previous one. So I say it's best to plan on ordering extra fries, just to be sure.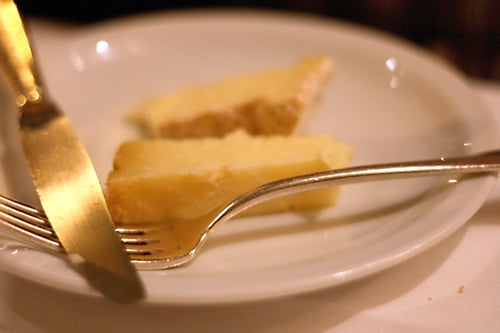 Even before you're allowed to look at the dessert menu, a board of cheeses jammed together are brought to the table; which may include chèvre rolled in black pepper, a bleu d'Auvergne, Pont l'Eveque, and a crumbly Cantal.
Desserts are standard French classics, such as crème brûlée, crème caramel, and all are made in house. A few offerings of ice cream and frozen desserts, like Poires Belle Helene (Poached pears with vanilla ice cream and hot chocolate sauce), are good if you're feeling too stuffed for anything extremely rich. Having made approximately six-thousand four-hundred and eight-seven crème brûlées in my professional pastry life, I can't say I ever order it in a restaurant. So I always pick Île Flottante, a poached meringue served on a pool of ice-cold crème anglaise with a dribble of sticky caramel sauce. I know a lot of people wrinkle their nose at it, but whenever I order one, I have to fend off the other spoons making a nosedive for my dessert at the table.
So far, I've ticked two off the list: classic French food and not touristy. Then there's the price. The fixed 4-course menu currently hovers under €29 and there's a wide berth of things to order. In the winter, I suggest ordering any gibier (game) that's on the menu, because they do it right.
The servers are professionals but not jaded, or brusque. And I've never been here and not had a great time. If you're lucky, you'll be sent on your way with a complimentary glass of fiery eau-de-vie, that'll help you digest everything. Trust me, you'll need it.
A la Biche au Bois
45, avenue Ledru-Rollin (12th)
Tél: 01 43 43 34 38


Related Posts and Links
Where to Find the Best Steak Frites in Paris
The Hottest Restaurant in Paris