It'll be a sad day in Paris if Chartier ever shuts its doors. True, the food isn't exceptional. But it's cheap and people seem to flock here in droves. And the interior? I don't think you'll find a more perfectly-preserved relic of an old Paris, with glass-globe fixtures, tables jammed together, coat racks high above the tables, and a menu that hasn't made a single concession to any of the culinary advancements of at least the last three or four decades.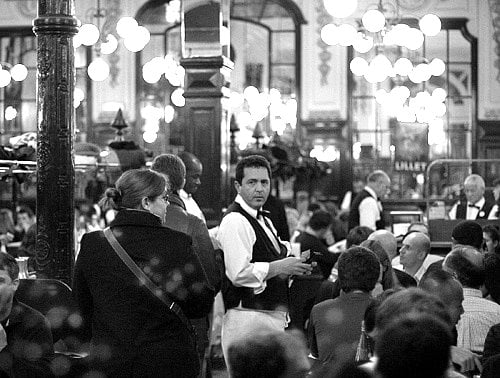 Chartier takes no reservations and if there's a big line when you turn off the busy boulevard and step into the courtyard, don't worry. It's here you'll see living proof that refutes any notion that the French are inefficient. The host moves folks through the old revolving door and to their table at a shocking rate of speed.
This bouillon ('soup' kitchen) is always bustling and you'll find Parisians and tourists —French and otherwise—pushed around old wooden tables. And if you're a party of two, you shouldn't be surprised when you're hastily seated at a table for four, but don't feel like you're intruding: the other two diners were probably expecting unexpected company anyways.
The waiters here have seen it all and nothing phases them. There's no, "Bonjour! My name is Jean-Claude, and I'll be your waiter this evening."
And thank goodness. Your order gets taken almost before your butt hits the seat, then written down on your table before you know what hit you, and if you need something else during the evening, good luck getting their attention. Special orders are ayor. But they've seen it all, and if you don't mind the bane of the raised eyebrow of a Parisian waiter, you're on your own.
Years ago I was there with a group of people and a cafard exited the bread basket. The expressionless waiter replaced it with a new one, sans apology, and I'm certain that basket went into the kitchen, was given a good shake to remove any "debris", and re-used.
So why do I, and everyone else in Paris, still love Chartier? Simple: it's one of the few remaining slices of old Paris, one of the last of the bouillons, a place to restore oneself with a bowl of soup or a cheap meal.
When I say cheap, I mean first courses start at €1.8. I recently had a surprisingly good frisée salad tossed with lots of smoke bacon for less than €5; it was remarkably similar to one I had about a month ago at a more upscale bistro, for €20. I've never had the soup since it's jailhouse appearance brings back memories of high-school lunches. But for some reason, out-of-towners invariably ask me how it is, oblivious to my response that I haven't had it. (Yes, really. So if you do dine with me here, please don't ask me how the soup is. I can't tell by looking at it. You tell me.) But I do love the metal serving bowl and for €2.20, you can't even get a Perrier in Paris for less than that.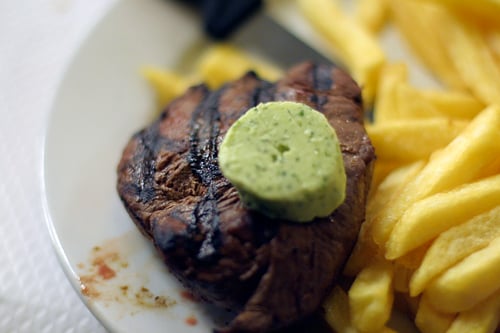 Not to dwell on the prices, but main courses hover in the €10 range and on a recent Tuesday night, the enormous dining room was gloriously bustling and full. Poulet fermier rôti frites and Pavé de rumsteack with a disk of rich herb butter unapologetically perched atop, are a safe bets, although I'll let someone else pass judgement on the Tête de veau sauce gribiche (veal head) or Andouilette de Troyes AAAAA, which I'm absolutely convinced you have to be born French to have a taste for.
I was with a friend who was wolfing down a plate of it at another restaurant, and when I asked him "How is it?" he replied, "It tastes like sh-t."
I asked him if he wanted to return it to the kitchen, he said, "No, that's what it's supposed to taste like." And kept eating.
I declined a taste, which I can always chalk up to my iron-clad policy against "wandering forks."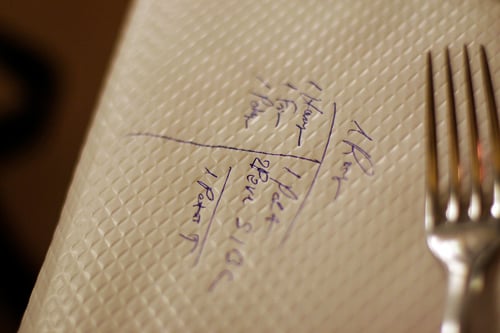 The house wine is pas mal, the fries need to be cooked two more minutes, and your steak may give your arm a little workout, not to mention your jaw. Anyone looking for haute cuisine might want to steer clear. Stick to classics and less-complicated dishes, and you'll be fine. A recent three-course meal I had here with two others, with wine, costs less than €60. I don't think you could eat at the fast-food restaurant across the street for less.
Desserts cover all the French standards: Baba au rhum chantilly (yeasted rum cake with whipped cream), Pruneaux au vin glace vanille (wine-soaked prunes and vanilla ice cream), Profiteroles au chocolat chaud (no explanation necessary…), or you can have a wedge of St. Nectaire or a bowl of plain yaourt.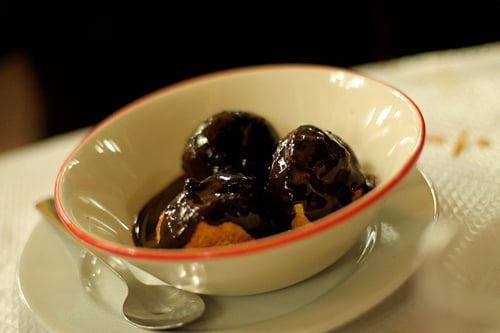 Because Chartier is near a lot of theaters, it's very popular with that crowd. But because it's in the courtyard of a residential building, they don't seat diners after 10pm.
Oh, and the menu clearly states that not only is the restaurant not responsible for lost or stolen objects and clothing, but also declines responsibility for any échangés or stains. So be careful. Although if anything goes awry in this restaurant, I can guarantee you it's not the fault of the sturdy, tougher-than-steak waitstaff. And I dare you to point it out to one of them if it is.
Bouillon Chartier
7, rue du Faubourg Montmarte (9th)
Tél: 01 47 70 86 29
UPDATE: Chartier opened a new restaurant at 59, Blvd du Montparnasse (6th) that's an affordable, revamped bistro, and is getting noticed for the quality of the food as well.
Related Posts and Links
Two Delicious Dining Guides to Paris