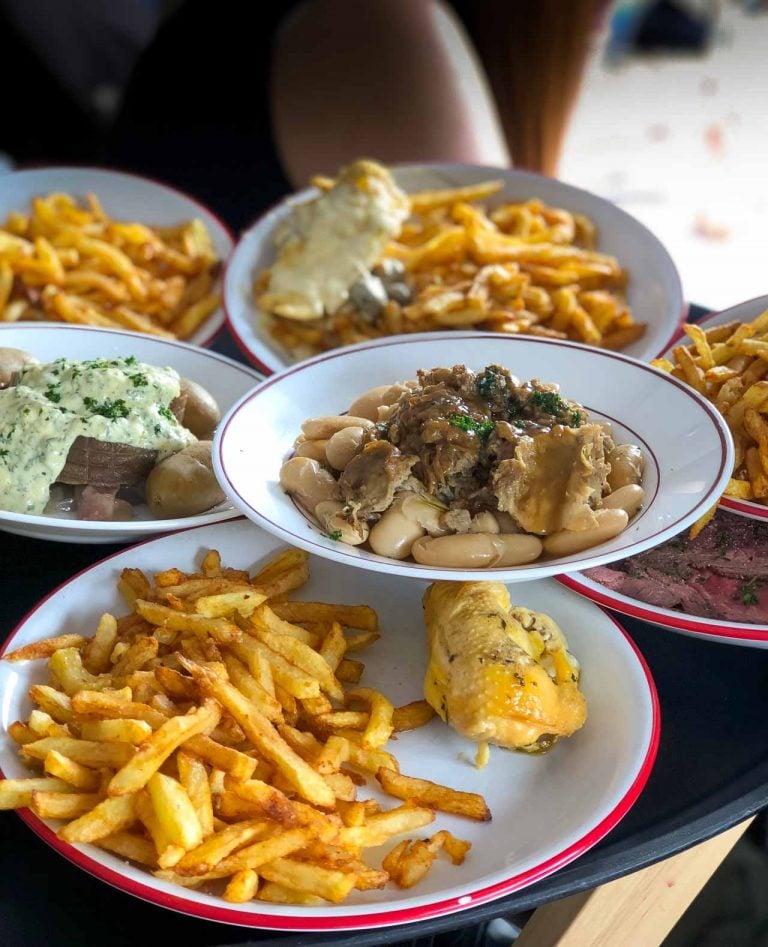 I used to wonder why someone didn't open a bistro in Paris serving classic French food, a bouillion, if you will, a word used to describe a place known for serving lots of food, in generous quantities, in a convivial, and almost communal setting. A place where you wouldn't feel out of place if you struck up a conversation with your neighbors, which be inevitable since the tables would be so close together.
So I was surprised, and delighted, when it finally happened. Of course, I didn't come up with the idea of a bouillon, but the idea of someone opening one (or revamping an old one) took a back seat while young chefs in Paris stretched their wings, incorporating foods and flavors from other cultures, bringing the focus back to regional ingredients, and using modernist methods to get their point across on the plate.
I don't mind all that stuff (although I'd be okay if there was less foam, and smears of sauce…), but I'm never unhappy when I can start a meal with œufs mayonnaise, move on to a plate of steak-frites, and finish up with an ice cream-filled profiterole doused in warm chocolate sauce, washing it all down with a pot of house wine. Even better is doing it all for around twenty bucks.
Bouillon Pigalle has struck a chord with Parisians and is pretty much packed from when they open at noon, until they close. We happened to be walking by at 11:45 one morning after a visit to A l'Etoile d'Or, and joined the short queue. By the time they opened fifteen minutes later, the line was down the sidewalk. But since the place seats 300+, and the waiters work at a very fast clip, we were seated, and served, quickly.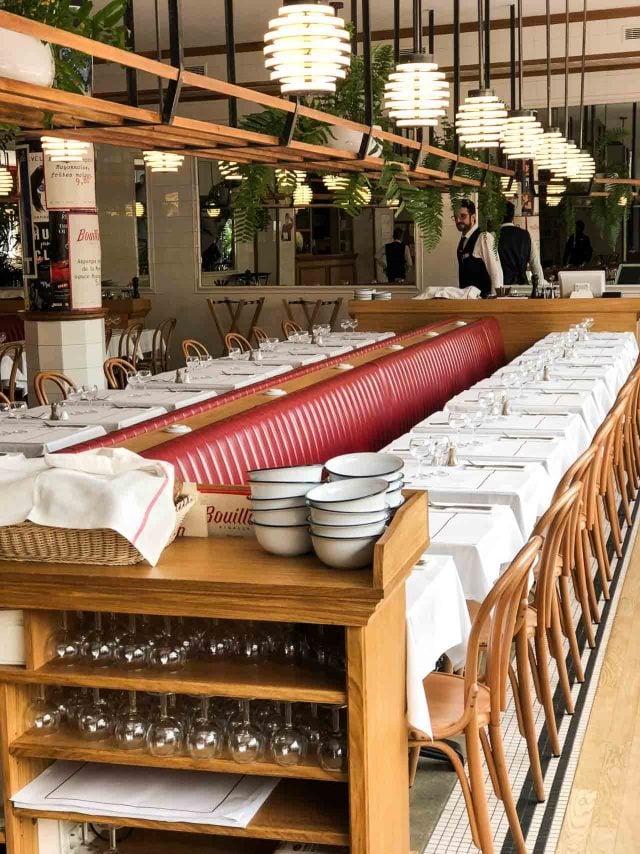 Since it was a nice day, we snagged a table on the open-air terrace, upstairs, away from the hubbub of Pigalle, a neighborhood that butts up against Montmartre. It's gentrifying, for sure, but still retains vestiges of its seedy past. In the area, you might pass ladies beckoning from the open front doors of bars, asking men if they want to join them for a drink. (Careful guys, it's a ruse. The comely hôtesse will order a very cheap bottle of bubbly to enjoy with her, which you'll get charged an exorbitant price for, and they'll accompany you to the nearest ATM so you can pay for it in cash since they don't take credit cards.) I've not experienced it, but if you're a middle-aged man walking around that neighborhood by yourself, you'll be an object of their interest…speaking from experience.
Anyway, I'm here to eat, not play.
The menu ticks many French bistro classics, including herring marinated in olive oil with pickled carrots and potatoes, a slab of pâté en croute, and beef marrow served warm, with levain bread. Note that the œufs mayo clocks in at €1,90, the marrow is €3,90 and the herring is €4,50.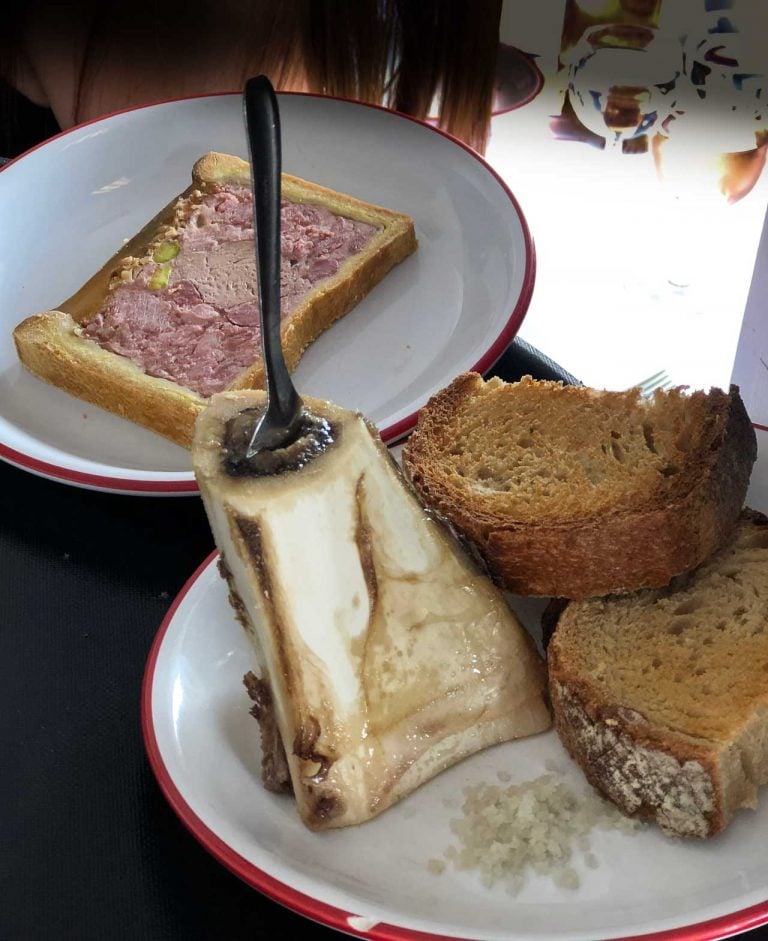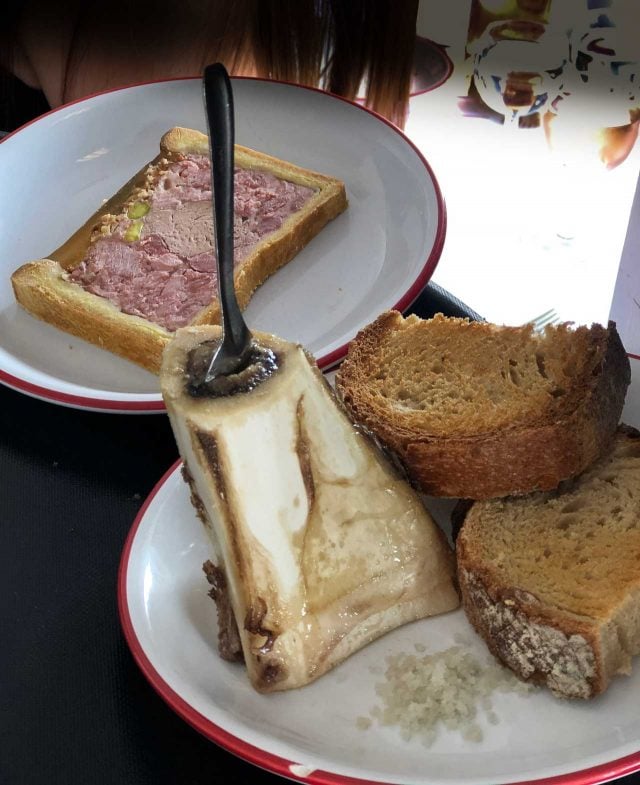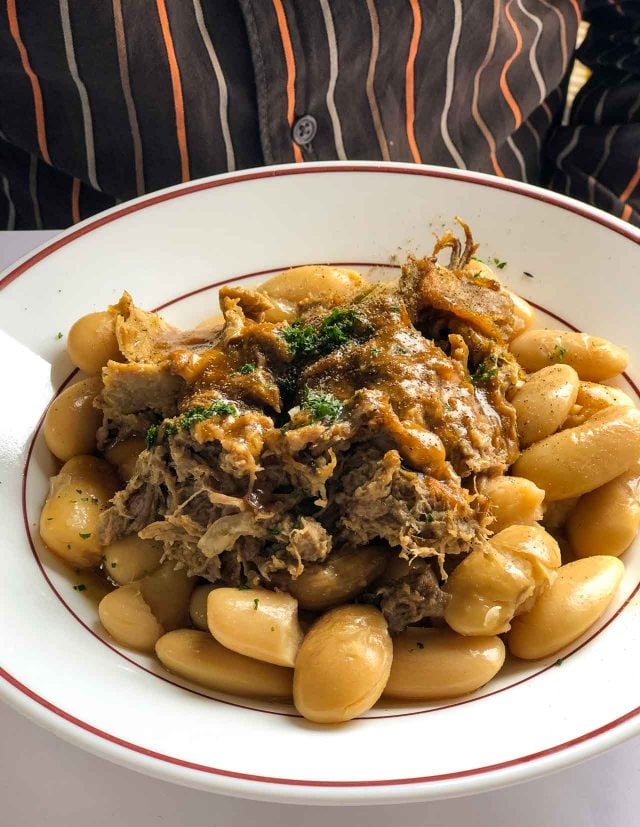 So you can understand why the symbol of the restaurant is a startled diner, looking at the bill, and expressing shock with his glasses rising up from his astonished eyes. And you can understand why the place is packed. But the quality of the food is good, and the young servers are truly the best in Paris. They manage the tables like nobody's business, juggling orders and trays, all the while bantering with customers. Anyone who wants proof that the French work hard should come here and watch these guys in action. They are true pros.
Romain loves lamb, so he went with the long-cooked agneau served with a generous amount of beans. I went with Pot au feu, boiled beef and vegetables, with was terrific, although I (and it) was missing the traditional accompaniments of mustard, coarse salt, and cornichons. I wasn't sure if they don't normally offer them, because the waiter seemed a little surprised that I asked, but he quickly brought them over.
Beverages are featured on a separate menu. I usually avoid cocktails in restaurants in Paris unless they have a real cocktail bar, although I did go to a place that had a well-regarded cocktail bar and when I ordered a martini, I made sure the waiter knew I wanted a gin and vermouth version, not the usual glass of Martini rouge that cafés serve when you order a martini. (A common visitor mistake.) But I saw that the two cocktails on the menu at Bouillon Pigalle were barrel-aged, a sign that someone probably knew what they were doing. And I was right – my Vieux Carré, made with Cognac, bourbon, Benedictine, and Martini rouge was excellent, and only €6, another bargain in a town where cocktail prices start at €12.
While Romain was more prudent and had a glass of the sparkling rosé, wine, beer, and soft drinks are sold "by the pour," from 25cl (8 ounces) to Jéraboams (3 liters). One thing I always miss when I travel outside of French, especially in the States, is a lack of restaurants serving drinkable house wine by the carafe. Sometimes I just want one-and-a-half glasses of wine, if I'm by myself, or a small pitcher, if there's two of us, if we're not up for a whole bottle. And I don't need a $16 (plus tax, and tip) glass of wine at lunch. I'm fine with a glass of vin maison, at a reasonable price.
Desserts are fine, and ours in the course of several visits have been hit or miss. The coffee éclair we shared wasn't fancy, but it was very good.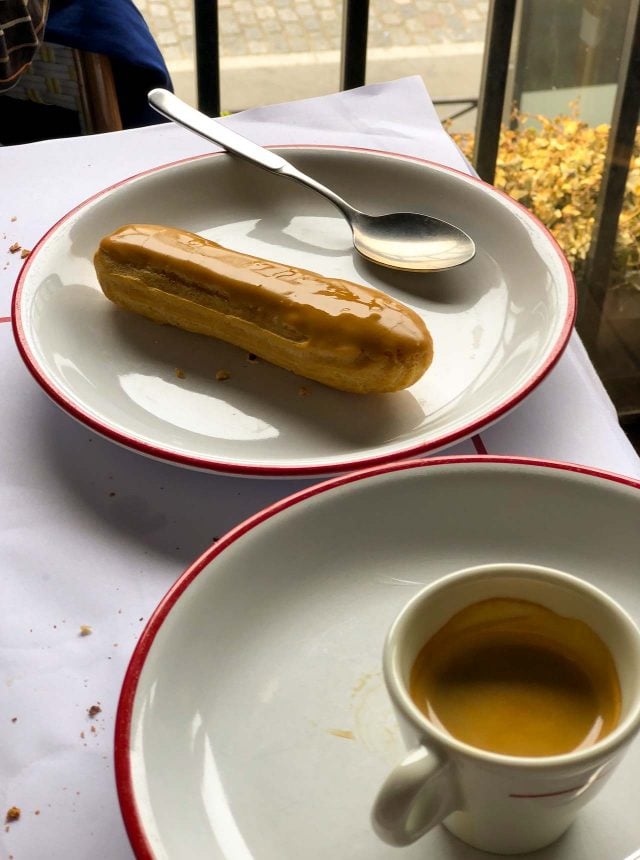 The softball-sized ice cream profiterole with lots of dark chocolate sauce spooned over it looked pretty good, but the ice cream tasted rather neutral and would have benefitted from a little vanilla added to it. My rice pudding (a dessert Romain doesn't like) would have been fine with half the sugar, especially since it was served with salted butter caramel sauce.
Two young women at the neighboring table had swirly bowls of Glace au lait frais (fresh milk ice cream), which I think is the way to go here. You can get add-ons, like chocolate, caramel or hazelnuts, for 50 centimes extra, and I'd probably spring for all three. As I write this, dessert prices start at €2,90 and none are over €4,50. (But prices can change.)
I went to my favorite restaurant in Paris the other night and couldn't get in. It's small and I wasn't surprised, although I keep wondering if I should remove my Paris Restaurant list from the site because as much as I'm happy to share, I want to be able to get a table at a good restaurant in Paris, too. However with three hundred seats, and from what I hear, over a thousand people served a day, I don't think I'm going to run into that problem at Bouillon Pigalle.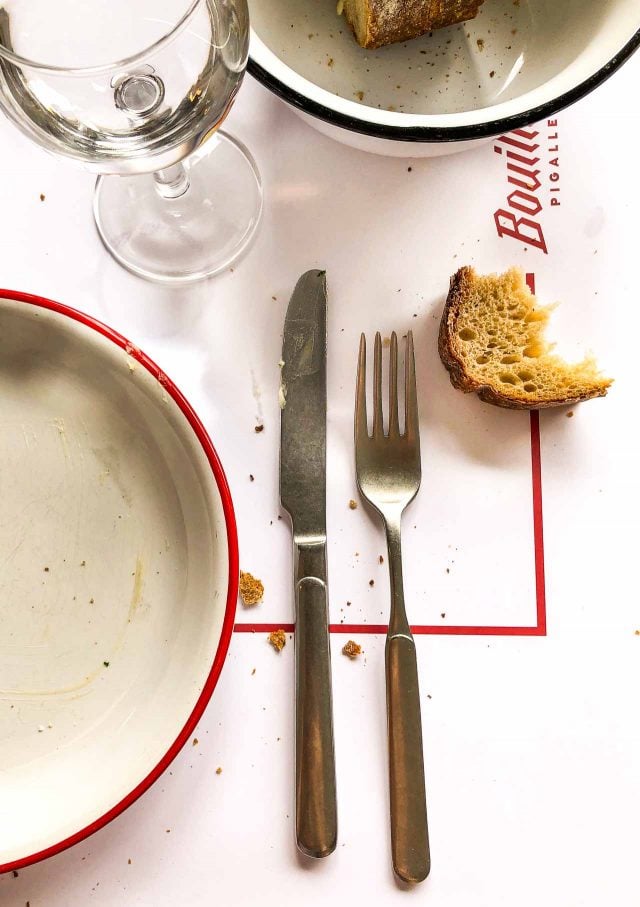 Bouillon Pigalle
22 boulevard de Clichy (18th)
Métro: Pigalle
No reservations
Open daily, Noon to midnight
(Note that the menu has vegetarian options.)
---
As an aside, I've never understood why guidebooks, and others, tell visitors who are traveling to avoid places with English menus. Not all waiters in other countries speak English and it makes their job easier if the diners can understand the menu. While it's nice if visitors learn a few words and phrases when traveling outside their home country, it's hard to enjoy a restaurant when you can't understand the menu, especially if it's in a different language. Although I don't expect places to translate menus into other languages, sometimes it's nice when they do.
While we got menus in French at the restaurant, on the Bouillon Pigalle website, the menu is in French, English, Russian, Italian, Japanese, Portuguese, Spanish, and Italian, which they update when the menu changes.