Baked Rice Pudding (Riz au lait) with plum compote
One great thing about France is you can drive around, stop in any number of small towns, from the Jura to Normandy, and check out regional specialties. People often come to Paris and ask about where they can get a good cassoulet, or bouillabaisse, and they look positively crestfallen when I tell them they really need to go to Gascony or Marseille, respectively, if they want to get the real deal. Some dishes are so specialized, though, that even the locals might not have heard of them, as was the case when we were trying to find Kig ha farz in Brittany, and no one I asked about it, even knew what it was.
People were looking at me like I was speaking in some crazy language, which the Breton language might sound like to someone (especially when spoken with an American accent), but when I finally found someone who did know what it was, she said that we had to go to another part of Brittany to get it.
Although I have a Kig ha farz recipe on my site, I did come across another one in a book of Breton recipes I picked up while there. I know people in Brittany have a sweet tooth, as evident by all the Kouign amanns in every bakery, and even at roadside stands, but their recipe called for 3/4 cup/150g of sugar, which seems a lot for a dumpling that gets paired with meat and vegetables. (My recipe has 1 tablespoon.)
The book, however, inspired me to make the recipe for baked rice pudding that was in it. It was titled Riz au lait au four de la voisine which referenced a time when les femmes brought their rice pudding to the local baker, which they would cook using the residual heat of the ovens, once they were done baking their loaves of bread for the day.
While everyone is going on and on about all sorts of plums that are in season where they live, the humble quetsche, also called Italian prune plum, or damson plums, remains a favorite of mine. Right now, they're abundant at the Paris markets. Like mirabelles (and bagels), les quetsches inspire a frenzy of interest in France, and in places where they're not easy to come by. I'm into any kind of plum, to be honest, and prune plums come at the end of the summer stone fruit season, sticking around through the first part of fall. I like their concentrated flavor and they make a lovely jam-like compote when baked in the oven.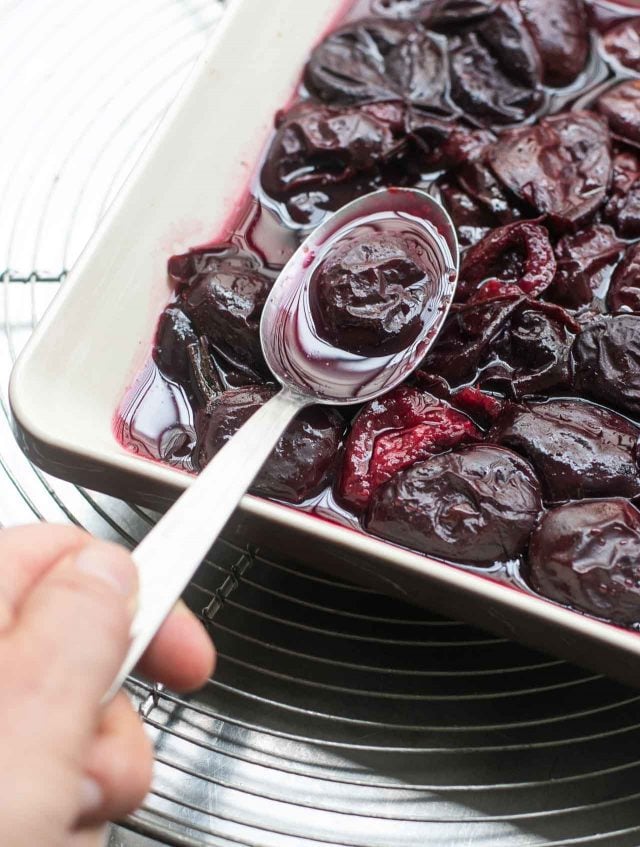 The recipe in the book didn't, um, quite work as well as the picture indicated, so I retooled it, dialing down the sweetness, and upping the creaminess quotient by cutting back on the rice, and cooking it longer. It went through a few iterations in my kitchen until I got it right.
Making a baked rice pudding requires a leap of faith. You need to take it out of the oven when it's still quite liquidy because it thickens as it sets, which is a little scary. But as it settles into a creamy custard, it's hard to stop digging your spoon into it while it's still cooling. (And I've got the brûlures in my bouche to prove it.)
The first time I made it, I used a wide gratin dish and it came out a little dry (above), with a flabby top crust that looked nothing like the perfectly browned crust in the book, which was either the work of the rustic fire lapping away at it, or a good food stylist.
I tried it again in a smaller, deeper dish, and it came out fine (below), but was unevenly cooked inside. Some of the bits of rice had separated from the custard, and remained a little too distinct. I wanted a smooth, meltingly creamy pudding. I also swapped out the vanilla bean with a couple of bay leaves, which took it in a direction I didn't want to go in.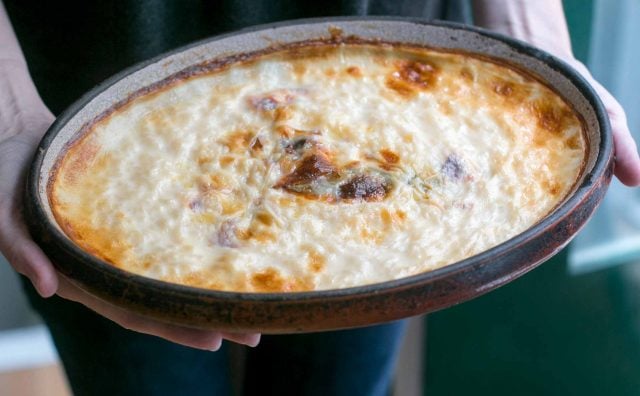 So I gave it another go. I remembered a Spanish rice pudding from Penelope Casas that I made many years ago, that called for what seemed like an unreasonable amount of milk (I can't find the recipe but I think it was measured by the gallon…), and just a few spoonfuls of rice, cooked on the stovetop, until your arm fell off. This time I stirred the rice while it was cooking in the oven, every so often, in favor of getting that silky texture I was looking for, and saving my right arm for more important tasks, like writing this all up.
The other upside of baking the rice pudding is that you can bake the plum compote to go along with it. So there's that, too.
People often describe rice pudding as "comfort food," but I'm going to go a step in another direction and call it "something hard to photograph." It's creamy, runny, and hard to control, with errant bits of rice running amok and plum syrup going all over the place. It's sort of the plain-Jane of the baking world. At some point, I'm going to have an in-house food stylist on call, but until that day comes, it's rice pudding, in a bowl, with fruit alongside it.
I've seen recipes that say you can use any kind of rice for rice pudding, but I used round rice. Arborio or bomba rice fit that category, although the more ordinary (and less-expensive) riz rond is what most French people use for riz au lait. In fact, on the package, it says "Idéal pour les Desserts." After all that testing, I wanted my rice pudding to be idéal, and it was.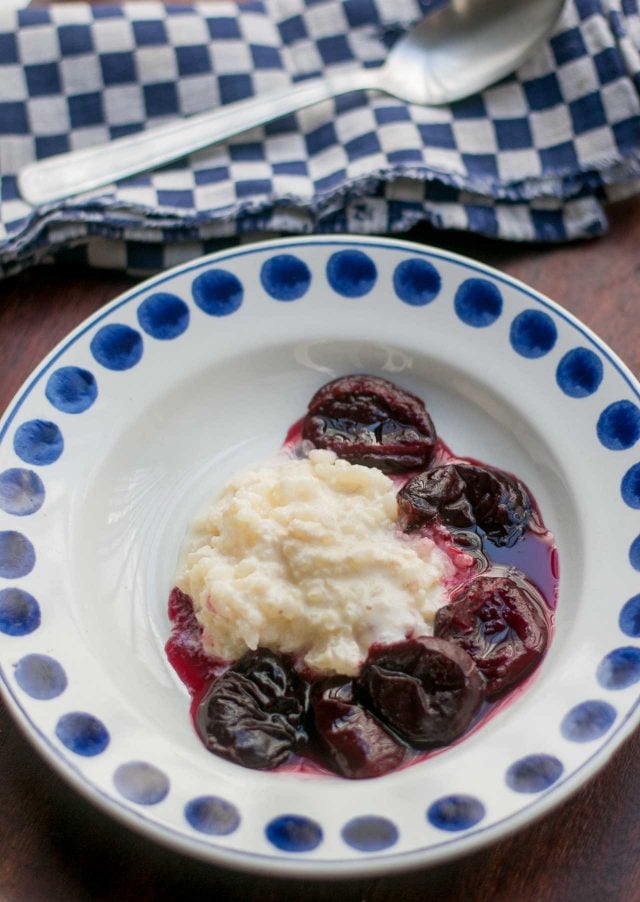 When also using my non-tired arm to upload photos to this post, I realized the plums were so delicious that I couldn't resist eating one of them while I was taking the pictures, hence the missing quetsche between the picture above and the one below, hence the discrepancy. Which I'm not apologizing for. It was delicious.
[Be sure to scroll down after the recipe. I've written up some notes about the blog, and upcoming activities that you might be interested in.]
Baked Rice Pudding (Riz au lait) with plum compote
This recipe is open to lots of variations. Instead of the vanilla, you could flavor the rice pudding with a cinnamon stick or two, a dusting of nutmeg, some orange zest, or maybe a dash of orange flower water with a few cardamom seeds. A handful of raisins or dried cranberries (or cherries) would also be a nice addition, added right at the start I used
round rice
, which is also known as short-grain rice in the U.S., and is available in most supermarkets and grocery stores. Arborio or bomba rice could be used. For those avoiding alcohol, in lieu of the wine, use water or apple juice, to help create extra sauce with the plums. The sugar can be replaced with 2 tablespoons of honey and, like the vanilla bean in the rice pudding, a cinnamon stick or spices (such as star anise or allspice) can replace the vanilla. The compote is even better the next day, when the juices have had time to thicken, so feel free to make it in advance. It can be served at room temperature or warm.
For the rice pudding
1/2

cup (105g)

round rice

,

such as short-grain rice

1/2

cup (100g)

sugar

1/4

teaspoon

salt

1

vanilla bean

,

split lengthwise with seeds scraped out

4

cups (1l)

whole milk

2

tablespoons (30g)

butter, salted or unsalted

,

cubed
For the plum compote
1 1/2

pounds (700g)

prune plums

1/3

cup (80ml)

white wine

,

(see headnote)

3

tablespoons

sugar

1/2

vanilla bean

,

split lengthwise with seeds scraped out
Preheat the oven to 325ºF (160ºC).

In a 2-quart baking dish, or larger, with high sides, mix the rice, sugar, salt, and vanilla bean & seeds. Pour in the milk. Mix it with the other ingredients, then strew the bits of butter over the top.

Place the dish of rice in the oven, stirring the rice every 10 to 15 minutes, being sure the scrape the bottom of the baking dish to avoid any grains of rice sticking there. Don't worry if the top starts to brown; simply stir that in*.

While the rice pudding is baking, make the compote by slicing the plums in half and removing the pits. Lay them cut side down in a baking dish large enough to hold them in a single layer. Pour the wine over the plums, sprinkle them with sugar, and tuck the vanilla bean between some of the plums, so it's mostly submerged in liquid. Cover the pan with aluminum foil and bake until the plums are soft and cooked through, about 15 to 20 minutes, depending on the plums.

Bake the rice for 1 hour and 45 minutes, stirring as directed. Remove from the oven and let cool for at least 10 to 15 minutes, to thicken, stirring occasionally. The rice will seem very liquidly, but will thicken up as it stands. (See note, below.)
Notes
Serving: Serve the rice either warm, at room temperature, or chilled with fruit compote. If plums aren't in season, it's lovely served with Salted Butter Caramel Sauce, poached pears, sliced fruit, or even a dollop of your favorite jam.
*(There may be bits of browned topping mixed into the rice pudding, which I don't mind.)
Checking for Doneness: Baking this rice pudding requires a bit of a "leap of faith," since it'll still be quite liquidy when it comes out of the oven. I did a little video of it here, of how the rice pudding looks when it's best to remove it from the oven. If for some reason it's still too milky when cooled, you can cook it in a saucepan over low heat, stirring it frequently, until it's the texture you'd like it to be.
Notes: I haven't tried this with nut milk or other types of milk (including coconut or oatmeal), but it should work. Since there are no eggs, it's quite possible to make it a non-dairy dessert. If you do try it with an alternative milk, feel free to share how it works out in the comments.
---
Some Blog Notes!
-I've finally finished the Paris Bakeries page here on the site. I spent the last few years visiting the pastry and chocolate shops of Paris, hundreds of them in fact, taking photos at each address (well over a thousand!) for my Paris Pastry App. However, the technology got the best of me and it eventually won. I was unable to keep up with the technical demands and constant maintenance of the app, and I and my partner/editor for the app went through three teams of app developers trying to get it right.
Making it even more of a challenge was shops would change hands, open additional addresses, move to another neighborhood, close, or the quality might change, and it was impossible for us to keep up as we couldn't update the app whenever we wanted to. So I made the difficult decision not to continue it. (In addition, the publisher folded.) If you have the app on your phone, it will still work…unless Apple changes its iOS, which was another challenge we faced : (
The upside is that because my original intent was to have a comprehensive list of Paris pastry and chocolate shops out there, I've built a page on the blog and put my favorites there. You can access it by clicking on the menu bar at the top of the page, where it says "Paris Bakeries." I'll be adding more in the future, with updates new discoveries.
-I'm going to be on book tour this fall and winter in the U.S. for my upcoming book, L'appart, which is now available for pre-order. I've put the dates and locations that are confirmed on my Schedule page and have been making Facebook Event pages for the appearances, where you're welcome to RSVP so the venues know how many people to expect. Due to space considerations, some events are ticketed and may require signup, and others will be open to all.
I'm going to be adding more places in the next few weeks. As much as I'd love to, I'm doing my best to go to as many places as I can. But if there is a venue in your city that would like to host me, there is a link on my Schedule page for them to contact my publisher, to make arrangements.
-You may have noticed that the blog is sporting fancy new social media "sharing" buttons. Sharing has always been a big part of the internet, and blogging, so if you like a post, I'd appreciate it if you shared it with others. Thanks…for sharing!
– David