Maison Landemaine Bakery in Paris
It's a great day when a new bakery opens up in your neighborhood. I don't mean to brag, but there are six bakeries in my neighborhood. One of those "great days" was when a particularly lame bakery closed, and a really good one opened up in its place. And although I don't like seeing people go out of business, another bakery that was, for lack of a better word – also lame – closed, and Maison Landemaine opened where another bakery had been.
It's easy to come across as blasé when people ask about finding the best bakery in Paris, which sometimes includes a question about if you're racing to the bakery that won the Grand prix de la baguette de tradition française de la Ville de Paris (an annual competition for the best baguette in Paris) for your daily bread. Winning that competition is a windfall for an unknown baker; the morning after the winner is announced, the lines are a lot longer than the baker ever imagined. Their baguettes are also served in the Presidential Élysée Palace for the following year.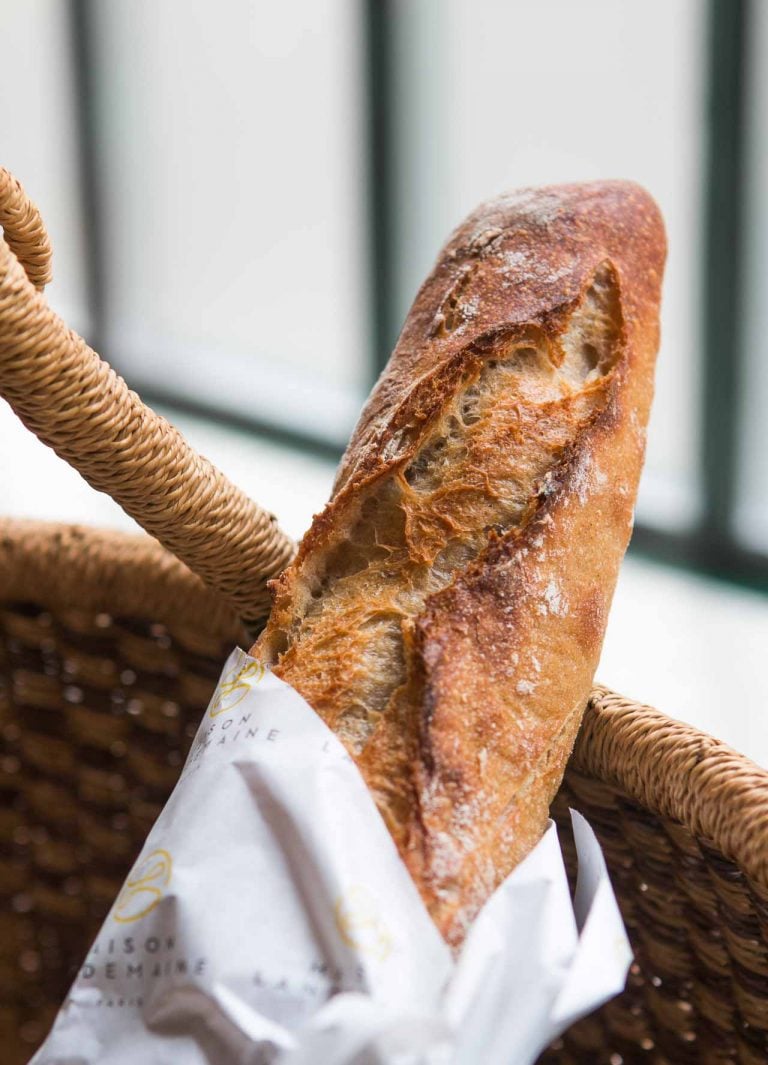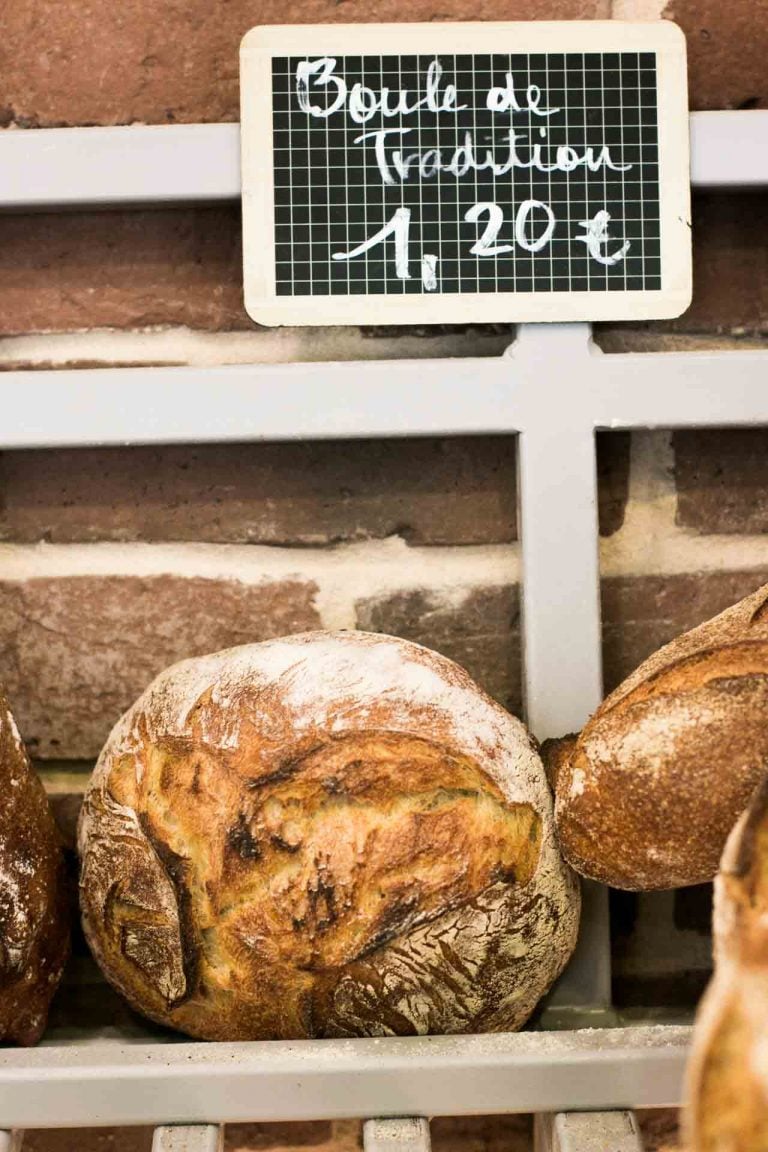 But like most people in Paris, I tend to get my daily pain in my neighborhood. (Unless I lived in the Élysée Palace. Then I'd eat whatever they gave me.) Way back in 2007, I proudly posted a story called The Best Croissant in Paris, about the most delectable croissant they made at my neighborhood bakery, which, conveniently, was just across the street from my apartment.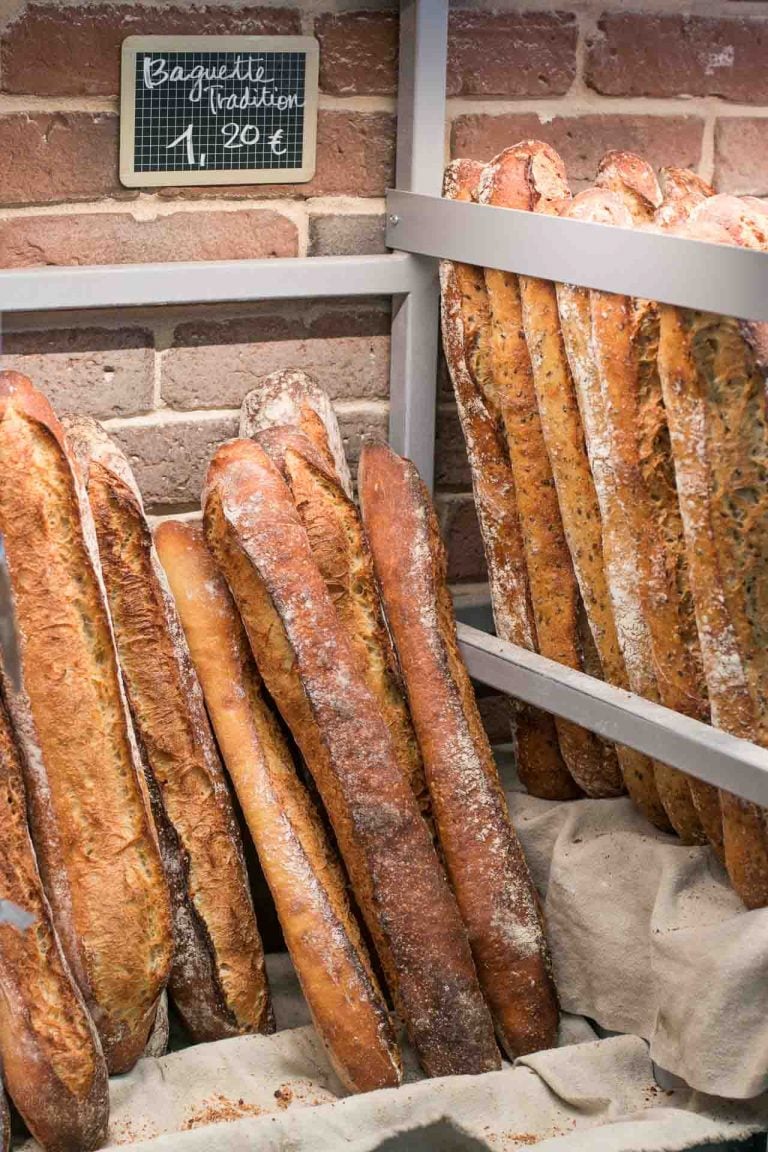 People wrote articles about my article over the next few years, dissected the results, comparing it with other croissants in Paris. I took some online hits as the bakery changed hands, and changed bakers, and the croissants just weren't the same afterward. It's a full-time job going back and updating 1378 old blog posts, so I didn't update that post.
Plus I'd moved, and hadn't been back. But walking by the bakery a few weeks ago, I saw that it had closed and was boarded up, and work was being done on it. Like the bakery in my quartier, that became a Maison Landemaine, too.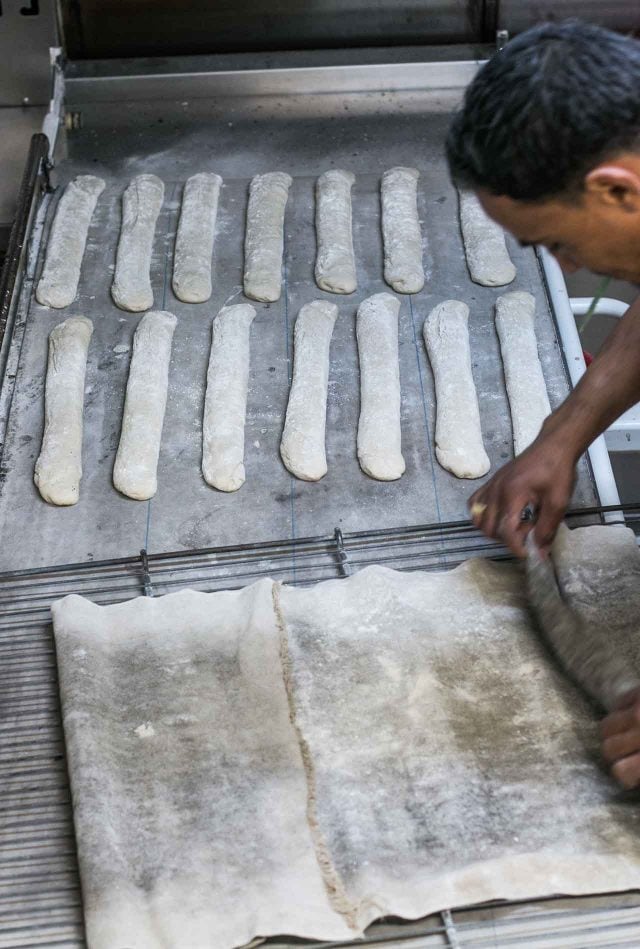 Mention the word chaîne, and people scrunch of their faces in France, especially when it concerns a food place. That hasn't stopped fast-food and coffee shops chains from proliferating, but it's tough for bakeries that have more than one outlet to make a go of it, which I suspect is why so many change hands. In order to be called a boulangerie in France, the bread must be made on the premises. A depot de pain sells bread they didn't make right there.
Those designations were not just because the French are especially fond of categorizing things, but was enacted when bakers started resorting to commercial formulas (like pre-mixed flours with leavening), or purchasing par-baked loaves made elsewhere and reheating and reselling that. It's not a bad thing if freshly baked bread is made in another part of town, but most people in France like the idea of their corner bakery baking the bread fresh each day. So each Maison Landemaine is a proper boulangerie, making bread all day long, right in (or under) their shops.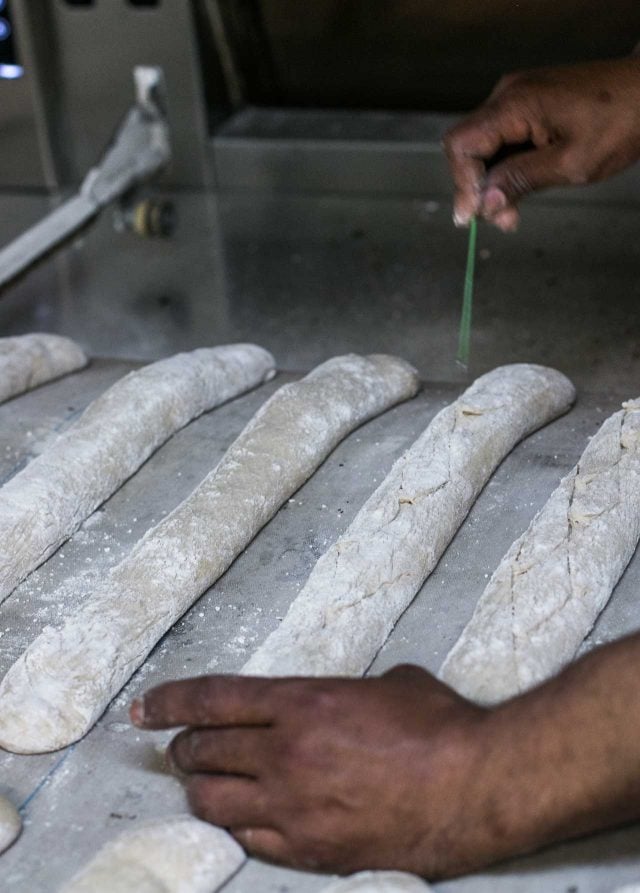 There aren't any flabby pas trop cuite (undercooked) baguettes at Maison Landemaine either. Each one is perfectly cooked; crisp and well-browned on the outside, chewy, moist, and rip-apart airy inside.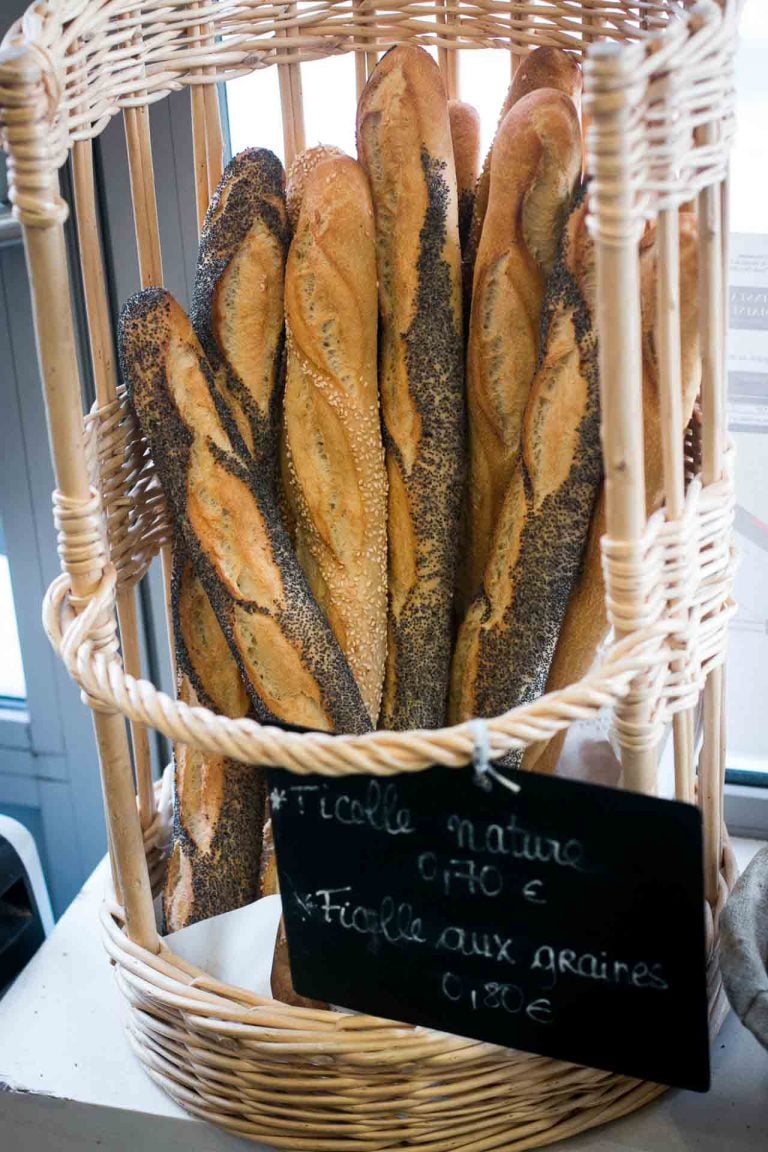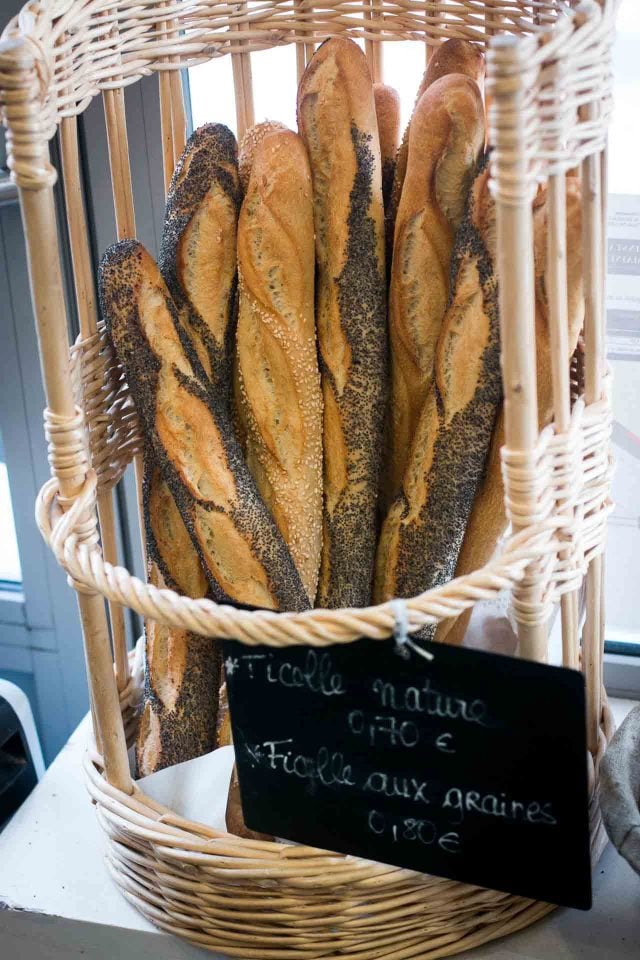 The bakery makes several types of baguettes in addition to the baguette ordinaire, which is regulated and must contain only flour, yeast, and salt, and don't last very long. There are baguettes de tradition, baguettes de campagne, baguette aux graines (below), twisted baguettes, and baguettes coated with sesame and poppy seeds in their bakeries, the last two only available in certain shops, and the first two using natural yeast. I always go for the baguette de campagne.
The dozen-plus bakeries they have in Paris turn out 10,000 baguettes each week, and I know I am responsible for at least 3 to 4 of them during a seven-day period. I was so glad to find a baguette that was uniformly baked to perfection every time I went it, shortly after they opened, that I became a regular customer.
I'm not a super-fancy pastry guy so these days, I prefer to stick with traditional éclairs, babas, or apple tarts, which I often call "baker's pastries," since bakers tend to like simpler things, rather than fussy creations.
Owner, Rodolphe Landemaine worked for Pierre Hermé when he was the pastry chef at Ladurée (who owns the bakery with his wife, Yoshimi Ishikawa, who is now referred to as Madame Landemaine) so the bakery does well in the pastry department for those that want to indulge.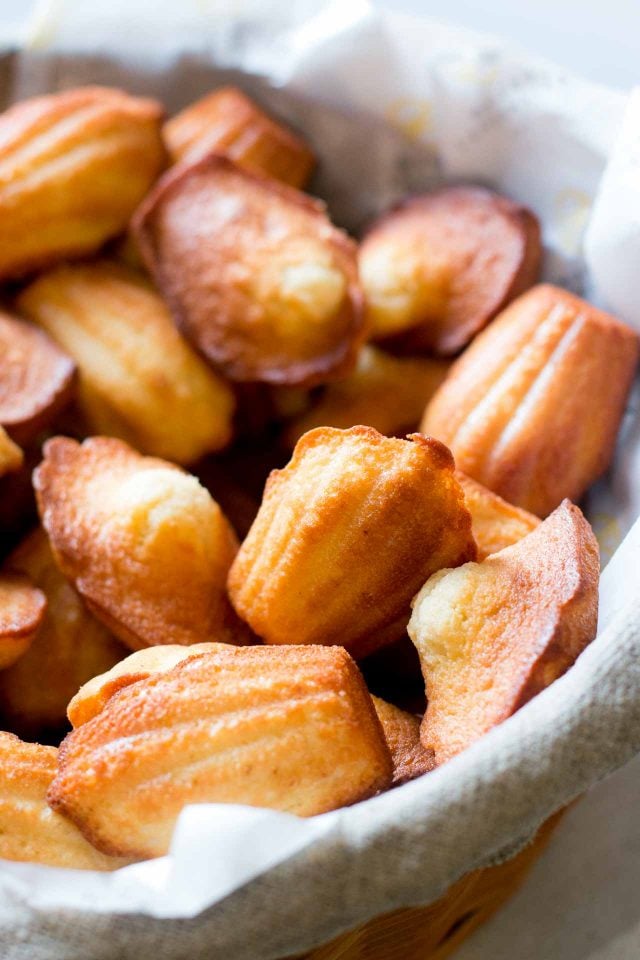 But I tend to go for a coffee or chocolate éclair, or a few madeleines plucked from the basket on the counter.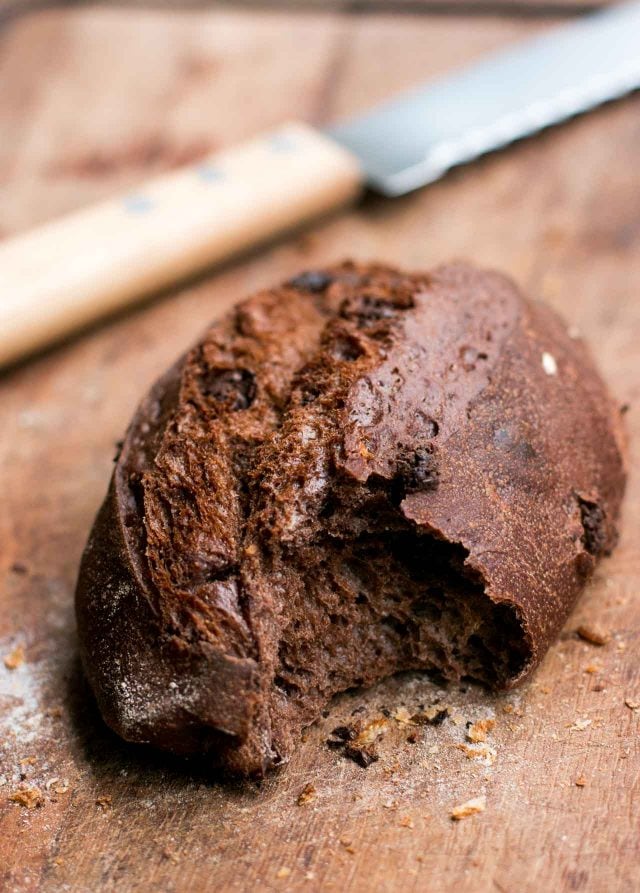 Thankfully carbs have been given a break recently so I don't feel bad when I pick up, and devour, an entire small-ish loaf of their chocolate bread, a dark, crusty oval with éclats of dark, bittersweet chocolate, which isn't too sweet. It's great with an afternoon coffee, but fine on its own, for breakfast.
For those that want to stick to the savory side, some of their bakeries have casual, in-store cafés where you can stop in for not only breakfast pastries and un petit café, but a hefty slab of quiche, whose flavors change by the season, or fougasse topped smoked salmon, olives, mozzarella, or the only-in-France combo of bacon and cream.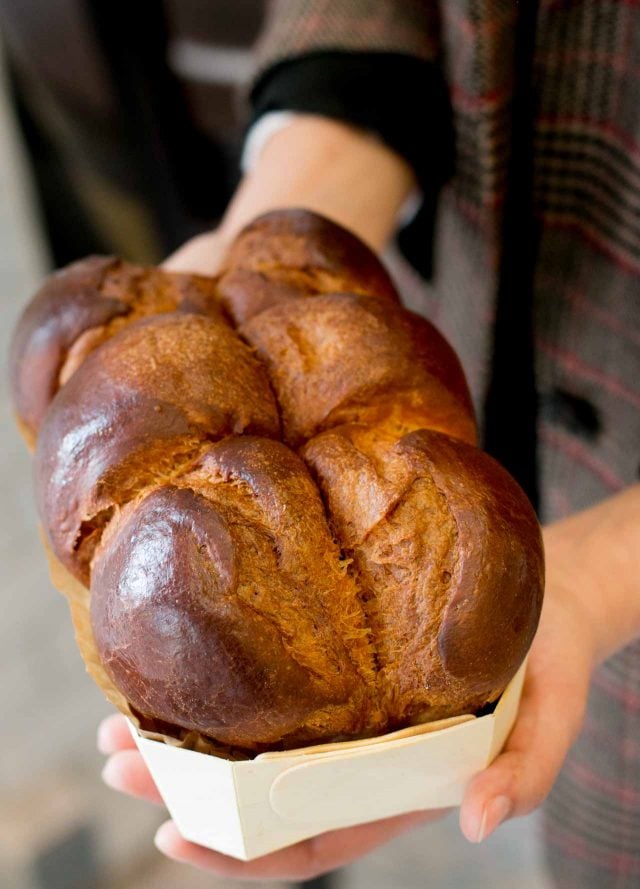 Addresses in Paris include:
28 Boulevard Beaumarchais (11th)
41 rue Oberkampf (11th)
26 rue des Martyrs (9th)
130 and 136 rue de Roquette (11th)
56 rue de Clichy (9th)
Related Posts and Links
How to Find a Great Baguette in Paris
Outsourced Croissants Outrage Traditional French Bakers (NPR)