How to Find a Great Baguette in Paris
There are a lot of people who come to Paris and can't wait to get their hands on one of the amazing baguettes that are packed in baskets and lined up on flour-dusted bakery counters seemingly on just every street corner. (And people still ask me why I moved here?) Well I have good news and bad news for you – there are plenty of great baguettes in Paris, and unfortunately a few not-so-great ones out there as well.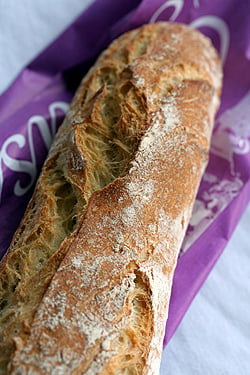 You just can't assume that every bakery makes great bread, just like not all wine companies make great wine or all restaurants serve good food. Paris is a large city with lots of bakeries of various quality.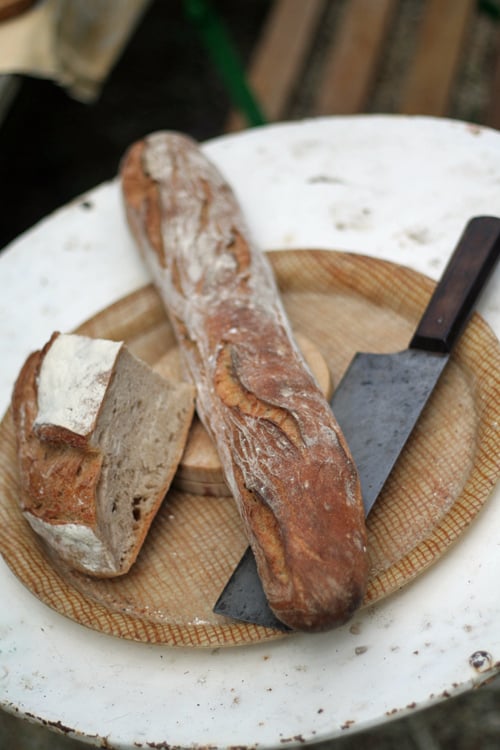 And in Paris, a baguette generally isn't something worthy of great adulation or bread that someone would take two métros to buy – a baguette is simply part of everyday life and something you'd pick up on your way home from work for dinner. And they come in all different sizes, shapes, dimensions, and colors.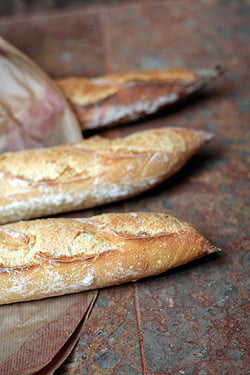 That said, baguettes are abundant and cheap; it's hard to find a baguette that costs over €1,30 and many bakeries do a good job with their baguettes simply because with so many bakeries to choose from, people gravitate to the bakeries in their neighborhoods with good baguettes. A line snaking outside if often a good sign. But a good baguette costs almost the same as a dud, so here are a few tips:
1. Look for the yellow and blue sign or sticker on the bakery that says "Artisan Boulanger", which means the bread is made on the premises. Another encouraging sign is that if there is the name of the baker or owner printed somewhere on the storefront or awning.

2. A Dépôt de pain is a place that sells bread, but doesn't make it there. A boulangerie is a place that makes and sells bread. A boule is a ball, in French, so a baker was traditionally someone who made rounds of bread. Some dépôts may be affiliate with good bakeries, but not always. Many buy frozen baguettes, and bake them off.
3. A Baguette ordinaire, sometimes called a Baguette parisienne, is white inside with a crisp crust, and is leavened with yeast. The price varies but most cost less than €1. I find it hard to find a good Baguette ordinaire in Paris as most good bakeries seem to put their energy toward the most artisanal Baguette tradition.
4. A Baguette tradition, Baguette à l'ancienne, or Baguette de campagne are names given to baguettes that are mixed, hand-formed (you can tell by the pointy ends and irregularities in the loaves), and baked on the premises, and usually have levain (sourdough) starter in them. Most of the baguettes pictures here are variations and you can certainly see they all look quite different, depending on the bakery.
By a law enacted in 1993, a baguette tradition can only contain four ingredients: flour, leavening, water, and salt. Some bakers use levain and others augment their baguettes by adding yeast, but that's not common. They invariably cost over €1, but rarely more than €1,40.
(Some bakeries will personalize the name of their "house" Baguette tradition, reflecting the name of their bakery, neighborhood, or for other reasons.)
5. You can ask for a baguette bien cuite (well-cooked) or pas trop cuite (not too cooked), which seem to be more in fashion. Most people behind the counter are used to rifling through the baguettes for customers—so don't be afraid to ask.
6. You can almost always buy a half a baguette in most places which is not considered odd.
7. If you check the underside of the baguette, if it has a raised grid pattern, dots similar to braille, it wasn't made by an artisanal boulanger. In spite of what you read, not all French people are necessarily discriminating about their bread. So just because you're in France, doesn't mean you're going to be ensured of getting good bread at a bakery. Avoid buying baguettes in supermarkets, which are generally awful.
8. A good baguette, when you cut into it, should have large, irregular holes. If it has a fine, even mie (crumb), it generally wasn't left to rise long enough.
9. The best way to keep a baguette overnight is to wrap it in a linen or cotton tea towel. You can warm it in a low oven for five minutes or so to restore its crispness, but it won't be exactly the same.
10. There are a number of factors why the baguettes in France taste different from the ones elsewhere; the flour is a different variety of wheat, the bakers are skilled from churning out hundreds and hundreds a day, bakeries have wild yeast in the air, which aids in breadmaking, and with over a thousand bakeries in Paris, there's competition, so those who want to be successful will strive to make a better baguette.
Related Articles
Baking Baguettes in Paris (Afar)
The Best Baguette in Paris (Wall Street Journal)
Best Baguette in Paris: Winners of Grand Prix de la Baguette de la Ville de Paris (Paris by Mouth)
Baguettes Tradition (Stuff Parisians Like)
Classic Baguette Recipe (King Arthur Flour)
One Man Searches for a True Parisian Baguette (Pittsburgh Post-Gazette)
Paris Gets Its First 24-hour Baguette Dispenser (The Guardian)
Baguette Traditional Recipe (Chewswise)