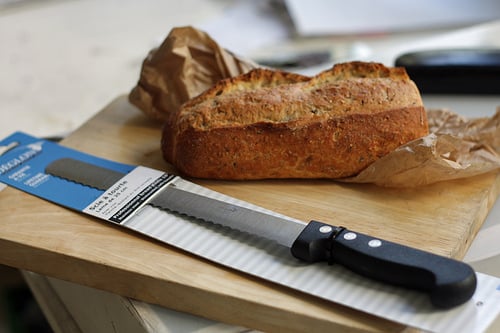 When I moved to France, the one thing I made sure to bring along was my bread knife. It's not that you can't get bread knives here, but I was particularly attached to mine, having used it for nearly three decades. It was a good value Victorinox at the time, and if you don't believe that I've had it for so many years, I think I paid about $14 for it, and the list price now is nearly three times higher.
(And for those who live in the Bay Area, I think I might have bought it at Whole Earth Access – if you can remember that far back.)
Of the knife "trilogy" that I think everyone should have – a chef's knife, a paring knife, and a bread knife – the first two should be of top quality, since you'll be chopping on a board and relying on their sturdiness and good blades to cut through firm vegetables and meats.
But you don't need to buy a super expensive bread knife because it doesn't take a lot of pounding and abuse. Unless you let someone else use it, which I never do with any of my knives if I can help it. However a very cheap bread knife isn't a good investment since I made the mistake of getting one…then another one, then another, shown just below…for someone who lacks good cutlery, when I came across them in discount stores. Because – yes, even I am a sucker for a bargain. Eventually the only thing they were good for was filler for the trash bin (actually, they weren't even good for that) – and I ended up buying him a good-quality bread knife at MORA in Paris last week.
A decent bread knife will run you at least $15 – $20, depending where you live and shop. Look for a bread knife with a scalloped blade edge that's thin and tapers gently into the thicker part of the blade, rather than one with big, widely spaced teeth. The thicker, more jagged teeth aren't good for getting that first slice into a firm loaf and a knife that can't cut through hard crusts of country-style loaves of bread can slip, which is dangerous. I'm not convinced you need one with a fancy handle – the blade is the most important element.
(One inexpensive brand that is reliably good is Dexter, which makes polycarbonate-handled knives for professionals, so they are meant to take a lot of abuse, but the serrated blades are often good and sharp. You can find them in restaurant-supply stores and online at Amazon.)
Interestingly, this particular knife shown is called a Scie à tourte (tourte sometimes refers to a large loaf of very crusty bread) so it's specifically up for the challenge of sawing through large round loaves of French bread with a dense exterior. In English, it's labeled simply as a "bread knife."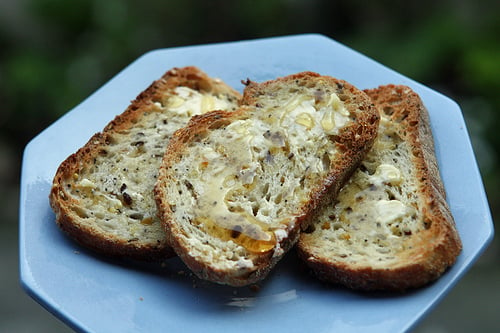 If you live in an area with a cutlery or good cookware store, go in and hold a few in your hand. And ask their advice. You don't need the absolutely best brand and you don't need to spend a hundred bucks, unless you slice bread for a living. When I bought the knife shown the other day, I saw one that cost nearly €95 – this one was around €28 and works well. And is currently being put to good use, morning 'til night.

Related Posts
How to Take Care of Your Knives