In Praise of Sesame Baguettes in Paris
I suppose I'm doing all those things the diet-police are advising against – namely having fat and carbohydrates for breakfast in lieu of "healthier" options, like having a bowl of kale-flecked quinoa or downing a cilantro smoothie. But as much as I like fruits and vegetables (and herbs), the only thing I am able to face first thing in the morning is something a little less threatening – namely bread, salted butter, and coffee. And that's all.
For a while, I was adding a swipe of chestnut or buckwheat honey to my butter-smeared morning ritual, but since deciding that one seemed to be fighting the other on my plate (and who wants to referee their breakfast?), salted butter won out over the honey. Which has also been easier since I've been getting regular deliveries of salted butter from Normandy (thanks Jennifer!), which is so good that adding anything to it, like honey or jam, is the equivalent of putting herbs in a perfectly good smoothie.
Years ago I wrote about my crack baguette, the bread that I could never get enough of. Whose disappearance I still haven't recovered from, even though it's been probably five years since it was mercilessly snatched from my breakfast plate. At one point, someone tried to pin the demise of the bakery on me, for not giving up their address. (Because like cable television and mobile phone service in France, if something is working for you, you don't touch it. You leave it alone.) But since living in a culture of c'est pas ma faute, I think I could hardly be blamed when the elderly couple that ran the bakery finally decided on retirement. And believe me, if I had sway over who could retire, I'd be working on that list at this very moment.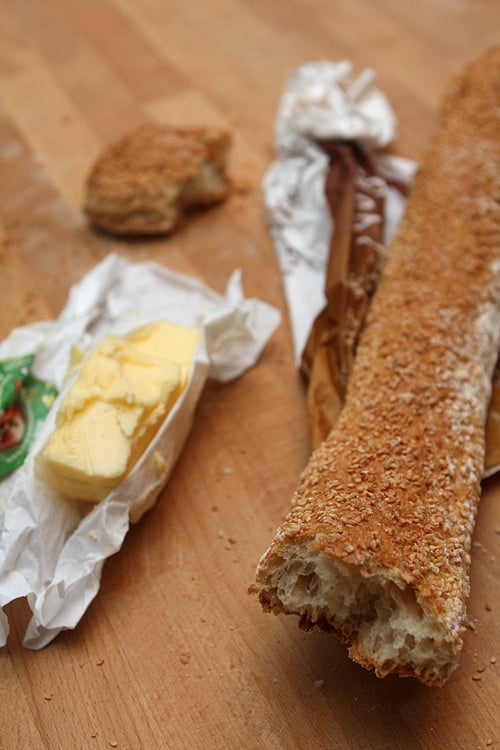 Fortunately, a number of other bakeries make a baguette au sésame, and others have taken the place on my plate (although not quite in my heart) of the boulanger who made that excellent sesame baguette up at Barbès. Folks will often ask me about baguette recipes, or want to find out how Parisians make baguettes at home. And while I am sure there are one or two people right currently proofing their yeast so they can wake up tomorrow morning at 2:30 am to begin shaping their morning loaves, the other 99.99% of us in Paris that are happy to head to the corner bakery for our baguettes.
And really, it's also part of a daily ritual to go stand in line at the neighborhood bakery, make some obligatory small-talk with the counterperson (at least in my case, because I want to keep them on my good side), then heading home with your loaf. My bakery, however, runs out of sesame baguettes first thing in the morning, which, of course, begs the question – which I posed to them the other day): Why not make more?
I guess it's a little hard to comprehend the concept of if you are a business and there is a big demand for something you are making, you might want to consider ramping up production. Instead it's pas notre faute (not our fault) and they told me that I could reserve a sesame baguette by calling them, which sounds a little odd to me. Nevertheless, I'm considering it, because I'm tired of waking up at 5:45 am and waiting in line at the bakery in the rain with my pillow and sleeping bag just to make sure I get a sesame baguette.
Still, those sesame-crusted breads have captivated me and I suppose unless I start making my own baguettes at home (and seriously, I'm probably the only one in Paris with an oven big enough to bake a baguette in, so there goes that excuse), I'm going to have to spent more sleepless nights wondering if I'll make it over there in time to get my morning loaf. And continue to make sure my alarm clock is in tip-top working order. Or simply get a tent.
UPDATE: A bakery in Paris is now making excellent sesame baguettes (with a touch of curry), Boulangerie Utopie. They're listed on my Paris Pastry page.