Chicken Liver Pate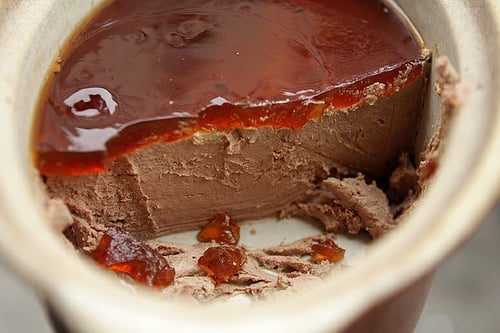 Somehow, I have a lot of fat. Fortunately most of it is in my freezer. I love duck fat and if you haven't tried potatoes cooked in duck fat, I urge you to step away from the keyboard, go buy yourself a duck, render the fat, pluck some potatoes from your rooftop garden (if you live in Brooklyn), and fry them up. Then…Oy!… as anyone is likely say when they taste them.
But in spite of its slippery, unctuous qualities, fat isn't necessarily a sexy subject to publishers. Niche subjects often get bypassed since they are always looking for the "market" for a subject or cookbook. And schmaltz? When was the last time you did a search for a cookbook on chicken fat? Yet certain things need to be written about, and I'm sure no one was all that interested in the dictionary before it was published, or a book about religious folks wearing flesh-cutting devices under their frocks, à la The Da Vinci Code.
So even if the authors aren't going to be on David Letterman (although maybe we should start a write-in campaign for me and Michael?) I loved the idea of Michael Ruhlman's treatise on shmaltz, or chicken fat, that he wrote and produced as an electronic version, before the print version comes out at a future date.
There's a lot of talk about e-cookbooks, much of it about what people will pay for an app versus a book, but this app completely takes advantage of what the electronic format can bring – lots of photography (which readers love), an easy-to-read, tactile format, and best of all, a picture of Michael Ruhlman's hair. (Next up: I suggest an interactive app exclusively on that subject.)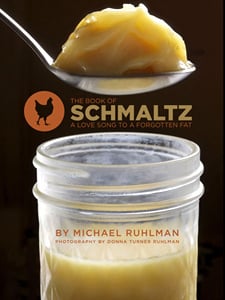 All kidding aside, I was excited to find a number of recipes that I found appealing, especially since I have a freezer-ful of duck fat. But what is schmaltz? And why did it appeal to Michael, so much so that he wrote a whole book about it? Well, I think he can explain it better than I can.
I'm not as, um, exuberant as he is with the fat (there's a chicken pâté recipe in The Sweet Life in Paris that has a good swap-out option for the copious amounts of fat or butter traditionally used) but I had a freezer-full of duck fat waiting to be used, and I couldn't think of a better opportunity than to whip up a batch of pâté – à la Monsieur Ruhlman.
| | |
| --- | --- |
| Chicken Liver Pate | Print Recipe |
Makes about
2 cups (600g)
Adapted from The Book of Schmaltz by Michael Ruhlman The jelly was something I added, because once I spread the pureed pâté mixture in my covered mold, I thought it would make a nice presentation. People get weird about things that are jellied, so it's optional. But if you decide to make it, you can use a ruby port, like I did, or marsala, sherry, or even a sweet dessert wine, like sauternes, late harvest riesling or muscat. If you don't have chicken fat, or schmaltz, or duck fat, use melted butter for sautéeing the onions, cooking them until wilted. (They will not caramelize the same way as they will with chicken or duck fat.) And replace the melted chicken or duck fat used when pureeing the livers with softened butter.
For the pâté
3/4
cup (180g)
melted chicken or duck fat
1
onion,
peeled and diced
1
pound (450g)
chicken livers
1
teaspoon
freshly ground pepper
2
teaspoons
red wine vinegar
1
teaspoon
whiskey,
port, or sherry wine
For the jelly
1/2
cup plus 2 tablespoons
port wine
(155g, total)
1
teaspoon
unflavored gelatin granules
1. In a large skillet cook the onions with 1/4 cup of the chicken or duck fat, stirring frequently, until they are browned and beginning to caramelize. It will take 10 to 15 minutes. Once browned, scrape them onto a paper towel-lined plate and let them drain.
2. Add the chicken livers to the pan and season with the salt and pepper. Cook the livers, stirring often, until they are just-cooked through but still pink inside. Remove from heat.
3. In a food processor, pulse the hard-boiled eggs a few times, then add the cooked livers (scraping in any pan juices), vinegar, liquor, cayenne, the fried onions, and the remaining 1/2 cup melted chicken or duck fat, then puree until smooth. Taste, and adjust with salt and pepper.
(In the app, Michael Ruhlman suggests that if you want it very smooth, you can press the mixture through a wide mesh sieve. I didn't do that as I didn't want to lose any of those little caramelized bits of onion.)
4. Scrape the mixture into a pâté mold or decorative bowl, and chill a few hours, until firm.
5. To make the jelly, put the water and 2 tablespoons of the port in a small bowl and sprinkle the gelatin over it. Let sit 5 minutes.
6. In a small pan, warm the 1/2 cup of the port with the sugar, allspice, then pour it over the softened gelatin, stirring until the gelatin is completely dissolved. Let the mixture cool until it's tepid, then pour it over the back of a spoon (to avoid creating a divot in the pâté), over the chilled pâté.
Serving: The pâté can be served with a shallot marmalade, or just sprinkled with sea salt on crackers or toast. A treat is a sandwich made with this liver spread and cream cheese, smeared between two slices of Jewish rye bread.
Storage: The pâté will keep three to four days in the refrigerator. It can also be frozen for up to two months.
For tips on using gelatin, check out my post: Tips on Using Gelatin.
Duck fat is availabe from well-stocked grocers, gourmet food stores, and some butcher shops, as well as online at D'Artagnan and Amazon. You can also render your own duck fat.
Related Recipes