Where Is the Best Duck Confit in Paris?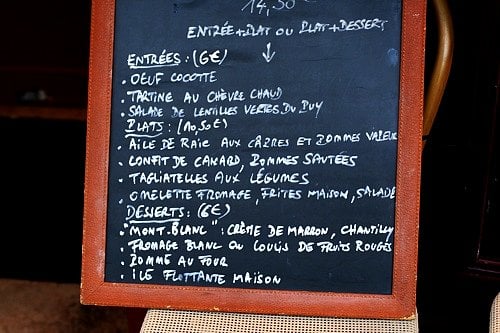 On her last visit to Paris, I introduced my cousin who's a Franco-phile, to confit de canard, knowing that she'd love it. When I saw the rapture that took over when she put that first forkful in her mouth, I could see that she was hooked as I am.
I'd taken her to Chez Dumonet, which is reliably excellent. This time, though, I'd like to take her somewhere else. A lot of restaurants offer duck confit, occasionally, but it doesn't reliably appear on menus.

And other times, even if it is, you might be subjected to a less-than-stellar version. To me, there's nothing worse than being presented with a greasy leg of duck, covered with fatty, flabby skin, when you could be eating shatteringly-crisp skinned cuisse de canard, every bite making you happily forget how much duck fat you're ingesting.
Au Trou Gascon used to have a great version, but it's a bit too fancy for right now, and I'm wondering if the nearby Baracane has a good one. But I ate there once and the waiter didn't bring back the change, and responded when I asked, "Oh, I thought it was a tip." Which is annoying anywhere, but especially in France where tipping isn't required, or necessarily expected. When I told Romain about that, he flipped out. I don't think too many places here would ever pull that with a French person.
I checked Gourmet Paris, which lists specialties by restaurant in Paris. But since the guide is a few years old, its suggestions many not be au courant. Thoumieux has confit de canard, but the skin-crispiness is consistently inconsistent. Another classic spot, Chez René, lists it on their menu. But I haven't tried it and I know they've changed owners, so I wonder how theirs is. The blackboard above is from La Bastoche, in the Bastille, and the price is right. But the two Rick Steves-recommend stickers in the window kind of give me pause.
(He also recommends Bouillon Racine and Polidor, both of which serve pretty dreadful food, although the hostess at Polidor has the most amazing, um, seins. And she isn't shy about featuring them, either. My guess is that he's easily swayed?)
When I moved here, I asked someone where the best confit de canard was, and she responded: Chez Clément, which is a chain of family-style restaurants, upscale fast-food if you will. It might sound far-fetched, but in my experience, chain restaurants often do respectable versions of fried foods. Except I checked out the menu at the one across the boulevard and the dégustation de canard features a heart-stopping trio of magret de canard, confit de canard, and a slab of foie gras.
Oh yes, and if that's not enough, it comes with a big pile of buttered mashed potatoes. I like duck fat. I like butter. And lord knows I like mashed potatoes. But I also like my heart, and seeing as I'd like to live a little bit longer, we'll probably skip this one.
So I thought I'd ask: Are there any restaurants that you recommend that have a stunning, reliably-excellent version of duck confit in Paris?