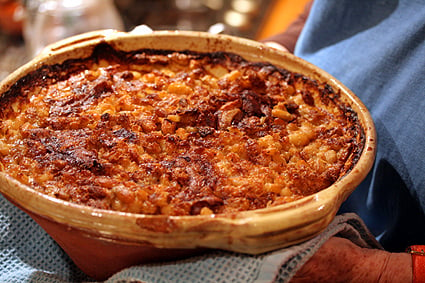 Most people when they think of France, they think of only two places: Paris and Provence. While I'll admit both are lovely spots for a visit (or in the case of Paris, to live in), there's a lot more to this country than those two destinations. I suppose the romance of lavender in everything and hoards of tourists does have its appeal, but to me, Gascony is one of my favorite destinations in France.
And during my recent trip to Kate's kitchen, near Agen, we spent last weekend cooking up cassoulet of all sorts, tasting local products, and drinking Armagnac with great restraint (that stuff is st-rong!) There was lots of choose from, but to keep our wits about us, our primary fuel was the darkest vin rouge in France: Cahors, often called 'black wine', made from just up to the north of us, from the canal and boat I called home for the weekend.
(Note: This post contains photos of animals used for cooking, some resembling their natural state. It's part of life in the French countryside where that's part of their way of life. Just a mention in case you're sensitive to seeing things like that.)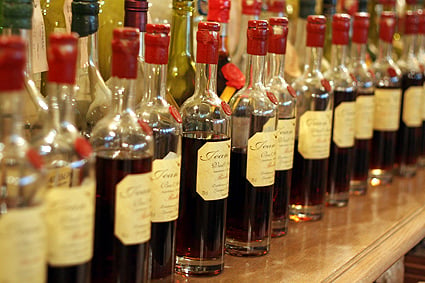 Opting for the car over the train (Note to self: Next time, take the train to avoid the 3-hour traffic jam outside of Paris) one of the charms about driving on les autoroutes are the signs that notify drivers of the regional specialties.
Often they alert you to medieval villages, forests, caves, or other sights of interest.
As you get closer to Gascony, driving through Gers, there's no mystery as to what's the specialty down here: truffles! And lots of them. But we didn't see one specimen since it was early. Since the truffles weren't quite happening yet, we had to settle for other delicious things from the region.
Like duck, beans, duck fat, bacon, duck foie gras, and sausage.
And a little pork.
You know you're in rural France, when someone presents this to your table and no one freaks out.
It's porcelet; a young pig roasted with thick, crackly-skin. There was lots of ooing-and-aahing, and we were told to begin with the skin, then work our way through to the tender meat beneath. Being obsequious, I took a mouthful of skin, and chewed.
And chewed and chewed.
And chewed.
And chewed…
The skin was a bit too rough and tough, and I ended up working it around my mouth until I realized there was no way to get it down, and yanked it out..discretely, of course…except everyone looked at me anyways unraveling this gunky wad from my craw, which luckily escaped being photographed so you don't have to see that. It was like chewing on a wet patch of suede. But once I got below the skin, the meat on the underside was a tender as could be and since Kate was the hostess, they presented her with the best morsel: the head. And don't say I didn't warn you…
I had to console myself with not getting the tête with a shot of Armagnac—Kate had to remind me, visually, of where my limit was.
Before we actually made our cassoulet, Saturday morning was spent at the market in Nérac, where I had the most terrific pain d'epices I ever tried. The vendors plopped a bit of goose rillettes (a spread made with goose and goose fat) on it, which was a combination I never tried, but will certainly do so in the future.
I also sampled nutty meringue cookies with almonds and hazelnuts, incredible cheeses from the Pyrenees, and lots and lots of prunes, which the region is justly-famous for. I lugged home a few kilos, along with some locally-pressed dark grape juice. I also selected some nice bulging, fragrant Comice pears to make a Pear Sorbet with for dessert, which I thought would be particularly welcome after the rich cassoulet with some ice-cold Champagne tippled over it. No one complained, fyi…
Also at the market, I had a "Thanks for sharing" moment when one of the farmers showed me how be killed the doves he had heaped in a box by bending the necks to-and-fro for me. Before you get all freaked out, think of how I felt being there. I didn't freak. But if I saw the actually dove-death, I may have had to look away.
So here's your own "Thanks for sharing, David" moment…
But what a difference from prickly Paris vendors. I loved at the market how they offered samples, which of course, made one want to buy and buy. And you got to select your own fruits and vegetables. As someone who likes to sniff each pear before it goes in my basket, it was a welcome change from the ne touchez pas attitude in Paris. When I told one of the fruit vendors how nice it was to shop that way, he said, "Yes, it's much nicer to pick your own things. And it makes doing your shopping faster."
Maybe I should start touching things around Paris in hopes they'll take a cue from their neighbors to the south?
Er, on second thought, I'd better not. I don't like getting my hand slapped (if you're old enough to remember when they used to do that if you touched anything.) And I don't think I'm quite ready to hand-select my own doves for dinner.
On the way home from the market, like most of rural France, the region's full of winding roads with the infamous lack of signage that's led many travelers astray…in spite of Michelin's spectacular effort to organize the roadways of France. One learns not to necessarily follow the signs since they often don't lead to the right place.
And down here, a village may consist of one ramshackle house, so getting lost is part of the charm. Unless you're me and get all freaked out driving around and get lost, which I have a tendency to do, and don't find it all that charming.
Thankfully Kate pulled up and came to our rescue and got our carload home.
Once back in the kitchen, we unwrapped our goodies and she put us to work. After I discretely made my sorbet mixture with Romain and churned it up, I went from sweet to savory and my job, aside from keeping the wine glasses full, was to fry up the confit of duck we got at the market.
Confit is a preservation technique where duck, or sometimes other meats, are preserved by slow cooking them in fat very gently. Cooked and submerged, they can be kept for a long time covered with their own fat. Later on they get fried up in a pan and let me tell you, there's nothing better than good, crisp confit.
Still, this is pretty rich (and dangerous) stuff.
Dangerous?
Because the bad thing is—someone's gotta fry it. And if it's me, you walk around like a freak for the next week with one hairless arm dangling by your side. I wonder if I can get my other arm threaded so I match, until it grows back?
The good thing, though, is that if you're the fry-guy, you can squirrel away all the best crusty morsels of duck that you fry up, those hyper-crispy ones that tastes like duck candy and eat them yourself. Unless you're feeling generous—or guilty— which I did, and gave the a few choice tidbits to Tricia who came from Nice with the promise of making me socca, which I held her to for our last day's breakfast…which she kindly made while racing to the airport.
But back to the cassoulet…after unrolling rolls of fat and lining the three cassoles that Kate arranged for us, each one was layered with a different bean, a few lengths of grilled Toulouse sausage (which she told us is erroneously called 'garlicky', and usually has very little, or no garlic) and picture-perfect, expertly-fried duck confit. A few versions have lamb in them as well, but we were sticking with what we were doing. You want lamb? Go ahead and make yours with lamb. I'm not frying it, though. I did my time at the range.
And whoever cooked the confit, as you can see, did an excellent job. It's perfectly-done; bronzed to perfection, or as the French would say—dorée, or 'gilded'.
In the end although this was 3-bean cassoulet, I decided I did like the one we made with Haricots Tarbais the best, which are the dried beans the region and most classically used for making cassoulet. We did make a cassoulet with dried fava beans, which dissolved during the long-cooking, although we enjoyed it the next night as a soup which we served some unsuspecting neighbors who stopped by to see what and where all the delicious smells were coming from.
And by surprise, I noticed the dried fava beans that were bought at the local market said "Grown in Bolivia." Holy mother-of-cassoulet! Sounds like it's time to go on strike down here to protest the globalization of cassoulet. Where is José Bové when we need him?
The butcher on the vintage butcher paper says, "Don't cry for him, he's going to make good sausage."
After a great weekend, I packed up everything I left strewn around the boat where I slept, and we piled ourselves and our prunes into the car for the ride back to Paris. On the way out, I snagged a gorgeous yellow cassoule for making my own cassoulet at home.
Merci to Kate and the rest of the gang for opening up her kitchen for Camp Cassoulet.
Links and Recipes
The recipe for Kate's Cassoulet, and check out her book: A Culinary Journey In Gascony.
One of my recipes for cooking up a batch of Haricot Tarbais and comprehensive information from the bean cooperative in France.
Paula Wolfert's new edition of Cooking of the Southwest France is the most comprehensive and thorough book on Gascon and southwest cooking.
Cassoles for making cassoulet, and how they're made.
The infamous Charles & Lindsey Shere recipe for cassoulet
Searching for the Secrets of Cassoulet from Saveur magazine.
The Camp Cassoulet Flickr photo page.
Other cassoulet 'campers':
Local expat, Chez Loulou.
Lucy & Loïc, from Lucy's Kitchen Notebook.
Robert Lossen, who makes the most beautiful handmade knives.
Tricia from a Taste of Province.
And of course Kate, who operates The French Kitchen.