I was recently following an online kerfuffle about the role that folks who blog about Paris play on the Paris dining scene. On one hand, there's those of us that live and write about the city. On another are newspapers and magazines that do the same thing. I think I might be living under a rocher because although I do follow and read some of the various bloggers that also write about Paris, I don't know if I perceived any problems with what they were doing: like journalists and television hosts, they're simply writing and presenting information about restaurants in Paris.
There was some talk that people who live in Paris were writing up restaurants and people couldn't get in to them. It's an honest assessment as some of the "hot" restaurants in Paris have less than a few dozen seats and many of them only do one seating a night. So those eighteen seats because pretty valuable. In a place like New York City or San Francisco, for example, a restaurant might have fifty or a hundred seats, and do multiple seatings. Even so, reservations at restaurants du moment are often hard to secure in the states. But in Paris, with so many fewer seats, places fill quickly and extra attention can overwhelm a restaurant with a small staff.
Recently I was trying to get into a place I like a lot here, which I wrote up about a while back, and the waiter laughed when I stopped by and asked for a reservation. While I love the restaurant and the chef, it was unfortunate that getting a table at a place where I used to enjoy quite a bit was now next to impossible.
Unlike Americans, French people don't make long-term dining reservations. The feeling is "How do I know where I want to eat two months from now?" And I tend to agree. One of the things that I always liked about the Paris dining scene was that except for some of the three-star or "hot" restaurants, you could call and get a table that same day or just a couple of days before you wanted to dine. There wasn't the mad crush to get in to the latest hot-spot.
This month I've had a cavalcade of friends visiting and, of course, they all wanted to go to the same restaurants they'd read about in the newspapers and food magazines back home. I later learned that one was actually featured on a popular television program that had a certain amount of 'foodie' cred, which contributed to some of their excitement as well.
I didn't like having to disappoint my visitors, but every place I called on their lists was complet, complet, complet. So I'm not sure what the solution is. And I don't know who to "blame"—Newspaper and magazine writers? Local food bloggers? Online forums and bulletin boards? People with television crews in tow? Information moves around the internet and in print and you can't stop it, that's the nature of news today, and it's a little unfortunate that it's caused a bit of consternation amongst people living and visiting Paris.
But then again, if you think about all the dire problems in the world, maybe it's best not to pay all that much attention and just go to the same places you've been going to for years, as I usually do. The good thing about getting older is that you know if you just wait patiently, eventually everything will settle into some sort of normalcy. And really, as long as a place has rosé, I'm happy.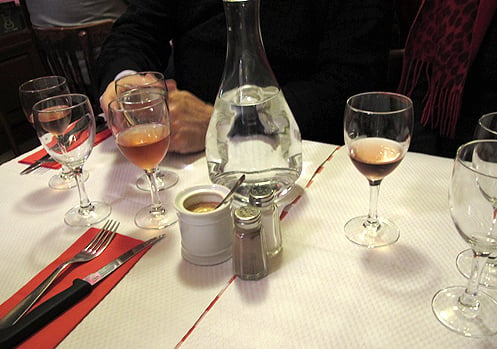 Visitors to France come looking for "authentic French bistro food", which is a genre that is gradually disappearing. Causes of this are varied: people opting for fast-food, concern about le cholestérol and le régime (diet), and a drop in quality. (A reader wrote to me about a show that I missed on French 2 television evidently reporting one the widespread use of frozen and convenience foods, as evidenced by the reporters rifling through the garbage of various high-end restaurants and bistros, and pulling out bags and boxes. Several folks were kind enough to provide links, below in the comments.)
Some diners also now want to know where their ingredients are from. Steak frites? What did the cows eat and how ethically were they raised. Fish? Is it sustainable, or it is one of the species that's on the verge of extinction. Vegetables? What country were they grown in and what are they sprayed with. I don't know of any traditional bistros where those questions are asked or answered. But I do know that the image of dining in a lively bistro, drinking carafes of wine and spooning up French onion soup or ripping into a crisp piece of confit de canard is still appealing to a mix of visitors and locals.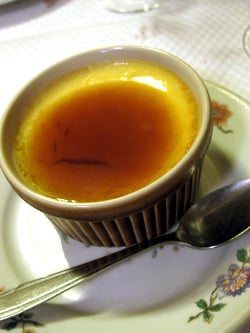 The first time I went to Le Petit Saint Benoît, where you'll find a nice mix of both, I worried out loud to my friend who took me there not what farm grew the lettuce, but that because of the location just off the Saint-Germain and the affordable prices, if it would soon get discovered then be overrun by tourists. "Oh no, the bathroom is a hole in the floor." Which pretty much made me realize this place would never be destined to make it onto many people's must go to list.
There's a pretty great phrase in French, "C'est correct." It doesn't necessarily mean "good", but more or less means—"How it should be". For example, the coffee at your local diner might be not the greatest cup, but we call it "diner coffee" and for diner waitresses to serve it in bottomless quantities, c'est correct. At Le Petit Saint Benoît, even though there's a chalkboard menu, most of the selections probably haven't changed since the place opened in 1901.
There's a decent confit de canard, salade crudités (raw vegetables), the slightly-ropey steaks served at too-many bistros, and crème caramel. But it's all pretty "correct", and every bit of the walls festooned with Paris history, including a wooden revolving door to a metal spigot on the bar. The service is classically Parisian; efficient, no-nonsense, and the kind of place where my challenge is always to earn a wink if I quip with them.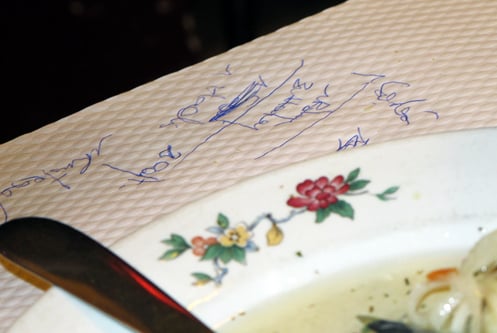 Oh, and by the way. The check is still scratched on the table, but the restroom has been modernized. In spite of any changes I don't think Le Petit Saint Benoît is going to be the toughest reservation in town anytime soon. True, they do a booming business at lunch. But they don't take reservations. So you needn't worry.


Le Petit Saint Benoit
4, rue Saint Benoît (6th)
Tél: 01 42 60 27 92
(No reservations)


Related Posts and Links
Where is the Best Duck Confit in Paris
Where to Get the Best Steak Frites in Paris
Two Delicious Dining Guides to Paris