Meert, Franck Kestener & Epices Roellinger Come to Paris
Three sweet spots have arrived to Paris. I took a bit of time to sample a few of their specialties—although I'm looking forward to going back to explore more of their confections. Here's a few favorite tastes from each…

This outpost of the famed pâtisserie Meert in Lille has opened on a corner, just a few blocks from the bustle of the overly-hectic streets of the Marais. Known for their spiced Speculoos cookies, pain d'épices, and brittle pain d'amande cookies, Meert is most famous for their "gaufres". Quite unique, these dainty, chewy waffles come sandwiched with either vanilla or speculoos cream. The shop is a bit austere, so expect understated elegance rather than opulence, a nice change of pace away from the shoppers crowding the sidewalks a few blocks away.
Meert
16, rue Elzévir (3rd)
Tél: 01 49 96 56 90
(Closed Monday and mid-day Sunday)
and
3, rue Jacques Callot (6th)
Tél: 01 56 81 67 15
(Closed Monday and Sunday Afternoon)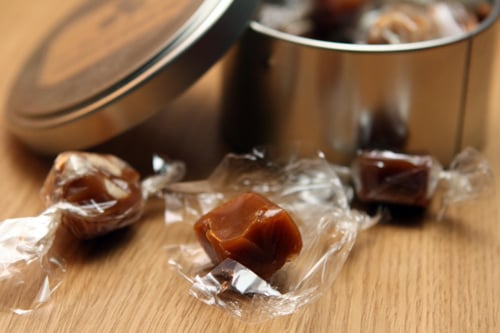 I'm not sure how many people walking down the rue Sainte Anne, a street lined with Asian noodle bars and restaurants, would be expecting to come upon a fancy spice shop. But Olivier Roellinger handed back his three Michelin stars and expanded his Breton spice empire into this petit coin of Paris and here you'll find a page-long list of black peppers, several varieties of fleur de sel, tubes and bottles of aromatic oils, lots of spice blends, as well as twelve grand crus of vanilla beans. But what I made a beeline for were the salted butter caramels. Sold in handy little tins for just €5, these chewy caramels come direct from Brittany, where salted butter caramel is a religion and these live up to the hype.
Epices Roellinger
51 bis, rue Sainte-Anne (2nd)
Tél: 01 42 60 46 88
(Closed Sunday and Monday)

Franck Kestener is a MOF, a designation earned by the top pastry chefs and chocolatiers in France. Expanding from his original shop in the Lorraine, the north-east part of France you'll find goofy cannelés, a clever disguise for chocolate marshmallows, and he features a line of macarons since it's hard to open a pastry shop without them in Paris, at this point.
However I am hooked on l'Atlantique, an exquisite square of dark chocolate with crispy shortbread and gooey salted caramel layered inside. (See a pattern here?) I was smitten the first time I had one at A l'Etoile d'Or up near Montmarte, which still carries them. But next time I plan on taking a stroll through the Luxembourg Gardens, I know just where to stop for something to snack on for my walk.
Franck Kestener
7, rue Gay Lussac
Tél: 01 43 26 40 91


Related Links and Posts
Olivier Roellinger's Spice Shop Opens in Paris (Paris Notebook)
Sweet News for Paris: Franck Kestener Opens Shop (My Kugelhopf)

(Note: Opening days and hours are subject to change and I recommend calling in advance to confirm.)