Flo Braker's Pain d'amande cookie recipe
Flo Braker was a good friend to me and many others, in addition to being one of the best bakers that I knew. She unexpectedly passed away last week and will be deeply missed by everyone in the baking community who knew and loved her as much as I did. She was known for her generosity, which came through in her recipes.
I wrote a tribute to her here, and decided in her honor, to bring this recipe back. These Pain d'amande cookies became a permanent part of our repertoire when I worked at Chez Panisse. Several years ago she shared this recipe here on the site. Like Flo, you'll find they're absolutely perfect. – david
---
Pains d'amandes by Flo Braker
This traditional Belgian cookie, known as almond bread (pain d'amande), is a favorite from my catering baking business in the early 1970s. The raw sugar's light golden color and distinctly old-fashioned flavor, similar to that of turbinado-style sugar, gives this cookie its unique taste, texture, and appearance.

A slow baking develops a crispy texture and toasty flavor. Though the dough is pale in color, it becomes honey-colored and delicious when baked.
The recipe went through many trials before I perfected the proportions of the ingredients that would produce the texture and flavor of what I had sampled in Europe. My family got used to seeing these ingredients sitting out on the kitchen counter at the ready for another go-at-it whenever time permitted.
Of all the recipes I've developed, this one takes the cake: I felt compelled to test and retest the slightest differences in the amounts of raw sugar and flour. Once I was pleased with the formula it turned out to be very simple to prepare and bake.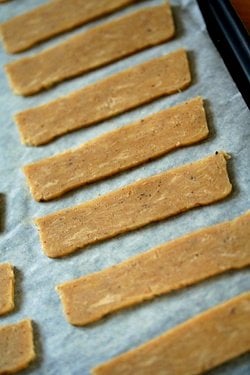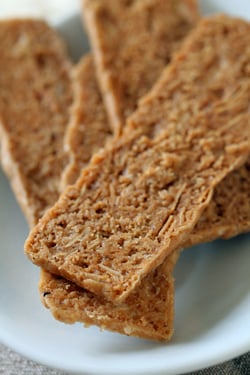 Serendipity also has a role in my tale. After the recipe was published in Sweet Miniatures, David – who worked in the pastry department at Chez Panisse made the Pain d'Amande cookies for the restaurant where they were very well received. Now we have come full circle, and here I am on David's awesome blog with my signature cookie.
Pain d'amande
Adapted from
Sweet Miniatures
by Flo Braker I love anything super-crisp so naturally, this is one of my all-time favorite cookies. They go with anything, from a bowl of ice cream to a steaming cup of coffee. I prefer to bake them on parchment paper since if you use a silicone mat, they won't get as crispy. And the other tip is not to let the sugar melt when you're mixing in the butter; the big crystals add a wonderful crunch to these delightfully delicious cookies. -David
8

tablespoons (115g)

butter

,

salted or unsalted, cubed

1 1/3

cups (300g)

coarse crystal golden sugar

,

(see Note)

1/2

teaspoon

ground cinnamon

1/3

cup (80ml)

water

2 1/3

cups (325g)

flour

1/4

teaspoon

baking soda

1

cup (85g)

sliced almonds

,

blanched or unblanched
Melt the butter in a medium-sized saucepan over low heat with the sugar, cinnamon, and water. Stir until the butter just melts but don't allow it to boil: most of the sugar should not be dissolved.

Remove from heat and stir in the flour, baking soda, and almonds until well mixed.

Line a 9-inch (23cm) loaf pan with plastic wrap and press the dough into the pan so the top is smooth. Chill until firm.

To bake the cookies, preheat the oven to 325Fº (160ºC.)

Using a very sharp chef's knife, slice the dough crosswise, as thin as possible, into rectangles. If you can get them as thin as a coin, all the better. The thinner they are, the more delicate and crisp they'll be.

Space the cookies on parchment lined baking sheets and bake for 10-15 minutes, or until the cookies feel slightly firm and the undersides are golden brown. Flip the cookies over and bake an additional 10-15 minutes, until the cookies are crisp and deep golden-brown on top. The baking times depend on how thin you cut the cookies.

Cool completely, then store in an airtight bin until ready to serve.
Notes
Storage: Once baked, the cookies will keep in an airtight container for up to three days. The dough can be stored in the refrigerator for up to four days, or frozen for up to two months, if well-wrapped.
Note: Large-crystal golden sugar, as shown, is available in specialty food stores, natural food stores, or online. It's sometimes called raw turbinado sugar. Depending on where you live, Hawaiian Washed Sugar from C & H, is available in grocery stores. For the French equivalent, check out my post: French Sugars.