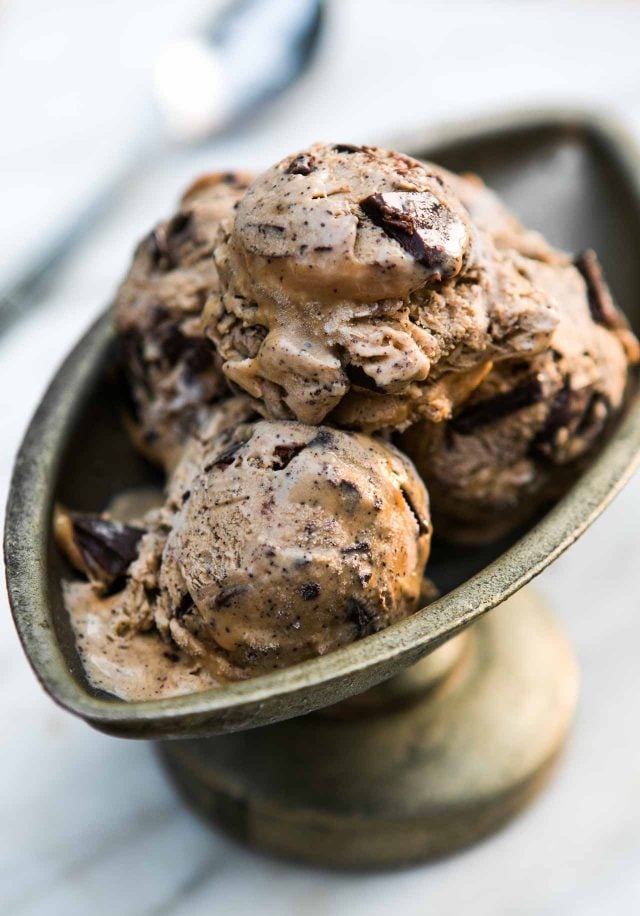 Who knew that Mexico was famous for ice cream? I didn't, until my first trip many years ago, and saw all the heladerias stirring up ice cream and pushcarts, parked on sidewalks, handing out popsicles. It was my first visit and I had no idea what a remarkable range of flavors Mexicans incorporated into their scoops and paletas. There was chocolate, corn, coffee, cheese, peanut, and rice ice creams, as well as lime, soursop, cucumber, and hibiscus sorbets. I tried them all.
I was in the Yucatan, which was so blazing hot that by midday, you had no choice but to retire in your hotel room for a siesta, waking up later in the day when the sun was tolerable, as people returned the streets and zocalos (town squares), lapping up the local flavors late into the evening.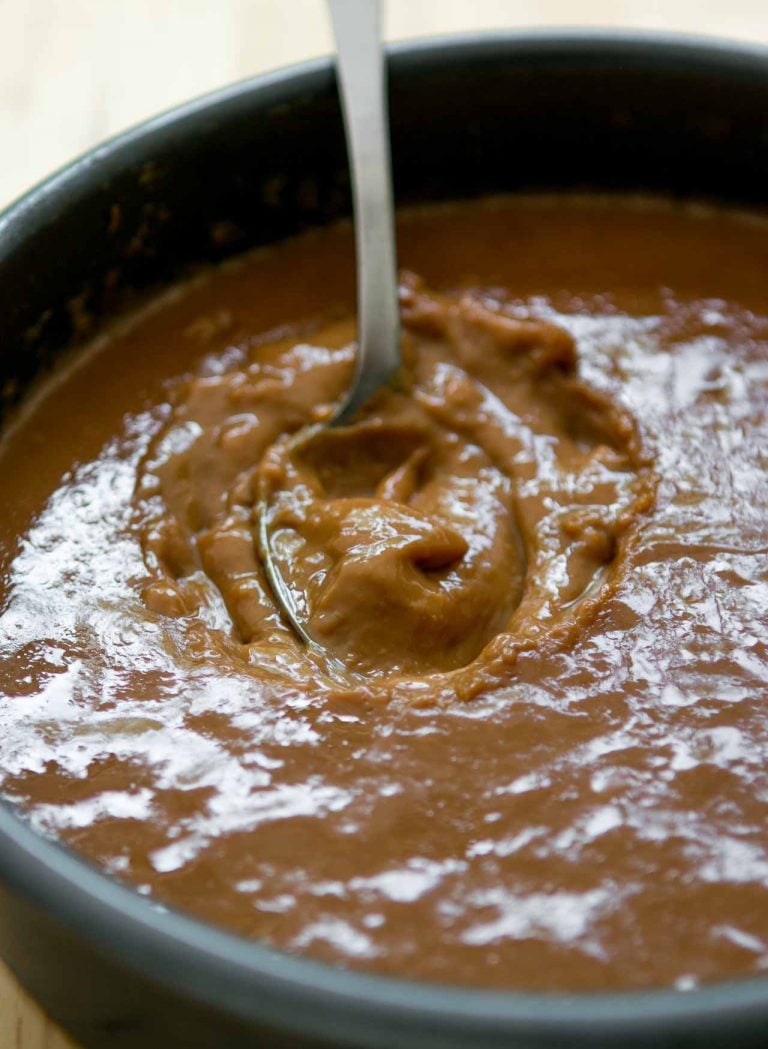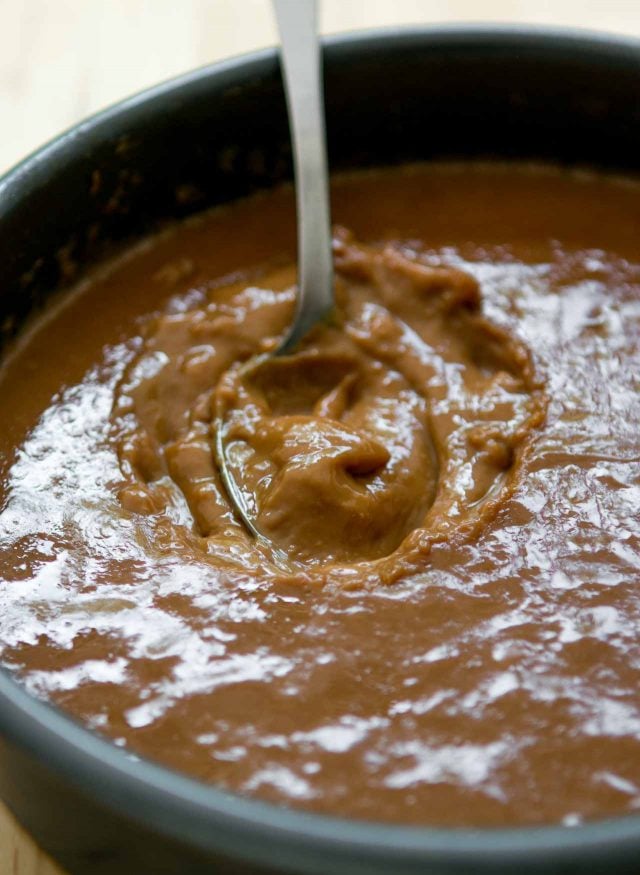 So no one was excited than me to have a copy of Mexican Ice Cream by Fany Gerson, owner of La Newyorkina ice cream shop. There are recipes for many of these flavors (others are in her books, My Sweet Mexico and Paletas), as well as candied pecans, chile-spiked fruit sauces, a variety of toppings, and Cajeta, caramelized goat milk, which – if you haven't tried it – you are missing out on one of the best things you'll ever put in your mouth.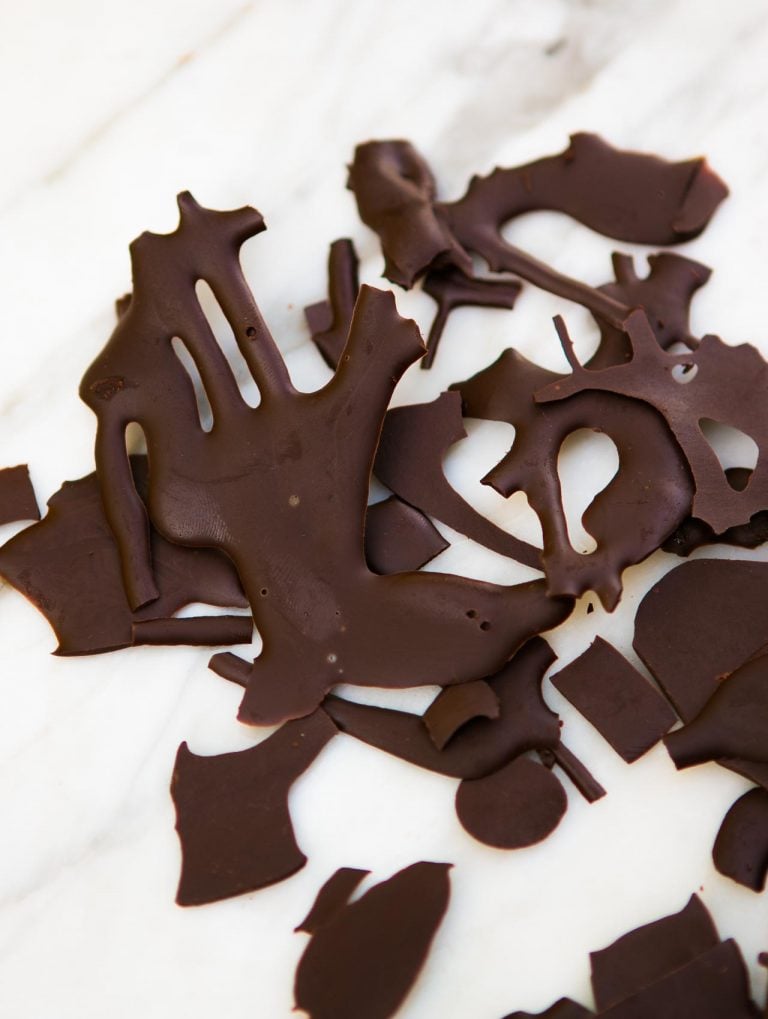 I went to the book release party, where I enjoyed a cup of Mexican coffee cajeta ice cream, a caffeine-fueled scoop dotted with chocolate chunks and served with a ribbon of warm cajeta. To combat the heat wave that struck a few weeks later, I found myself churning up a batch of it at home, to beat the heat.
Fany's recipe said to use chopped Mexican chocolate, which I had on hand, but then remembered some melted chocolate from another recipe experiment that I'd poured into a container, and was threatening to disappear in the back of my refrigerator. So I melted that, scribbled it on a parchment-lined baking sheet, froze it, then crumbled the thin scribbles into little "chips." I wasn't able to find fresh goat milk so I made my own dulce de leche.
(Tip: If you're anything like me, you might want to make a double batch. I am pretty sure that I ate half of it before it even touched any ice cream.)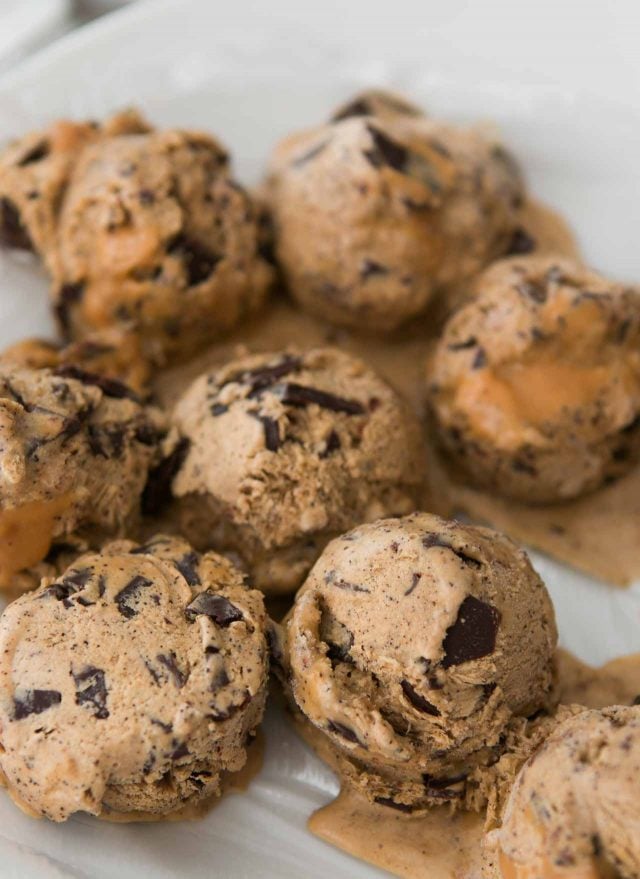 Fany uses the cajeta as a sauce on top in her shop, but my third-grade teacher was right – I'm not good at following instructions and swirled it through the ice cream as it was coming out of the machine, sprinkling dark chocolate chips in as I went.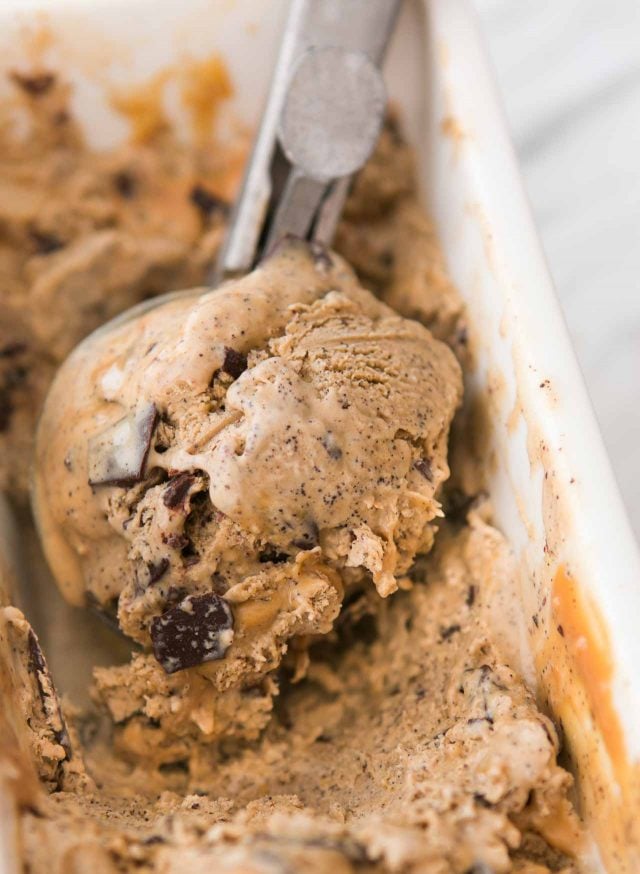 There are lots of ways to make (and serve) ice cream. Some people just use milk, cream and eggs for their ice cream base. Others add starch, gum or invert sugar. Fany and I both go the route of keeping it simple (and pure), however, we do diverge; In my coffee ice cream, I use whole coffee beans and Fany goes with ground coffee.
Diversity is good and while my coffee ice cream recipe (in The Perfect Scoop) I stick with whole beans, I'm open-minded (to a degree…) and gave it a go with Fany's recipe using medium-grind coffee, which lends the custard a more rugged coffee flavor. But next time, I'm going to strain the ice cream mixture a second time, after it's chilled, to get the little bits of coffee out. You can leave them in if you don't mind a little extra texture, and a little more caffeine.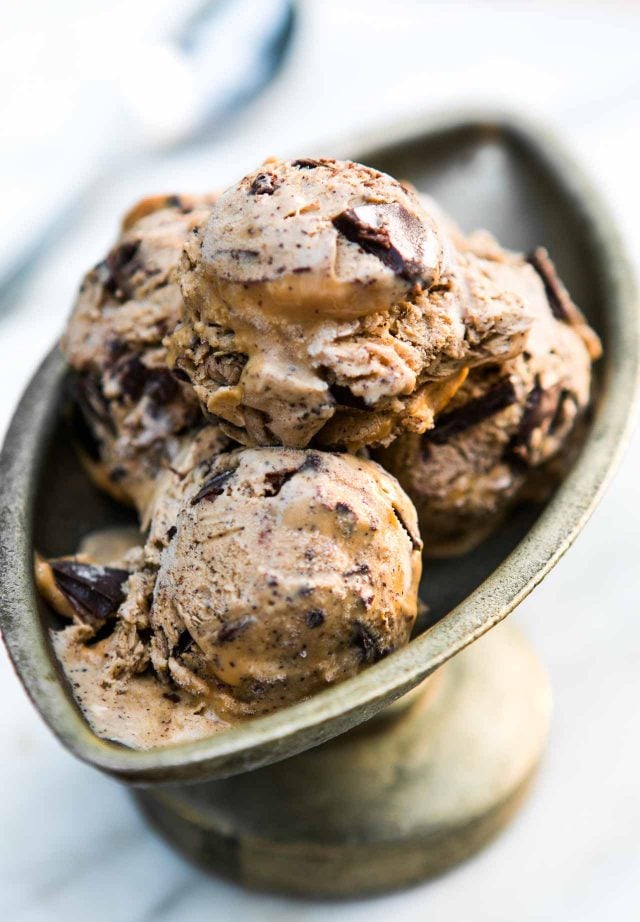 Coffee Cajeta Ice Cream
Adapted from
Mexican Ice Cream
by Fany Gerson Fany uses cajeta, which is usually made from goat milk. It might be hard to find where you are (check Latin markets, or get it
online
). You can make your own cajeta or
dulce de leche
, which the French call confiture de lait. At her shop, she simply douses the ice cream with warmed cajeta. If you wish to ribbon it in the ice cream, as I did (step #7), you may need to warm it ever-so-slightly, so it's spoonable, but not enough to melt the ice cream. Sometimes just stirring it vigorously will help room temperature cajeta or dulce de leche become pourable. But you can also serve it as a sauce on top, adding the chocolate chips to the ice cream during the last minute or so of churning, or mix them in by hand when the ice cream is finished churning.
Servings
1
quarts (1,25l)
For the coffee custard
1

cup (250ml)

whole milk or half-and-half

2

cups (500ml)

heavy cream

3/4

cup (150g)

sugar

6

tablespoons (30g)

medium-ground coffee

1/4

teaspoon

kosher or sea salt

6

large

egg yolks
For assembling the ice cream
2/3

cup (160ml)

cajeta or dulce de leche,,

plus additional for serving, if desired

6

ounces (170g)

chopped chocolate, or handmade chocolate chips

,

(see post)
In a medium saucepan, warm the milk or half-and-half with 1 cup (250ml) of the heavy cream, 1/2 cup (100g) of the sugar, ground coffee, and salt. Once the mixture is warm, remove from heat, cover, and let steep for 15 minutes.

In a bowl, whisk together the egg yolks with the remaining 1/4 cup (50g) of the sugar.

Make an ice bath in a large bowl and set a medium-size bowl in the ice. Set a mesh strainer over the top and pour the remaining 1 cup (250ml) cream into the bowl.

Gradually add the warm coffee-infused milk into the egg yolks, while whisking constantly. Scrape the mixture back into the saucepan and cook over medium heat, stirring constantly with a flexible spatula (or similar utensil), until the mixture thickens and coats the back of the spatula. Immediately pour the custard through the strainer, into the cream, pressing gently to make sure as much of the coffee-flavored custard passes through the strainer as possible.

Stir the ice cream custard over the ice bath until cool, then refrigerate the ice cream mixture until thoroughly chilled, at least 4 hours, but preferably overnight.

Churn the ice cream in your ice cream maker according to the manufacturer's instructions. (You can strain the custard right before freezing if you want to get rid of any coffee grinds that may remain, for appearance and texture, although they are edible.) While it's churning, drizzle some of the cajeta into a freezer container and sprinkle with some of the chocolate chips. Place the container in the freezer.

When the ice cream is ready, spread the ice cream in batches in the container, layering cajeta and chocolate chips between the ice cream as you remove it from the machine. Avoid swirling or stirring the ice cream, to keep the layer of cajeta as distinct as possible.
Related Recipes