By noon yesterday, the temperature in my apartment was nearly 100ºF (38ºC) and with the sun bearing down full force on the entire city, and so few trees to provide any shade, it was the first scorching day of summer in Paris. Having lived in temperate San Francisco for much of my life, I was used to days that were always moderate; winter and summer weather could be nearly identical and one never had to do the seasonal ritual of the shifting of clothes when one season ended and another one began.
Another thing I got used to in San Francisco was ice-cold horchata, a rice-based Mexican drink always available at many of the taquerias and burrito joints in the Mission that I frequented. But as much as I love horchata, it was odd that I never gave it a whirl at home. So when I got my hands of a copy of Paletas by Fany Gerson, a nifty little guide to making Mexican frozen pops and drinks, I dialed in on the horchata recipe in the book and gave it a spin.
I had wondered why the recipe didn't say to blend the rice with some of the warm water, which I thought would make it easier to break the rice down into small pieces required for the infusion. But a few seconds after I hit the "Blend" button, I realized why not.
(But it did give me a good excuse the clean every single surface in my kitchen, which was now covered with sticky-damp little nubbins of rice.)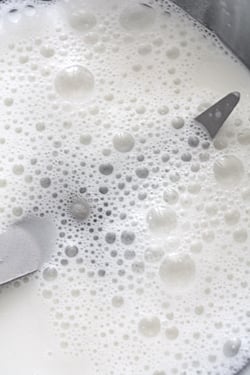 And although I was a bit skeptical of what I thought was a too-small amount of rice, which might not be enough to give the horchata that special rice flavor, it was spot-on. That first icy sip cooled me right down, and I think that's going to be the first of many sips this summer.
Horchata
Adapted from
Paletas
(Ten Speed) by Fany Gerson I used rice milk since I like the flavor of it and it is a bit lighter than regular milk, although there are versions of horchata that use plain milk (whole or skim), coconut milk, or even sweetened condensed milk. Feel free to use what you'd like, although if using coconut or condensed milk, sweeten the horchata to taste. Speaking of which, on first taste, I thought this was a little sweet. But after pouring it over ice, I realized the sweetener was just right. The original recipe called for the full cup,bBut you may wish to start off with the smaller amount sugar (or even less) and add more if you wish.
2/3

(120g) cup

white rice

,

(see Note)

3

(700ml) cups

warm water

One

2-inch (5cm)

cinnamon stick

3/4 to 1

cup

sugar

2

cups (500ml)

rice milk or regular milk

Ground cinnamon

,

for serving
In a blender, grind the rice so it is in fine pieces, roughly the consistency of very coarse polenta. (If your blender won't go that fine, that's okay and just break up the rice as much as possible.)

Transfer the rice to a bowl then pour warm water over it and add the cinnamon stick. Cover and refrigerate at least eight hours, but preferably overnight.

Pluck out the cinnamon stick then puree the rice and water until it's as smooth as possible. Strain the mixture through a sieve lined with a few layers of cheesecloth, squeezing it relatively firmly to extract as much of the rice flavor as possible.

Stir in the sugar and milk, mixing until the sugar is dissolved. Taste, and adjust sweetness, if necessary. Refrigerate until completely chilled.
Notes
Serving: Serve over ice with a sprinkling of ground cinnamon on top. Storage: Store the horchata in the refrigerator for up to four days. Note: Most horchata recipes recommend long grain rice. However, I used short grain rice, and was pleased with the results. In Spain they make horchata with <A href="https://en.wikipedia.org/wiki/Cyperus_esculentus">chufa</a>, which is not easy to find if you live elsewhere.
Related Links and Recipes
Making Horchata: Which rice is best? (The Kitchn)
Sour Cream, Cherry, and Tequila Ice Pops (Lottie+Doof)
Almond-Rice Horchata (Homesick Texan)