When I worked as a baker in California, we'd get three flats of fraises des bois ("strawberries of the woods", or wild strawberries) for a few precious weeks in the summer, cultivated by a woman who lived about an hour north of San Francisco. Each intensely flavored berry, no bigger than the tip of a pencil eraser, had to be hand-picked and took someone nearly an hour to collect one basket's worth of them. I don't remember the exact price of each basket that we paid (was it $6 ?), but they were expensive back in the 80s. Added to that, you must use fraises the bois the same day you get them because they break down pretty quickly, and by the next day, it's too late to serve them fresh. A few times when I drove up there to pick them up, the heady smell of the tiny, wild strawberries in my car drove me nearly insane.
(I'd often stop on the way home from work really late at night to pick up some local barbecue, and that had the same effect. More than once, I'd have to pull over the grab a rib because the smell driving home was driving me out of my mind, which – I guess – seems to be a theme in my life…the losing my mind part, not just the driving around with food in the car business.)
I was reading through an online discussion the other day and someone said that what they'd like to see were stores offering things of better quality, at lower prices. Not to harp on the economics of food, but things costs what they do because of the work involved. The bacon cured by the woman who lives in the boonies, who drives it to the local market, is going to cost more than the stuff packed in slick, shiny plastic sleeves at the supermarket. A bar of bean-to-bar chocolate is going to be more than a bar of chocolate churned out by a major multinational conglomerate. And fresh garlic flown in from Argentina and China often costs less than the stuff grown a few miles a way – which as I write that, sounds really absurd.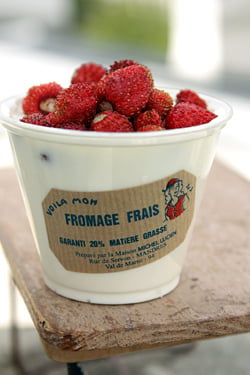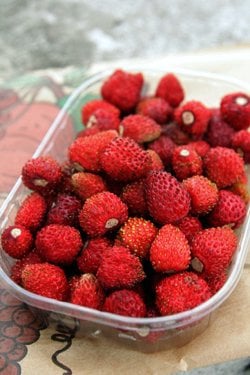 The whole thing sometimes seems out of whack. Living in France, where food is generally not inexpensive, I've learned to bite the bullet and just buy something amazing because I just really want it – price be damned. So when I was paying for a barquette of their regular (and utterly gorgeous) regular strawberries, as the vendor was handing me my change, I saw these tiny, imperfect fraises des bois and decided to splurge on them for myself.
On the way home, I made a detour to my favorite cheese seller and picked up a cup of handmade fromage frais, a sort of fresh cheese with a light tang similar to crème fraîche, but less rich. Which is not something that really exists in America, except from small-scale producers, but if you buy a good one, it's incredible with fresh berries, in France or elsewhere. And yes, the good ones do cost more. Sorry.
But man, was that good. Right before digging in, I sprinkled some natural sugar over the top then plunged my spoon in. Each bite reminded me how good food can be. So while I may be a little poorer today, on the other hand, I'm a whole lot happier.