While they're working on my kitchen, I had no idea how much I would miss cooking. It's not just because cooking and baking are what I do work-wise, but the ritual of going to the market in Paris and buying whatever catches my eye has become an integral part of my life. When I see lemons from Provence with their leaves attached or the first shiny-crimson strawberries of spring, it's hard to not stop and buy some when I know I could (or should) be at home making a tangy lemon tart or fixing myself a nice bowl of berries for breakfast in the morning.
Since I don't even have a whisk at the moment (even though I have about ten stored somewhere in all my boxes…) I went out and bought one just to make something, because I was going a little berserk. Proving that you don't need an arsenal of fancy equipment – or even a whole bunch of hard-to-get ingredients – I decided to whip up a batch of frothy sabayon to spoon over some strawberries I picked up at the Barbès market.
There's nothing hard or fancy about making sabayon; you just stand there and whip and whip and whip. Traditionally, zabaglione, the Italian version of sabayon, is made with Marsala – and to make it, all that's really needed is a bowl, a pot of water, and a whisk. In terms of ingredients, you can use any sweet or dry white wine, even sparkling wine, as a base. For this batch, I used a gently spritzy Italian white wine, a Moscato d'Asti, which is slightly sweet but not overly so, and used it to pile over strawberries that I let macerate in sugar for a while to draw out their flavors and juices.
The best way to whip up frothy mixtures is not to just stir in a circular motion with a whisk and pray for the best before your arm falls off. But one should make figure-eights with a whisk, which creates a lot more bubbles and froth. It shouldn't take more than a few minutes to make, but be sure not to stop whisking while the sabayon is on the heat or you might end up with bits of scrambled eggs. If you have a hand mixer, you can use that as well, although I kind of like whisking as it makes me feel like I'm working for my reward.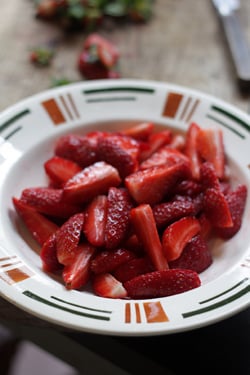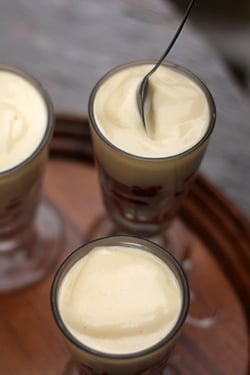 Since this is a warm dessert, it needs to be made just before serving, which is part of the fun. I don't mind heading to the kitchen and engaging in a bit of furious whipping. And I don't think guests mind hearing the clang of the whisk against to bowl coming from a kitchen, because from the smell, they will likely know something good is going to come from it soon.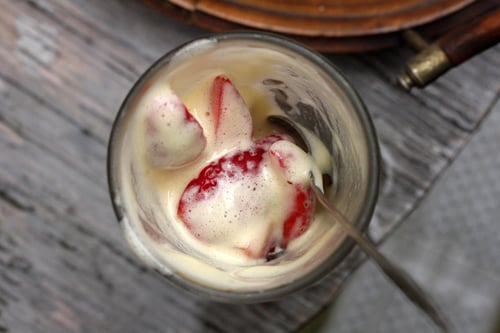 Sabayon
Adapted from
Ready for Dessert
Any kind of white wine that you like will work well for sabayon; dry, sweet, or sparkling. I do tend to prefer sweeter dessert wines because their flavor is a little more concentrated. Wines like late-harvest Riesling, Sauternes, Muscat, or a wine that is richly flavored is good. You can use Marsala if you want to make traditional zabaglione. If you're avoiding alcohol, you can use a non-alcoholic sparkling cider instead, perhaps adding a few drops of lemon juice, to balance any sweetness. Sabayon is lovely spooned over any kind or mix of juicy berries; toss them in a bit of sugar and let them sit for an hour or so, turning them gently to encourage the juices to really start flowing. Sabayon can also be used in place of whipped cream alongside a wedge of moist
Almond Cake
or heaped in a bowl, paired with a scoop of ice-cold
orange sorbet
– the hot/cold contrast is great.
2/3

cup (160ml)

white wine

,

dry or sweet

1/3

cup (65g)

sugar

6

large egg yolks
In a large, heatproof bowl, whisk together the wine and sugar. Then whisk in the egg yolks.

Set to bowl over a pan of gently boiling water (the bottom of the bowl shouldn't touch the water) and whisk vigorously until the mixture becomes frothy and stiff. You can slow down the speed, but if you need to stop whisking it, remove the bowl from the pan for as brief a time as possible.

The sabayon is ready when the mixture is thick and holds its shape when you lift the whisk and let some of the mixture drop back into the bowl.

Pile the berries and their juices into a glass and top each with warm sabayon. You can sprinkle them with crumbled amaretti cookies, if desired.
Related Links and Recipes
Zabaglione (Simply Recipes)
Goat Cheese Custard with Strawberries
Recipes to Use Up Leftover Egg Whites