Clasico Argentino: Argentinian Helado in Paris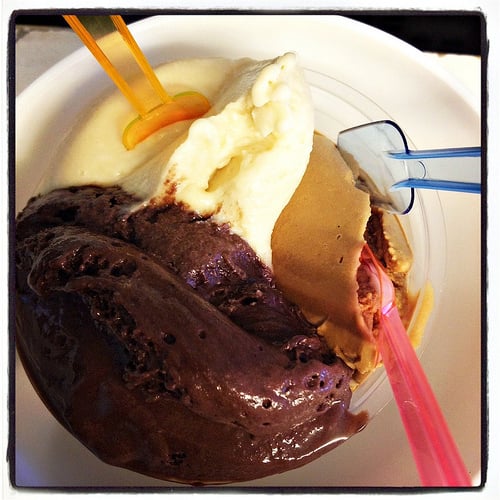 I've come to realize that I'm not very good at 'watching'. When I worked in the restaurant business, one of my cohorts said to me one day – "There are two types of chefs: doers and watchers." Meaning that some chefs got right into the cooking with the line cooks, while others like to stand there and watch. I, myself, could be classified as a doer because I'm like I'm a shark: If I don't keep moving, I'll wither away.
I've kind of had my fill of watching and waiting, so instead of continuing to wither away, I decided to take matters into my own hands and deal with what I could control. This week the weather took a turn for the better in Paris; it's always one day when the bleak weather suddenly changes and we revel in the hope that the cold snap of winter is behind us.
Everyone on the sidewalks of Paris is a little stunned to see the sunlight, almost walking around in a daze (including the number of people who refused to get out of my way when I was struggling to carry an iron pipe down the sidewalk and as a consequence, almost walked right into the butt of a massive metal pipe) but within a few hours, all the café terraces are packed – and not just with the usual fumeurs – but everyone craning their necks, trying to catch a little wedge of sunshine.
I left the dust and dirt, and 'watching' over things at my apartment under construction and scooted over to Candelaria for lunch. When I parked my bike, I noticed on the corner was a new place offering Helados (ice creams). So after I finished my excellent tacos with queso fresco and tortillas with spicy sausage, I headed down to the corner to try some of the ice creams at Clasico Argentino.
All the helados are packed in "wells", deep metal containers with lids, which is usually a sign of good ice cream. (The insulated container keeps the ice cream at the correct, slightly softer scooping temperature, so there's no use for stabilizers.) Reasoning I had pedaled my way all the way over there – coupled with the stress of remodeling – I treated myself to a hefty three-scoop cup (€7,3) which, of course, had to include dulce de leche, along with sabayon and dark chocolate. The flavors were very good – especially the swirl of cold sabayon ice cream, rich with the flavor of egg yolks and wine, and the dulce de leche was thick and chewy, although I found myself wanting to sprinkle a few grains of salt in there, to give some contrast to the caramelized milk flavor.
Needless to say, I felt a lot better after my lunch and dessert. Although I have to admit, I shared my three-scooper with the cooks at Candelaria, where I watched the team work. And I also have to admit that regarding the construction back home, even though I wish it was over, it's probably better that I watch from the sidelines because while I'm pretty good at making helado, I'm not so good at dealing with drills and hammers. (But I do wield a mean pipe.)


Clasico Argentino
56, rue de Saintonge (3rd)
Tél: 01 44 61 00 56
8, rue du pas de la Mule (3rd)
Tél: 01 42 78 71 57
217, rue du Faubourg-Saint Antoine (11th)
Tél: 01 56 06 95 14


Related Links and Recipes
Agave-Sweetened Chocolate Ice Cream