Bachir Ice Cream
Two things have surprised me recently*. One is the sudden surge of small-scale ice cream shops that have opened in Paris. Which means my ship has definitely passed on opening my own place as others got to it first. Shops like Senoble, Glaces Glazed, Une Glace à Paris, Sucre Glace, and La Paleteria are churning out ice cream across Paris, some even staying open in the evening which is great, because I like to stroll around with a cone of ice cream on a summer night after dinner, but most places in town traditionally closed up at 8pm.
The second thing that surprised me was coming upon Bachir, a Lebanese ice cream shop in Paris, when I was in Les Halles a few days ago.
(A bonus third thing that surprised me was I had gone to a national hardware chain store in Les Halles, looking for replacement light bulbs, that were a standard size, and finding the largest hardware store in the city was having a rupture de stock, their entire supply of those particular light bulbs – and only those specific light bulbs, was wiped out of stock. It not only surprised me, but all the other people wandering around that aisle looking for same light bulbs. Somehow, August must be a particularly heavy month for usage of that particular light bulb in Paris.)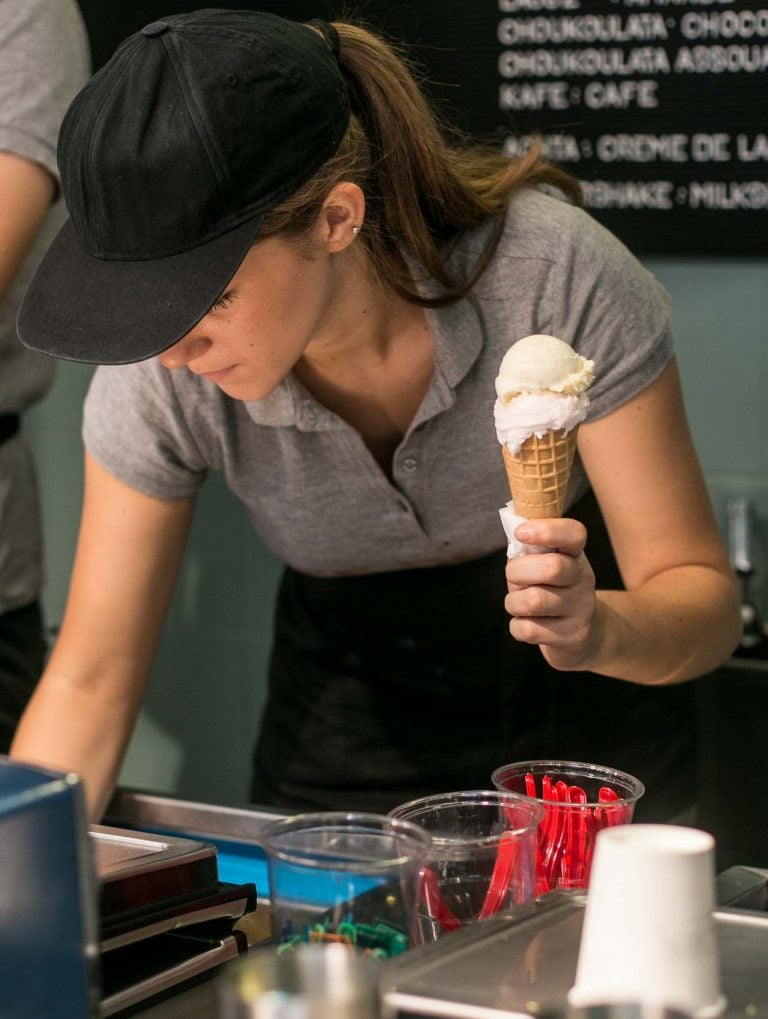 But my surprise turned to delight by stumbling across this shop. Lebanon has a long connection to France, and there are plenty of Lebanese kabab/sandwich shops in Paris, but I hadn't seen Lebanese ice cream being served up anywhere in town.
That was a day of multitasking for me, running errands while also watching after a friend's pre-teen son, who was more enthusiastic about getting ice cream, than tagging along while I took care of mundane tasks, like shopping for light bulbs and getting hand cream at the pharmacy. (He's French, but doesn't live in Paris, and was completely shocked when we sat down at a café, where a bottle of water cost €4.)
He also didn't understand why I was taking pictures of our ice cream. So in addition to explaining why water was très chère (expensive), I had to explain that I wanted to share the ice cream with you guys, too.
I had two scoops, kafe (coffee) and choukoulata assouad (intense dark chocolate), and my charge had almond (laouz) and strawberry (farawla). He absolutely loved the almond ice cream, while I made good work on my chocolate/coffee combo. The ingredients in the ice creams are organic, and whipped cream is free, if you're so inclined.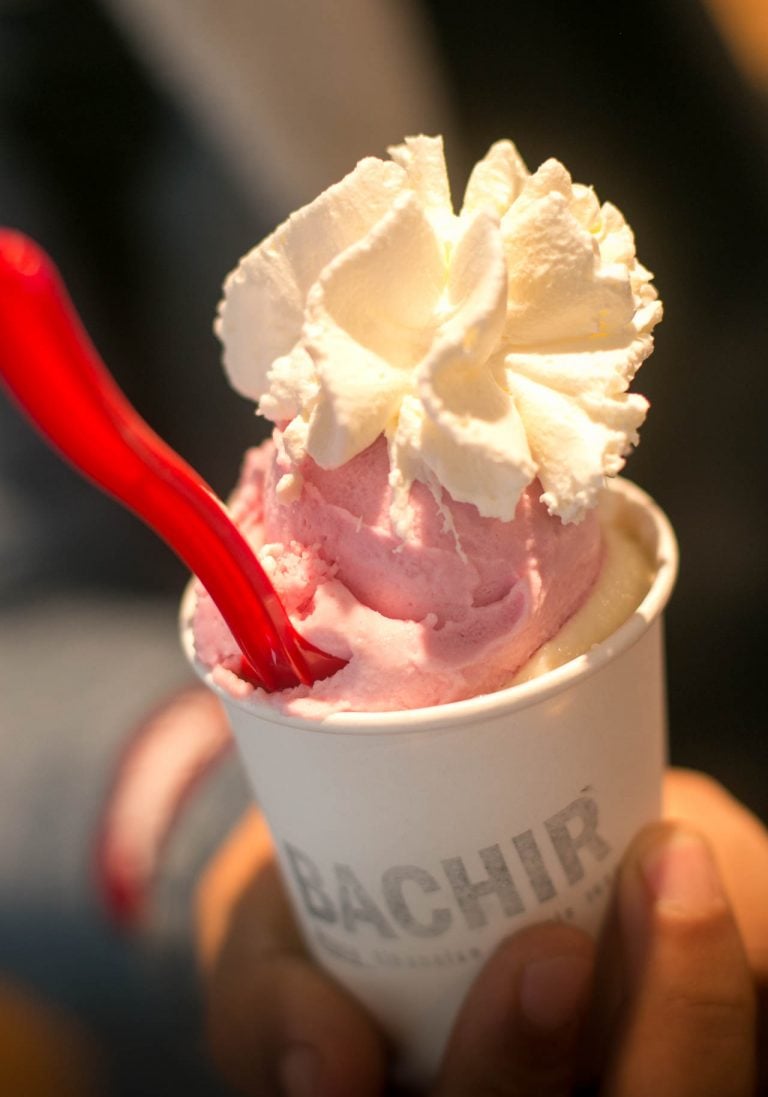 But the star of the show at Bachir is Glace achta, creme de lait ice cream, churned with a touch of orange flower water, scooped into a cone, then rolled in pistachios and crowned with a rosette of whipped cream. The ice cream is special because it's made with mastic, a resin that gives the ice cream a light pine flavor, and chewier texture than custard-based ice cream.
Located right in the thick of things, by the Pompidou Center and the Forum des Halles shopping center (as well as a mega-hardware store), I was surprised by the steady stream of customers lining up here, since the shop has only been open a few months, and has flown under my finely honed radar. Bachir is a family run business, with two siblings running the shop in Paris, and the sisters told me they now have "between 55 and 60" shops in Lebanon. So I guess good news, or good ice cream, I should say…travels fast.
On the way out, I was offered what they call a café a la libanaise, a dark, viscous little cup of coffee spiked with a bit of cardamom. They told me to let the coffee grinds settle in the cup before drinking it. Even though I've been to Lebanon (and had plenty of coffee elsewhere in the world), it was the strongest cup of coffee I've ever had, anywhere. I knew if I finished it, I'd be zooming around for the next 36 hours.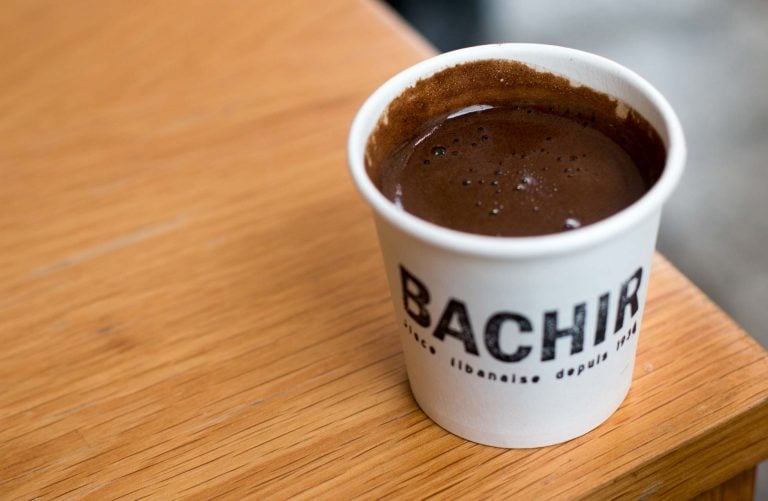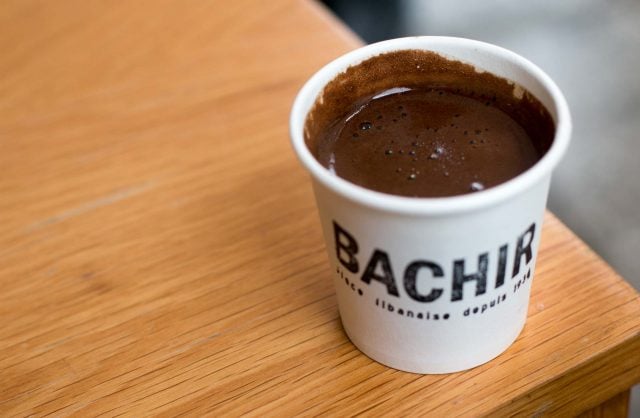 One thing I learned when I was in Lebanon is that it's rude to turn something down, including an on-the-spot coffee, or even an invitation to lunch. The correct response if you're not available (and if you're in Lebanon, an invitation for lunch means you should cancel any plans you might have for the next 4 to 5 hours…), you should say, "Next time." So I'm going to give the coffee another go "next time," and will certainly be back for more ice cream.
Bachir
58, rue Rambuteau (4th)
Tél: 09 52 79 73 00
Métro: Étienne Marcel or Les Halles
Open Noon to 11:30pm daily
---
Related Posts and Links
Where to Get Ice Cream in Paris – Map (La Cuisine)
Ice Cream and Sorbet Recipes (Archives)
Rosewater, Cardamom and Gum Mastic Ice Cream (Nordljus)
Mastic Ice Cream (Closet Cooking)
How to Make Lebanese Coffee (Mama's Lebanese Kitchen)
*Actually, a lot has surprised me recently. But I don't have the bandwidth to list everything.