Villebois-Lavalette Market
Staying with friends in the countryside for a few days last week, we were fortunate to discover that a neighbor was making his own bread, which was excellent. The young man bakes just a few loaves a couple of times a week.
Romain, in his wisdom (a trait he may have picked up from me: buy as much as you can, when you come across something good), put in dibs for five loaves, which went to good use for breakfast, lunch and dinner.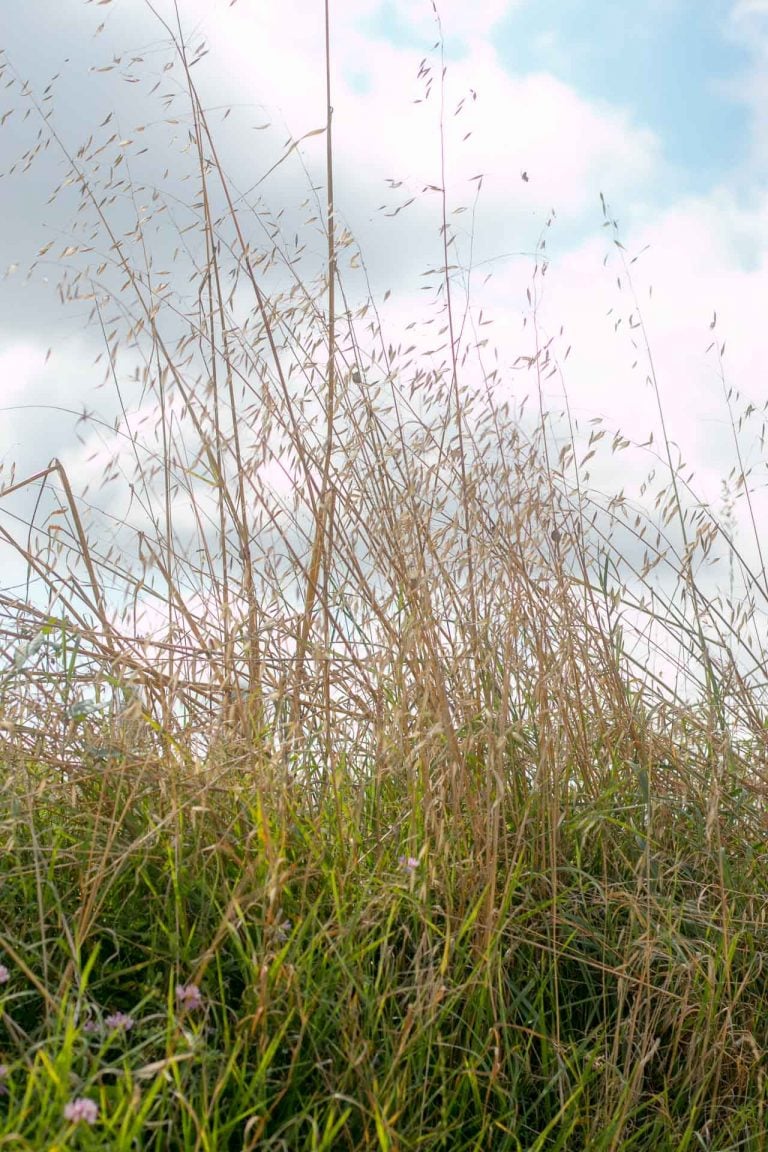 Bread-making in the countryside can seem like a lost art, as the younger generation likely isn't as interested in keeping baker's hours (nor the work involved) as the previous generation of bakers. Those that are, move to the city, where they can sell a lot more loaves than the several dozen this fellow makes and sells every couple of days. Unless you have city-slickers visiting, that is. Then you've got it made. Well, at least for the week.
Well, at least for that week.
One nice thing about visiting and exploring the various regions of France are the outdoor markets, open-air marchés where most, if not all, of the produce is regional and local, which includes honey, wine, (in the case of this region, Cognac and Pineau de Charentes), as well as moist, fresh goat cheeses, vegetables that look like they are bursting flavor, shiny-skinned peppers, and baskets of tomatoes so voluptuous and ripe, that I was tempted to lug them all back to Paris.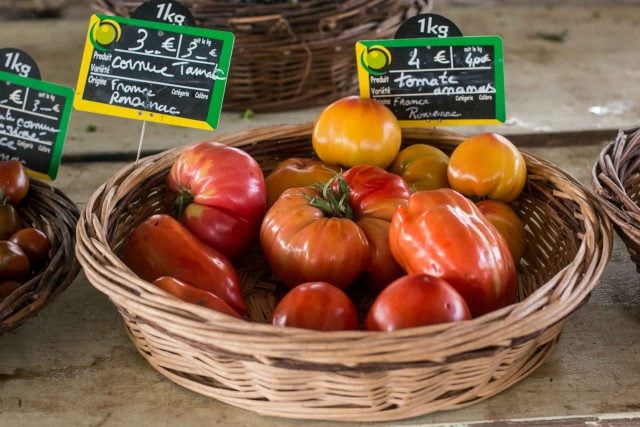 Located in the region now known as Nouvelle-Aquitaine, formerly (and still referred to, as) the Poitou-Charentes, the outdoor market in Villebois-Lavalette is not a sprawling affair, but lovely and compact, taking place in the center of town on Saturday until 1pm, underneath ancient wooden rafters. (The website for the town also says a smaller market takes place on Wednesday there as well, although I don't know if it's actually a market, or just a few vendors.)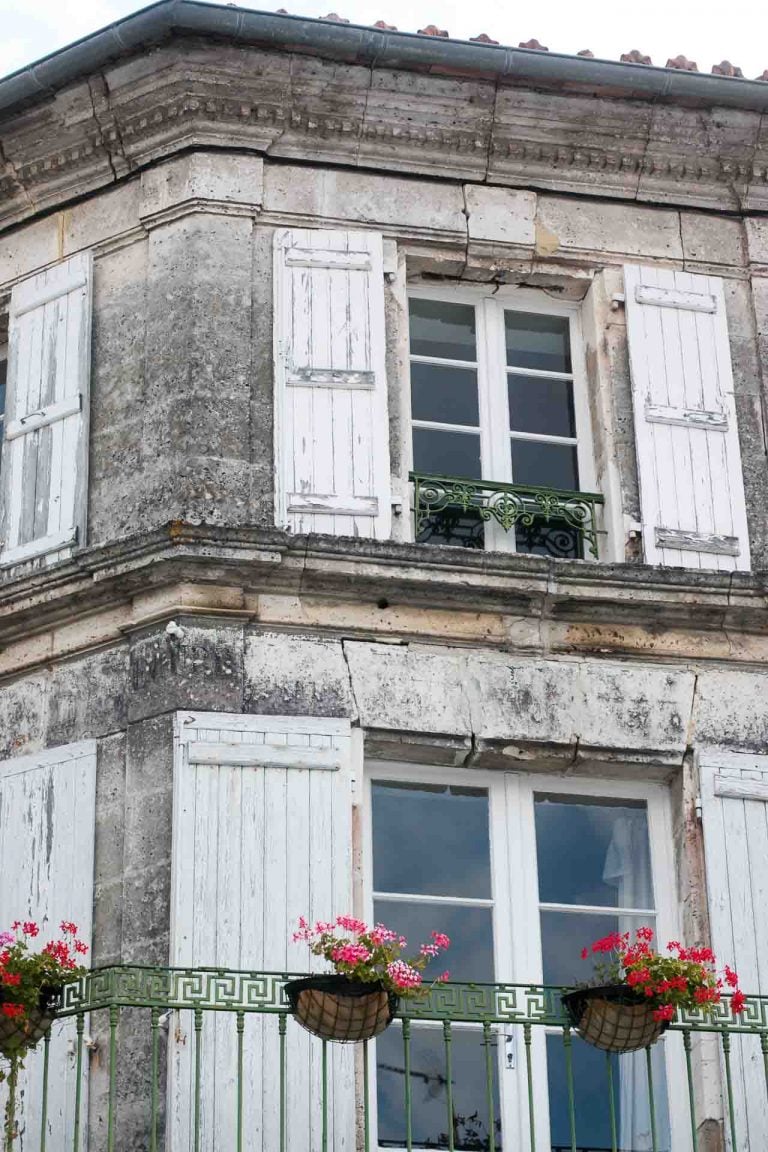 We had to make a quick stop before hitting the market to pick up a poussin at a truck parked in a nearby lot, who'd sold out of all their live poultry before we got there. But my friend wanted some baby chicks, and she got the last one.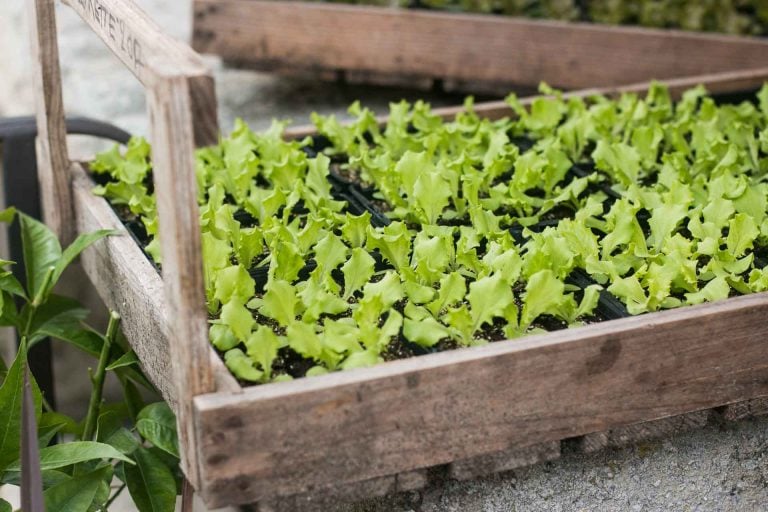 Like in much of France, most of the local bakeries were closed up for August vacation, but one fellow was selling loaves of bread, as well as les cookies, aka chocolate chip cookies. I was a good guest and baked up a batch of Salted Butter Chocolate Chip Cookies to bring to our hosts, so didn't try any of his. And we had our bread supply worked out, courtesy of Romain's American-style ambition to buy, so we didn't pick up any more loaves.
We also decide to take a pass on going to the local Soirée anguilles, or Night of Eels, that was coming up. I could only imagine the cauchemars (nightmares) people must have after that event. I know, because I still can't forget when I working in a restaurant kitchen where the chef filled a sink one night with live eels, which kept slithering out and writhing around the floor, trying to escape from the kitchen. He kept grabbing them and tossing the slippery beasts back into the tangle, with a loud "thunk" as they hit the side of the stainless-steel basin.
Market shopping in France also means taking time for a pause café, with the vendors (and shoppers) downing a café express to keep themselves well-fueled. I decided to hold out for wine, eying the platters of oysters and glasses of wine that other shoppers had already started on.
We wandered around, picking up a few things here and there, but I had my eye on the local goat cheese producer. As did a female friend we were with. I told her to go to the Soirée célibataires, a singles night they were having that evening in the village, and maybe she'd bring home more than a few rounds of goat cheese?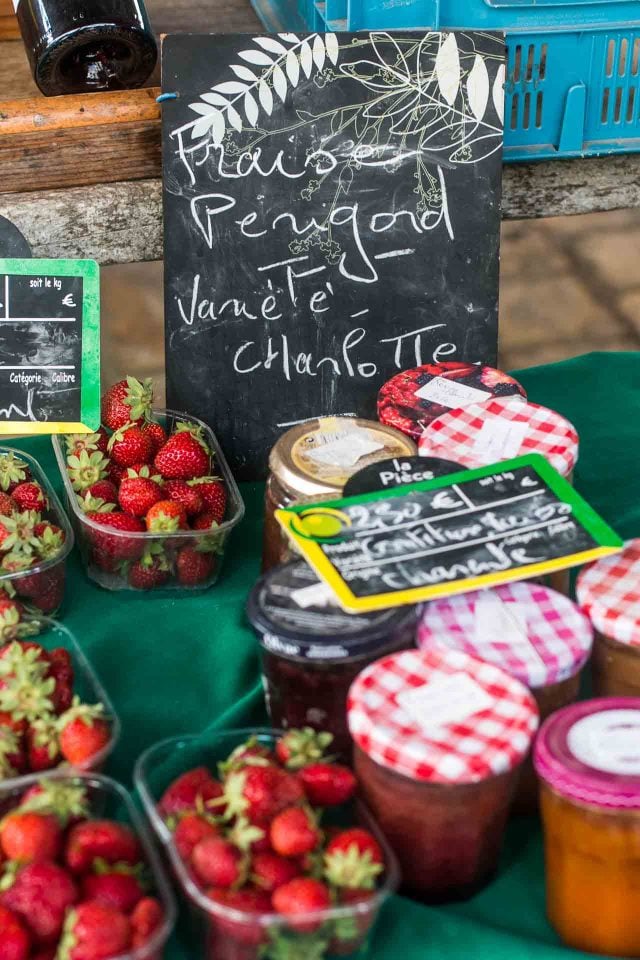 The eye-catching fromager had a small selection of cheeses he made from sheeps' and goat milk, including these dewy, delicate rounds of Chabrol, which he was wrapping up the last of, for the few remaining customers of the day.
I had my eye on the last ash-covered pyramide, which looked similar to Valençay cheese. And got it.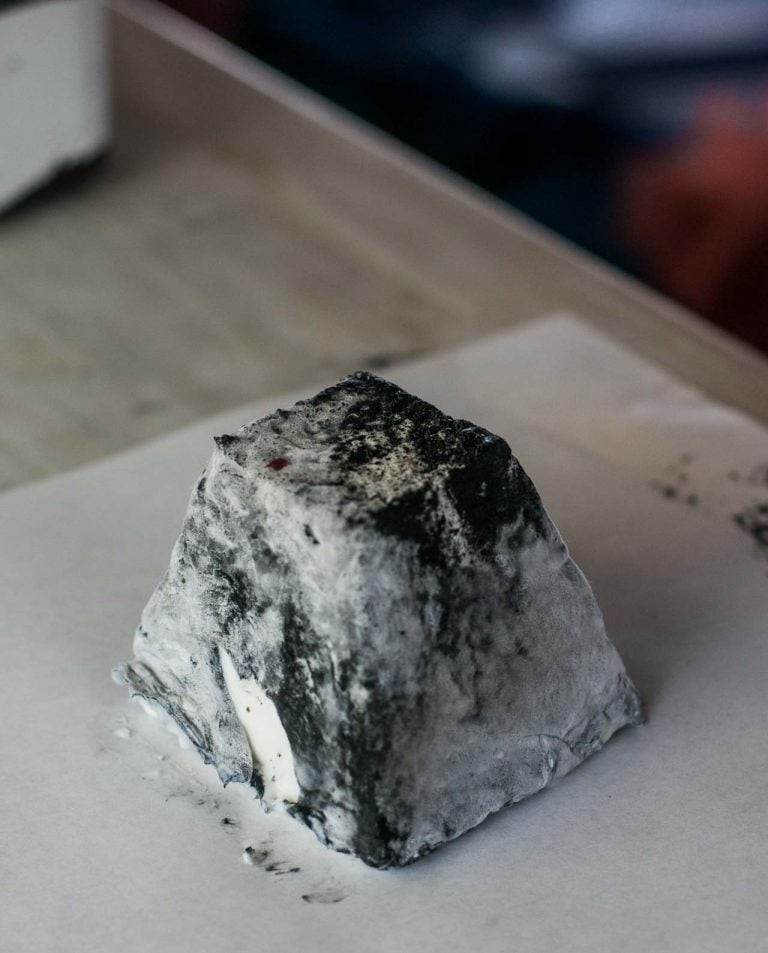 Being summer, there wasn't a lot of seafood, so we passed on that.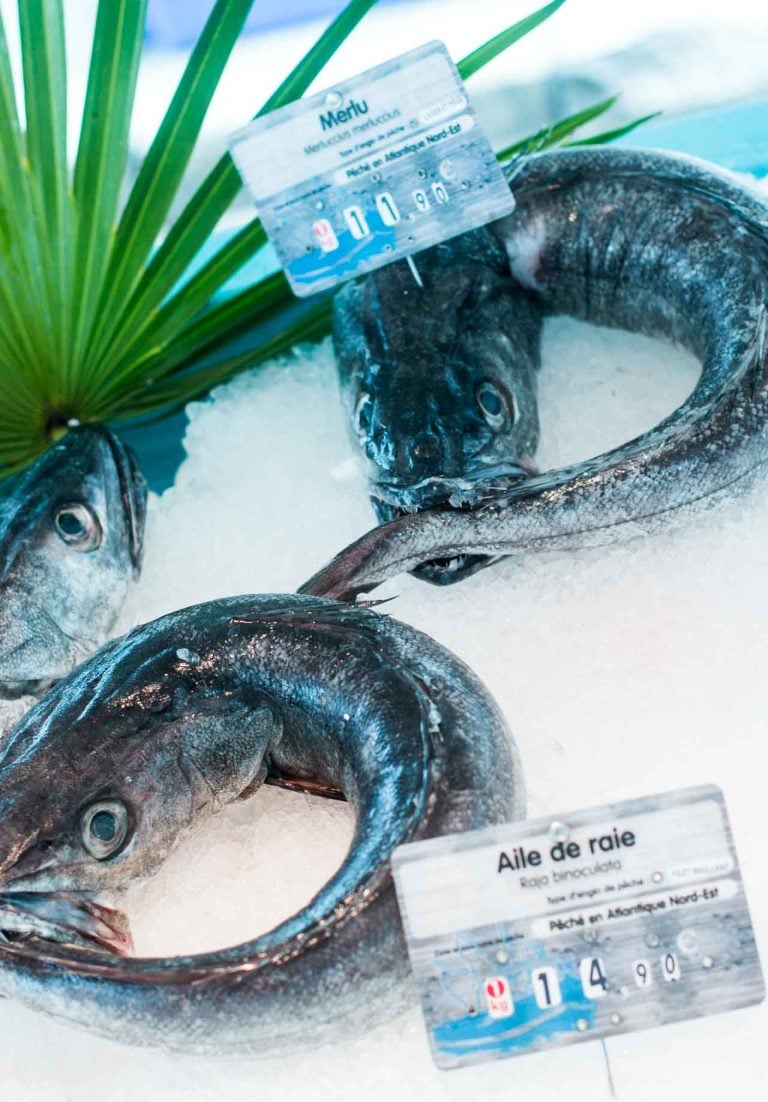 But being France, there's always oysters.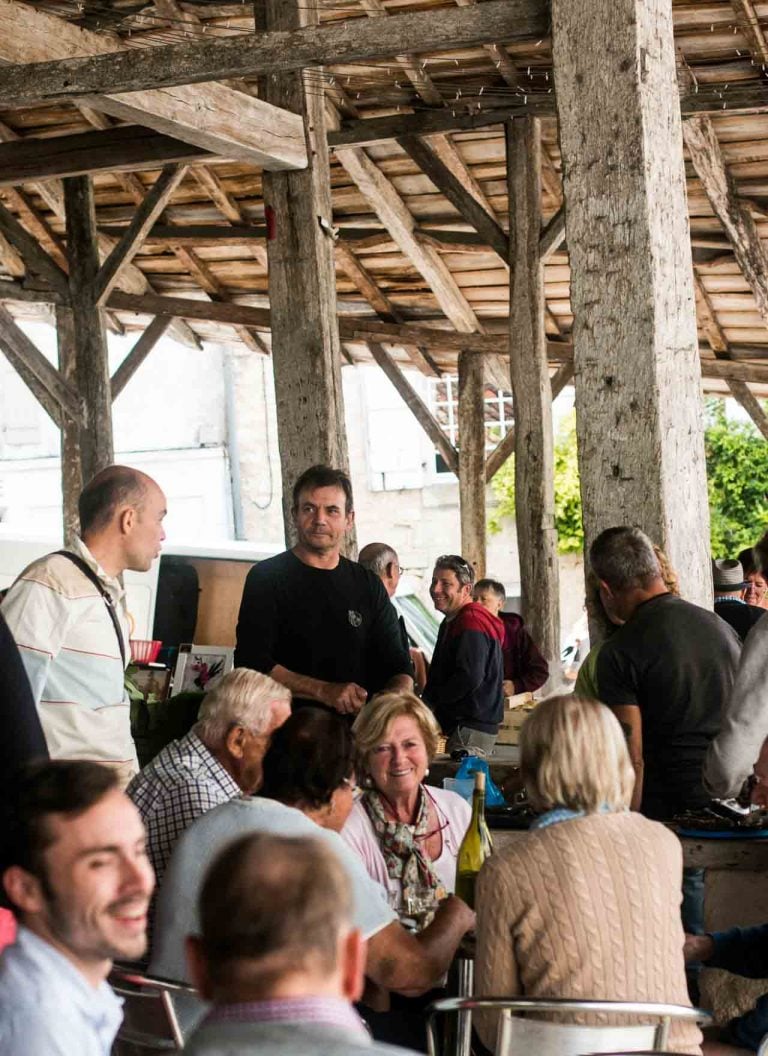 We found seats amongst the crowd and ordered a bottle of Muscadet, while Romain headed over to the rugged écaillier to order some oysters, and check out what else he had to offer.
White wine has a funny status in France. Many people don't (or won't) drink it, for unspecified reasons. I've been told that it was "hard to digest," that white wine will make you fat (which apparently isn't a problem with red wine), or that it doesn't go with cheese, which is curious, because if you've ever had wine from the Jura with Comté, Selles-sur-Cher with a Sauvignon or Chenin Blanc from the Touraine, or Sauternes with Roquefort, you know how brilliantly white wine pairs with cheese.
Ditto with oysters. For some reason, white is okay (and healthy?) to consume with bivalves, so I didn't have to do any arm-twisting to get everyone on board with a bottle of Muscadet, a wine that's been becoming more and more appreciated in the U.S. (I think it got a bad rap as people associated it with Muscat, a grape often made into sweet wine.) Even though the Muscadet the café had wasn't a top-of-the-line bottle, it was much appreciated with the oysters.
Heading home, we unpacked our bounty, including the four-day-old chick that our friend slipped into the chicken coop once it got dark, which apparently is the best way to introduce a new member to the coop (when everyone is asleep), so it doesn't get rejected as a newbie, which would happen in daylight hours.
We had a nice lunch after the market. I made a rustic French tomato tart, as well as one with bacon and mustard greens that I plucked from a lovely bag filled with feuilles de moutarde that a local grower/neighbor gave us, who had trouble selling the piquant leaves. I had no trouble using them. And no one had any trouble eating them, either.