How does Cognac get to this…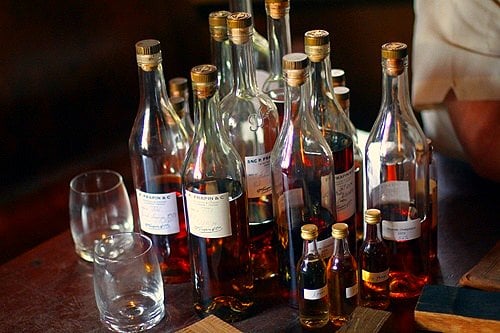 …from this?
I didn't know, but I was determined to taste as many glasses as I could to find out.
The first thing I was asked before heading down into my first Cognac cellar during my recent visit was, "Are you afraid of spiders?"
"No, I'm not," I said.
So I wasn't concerned about finding a few cobwebs here and there. But was surprised to find that a veritable witches den's-worth of them everywhere, heavily cloaking many of the very old bottles strewn about, as well as the wooden casks. I'd supposed that it would be futile to try to brush away cobwebs in a dark, humid cellar. But I was told that the spiders were actually necessary since the wooden casks often remain down there for decades, and the spiders feed on the other pests that would burrow through the wood.
The mold covered casks below? I didn't ask how they unearthed those. And I wasn't anxious to stick around for a demonstration, either.
I was thrilled to be invited along on a tasting trip to Cognac, to learn about how it's made, and unbeknownst to me, to attend tastings day & night—beginning shortly after I woke up, to the moment when my head hit the pillow, well after midnight.
One question that I came with in my notebook was, "What's the difference between Cognac and armagnac?" Both are two of the most famous brandies from France, even though France only accounts for 3% of worldwide Cognac consumption. (Singapore is #2, and the United States is #1.)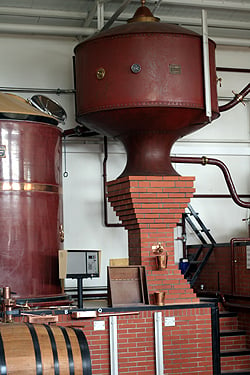 Both Cognac and armagnac are distillations, which means the grapes (in the form of unfiltered wine, which resembles cloudy grape juice) are cooked and the wet steam that rises off is collected. For Cognac, that distillation is distilled again. Armagnac doesn't get a second one. That doesn't mean one is better or worse than the other. It just means they go through a different process.
The other difference is the armagnac is made from folle blanche grapes and Cognac is from ugni blanc, a variety which doesn't make good wine, and is used exclusively for the production of Cognac.
I've gotten many quizzical looks when people ask, "Who makes the best chocolate?" or "What's the best chocolate shop in Paris?" There really isn't any answer, since my "best" might not be yours. I have a changeble roster of favorites, like I now have with Cognac.
We had some Cognacs that cost €200 a sip (of that particular Cognac, only 300 bottles were produced annually and, of course, was high up in that roster of favorites), and tasted others that cost less than €2 for a similar-sized dribble. I learned to appreciate the differences, and through guided tastings of multiple Cognacs, tasted nuances of prunes, dark cherries, cloves and cigars, eucalyptus, and agave. Curiously, the older Cognacs have what's called rancio, a beguiling flavor that is musty, nutty, and peat-like. It was hard to pin down exactly what it was, but once I was able to detect it, I was able to appreciate the longer-aged Cognacs, where that earthy flavor was more present.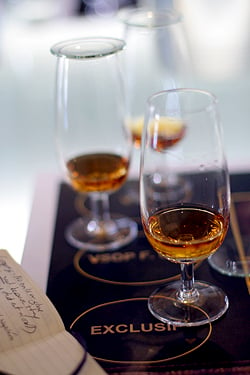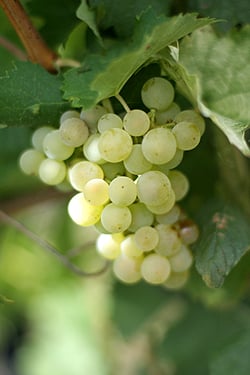 To make Cognac, the clear distillation of the grapes (eaux-de-vie) is aged in handcrafted oak casks for a minimum of two years. Each cask is watertight, made without nails or glue, but it's slightly porous, allowing 3-4% evaporation a year, called "The angels share". On the average, it takes about 8 liters of the distillation to end up with 1 liter of Cognac.
Depending on the cellar master, the liquor is tasted during the aging process and the Cognac is blended with other batches, new and old, to come up with the taste that the producer is looking for. It can be transferred to several different barrels during the process, like balsamic vinegar, being concentrated as it goes from larger barrels to progressively smaller ones.
This tasting trip was pretty tough. We were out the door of our hotel rooms each morning at 9:30am and spent the day walking through dark cellars, then ending up in the tasting room, pausing only to down some bread and perhaps a few scraps of foie gras, to sop up the liquor.
As much I was got my fill, I was determined to taste whatever was offered. It was my duty. At Pierre Ferrand, Jason Wilson, the engaging wine and spirits writer for the Washington Post, leaned over and told me that the glass I was absentmindedly fondling would set me back about $250, which was for about a tablespoon-full of the amber liquid.
I'm not a connoisseur of Cognac, or any spirit for that matter, but one sip of the precious and exquisite liquid was enough to have me put in a call to my publisher and ramp up the price of my next book. Like, by a few hundred dollars. Sorry.
Another thing that you might not know is that when you see a Champagne Truffle, that doesn't mean that the chocolate is mixed with the famed bubby. Champagne, petite and grande, are two regions of Cognac: "champagne" is derived from a French term for "chalky soil", and refers to where many of the grapes are grown, which are used for Cognac as well as Champagne, the sparkling wine.
A few other misconceptions about Cognac?
You can sell those bulky, cabinet-hogging brandy snifters at your next yard sale. Cognac tastes best in slender, fluted tulip glasses. (You can find them in liquor stores.)
They do say the best way to evaluate Cognac is when it's at room temperature, but you're not a rube if you drop an ice cube in there. The ice dilutes the alcohol, and it's reduced presence allows the more subtle flavors to come forward. And like whiskey, you shouldn't feel awkward about plunking an ice cube in a glass of Cognac and drinking it as an apéritif. In fact, our first night, at Rémy Martin (the only Cognac producer with a woman, Pierrette Trichet, as their cellar master), we sipped Cognac, served iced-down with a cube or two floating around in there, as an apéro.
(Grafitti, circa 1756, from an ancient prison wall, which now houses Otard Cognac. There were other scrawlings, which were a bit more racy.)
The other day I was at a wine tasting led by Juan Sanchez of Le Dernier Goûtte, a wine shop in Paris. It was for newcomers to France, to familiarize themselves with French wines and feel comfortable ordering and drinking them. He certainly had his head on straight and when people asked basic questions like, "Is it okay to drink bottles of wine that cost €4?" His response was, "Do you like those bottles of wine? Because if you do, then yes, it's okay to drink those bottles of wine."
Same with Cognac. I don't think I'll be drinking many fancy bottles of Cognac—well, at least after the nifty bottle of Cognac Ferrrand which was distilled in 1972 that the owner gave me after we had dinner with him. But I definitely got a funny look when were we at Courvoisier and I tasted their new Exclusif Cognac, which is meant to be blended into cocktails.
I got at hose looks from folks who know more about wine and spirits than I do. But I liked it. (In fact, I'm sipping some now, and nibbling on a tablet of Amano Jembrana chocolate.) And I'm content. Yes, the "good ones" taste better. But like M & M's, they're not handcrafted bean-to-bar chocolate, they're just different. Enjoy each for what it is.
Similar are people who scoff at wine in a box, or screw-top wines which, unless you're planning on aging your wine (which most people don't), are perfectly fine to drink and ecological choices as well.
As my Aunt Bunny once told me, "The only time you should be embarrassed in a restaurant is if you can't pay the bill."
If you travel throughout France, and visit various winemakers, often locals will stop in, lugging their own jugs to fill up. I didn't see anyone bringing plastic bidons to Cognac, but I'm considering bringing a few on my next trip.
After this trip, I'm no longer afraid or intimidated by Cognac. And I'm also now completely certain that I'm not afraid of spiders, either. In fact, I'd brave them again for another sip of that very special amber liquid that they're protecting.


Related Posts and Links
Cognac Franpin Visit (Alcademics.com)
Cognac Enters the Mix (Washington Post)
Cognac Pierre Ferrand Visit (Alcademics.com)
Reidel Tulip Cognac Glasses (Amazon)
Pineau (Cognac-based apéritif)
A Visit to Courvoisier Cognac (Alcademics.com)
Cognac Distillers Visited