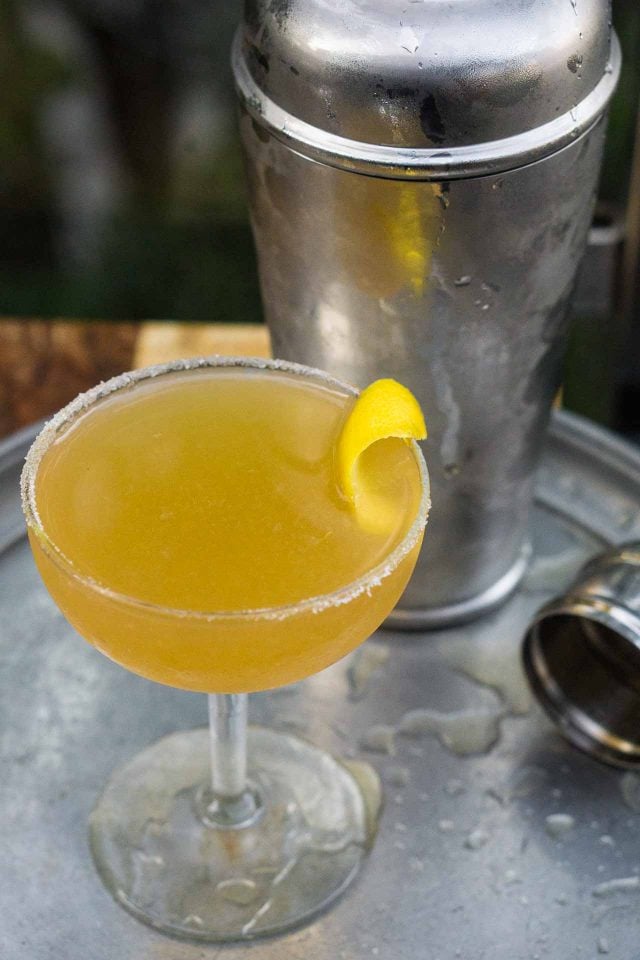 For someone who used to not drink that much, I seem to have a lot of liquor on my liquor shelf. I guess I should rephrase that. For someone who drinks a lot of wine, but not a lot of liquor, I sure have a lot of liquor on my liquor shelf. Is that clear?
Americans may be known for our cocktails, but in France, wine is the general drink of choice. But everyone needs a good cocktail now and then. And mixing up a classic Sidecar with French cognac is a good way to give into a cocktail craving, no matter where you are.
The Sidecar is featured in my book Drinking French, with a version from bartender and spirits writer Jeffrey Morgenthaler, but this one has been on my website for nearly a decade, and it was time to shake another one.
This one follows the basic formula of Cognac (or brandy), Grand Marnier or Cointreau, and lemon juice, shaken up in equal quantities.
It's served in a chilled coupe glass with a lightly sugared rim. The sugared rim isn't required and some do away with it altogether, but it does temper some of the tang of the lemon juice, without the drink being overly sweet. I don't mind the little bit of sweetness but you can leave it off, if you'd like. But if you haven't had a Sidecar, once you shake one up, I'm sure it'll go into regular rotation at your place, as it has at mine.
Sidecar Cocktail
1 1/2

ounces

freshly squeezed lemon juice

1 1/2

ounces

Grand Marnier or Cointreau

1 1/2

ounces

Cognac

,

or good-quality brandy

sugar

,

for the rim

1

lemon twist

,

for garnish, plus a lemon wedge for rimming the glass
Add the lemon juice, Grand Marnier, and Cognac to a cocktail shaker.

Fill a cocktail shaker three-quarters full with ice. Cover and shake vigorously for about 15 to 20 seconds.

Rub the rim of a chilled chilled coupe with the lemon wedge and dip the rim of the glass in a plate dusted with granulated sugar. Strain the Sidecar mixture into the glass, and garnish with lemon twist.
Related Links & Posts
Cognac Enters the Mix (Jason Wilson, Washington Post)
Sidecars (Wikipedia)
Cognac Enters the Mix (Jason Wilson)
Pear Sidecar (Married with Dinner)
A Lebovitz Isle (Matt Bites)