French Pear & Almond Tart Recipe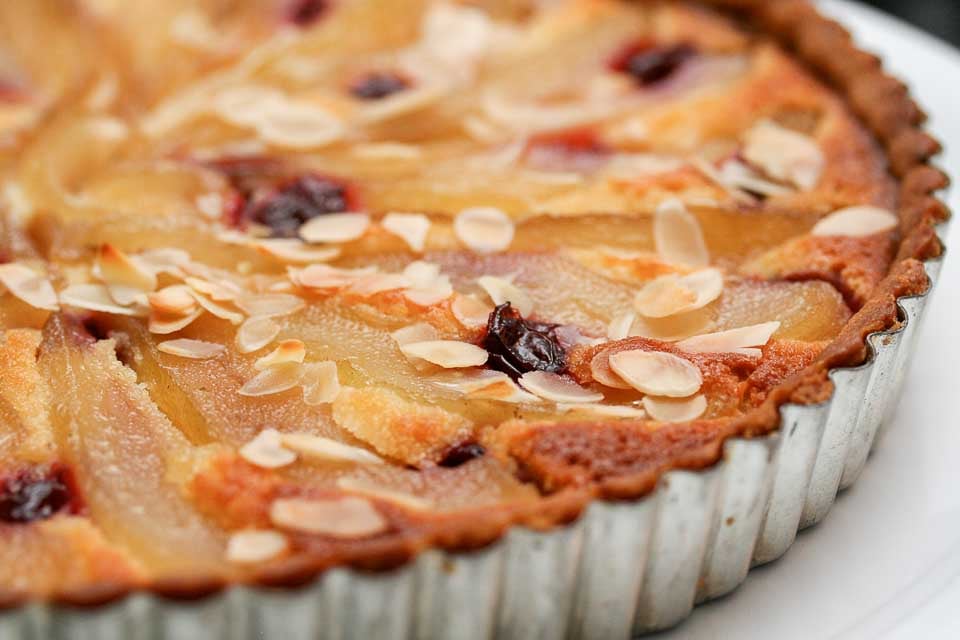 I've been living in France for almost eight years and in all that time, I've yet to make even one of these classic French pear tarts. I don't think I've ever been in a bakery that didn't have wedges of this tart in little paper footings, ready to take out and be consumed right away. So I guess because I could always buy one, why make it? But since I had a kilo of almond paste that I bought for another project, a batch of poached pears on hand, and an unbaked tart shell waiting it's turn in my freezer, I decided to give one a go.
This is a wonderful tart: pears fanned out in a golden-brown, buttery pastry shell that's been spread with almond cream, then baked. And after I pulled this one out of the oven, I realized why it's important to make this yourself; because it tastes amazing when still-warm from the oven, and you can use your own poached pears so you can vary the spices to your taste. (However you can use canned pear halves, which many of the French pastry shops do.)
Aside from the almond paste, I also had a jar of quick-candied sour cherries on hand from another baking project (if it seems like I have a lot of baking odds and ends on hand, welcome to my world…), so I used them as well, which is something I haven't seen in any French bakery. I'm thinking of suggesting they use them on my next visit.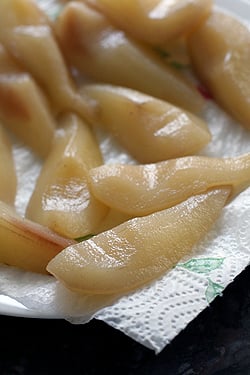 Almond paste can be found in most supermarkets, although there's a link at the end of the recipe to my favorite brand, which I used to buy in 10-pound cans when I baked professionally in America. Thankfully it's available in smaller cans, although you can certainly use the almond paste that you can find in the baking aisle at most supermarkets. Here in Paris, I get my almond paste from G. Detou, a place that I don't need any prodding to visit.
Be sure to drain the pears well, blotting them dry on paper towels before you place them on the almond filling. You don't want a lot of juice floating around in there. To glaze the tart I use a drizzle of the reduced pear poaching liquid.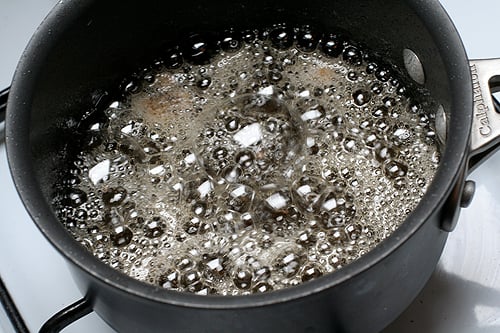 As I mentioned in the post on poached pears, people are scared of reducing liquids, for some reason. But if you serve this with a suave sauce of the thickened pear liquid flecked with lots of sparkly vanilla bits, as I did, the swooning around the table will be worth getting over any trepidation you might have about making a simple reduced sauce.
Basically you want to reduce the syrup to the point where the bubbles are getting large, as shown, keeping a close eye on it as the bubbles increase in size. If it cools and it's not thick enough, just cook it a bit longer. If it's too thick, add a bit of water. This pear-almond tart would also be good with a drizzle of honey or maple syrup, or glazed with a thin coating of strained apricot jam brushed over the pears when the tart has cooled. And a scoop of white chocolate and fresh ginger ice cream or vanilla ice cream alongside? C'est super…
Pear-Almond Tart
If your almond paste isn't very fragrant with the smell of almonds, add a drop or two of pure almond extract to the filling. You don't want to dump a spoonful in, which would overwhelm the pears, but a tiny bit highlights the almond flavors. You can use canned pear halves packed in light syrup, and drain them well, in place of the poached pears, if you wish.
6

ounces (170g)

almond paste

2

teaspoons

sugar

2

teaspoons

flour

3

ounces (85g)

butter

,

salted or unsalted, cubed, at room temperature

1

large egg

,

plus one egg white, at room temperature

a few drops almond extract

,

optional

1 1/2

teaspoons

rum

, Calvados, or kirsch

3

poached pears,

cored, drained and blotted dry, then cut into 1/2-inch (2 cm) slices

One pre-baked 9-inch (23 cm) tart shell, at room temperature
Preheat the oven to 375F (180C). Set the pre-baked tart shell on a baking sheet.

In a stand mixer, or by hand, beat the almond paste with the sugar and flour, until smooth. Some almond pastes may be drier than others. If yours is dry, just mix until the almond paste is finely-broken up.

Gradually beat in the butter, until smooth, then beat in the egg and the egg white, the almond extract, and the liquor.

Spread the almond filling evenly over the tart shell

Fan the pears out evenly over the almond filling, then press them in slightly.

Bake the tart for about 40 to 45 minutes, or until the almond filling between the pears has browned.

Cool slightly before serving, or serve at room temperature. Glaze, as desired.
Notes
Variations: To make a Pear & Cherry Almond Tart, embed 25 candied cherries, sweet or sour, into the almond paste, before you fan the pears out over it. I advise against using very sweet store-bought candied cherries, although the Fabbri ones from Italy are scrumptious.
Another variation is to sprinkle the tart with 3 tablespoons of sliced almonds before baking.
You can also use poached quince in place of the pears.
Note: I'm a fan of Love'n Bake almond paste, which is produced by a company that makes almond paste for professionals. However I've used brands available in supermarkets, which are fine to use.
Storage: The almond filling can be made up to one week before and kept refrigerated. It can also be frozen, for up to one month. Once baked, the tart can be kept at room-temperature, covered, for up to three days.
Update: There's been a spate of inquiries in the comments about the difference between marzipan and almond paste. Marzipan has more sugar since it's meant to be used for candy making, molding, and confectionary work. Almond paste has less sugar and is what should be used in this recipe. More information can be found at Love'n Bake's FAQs and at Odense's FAQs.
Related Recipes