Chez Panisse Almond Tart Recipe
Today I'd like to talk about the Chez Panisse Almond Tart.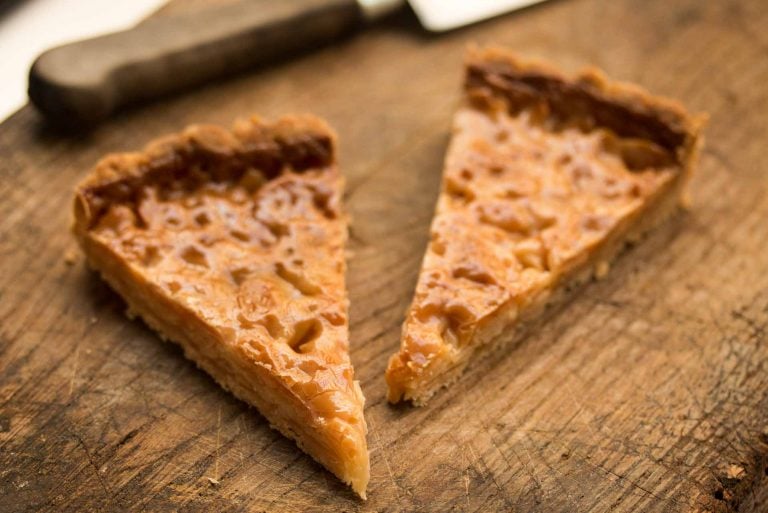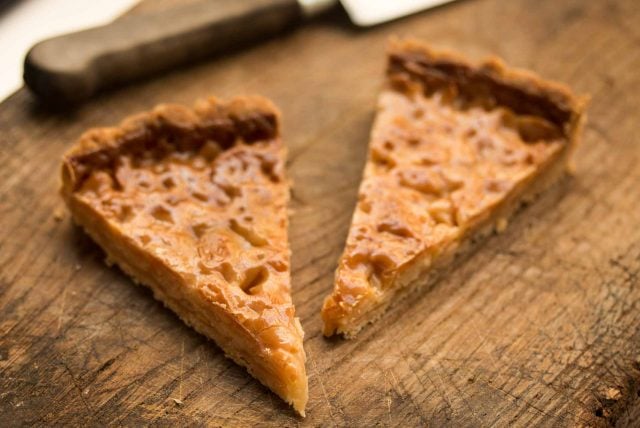 It comes from Lindsey Shere who was the executive pastry chef and co-owner of Chez Panisse since its inception. Her Almond Tart was the most famous dessert at Chez Panisse for decades until too many customers apparently had a hard time eating it with a fork, so off the menu it went.
 I lobbied—hard—to keep it there. Really, I did. But in spite of my best efforts, it only made rare appearances, sliced-thinly, on an occasional cookie plate downstairs in the restaurant. I'm sure the people who were there after I left breathed a sigh of relief, since it was one of the trickiest things to make and they didn't have to bother anymore. Yet in spite of its difficulty, it's the most delicious thing I've probably ever had. And I've had a lot of things that were delicious. Since making one last week, I've been passing out wedges to friends and people are blown away by it. No one could believe how good it was.
When I started in the pastry department at Chez Panisse, it would take me hours to get the dough pressed into pans properly and considered bringing them home with me since I was so lame at it. Unlike other pastry doughs, this one is soft and needs to be pressed into the pans: it's quite sticky and too challenging to roll. To make a long story short, I eventually mastered it, smushing the dough just-right into the tart ring, which I can now do in 30 seconds flat.
This is a tricky recipe but really worth trying and although it was an 'unauthorized' substitution at Chez Panisse (I was the rebel…which is why I'm here instead of there nowadays…), I often would replace the almonds with chopped up macadamia nuts, which kept the tart slightly-softer due to the high oil content. And was utterly delicious. Other nuts can be substituted as well, although when all is said and done, this classic is best made with sliced almonds.
A couple of tips for tackling this tart:
-Unlike other doughs, this should be room temperature when you press it in the pan. I've tried rolling it but it doesn't work. Plus this method is much less messy. You could also use the French tart dough, which works well, too.
-Don't overbeat the butter for the dough and be sure to save a nubbin which you can use to patch any holes once the tart shell is baked off.

-If you forget to save a bit of dough…like someone did around here…just mix a bit of flour and water together to make a thick slurry and use that to fill in any and all gaps on the just-baked tart shell. And don't be shy! If it looks like it might leak, it probably will. So fix it.
-Use an old pair of oven mitts for handling the tart when taking it out of the oven. The caramel is a tad sticky and it's likely to adhere to the gloves.
– Be sure to line the lower rack of the oven with foil to catch any leaks and spills.
-At Chez Panisse, we used 9-inch (23cm) tart rings, but I used my 10-inch (26cm) and it worked fine.
Almond Tart
For the dough
1

cup (140g)

flour

1

tablespoon

sugar

1/2

cup

(4oz, 115g) chilled unsalted butter

,

cut into little cubes

1

tablespoon

ice water

1/2

teaspoon

vanilla extract

1/8

teaspoon

almond extract
For the tart filling
1

cup (250ml)

heavy cream

1

cup (200g)

sugar

1/8

teaspoon

salt

1

cup (80g)

sliced almonds

,

(I prefer unblanched but either is fine)

1/8

teaspoon

almond extract

2

teaspoons

Grand Marnier or Amaretto
For the dough
Mix the flour and sugar in a standing electric mixer or food processor (or by hand, using a pastry blender.)

Add the butter and mix or pulse until the butter is in very small pieces, the size of rice. It should be pretty well-integrated with no large visible chunks.

Add the water and extracts and mix until the dough is smooth and comes together.

Press into a flat disk, wrap in plastic and chill thoroughly.

To put the pastry in the pan, let the dough come to room temperature and press the dough into a tart shell using your hand.

It takes some practice but don't worry if it doesn't look perfect. Try to get the dough relatively flat on the bottom, and push it evenly up the sides with your thumbs. But once again, it doesn't need to be perfect, but you do want to make sure the sides don't collapse. If that happens, you can take it out midway during baking, and push the half-baked dough back up the sides.

Put the tart shell in the freezer and chill thoroughly.

To bake the shell, preheat the oven to 375F (190C).

Bake the shell for 20-30 minutes, until it is set and light golden-brown.

Remove from the oven and patch any holes with leftover dough.
For the tart filling
To bake the tart, line the rack under the one you plan to use with a sheet of aluminum foil to catch any spills and drips.

Heat the cream, sugar, and salt in a big, wide heavy-duty pot (use one that's at least 4 qts, 4l) until it begins to boil.

Continue to cook and when it starts to foam up, remove it from the heat and stir in the almonds, the almond extract, and the liquor.

Scrape the filling into the shell. If there's a bit too much filling, don't toss it; in case the tart leaks, you can use it to add more.

Make sure there are no clumps or piles of almonds and that everything is evenly distributed, then put the filled tart shell into the oven.

After the first ten minutes, check the tart.

Take a heatproof rubber spatula, holding it diagonally and with a tapping motion, break up the surface of the tart. Doing this is very important since it avoids the top of the tart getting that '

corn flaky

' look.

Be sure to give the filling a good series of 'taps'—not enough to break the tart shell pastry underneath, but it's important to break up the surface crust that's forming.

Continue to cook, checking the tart every 5-8 minutes, and break up any dry crust that may be forming, getting less aggressive as the filling sets up. As it begins to caramelize, stop tapping it and let the tart do its thing.

Remove the tart from the oven when the filling is the color of coffee with a light touch of cream in it and there are no large pockets of gooey white filling, about 30 minutes. Let the tart cool a few minutes on a cooling rack.

Check and see if the tart has fastened itself to the tart ring. Slide a knife (or a curved vegetable peeler, which will slide nicely in between the ridges) between the tart and the pan to loosen it so the sides don't come off when you remove the ring.

To remove the ring, rest the tart on top of a solid object (like a tall jar) and gently coax the ring off. Slip a large spatula underneath it to return the tart to a cooling rack.

Once completely cool, run a long chef's knife under the tart to release it from the bottom. If it's stubborn, set the tart on top of a warm stove burner for a second or two and you should be able to pry it off.
Notes
Voilà! Be proud of your first, infamous Chez Panisse Almond Tart.
Serve in small wedges either as a dessert, or as a cookie-like accompaniment to fresh fruit, bowl of ice cream or sorbet, or a compote.
Advanced Planning: The dough can be made in advance, and chilled (maximum 4 days) or frozen longer. The dough, once pressed in the tart pan, can be frozen. Wrap in plastic if you don't plan to bake it within 48 hours. Once made, the tart should be kept at room temperature. If not eaten the same day, wrap in plastic wrap. The tart is best the first day but can be kept for up to 4 days.