The Indestructable Almond Tart
Sometimes I feel like I must be walking around with a sign on me that says…
"Even though it's obvious from the way I'm holding it, I'm carrying a fragile dessert that I've spent hours making…

…But please feel free to walk right into me anyways."
Yes, that was me trying to navigate Paris, tranversing the sidewalks and mètros of Paris, hoping to make it safely to the New Year's party I was invited to with my Almond Tart.
As those who read this blog regularly may recall, I'm a target for Parisians when carrying fragile cakes and tarts down the street. For some reason, they'll just walk right into me.
But this time, I got wise to their antics and thwarted their efforts to derail me by remembering a favorite recipe from my past, Lindsey's Almond Tart, one of the all-time great desserts that I made almost every day at Chez Panisse for years and years. Once baked, the tart is bullet-proof: and as anticipated, the disk of firm caramelized almonds successfully withstood both the Line #1 and #14 mètros.
I made it safely to my New Year's Eve fête with the tart. I did get body-checked by a Parisian in the Bastille mètro, forcing me to crash into the tile wall, and heard the loud "Thwack" of the porcelain cake plate it was resting on.
"Zut!, I thought.
But the tart arrived safely and after dinner, everyone nibbled on it happily along with the last of the cold Champagne along with the Chocolate, Sour Cherry, and Toasted Almond Bark that I made with fleur de sel, which was equally a big hit.
So here's a few resolutions for my life in 2006…
-I'm going to avoid the black tar as much as I can…
-I'm going to perfect my Madeleine recipe…
-I'm going to cut back on the amount of chocolate I eat…
(…not!)
-I'm going to get to work on my next cookbook…
-And I'm going to become a true Frenchman and no matter how impeccably or fashionably dressed I am, I'm going to wear the wackiest socks I can drum up…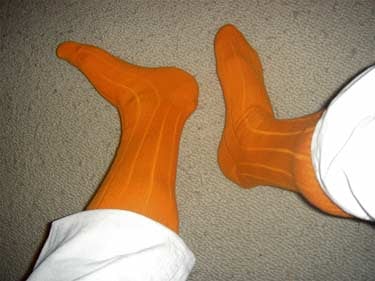 I will avoid socks with images of Homer Simpson or Asterix, though, so popular with the men here in France, though. Even I have my limits.