Moelleux of Summer Fruits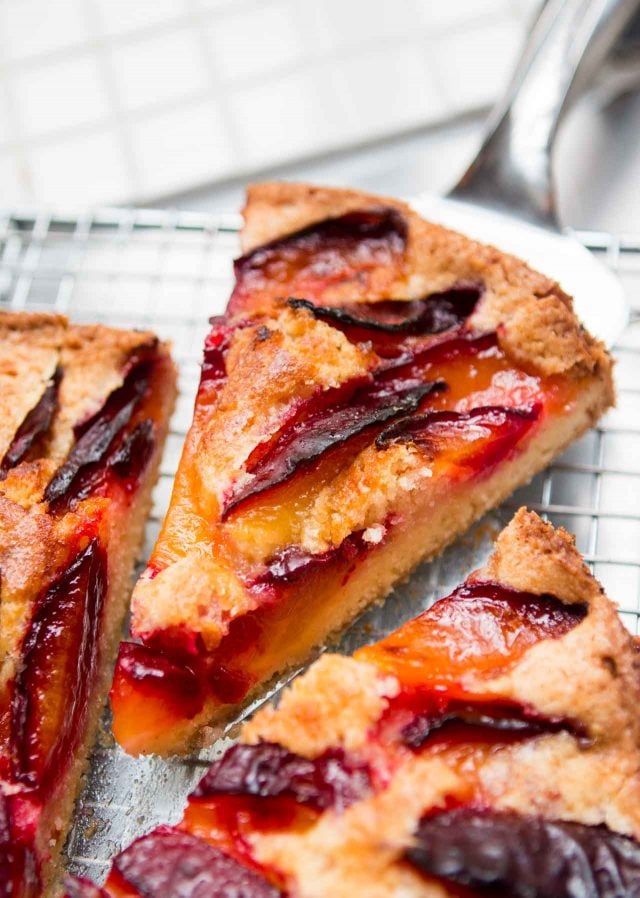 This may or may not happen to you, but sometimes when I'm a guest in someone's home, where everyone pitches in to make dinner, all eyes (or just the host's eyes) fall on me to make dessert. Gulp. I happy to pitch in with the cooking or bringing along a few baked goodies for the weekend, but I'm not always prepared to bake on the spot.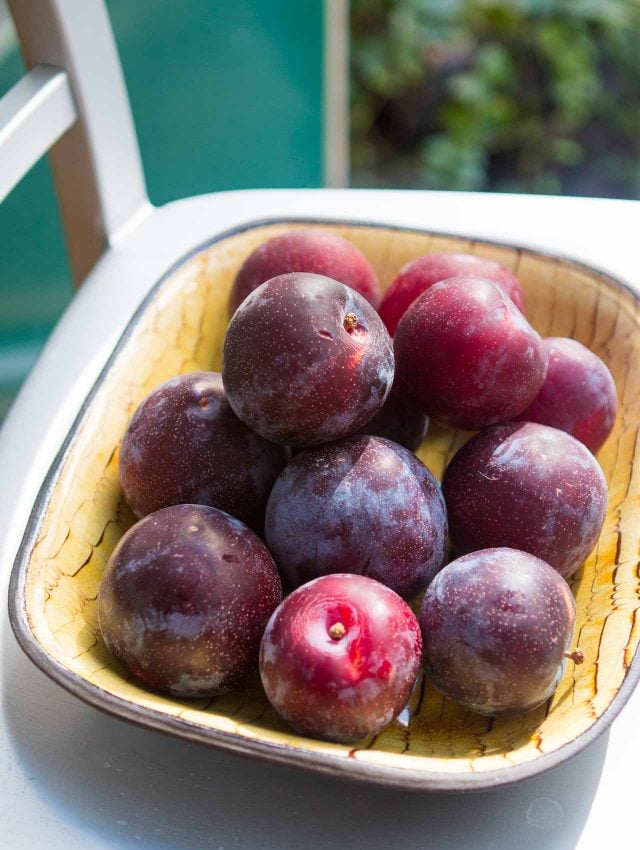 If you're lucky, there may be a scale, a cake pan, a sharp knife, and hopefully sugar, butter, eggs, and flour. If you're really lucky, there might be a whisk and a spatula, too. But if you've ever tried to peel a dozen apples with a steak knife because it's the only one that's even close to sharp, or eyeball 1 cup/140g) of flour, you know what I'm talking about. I once did a post on Things I Bring When I'm a Guest for the Weekend, which raised the ire of some, but I require a minimum of a knife, a spatula, a bowl, and a cake pan if I'm going to bake something, like a cake.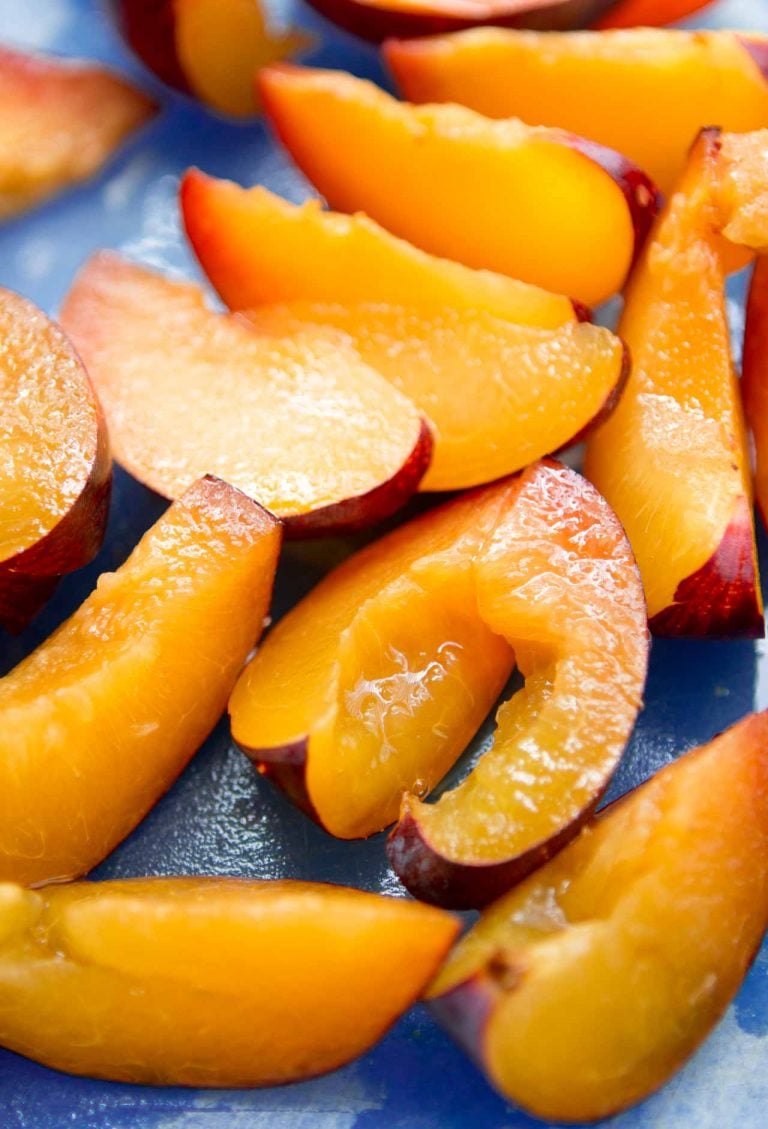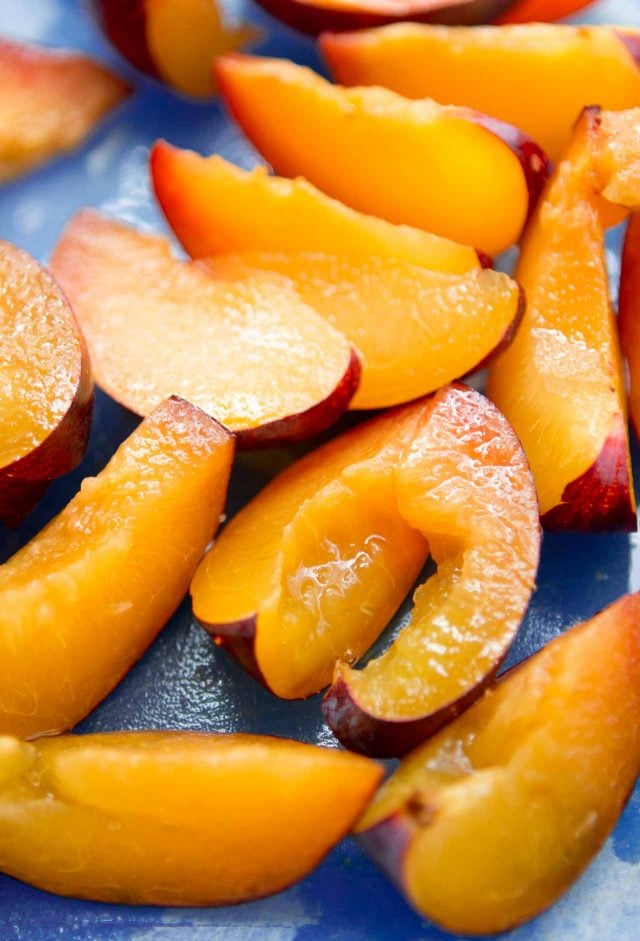 You're likely familiar with the Moelleux au chocolat, the soft warm individual melting cakes that everybody loves. (If you have the kind of friends that have six to eight ramekins, well, that's great.) I recently saw French food writer and journalist François-Régis Gaudy (his book, Let's Eat France, translated into English, is a lot of fun and pretty amazing) make a Moelleux à la abricot on his Instagram page, which didn't require a mixer or any special equipment. Not even a whisk!
His Apricot Cake was a very casual affair, baked in a rectangular mold on a sheet of parchment paper, and came out of the oven rather free-form, looking exactly like something that would come out of a French home cook's kitchen, when baking dessert for friends. I'm fine with that but didn't know if you were, so I thought I'd tinker with it and make it in a cake pan, which is easier to slice. I also fiddled around with the ingredients, as well as putting the brown granulated sugar on top (rather than underneath), to give the moelleux a nice sheen.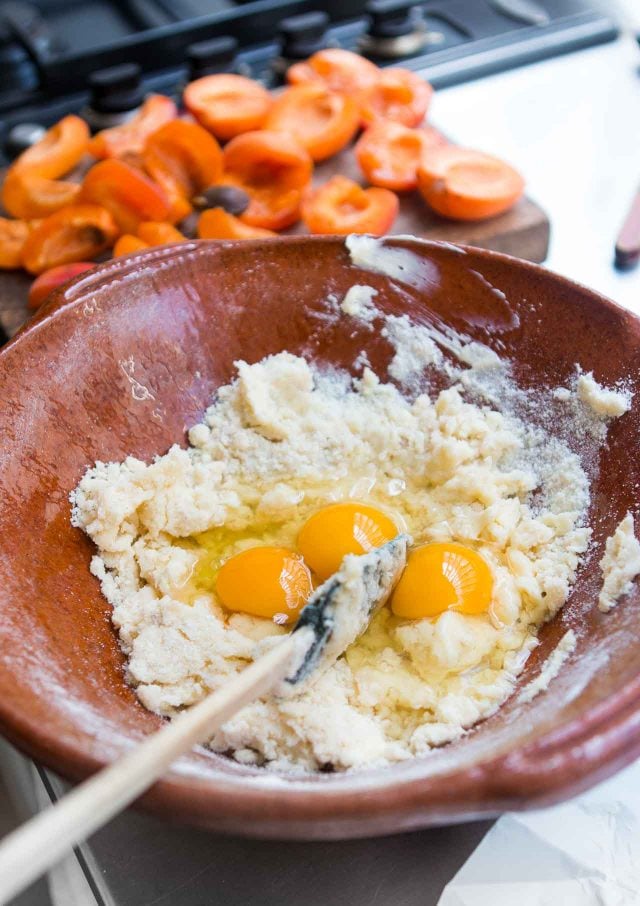 I used a springform cake pan but you can use any similar-sized vessel; an 8-, 9- or 10-square or round cake pan would work, or even a baking dish. The baking time will vary but if your experience with using a variety of ovens in other people's homes is anything like mine, you'll find that each one is different, and what one says is 350ºF/180ºC will be different than another whose dial says 350ºF/180ºC. I don't travel with an oven thermometer but may add that to things I bring when I'm staying with people.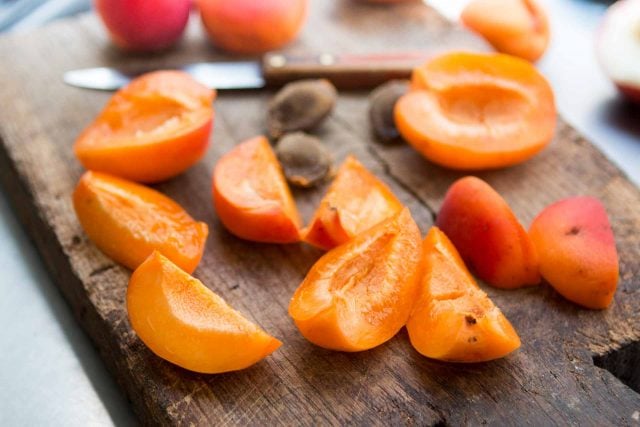 Tip: If you're staying in someone's place for the weekend, you can mix the dry ingredients in a container or zip-top bag then put the dessert together when you get there.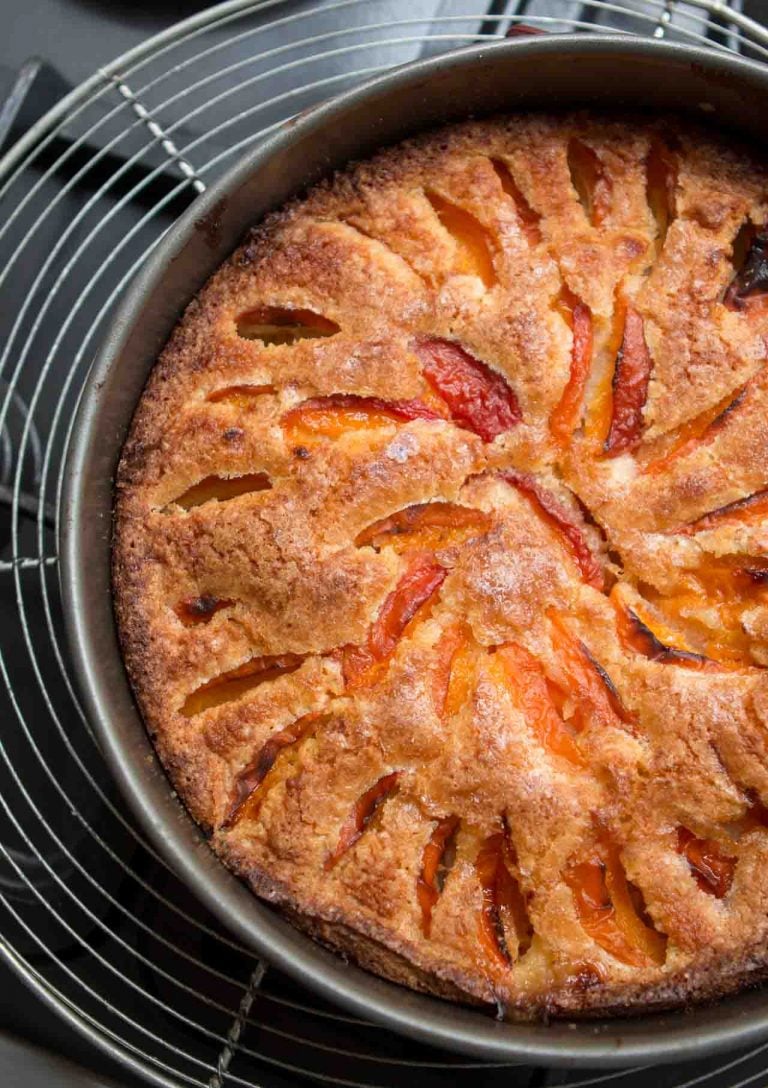 I made one cake with apricots first, which was sensational, but knowing fresh apricots are harder to come by elsewhere, I made another one with plums, which came out great as well. It would work with other summer fruits and berries but I really like the tanginess of apricots or plums against the moist cake layer, so stuck with those two. A handful of berries wouldn't hurt either, but I do recommend keeping it simple.
Moelleux aux fruits d'ete
Inspired by French food writer and journalist
François-Régis Gaudry
I liked the apricots and plums in this "Soft Cake of Summer Fruits (
fruits d'été
)" so recommend using those, especially if you like fruits on the tart side, although nectarines, peaches, cherries or berries would work, too. I made this a few times and definitely prefer this with the mix of almond- and all-purpose flour. The ground almonds (
almond flour
) are really delicious in the dessert, but if you can't get ground almonds (sometimes called almond meal or almond flour), you can use 1 1/4 cups (175g) of all-purpose flour in place of the mix.
NOTES
: The picture in the post of the batter shows 3 eggs being added, and I took that photo while testing the recipe, which I did a few times. The final recipe I came up with, below, uses 2 eggs. Also, I'm posting this while on vacation and originally omitted the sugar. I didn't bring my testing notes on vacation but remember it being the amount (1 1/4 cups) listed below, but you could use more or less as it's a very adaptable cake. (The
original recipe
that inspired this one called for 330g, or 1 2/3 cups of sugar, with slightly more fruit and batter.) But if you want to wait to make the recipe until I return, I'll update the recipe in September if necessary.
1 1/2

pounds (680g)

apricots or plums

,

(or another summer fruit, see headnote)

3/4

cup (110g)

almond flour

1/2

cup (65g)

all-purpose flour

1 1/2

teaspoons

baking powder

, preferably aluminum-free

1/4

teaspoon

salt

1

cup plus 2 tablespoons (230g)

granulated sugar

5

ounces (140g)

unsalted butter

,

at room temperature

2

large

eggs

,

at room temperature

1

teaspoon

vanilla extract

,

(or 1/2 teaspoon almond extract)

1 1/2

tablespoons

coarse granulated brown sugar

,

such as tubinado sugar (or granulated white sugar)
Halve the fruit and remove the pits. Slice the fruit into 3/4- to 1-inch (2-3cm) wedges. Set aside. Preheat the oven to 350ºF (180ºC.) Grease a 9-inch (23cm) springform pan very well with butter or non-stick spray. (If you don't have a springform pan, you can use another cake pan but it may be harder to get the cake out so you may want to also line the bottom with parchment paper.)

In a medium mixing bowl, stir together the almond flour, all-purpose flour, baking powder, salt, and sugar. (My preferred tool to use for this step is a silicone spatula.) Add the soft butter and mix it in with the spatula until it's broken up into little pieces, roughly the size of kernels of corn. Stir in the eggs and vanilla extract, until it's almost smooth. It's fine if there are small pieces of butter visible.

Scrape the batter into the prepared pan and smooth the top. Arrange the wedges of fruit on their sides in concentric circles over the batter, snugly placing the wedges against each other, pressing them gently into the batter as you go. Avoid putting them right up against the sides of the pan. It's best to leave some room for the batter to rise between the fruit and the pan, to avoid juices from the fruit adhering to the sides of the pan as the moelleux bakes. (It's unavoidable - and natural - if using juicy fruits, like plums, to have juice run out. But placing the slices not right up against the sides of the pan will help you get the cake out of the pan later.)

Sprinkle the coarse sugar over the top and bake until the center just feels set; a toothpick inserted into the center should come out free of cake crumbs stuck to it, about 1 hour. Remove from the oven and set on a cooling rack. If any fruit juices have bubbled up and stuck to the sides of the pan, run a knife around the outside of the cake, which will help it release later.
Notes
Notes: If you want to make this gluten-free, I'd go with the almond flour rendition, and use a gluten-free flour substitute in place of the wheat flour. If you want to reduce the sugar in the recipe, you could cut it by 6 tablespoons/75g and skip the sugar on top, although I wouldn't.