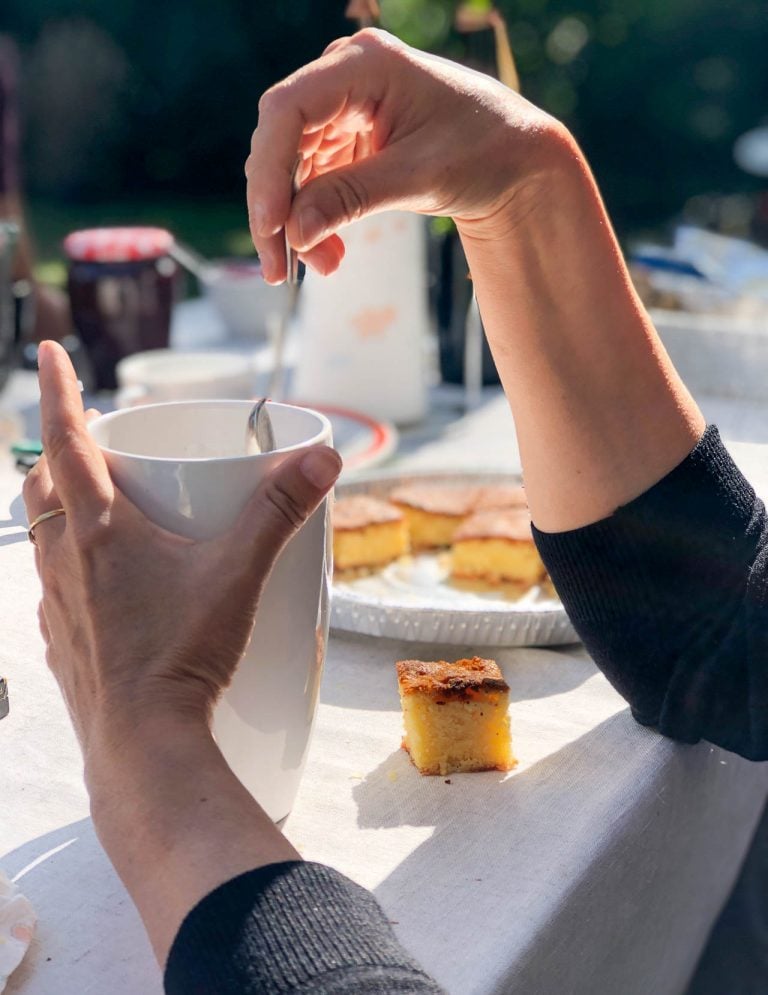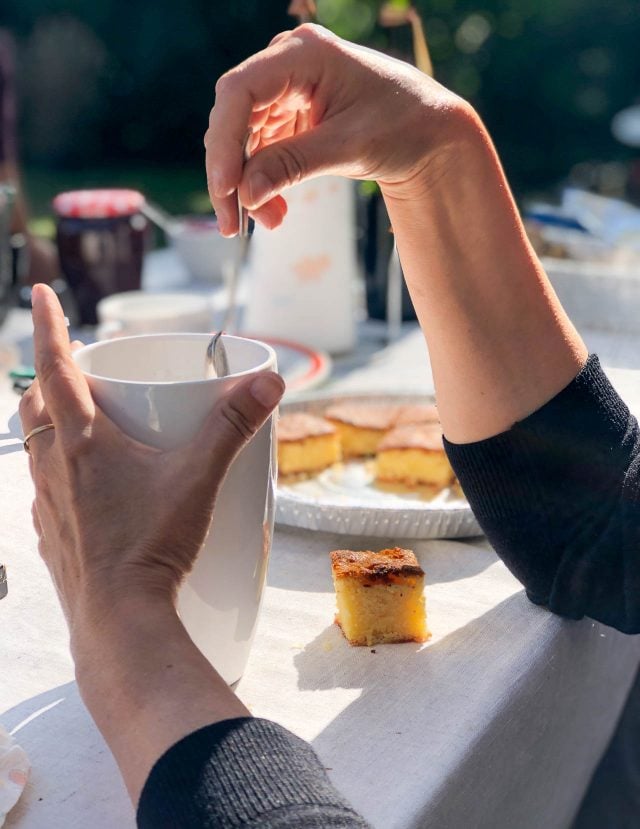 This summer, for our vacation, we did our usual road trip, with stops to visit various friends in France, with a delicious detour to Spain. We always look forward to visiting our French friends who have a home in Burgundy, and not just for all the Chablis, jambon persillé, Dijon mustard and gougères. (Oh, and they also have a pool…) But since they live abroad, we don't get to see them all that often. This year, two members of their family were celebrating milestone birthdays and a party was planned for nearly sixty friends and family members in their honor.
For the party, we got to work. The first day of prep, everyone was sort of doing whatever they thought needed doing, until a former restaurant cook (me) realized we needed someone to make a prep list, and we all sat down together to map out our plans.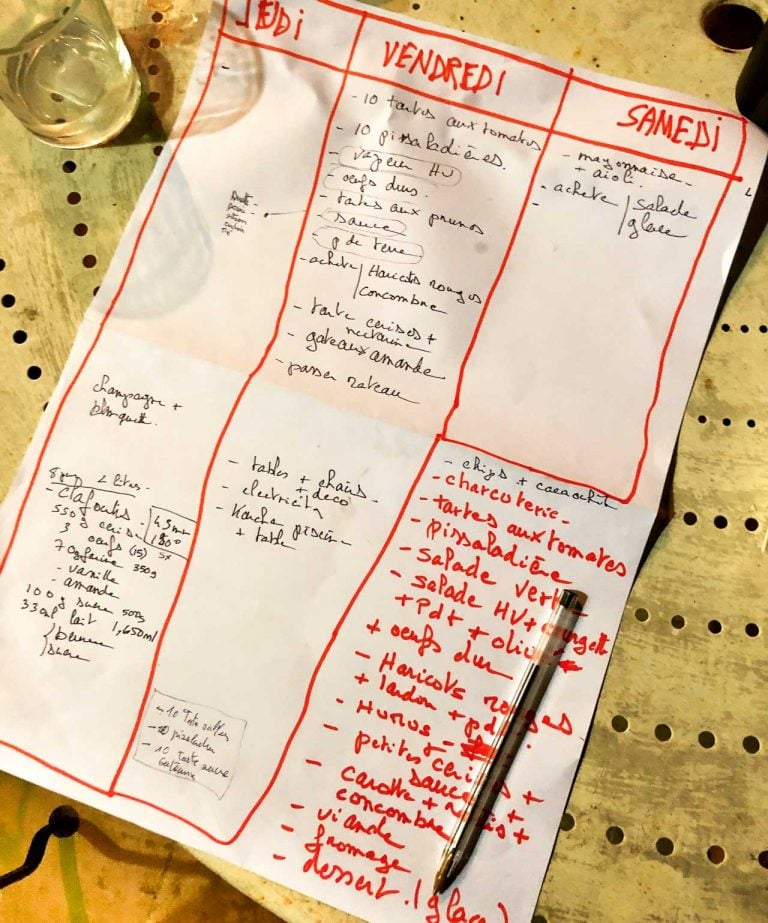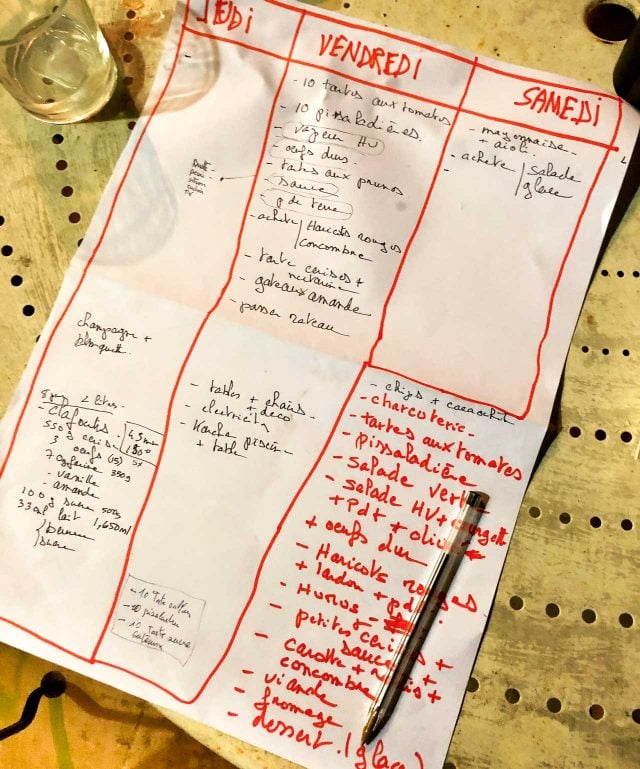 I was mostly relieved of dessert duty, except for five cherry clafoutis I baked, which you can see from the scribbles at the bottom left of the page. Thankfully the French don't pit cherries for clafoutis, so that shaved probably two hours off the prep time. (And added a little extra pool time.)
We ended up making roughly 60 sweet and savory tarts, from pissaladières (onion-anchovy tarts, using the recipe from My Paris Kitchen) to tomato tarts, along with plum tarts (tartes aux quetsches) using prune plums that we foraged from local trees that had been abandoned.
We added a lot to the list as we went, and there were also gâteaux amandes, almond cakes, that one of our French hosts was planning to make.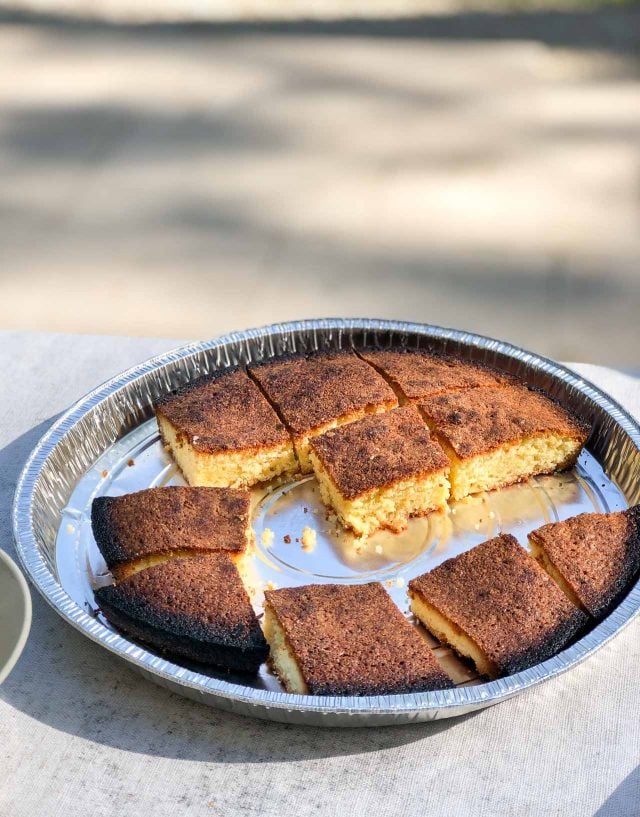 Proving once again that French home cooks and bakers aren't expected to compete with the local pâtisserie, and due to a shortage of tart pans (does anyone have 60 tart pans on hand?) she baked her gâteaux in foil cake pans, and served them forth.
The batter for the cake is similar to a financier, similarly enriched with almond flour, which fortunately has gotten easier to obtain outside of France. Once the cakes were baked, she squeezed the juice of half a lemon over each and gave them a light soaking with amaretto before cutting them into squares to serve.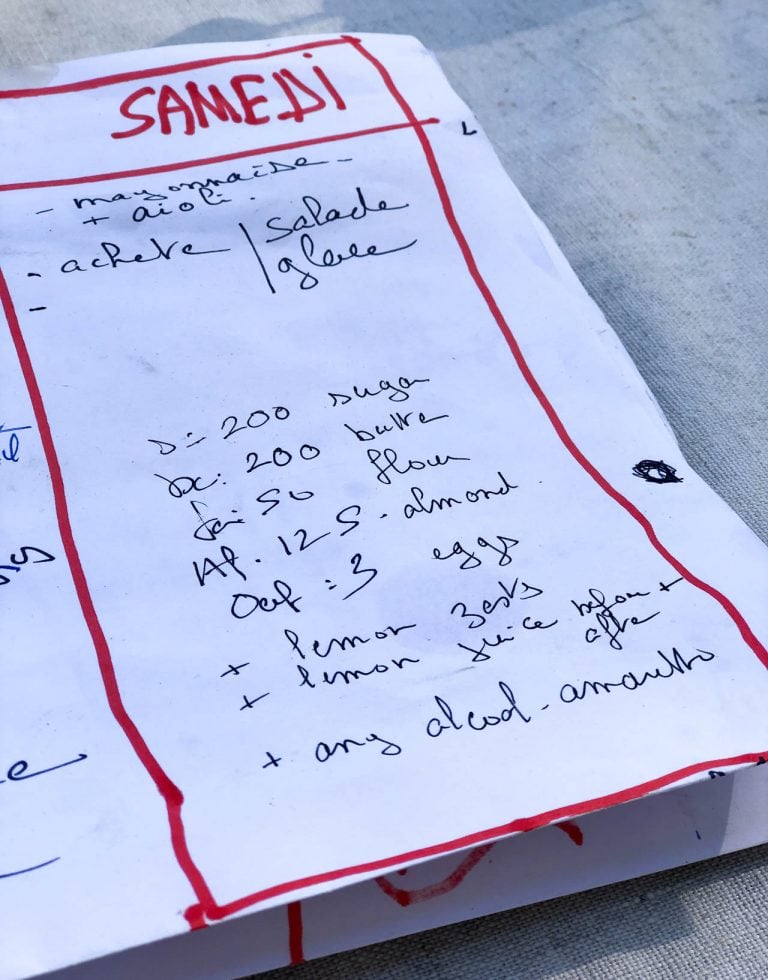 My friend only buttered the pans, but I wanted to share the recipe with you and used a regular cake pan, rather than foil, which I lined with a circle of parchment paper as extra insurance it'd come out. She just cut and served the cake right from the pans, but it's your call whether you want to unmold the cake or leave it in the pan.
The edges may look burnt to you, but they're not. They do get darker than the center of the cake, and the top of hers came out darker than mine; I think she cooked hers longer to get that firmer top, but I was pretty occupied cooking other things while she baked off the cakes. (That, or I was taking a pool break.)
Since there's so much almond flour in the recipe, the cake stays remarkably moist. It was so good, we snacked on leftovers for the next few days. As you can see from the photo at the top of this post, it was especially good for breakfast, with coffee, too.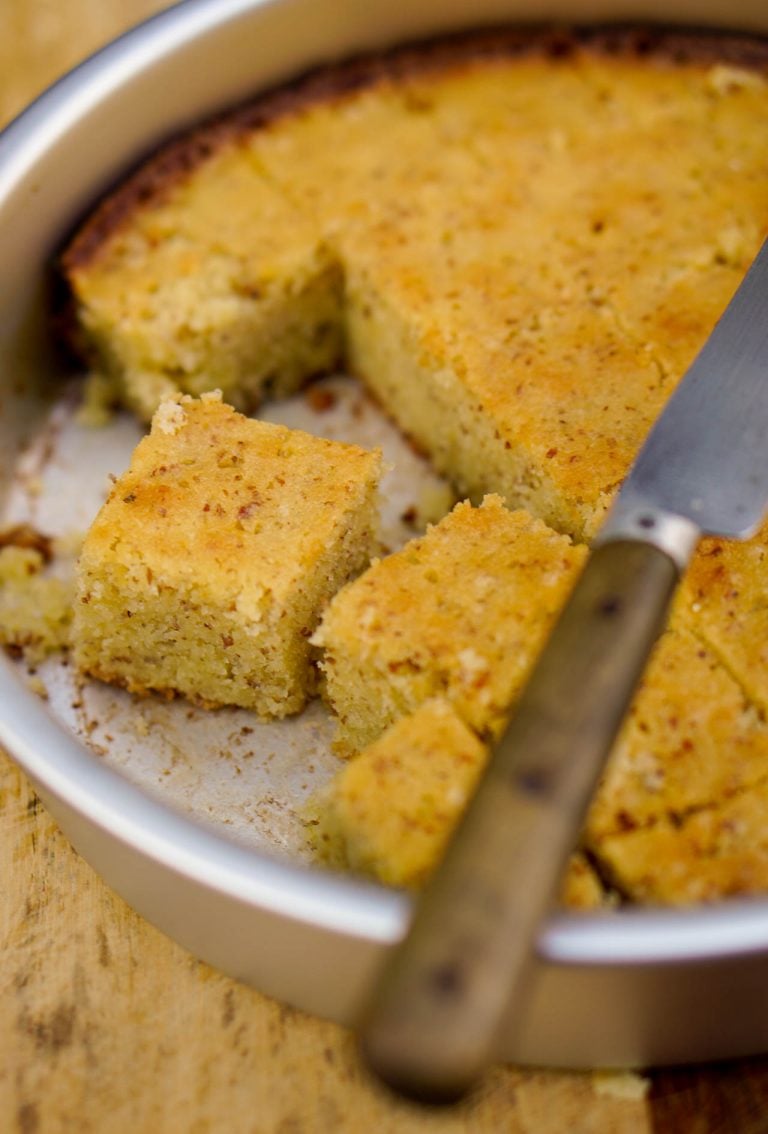 Amaretto adds a sort of dopey sweetness that might take you back to your twenties (or even before) when you reach for a bottle. But the sweet/bitter almond flavor of the Italian liqueur really does go well with this cake. My friend said that to make this cake even better, use Frangelico, the hazelnut-flavored liqueur, which she accompanied with a look as if she was personally experiencing rapture. Personally, I think anyone with four kids is always looking for an excuse to use any kind of alcohol, but I stuck with amaretto and wasn't disappointed. I don't think you'll be either.
Lemon-Almond Snack Cake
I baked this in an 8-inch (20cm) round cake pan, but you can use a similar-sized vessel, such as an 8- to 9-inch (20-23cm) pie plate or pan. A square cake pan would also work. The baking time may vary a bit due to different sizes of pans so use the visual and tactile clues to tell when it's done, referring to the suggested baking time for the 8-inch round cake pan as a guide.
Servings
20
servings (approximately)
1 1/4

cups (125g)

almond flour

5 1/2

tablespoons (50g)

all-purpose flour

1/4

teaspoon

salt

7

ounces (200g)

unsalted butter,

,

cubed, at room temperature

1

cup (200g)

sugar

zest

of 1 large lemon

3

large

eggs,

,

at room temperature

juice

of 1 large lemon

,

(about 2 tablespoons), divided

2

tablespoons

amaretto,

,

or another nut-flavored liqueur
1. Preheat the oven to 350ºF (180ºC). Butter an 8-inch (20cm) round cake pan, or similar-sized vessel. (See headnote.) Line the bottom with a circle of parchment paper, if you wish.

2. In a small bowl, whisk together the almond flour, all-purpose flour, and salt.

3. In the bowl of a stand mixer fitted with the paddle attachment (or by hand in a bowl, with a spatula), beat the butter, sugar, and lemon zest until light and fluffy, about 3 minutes on medium-high speed. On low speed, stir in the eggs one at a time, then the juice from half a lemon, stopping the mixer to scrape down the sides of the mixer bowl after the addition of each egg.

4. Stir in the flour mixture until completely incorporated, then scrape the batter into the prepared cake pan. Smooth the top.

5. Bake the cake until the center feels set; a toothpick inserted into the center will come out clean, about 40 minutes. Don't worry if the sides (or top) get too dark; that's normal and the cake will be fine.

6. Remove from the oven and let cool 5 minutes. Sprinkle the remaining lemon juice over the cake, and the amaretto. Let cool before slicing.
Notes
Serving: Since this is a snack cake, it's fine to serve on its own. It can also be served with a fresh fruit compote or a favorite flavor of ice cream or sorbet. Storage: The cake will keep for up to five days at room temperature. It can also be frozen for up to three months.