La Cidrerie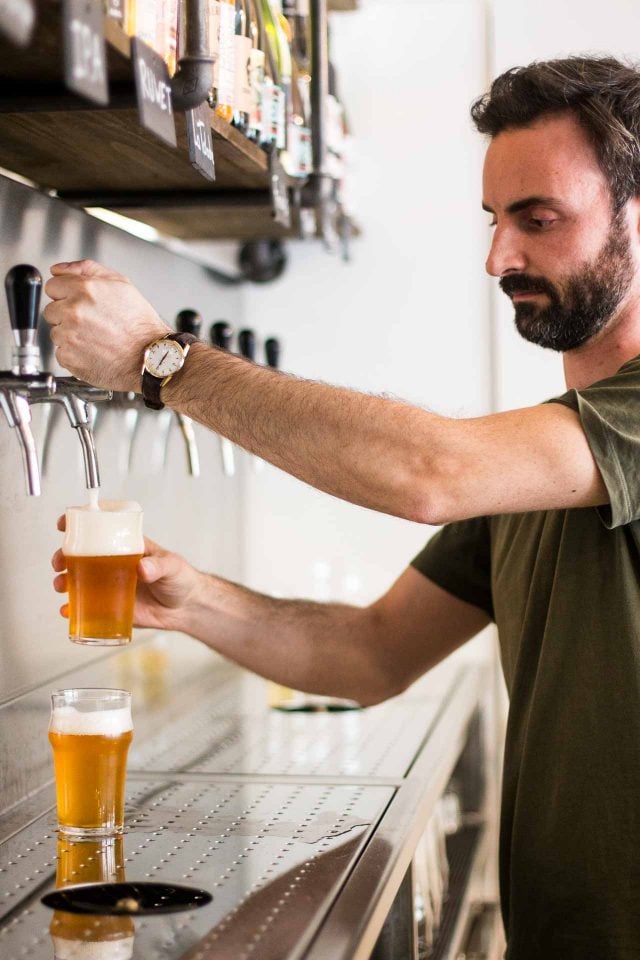 When I heard about La Cidrerie, I knew I wanted to go there. I like beer, but I don't have the same capacity for it as locals do; young people in Paris seem to have no trouble polishing off those pint-plus giant glasses of beer that have become ubiquitous on café tables. Cider hasn't gotten the same attention that beer, wine, and other French beverages have gotten, but that's changing.
Benoît Marinos is changing that in Paris with La Cidrerie. And you won't find a better selection of French sparkling ciders anywhere else in Paris, or France. Or maybe the world.
Being from Brittany, Benoît had a strong affinity for cider, where it's traditionally enjoyed with crêpes and galettes, often in bowls. Neighboring Normandy also has a strong cider culture. But it's considered more of a novelty than something that can be truly well-made. (Many hard ciders are mass-produced, which inhibits the better ones from being taken seriously.) Elsewhere, such as in England, and even in Brooklyn, fermented "hard" (alcoholic) apple ciders are getting the respect, and attention, they deserve.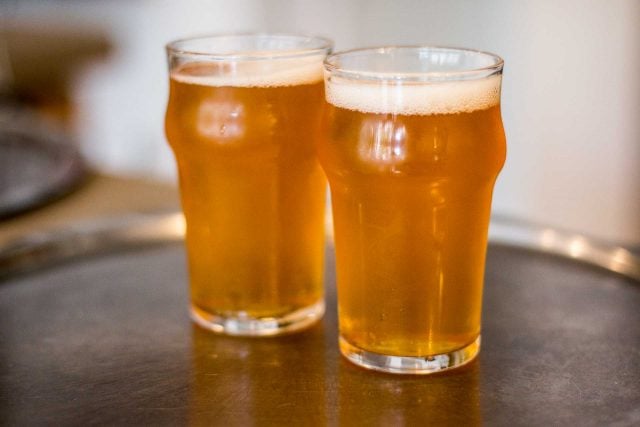 Dismayed that cider wasn't getting the same consideration that other drinks get in his native country, Benoît spent some time at a school for cidricoles in Normandy, learning as much as he could about cider. He returned to Paris, and opened a bar dedicated to cider by the Canal Saint-Martin. And it's become one of my favorite places to drink in the city.
We had an especially warm welcome the first time I went to La Cidrerie. I discovered it when my friend Jennifer and I were trying to decide where to meet up for drinks one night. Since she'd live in Normandy, close to a lot of cider producers, I thought it'd be fun to check it out the cider place I was following on Instagram.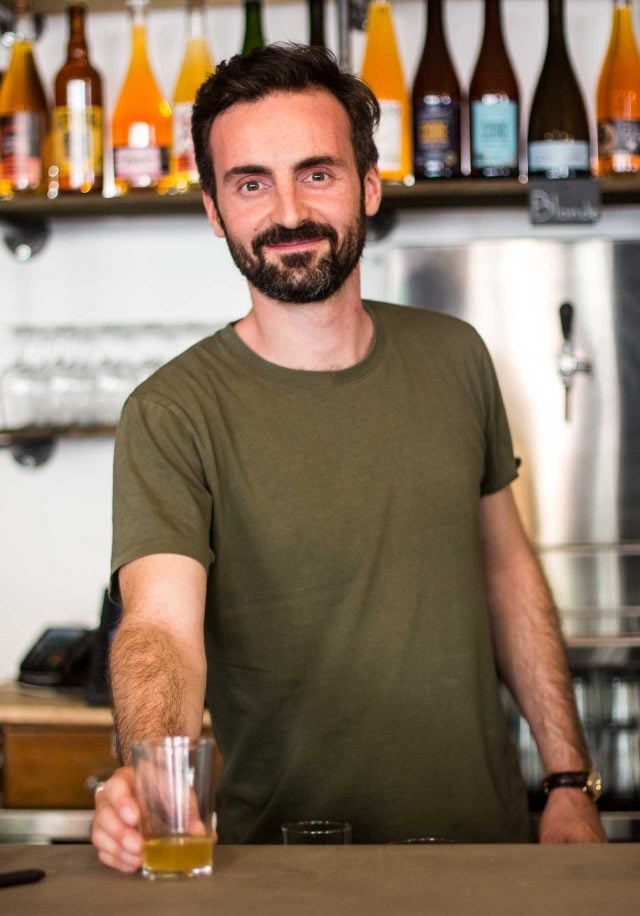 While it's tempting to sit at a table outside, writing a book on French drinks, if possible, I prefer to sit at the bar or hang out at the café counter. And when I saw the line-up of spigots behind the bar, I knew I'd made the right decision.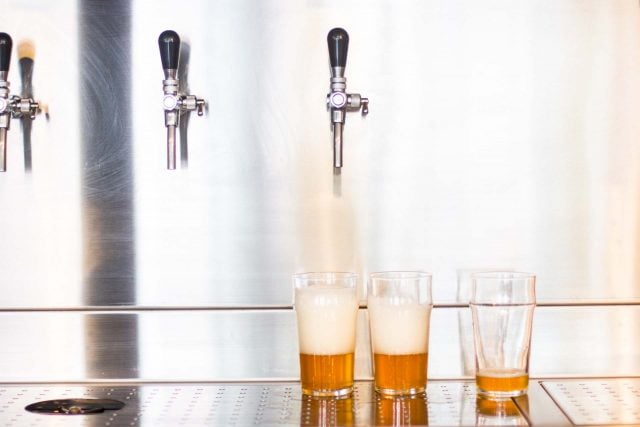 I've made a lot of new friends that way, and learned a lot. This time, my education was in les cidres.
There are several ciders on tap, and not all come from France. And if you think you know what French (and other) ciders taste like, you'll be surprised. The cider from Ruwet (above) comes from Belgium and is nearly transparent. I think it was my favorite. La Taloche from Normandy is made with hops, which gave it a surprising THC-like aroma, and flavor. I thought I was imagining it, but Benoît confirmed I wasn't stoned; the flavors are similar.
Others, like Aspall from England are made with champagne yeast (in addition to the natural fermentation that occurs with the apples), and like other ciders from the UK, they have a higher percentage of alcohol than their French counterparts. Some ciders are unfiltered, like Kupela from the Basque region reminded me of wandering around San Sebastian, eating pintxos (tapas) and drinking cider poured into glasses from high overhead, by the bartenders.
Want to taste several, without springing for four full-size glasses of cider? Let them set up a dégustation (tasting) of any four ciders that you choose, that are on tap (pression).
One surprise for me was the Cidre rosé, a naturally red cider made from a type of apple similar to a medlar, that turns a rosy red color. He's got a French cider that's made with some beet juice, but said the flavors can be rather sauvage (wild), and indeed, some of the ciders have a similar funk to natural wines, that can taste barnyardy.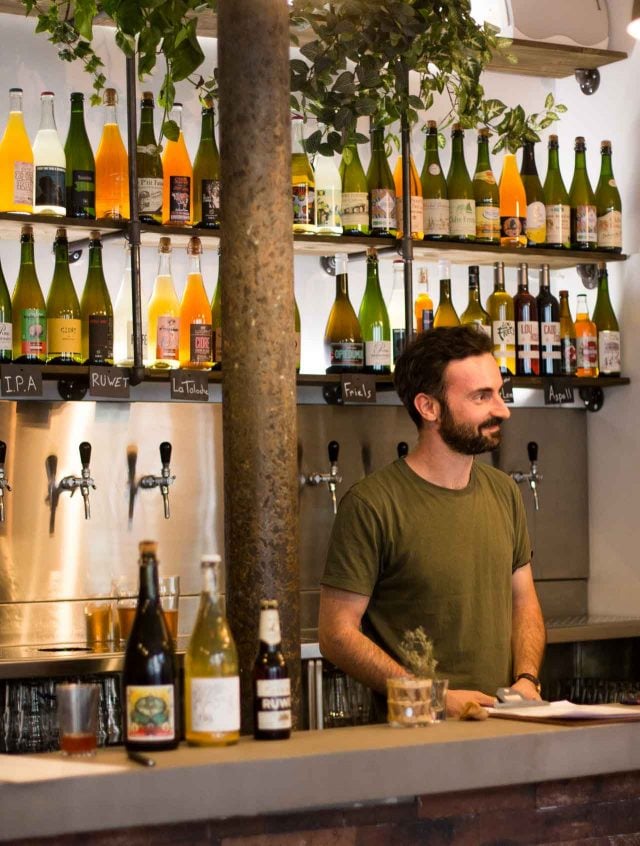 I also tried a pear cider from Ferme de l'Yonniere that had that lovely flavor of fall pears, and I bought home a bottle of cider from the Cidrerie du Vulcain made from pears, apples, and quince, because I can't resist anything with quince in it.
I'm not sure how Benoît managed to collect, and offer, so many types and variations of cider, but it's amazing he did.
There's a menu of bar snacks, riffing off classic flavors of Brittany. He's launching a new menu this fall, but the buckwheat croquettes I had from the menu when I was there were intriguing enough to make me want to go back. If you want to bring a bottle home, most of them are available à emporter, to take home.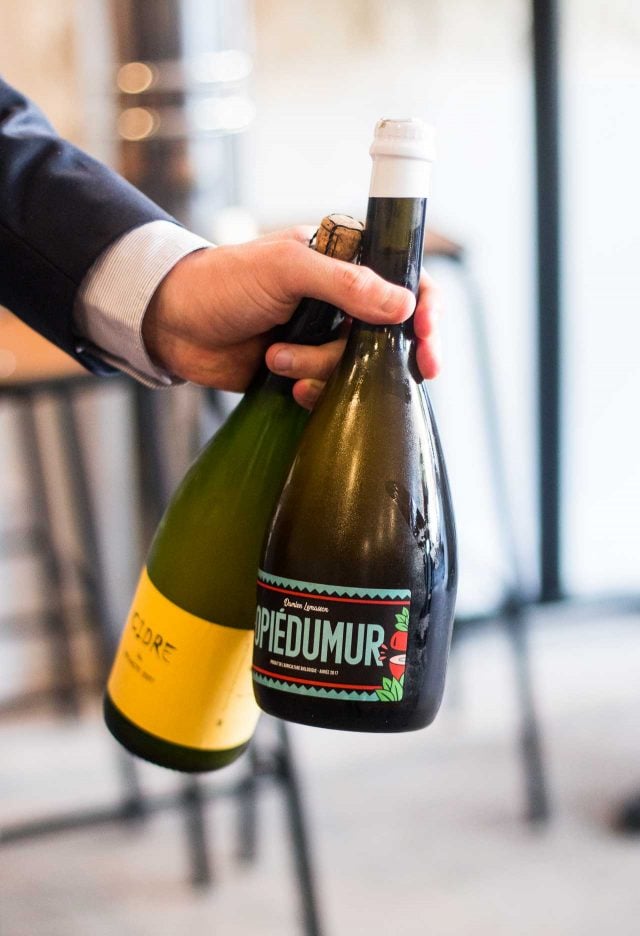 La Cidrerie
51, quai de Valmy (10th)
M: République or Goncourt
Tél: 01 71 97 12 45