Montparnasse Cocktail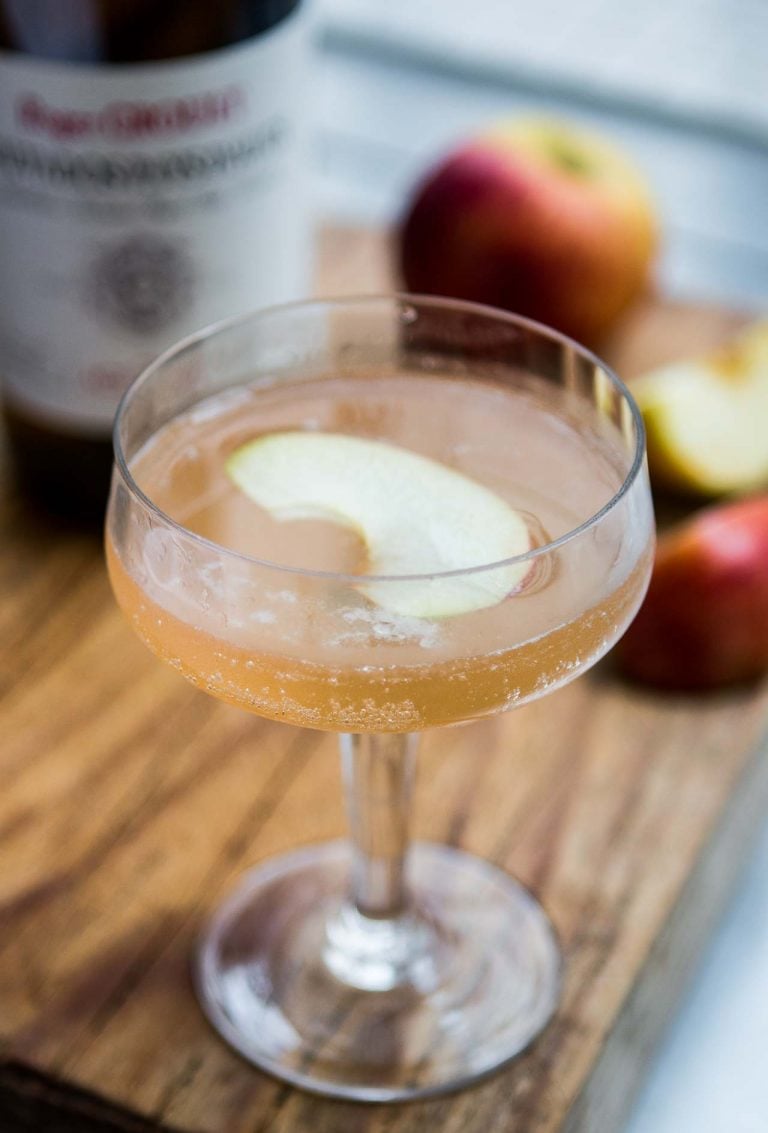 It's been fun doing my daily Apéro Hour on IGTV and happy that people are tuning in. Here's how if you're not familiar with the format. Yesterday, bartender and spirits writer Jeffrey Morgenthaler, author of Drinking Distilled and the award-winning The Bar Book, was my guest and he made his revised French 75. Here's the line up for the rest of the week:
Wednesday: This Montparnasse cocktail with Calvados from Normandy and elderflower liqueur
Thursday: A round-up of French apéritifs; Pineau de Charentes from cognac, Pommeau de Normandie (made with apples), and the elusive, but excellent, Macvin du Jura.
Friday: Making tisanes and herbal infusions the French way with a Frenchman…Romain returns!
Saturday: A visit to Burgundy with traveling distiller Matt Sabbagh of Alambic Bourguignon and Sab's Spirits, who makes gin, pear eau-de-vie, and marc & fin de bourgogne.
This cocktail is named after Montparnasse, an area of Paris where the Gare Montparnasse is situated in, a train station that's surrounded by crêperies. Each train station in Paris serves a different region of France; The gare du Nord serves the North of France, the gare de l'Est serves Alsace, and the gare Saint-Lazare transports people to Normandy.
The gare Montparnasse is where you take the train if you want to go to Brittany, which is famous not only for its crêpes and buckwheat galettes, but also for its butter, sea salt, and apples. While they don't get the same international press, I once had a basket of fraises de Plougastel that I bought at a market in Brittany, which may have been the best strawberries I've ever had in my life. The outdoor markets are terrific in the region, too. I once found a woman selling freshly-made butter that had the same yellow hue of sunflower petals and had big chunks of sea salt crystals in it, at the market in Dinan. After I bought one block, I realized the error of my ways and I went back to buy as many blocks as I could to bring back to Paris with me. So there are many reasons to go to Brittany.
Normandy is just next to Brittany, and there's some overlap, bien sûr. Especially in the apple department. Lambig is the apple brandy made in Brittany, and Calvados its better-known cousin, made in Normandy.
I don't know quite where the origins of this cocktail come from, and there's a little bit of rivalry between Lambig and Calvados, which I'll let others sort out, but I do know that Lambig is tough to find outside of the region while Calvados is available far and wide, albeit for a bit of a price. (In the U.S., Apple Jack is an good substitute in drinks, and St. George makes an apple brandy in California, as well as several other distilleries.)
To amplify the apple flavor, use apple juice or cider to do just that. I've made it with homemade Vin de sureau (elderflower wine) from the recipe in Drinking French (pg. 128), in place of the white wine for a double-dose of elderflower power.
| | |
| --- | --- |
| Montparnasse Cocktail | Print Recipe |
I've given a few alternatives to the Calvados in the post. You could also substitute cognac or brandy, which will make it a somewhat different drink. If you want to add apple flavor, use apple juice rather than the wine. Apple bitters can also be added to the drink too. And if you top it off with a spritzy pour of sparkling apple cider (or a touch of sparkling wine, if you'd got an open bottle), I don't think anyone would mind.
3/4
ounce
elderflower liqueur
1/2
ounce
freshly-squeezed lemon juice
1/2
ounce
apple juice or cider,
or dry white wine
1. Pour the Calvados, elderflower liqueur, lemon juice and apple juice (or white wine) into a cocktail shaker.
2. Fill the shaker 3/4s full of ice, cover and shake vigorously until well-chilled, about 15 to 20 seconds.
3. Strain the drink into a chilled cocktail couple. Garnish with an apple slice.
In other news, this Saturday, April 11th, I'll be interviewed on Zoom by the fabulous Evan Kleiman with Now Serving cookbook store in Los Angeles. The event will take place at 11am PT, 00 ET, 00CET. You can sign up here and the shop is requesting viewers donate any amount (minimum $1, but you're welcome to give more) to World Central Kitchen to attend.
Note that Now Serving has copies of Drinking French in addition to a well-curated selection of great cookbooks, available for purchase and delivery.