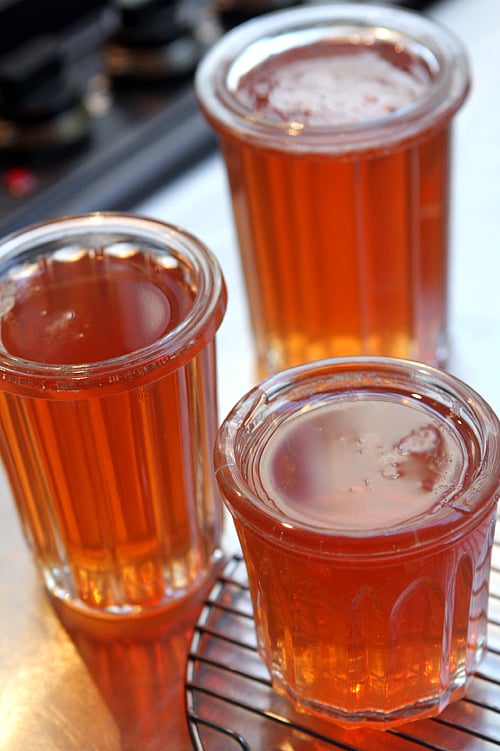 As I continue my foraging across the Île-de-France in search of free fruit, which so far has included wild plums and elderberries, I finally chanced upon medlars.
One of the goofiest fruits I've ever come across, they're a member of the rose family and are prepared similar to rose hips, or backside-scratchers, which doesn't make me want to eat them. And my trusty fruit-searching sidekick made a snide remark about their bilious taste.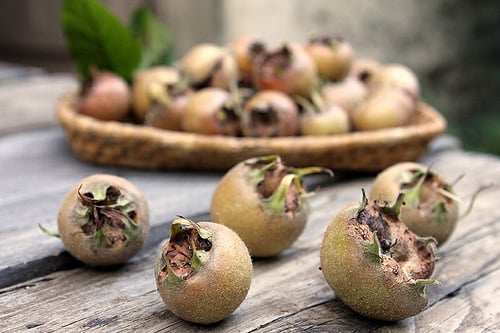 I think the fruit gets a lot of derision because I've been told that in England, they're referred to as dog's backsides. (No comment about English humor…although I did read that the French call it cul de chien.) However, I am nothing if not a man of great class and distinction, and I can't resist free fruit – no matter what it's called – so I decided to pick a bucket of them and make medlar jelly.
Although I've seen them for sale once in a market in Paris, I don't think medlars aren't really all that popular. For one thing, they share the same name as loquats – nèfles. And if you've ever lived near someone with a loquat tree, you are probably familiar with people begging you to take some off their hands or leaving bags on your doorstep, and running. And, frankly, I don't know too many people in Paris who make their own jam. Which works out great for me because I give out homemade jam for holiday gifts. And I'm already starting on this year's gift list with my medlars.
I used recipes by British cooks, Jamie Oliver, Nigel Slater, and Hugh Fearnley-Whittingstall for guidance because I didn't know much about medlars. But the first thing you need to know is that medlars need to be bletted, or left to soften and "rot" to a rusty-brown color.
Romain had something made from medlars that he said was absolutely awful because the person preparing them hadn't bletted the fruits. So if you've ever bitten into a raw quince, you can imagine how someone might not be so inclined to give the fruit a second chance.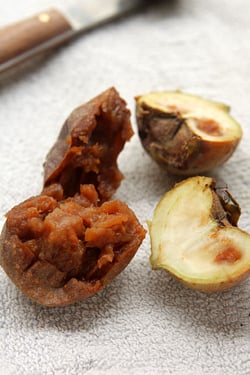 I've heard that you can also pick medlars after the frost, which breaks the flesh down as well, but since I couldn't wait that long to try it (and it's not that much fun picking fruit in the snow), I plucked a few kilos from the tree and brought them home. Mine took a bit of coaxing to be bletted. I did a little searching around for advice and most advise putting them in a cold place, in a single layer. A few folks suggested the refrigerator as the place to do it, and I did not realize when I bought it, but was surprised that my refrigerator did indeed have a "bletting chamber."
Yet almost a month passed and my medlars were as good as new. As in, they were still rock-hard. So I took them out and put them near a chilly window. And lo and behold, those little arses softened right up. (Although I think I picked mine a little less-ripe than they should have been.) Next up was cooking them, then letting them strain overnight, similar to making apple jelly.
Once the liquid is left to strain overnight, you might take a look at the brownish liquid and think that you'll made a mistake by listening to me. Even I thought there was something wrong. But as I cooked the vicious, murky liquid with some sugar, the final result was a few jars of quivering, shimmering, rosy-red jelly. I only got two-and-a-half jars from three pounds of fruit, though, so I doubt I'll be giving these precious jars away this year. In which case, I'd better get my own derrière in gear and find more free fruit, and make more jelly.
Medlar Jelly
Medlars must be "bletted", which involves storing them in a single layer in a rather cool place, not the refrigerator, until they are soft and brown inside. They're ready when they are very soft and squishy to the touch.
3

pounds (1.4kg)

medlars

,

(bletted)

1

green apple

1/2

lemon

3

cups (600g)

sugar
Rinse and quarter the medlars, and put them in a large pot – skins, seeds, and all. Chop up the apple and add, with the seeds and core, as well. Then add the lemon half to the pot, and pour in enough water so that the medlars are floating in liquid, about 2 quarts (2l).

Cook the mixture until it begins to boil, then reduce the heat and let it cook at a low boil for 45 minutes.

Line a colander with several layers of cheesecloth or gauze, set it over a deep bowl, and ladle the cooked medlars and the liquid into the colander. Let it strain overnight undisturbed. Do not press down on the cooked fruit to extract more juice from it or your jelly will be cloudy. (It's very tempting, but resist.)

The next day pour the liquid into a large pot – you should have about 1 quart (1l). Put a small plate in the freezer. Add the sugar to the juice in the pot and cook the jelly until it reaches 220ºF (104ºC) or until it jells, which may happen a little before or after that temperature. To test the jelly, put a spoonful on the plate in the freezer and let chill a few minutes. If, once cold, it wrinkles when you push it with your finger, it's done. If not, continue to cook the jelly until it jells. When ready, if you wish, you can offset sweetness with a few drops of fresh lemon juice.

Ladle the jelly into clean jars.
Notes
The jelly will keep for up to one year in the refrigerator.
Notes: Some say you can save the medlar pulp and turn it into medlar and apple chutney. It's rather messy and there are lots of little seeds in it to pluck out. But if you're the industrious type, that's an option.
I added the apple because some say medlars don't have enough pectin. I don't use store-bought pectin in jam-making, but some people do. Next time I might add a quince instead.
Medlars are kind of oddities and I've read a few diverse recipes, as noted. However it seems that the jelling qualities can vary, so you may also want to scan some of the recipes I linked to in the post, and below, because there are a few methods and you might want to adapt your own.
For notes and methods on canning preserves, visit the USDA website.
Related Links and Recipes
Medlar Fruit and Jelly (The Art and Mystery of Food)
Medlar (Wikipedia)
Medlars (The Guardian)
Medlar Jelly (At My Table)
Tiptree & Sons Medlar Jelly (British Jam Maker)
Medlar Jelly (Deptford Pudding)
Medlar Cheese (Woodlands)
How to Find Foods and Other Items Mentioned on the Site