Black Currant Jam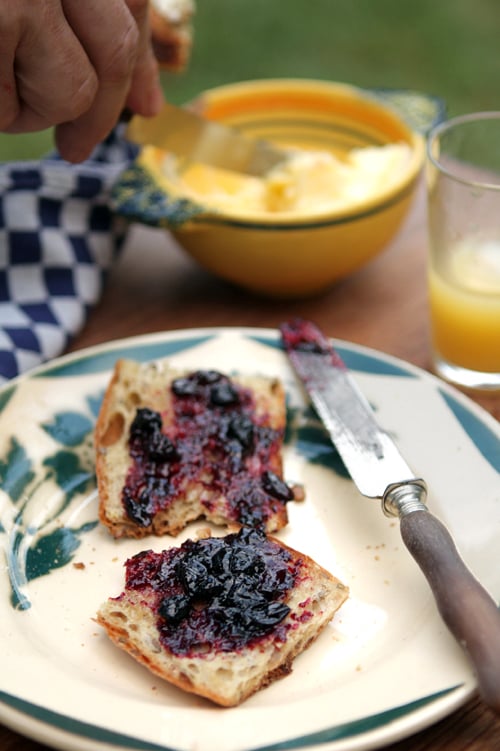 Someone recently asked me why I do what I do. More specifically, what compelled me. They were particularly focused on how I was likely most concerned with the finished product, asking me if that was my goal when I cooked and baked. I thought about it for a bit, and realized that the goal has very little to do with it; I like picking through lugs of fruits and berries with my hands, melting chocolate and butter until the mixture is smooth, the smell of folding toasted nuts into a cake batter, and lifting a batch of just-churned ice cream out of the machine and alternating the layers with ribbons of glossy chocolate swirl.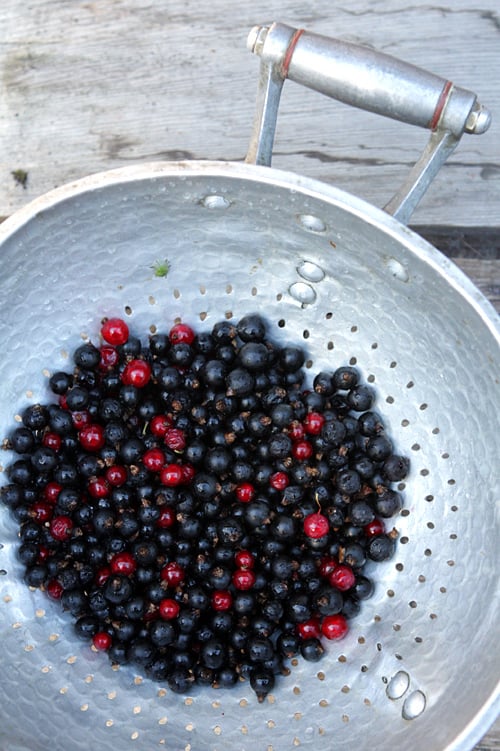 I do, however, have a rather particular thing for scoping out fruit and berries whenever I find them growing and using them to their best advantage. Most of the time, they end up in jams and jellies, especially since I recently returned to the trees which I found overloaded with wild plums a few years ago (which the owners had hacked down to their nubs the following year), which were now gloriously heavy with multicolored fruits of unbelievable goodness. And I spent a good afternoon plucking out the pits and making jam, and a nice tart out of them. Fait accompli!
Similarly, I was at someone's weekend home recently and noticed lonely bunches of black currants still stuck to the branches in their garden. They looked so sad and neglected, drooping on their thin branches, begging to be plucked and cooked into something. I could barely sleep knowing they were out there – in a use 'em or lose 'em state.
The next morning, I noticed a jar of black currant jam on the shelf in their kitchen. I could not see buying jam when there were black currants ripe and ready for the taking. So I took matters into my own hands, grabbed a colander, put on some pants (because there are prickers out there), and did some picking.
I didn't end up with much, but augmented my haul with a few stray red currants that were still clinging to their branches as well. But it was enough to yield two small jars of jam. I love black currants and they're quite rare in America due to a disease they carried, which made them a berry non grata in the states.
In Europe, they're a lot more prevalent and once a friend was visiting from San Francisco and we went to a convenience store in Paris to pick up something on a Sunday, when other stores were closed. And we noticed they had a couple of baskets of white currants by the register. And my friend agreed, "You know, I hate when I run out of white currants on the weekends." So my new response to when people ask me why I moved to France, I can tell them that I feel reassured knowing that there are currants whenever, and wherever, I need them.
And now, proudly, I have two jars of highly coveted black currant jam that I made from my gleaning that I'm not sharing. As mentioned, the end result usually isn't as important to me as the process. But in this case I'm making an exception. Actually, two exceptions.
2
cups (250g)
fresh black currants,
stemmed
1
teaspoon
fresh lemon juice
1. In a nonreactive pot, bring the black currants and the water to a boil. Reduce the heat and cook for 10 minutes, until the black currants are softened.
2. Add the sugar and the lemon juice and cook over medium heat, stirring frequently, until the jam reaches the jelling point.
– If using a thermometer, it should read about 220ºF (104ºC).
– Or if you want to do the freezer test, put a small plate in the freezer. When the jam looks thickened, turn off the heat and put a teaspoon of the jam on the plate and stick it back in the freezer for about 5 minutes. When you take it out, it's done if you nudge your finger into it and it holds its shape. If not, continue cooking it, and retesting the jam, until it's the right consistency.
3. When ready, scrape into clean jars, cover, and turn the jars over until cool.
Storage: I store my jam in the refrigerator and eat it within a few months. If you want to can it, you can find instructions online although since it's only a couple of jars, you are likely going to use them quickly.
Related Recipes and Posts