Ha! I fooled you.
This time, this really is a 'no-recipe' (unlike my No-Recipe Cherry Jam) since unless you have your own bushes and pick them youself, you're not likely to have enough red currants to make jam.
So, no-recipe.
Last weekend out in the countryside lots of red currants were picked…
No make that lots of baskets of red currants!…
Hours were spent stirring them diligently on the stove until the red currants were transformed into supple, translucent jelly…
A few red currants were set aside to make a tart. Tangy, vibrant red currants, cooked with a
soupçon
of sugar, atop buttery
pâte brisée
…
Yum!
Later in the afternoon, we picked lots of perfumed rose petals to make jelly…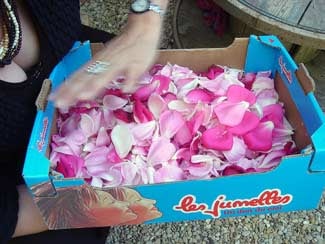 Très
sexy…
Non?
(The rose petals, not the cleavage!)