Red Currant Jam
I've been feeling a little removed for just about everything lately. Mired in administrative stuff, I've been swamped with paperwork and technical issues – neither of which are really my thing – and haven't been able to spend all that much time cooking or baking, except for regular meals. (And, er, copious snacking in between.) I've really missed sticking my hands in doughs and batters and was happy when I took a break from technology and the staggering amount of paperwork that seems to arrive faster than I can process it, and headed out to the countryside.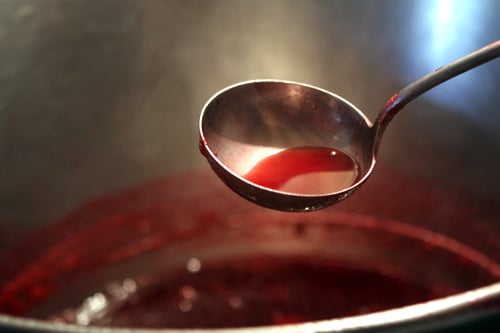 Fortunately this weekend we caught the tail end of red currant season, which are the first berries to ripen in the Île-de-France. There were over a dozen large bushes, each covered with tiny red orbs looking like miniature Christmas ornaments, ready to be picked and cooked into jam. Well, at least the ones the bîches (deer) didn't eat before we got to them.
It's pretty painstaking work, which is why you don't see all that many red currants in grocery stores. And which explains why the deers get to them first; they don't need to fill out all the paperwork around here.
And when you do find red currants, they're not inexpensive. Whenever people complain about the price of berries I always ask them, "How much would you charge for a basket of berries that you picked?" I would venture to guess that just about anyone who picks a basket of tiny currants would not sell them for 99 cents.
Fortunately a little goes a long, long way with groseilles and since our bounty weighed in at over five kilos (about eleven pounds), there was a lot of jam ahead of us. And since we used our sweat-equity, they cost nothing but a few hours in the sun, and some red-stained fingers and newspapers.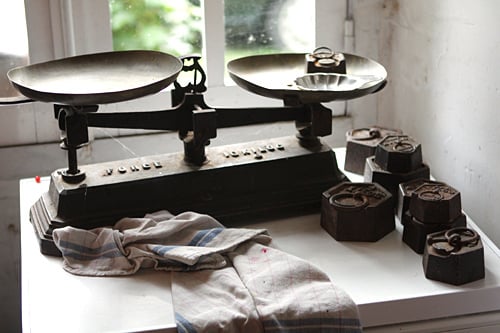 Once all the red currents were all picked, we brushed the cobwebs off the scale and lugged out the grand bassin, used exclusively for jam-making. France is the land of single-purpose kitchen pots and pans and you would never, for example, make anything but cassoulet in a cassole, or make Baeckeoffe in anything but a Baeckeoffe terrine.
Then there's appliances like billigs used just for crêpe-making, as well as a granola bar-maker, which I've not been able to ascertain what other uses it could be used for.
Because there were so many of them, the red currants were cooked in batches. When making jams and jellies, it's better to make a few small batches than one large one. It not only reduces the cooking time for each, which preserves more of the fruit flavors, but in case you screw one up, at least you haven't messed up all the hard-earned fruits (and berries) of your labor.
During the weekend, I also learned a new word in French: blanchir, which 'someone' French told me means to cook the berries until soft and wilted. I'm not sure how a word that I thought meant "whiten" became the term for cooking something through (I thought it meant "to blanch"), but we had work to do and no one had time for my silly questions.
(And now I'm glad I didn't go into one of those new places that are springing up in Paris that blanchier your teeth, which I thought were tooth-whitening clinics. Because now I know they are places to soften your teeth.)
Once the berries were cooked, or whatever you want to call it, we passed them through the food mill and the resulting puree was weighed. The head of this household always uses the classic proportion of one part sugar to one part fruit, and although I use a bit less sugar, as you know, I've learned not to argue around here when cooking in someone else's kitchen.
(If I did, I would not have learned that green bean tips could be filled with radiation, that radish leaves are delicious in soups, and that the tomato skins that I've been eating happily for years are not meant for consumption.)
After we had jarred up all the sticky-hot jam and finished up for the day, we headed outside for l'heure d'apéro. We nibbled on radishes with buttered bread and sausage with hazelnuts. Some of us drank chilled rosé (which I also found out makes you fat, because someone spoke up about seeing a man in a bar with a large belly, and he was drinking rosé…which I guess is conclusive proof of that) while those who wished to remain slender drank the more diet-friendly red wine.
We toasted to a few other things, but mostly to the fact that we had enough red currant jam to last us through the next year. Which we were looking forward to starting in on the next morning.
| | |
| --- | --- |
| Red Currant Jam | Print Recipe |
You can adapt this recipe to any quantities of red currants that you have on hand. For 11 pounds (5 kilos) of red currants, we used 11 pounds (5 kilos) of sugar, and got twenty-two (12 ounce, 370g) jars of jam. Because black currants are much stronger, if you have those, I suggest finding a recipe specifically written for black currants. When I make jam, I use slightly less sugar and often reduce the amount by 10 to 20%, and add a small shot of kirsch at the end of cooking, not enough to taste it, but to augment the berry flavor.
Optional: a shot of kirsch
1. Rinse the red currants and put them in a large pot. Add enough water just so that it covers the bottom of the pot.
2. Cook the red currants, stirring frequently, until they're soft and wilted. Once cooked, pass them through a food mill, discarding the stems and seeds left behind.
3. Weight the puree. For each pound (kilo), add the equivalent amount of sugar to the pot.
4. Mix the puree and the sugar in the pot and cook over medium-high heat, stirring until the sugar is completely dissolved.
5. Once the mixture is at a rolling boil, let it boil for five minutes undisturbed.
6. After five minutes, turn off the heat and skim off any scum. (My frugal co-workers in the kitchen save it and insist it's delicious on plain yogurt.) If desired, stir in a few drops of kirsch.
7. Ladle the jam into clean jars up to the top and screw on the lids firmly. Turn the jars upside down and let cool completely.
Notes: For testing if the finished jam is jelled, you could use the nudge test: putting a small amount on a chilled plate, and rechilling it for a few minutes; if it wrinkles when nudged, it's ready. However following the cook who made this jam, she let it boil for five minutes and it indeed set nicely after cooling in the jars.
I store jam in the refrigerator, where it will keep for up to one year. This method of overturning the jars forms an airtight seal but if you wish to can them using a boiling water method, I've listed some links below.
Related Links and Recipes
Shallot, Beer, and Cocoa Nib Marmalade
Strawberry Jam and Canning (Pioneer Woman)
Guidelines for Canning Jam (NCP)