Roasted Tomato Soup with Corn Salsa
If I read one more recipe that begins with saying that the recipe is the perfect way to use up the overload of summer tomatoes, I'm going to scream. Okay, in deference to my neighbors, I won't. But to me, there is no such thing as having too many tomatoes. That's just crazy-talk.
We don't have the overload of great tomatoes in Paris that folks have elsewhere, like when I was in Agen last year and the markets were full of them, or in San Francisco or New York, where market tables are heaped with them in all colors, shapes, and sizes. So I'm over-the-moon when I find good tomatoes and use them carefully because they're so precious.
I'm not normally a fan of hot tomato soup, but last year I was in New York City and a restaurant served little cups of it with grilled cheese sandwiches, and I was hooked. Jeez, what have I been missing out on for the past fifty-four years?
Still, I didn't serve this with grilled cheese sandwiches because I was with a friend's French mother, and the idea of eating soup with a sandwich – well, it's just not done. At a meal, you eat soup first, then a sandwich. But she was astonished that I ate – get this – soup along with bread and cheese, at the same time, for lunch or dinner. I never realized what a maverick I was. Or more likely, how gauche I was all these years.
This recipe is from The Bonne Femme Cookbook, by Wini Moranville. When he saw it, Romain told me that a "bonne" femme means a woman who is "easy." I don't think that's what the author had in mind when writing the book, but I will say, this recipe was easy to make and really an ideal way to coax flavor out of tomatoes.
I used fresh savory, which is a lesser-known herb, because I found a nice bunch of it on a visit to the countryside. It's smell is reminiscent of fresh thyme, but it's less-aggressive and a bit rounder in flavor. Plus I like saying the name.
No one has accused me of being "easy" (so I guess I'm not a bon homme), I gave it a decidedly non-French touch with a heap of corn salsa in the middle. I envisioned a relish-like condiment that was slightly pickled, to conserve the flavor and texture of the fresh corn without cooking it to a fare-thee-well. And I wanted it to mingle nicely with the soup. I wasn't sure if it would go well. But in the end, it was a just fine.
It's always hard to tell people how much chopped chiles to add because each one, and variety, is seemingly different. In fact, I overdid the chiles, using what are called Moroccan chiles here in Paris, which range from mild-to-spicy, depending on each pepper. Fortunately I didn't get in trouble for spicing things up around here. But I was careful not to serve the soup with any cheese. That said, if you want to serve it with some crumbled queso fresco or a bit of crème fraîche, well, I won't tell.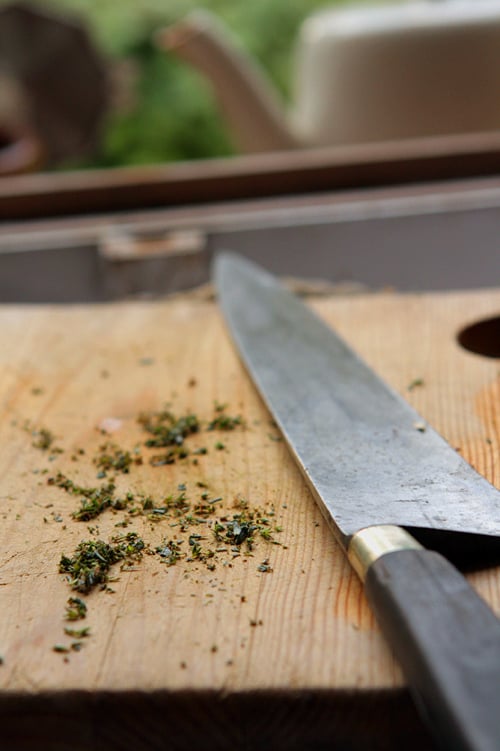 Roasted Tomato Soup
Adapted from
The Bonne Femme Cookbook
by Wini Moranville This soup, while intended to be served warm, tasted delicious cold as well. Winnie recommends using low-sodium chicken stock to enrich the soup but I used water, which was just fine. If you have a lot of tomatoes on hand, I would recommend making a big pot of this soup and freezing it for a few months. I didn't remove they skins but if you want, you can slip them off easily after they're roasted. But they blitzed away to nothing in the blender. For the salsa, I used chipotle chili powder because I like the smokiness. You'll have some leftover salsa, which makes a nice dip for tortilla chips. This soup serves four, although there won't be enough for seconds. It can easily be doubled, tripled, or quadrupled.
For the soup
2

pounds (900g)

tomatoes

6

cloves

garlic

,

peeled

2

tablespoons

olive oil

salt and freshly ground black pepper

2

cups (500ml)

water

,

or low-sodium chicken stock

1

teaspoon

minced fresh thyme or savory

1

tablespoon

sugar
For the salsa
2

cups (300g)

fresh or frozen corn kernels

1

tablespoon

olive oil

1

small tomato

,

diced

1

small red onion

,

diced

1/2

bell pepper

,

diced

1

small fresh chile

,

seeded and chopped

1/2

cup

chopped flat-leaf parsley or cilantro

generous

pinch of

ancho or chipotle chili powder

juice of 1 to 2 limes

salt
Preheat the oven to 400ºF (200ºC).

Cut the tomatoes in half horizontally and squeeze out the seeds. Toss the tomatoes with the olive oil and garlic on a baking sheet, seasoning them with salt and pepper. Turn the tomatoes so they are all cut side down, and bake for 20 to 30 minutes, until the tomatoes are completely soft and beginning to char on the bottoms.

Warm the water or stock in a saucepan with the roasted tomatoes, garlic (and any juices on the pan), and thyme or savory. Once warm, simmer for 10 minutes. Remove from heat and let cool to room temperature, then blend the tomatoes with the water or stock, and the sugar. (At this point, you can chill the tomato soup for up to 2 days.)

Make the corn salsa by warming the corn kernels in a skillet with the olive oil until slightly soft, about 2 minutes. (If you have a grill, you can char them there instead.) Scrape the kernels into a bowl and mix in the diced tomatoes, onions and peppers, as well as the chopped chile, parsley, chili powder, the juice of 1 lime, and some salt. Stir together and taste, adding additional lime juice and salt if desired.

Warm the soup in a saucepan and divide into bowl, adding a generous heap of the corn salsa in the center. Note that you want to warm the soup pretty well so that the heap of salsa doesn't cool it down.