Tomato Basil Pizza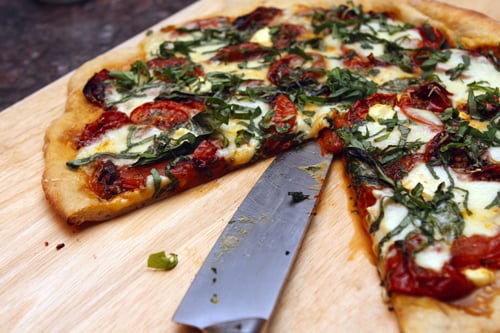 The other day, I was looking at the overload of tomatoes that I bought as the season was winding down as the end of summer nears. But I realized that I was being gradually shoved out of my small kitchen by them, so I oven-roasted the louts with garlic and herbs to reclaim a few precious inches back of kitchen counter space. Yet when they were finished, I looked in my refrigerator, and there wasn't any room in there either. So I was left holding a bowl of roasted tomatoes that needed to get used up.
Coincidentally, I also had a round of yeasted dough in my refrigerator from a batch of recipe testing that hadn't found its meaning as something else yet—as experimental leftovers are want to do. So I took it out, which made room for the tomatoes – but then I realized that was defeating the purpose, so I decide to use both of them. (Am still stunned to see some vacant space in my refrigerator. But I may keep it empty as a constant memento and testament to my frugality.)
I've oven-roasted plenty of tomatoes in my lifetime, especially when I need to pull and extract as much flavor as I can from less-than-exemplary specimens. The simple technique works well for coaxing out flavors from even those completely vapid on-the-vine greenhouse tomatoes that look promising, but the only thing they add to your cooking is color. And, of course, you can save the concentrated tomatoes in the freezer – if you have space – and use them all winter long.
Basically, you just take some tomatoes, toss them in a splash of olive oil, some herbs, and sliced up garlic. I gave up mincing garlic years ago since I like getting more noticeable bits of garlic when eating, and I can't imagine anyone not liking pizza with larger chunks of roasted garlic as well.
The baking time for the tomatoes will vary, depending on the tomatoes you use. Just cook them until they give up most of their juices, which softens them nicely and concentrates their flavor. I used small tomatoes, around the size of a ping-pong ball, but you can use cherry tomatoes (cooking them less) or Roma tomatoes, depending on where you live, and the season.
I have a crummy apartment oven and you can get pretty good results in whatever oven you have, if you know how to use it and which parts are the hottest. Generally speaking, the lower part of the oven is the hottest and makes the crispiest crust, but fancier ovens have elements on top. Still, I think closer to the bottom works well in those ovens, too. Of course, having a pizza stone really helps (and I am coveting this cast-iron pizza pan). But in the meantime, when one has to decide whether to use your valuable space for shoes or a pizza stone, well, I'm not ready suffer blisters on my feet in the name of picture-perfect pizza. I use a baking sheet, which I preheat on the bottom of the oven, then assemble the pizza on a sheet of parchment paper and slide it onto the hot baking sheet.
(I know, I know. I should have a pizza peel. But if I don't have room for a baking stone or cast-iron pizza pan, you can't expect me to make a place for a pizza peel as well, can you?)
Pizza dough is really easy to make and I've linked to a few recipes below. You can also find fresh (unrolled) pizza dough sometimes sold in well-stocked markets. On tip on rolling out yeasted doughs; they can be really wily once you start rolling and stretching them out, and can start fighting back when working with them. If you roll them out partially, then let them sit for a couple of minutes, they'll relax enough to be ready to roll some more.
| | |
| --- | --- |
| Tomato-Basil Pizza | Print Recipe |
I'm a big fan of pieces of roasted garlic on my pizza. But depending how juicy your tomatoes are, you want to make sure the garlic gets cooked and softened, but not charred. I often slice the garlic when using smaller tomatoes, because they cook much more quickly. With larger tomatoes, you might want to quarter the garlic lengthwise of even just slice them in half, depending on the size of the garlic. In any case, if the pieces of garlic seem to be getting too dark, either pluck them out or tuck the pieces under some of the tomatoes that are cut-side down so they don't burn. There are various kinds of mozzarella with various moisture contents. I used fresh mozzarella, as shown, which you should blot dry before using. Depending on what cheese you use, if you're concerned about excessive moisture, feel free to use less.
2 1/4 to 2 1/2
pounds (about 1.25kg)
small-to-medium sized fresh tomatoes,
sliced in half
3
cloves
fresh garlic,
peeled and quartered lengthwise or thickly sliced
2
tablespoons
olive oil,
plus additional oil for the pizza
12
branches of
fresh thyme,
or 1 teaspoon dried thyme
sea salt and freshly ground black pepper
8
ounces (240g)
mozzarella cheese,
sliced
1. Preheat the oven to 350ºF (180ºC).
2. On a non-stick baking sheet (or one lined with parchment paper) that's large enough to hold the tomatoes in a single layer, toss together the tomatoes with the garlic, olive oil, thyme, bay leaf, and season with salt and pepper. (I usually finds it takes a bit more salt than I think, but you can add more salt after roasting.)
3. Roast in the oven for 1 hour, checking midway during roasting to make sure the garlic isn't burning. If the tomatoes are getting overly dark on the bottom, turn them gently with a spatula.
4. After one hour, turn off oven and leave tomatoes in the oven until oven cools completely. Roasting time will vary depending on the size of tomatoes; just roast them until they've given up their juices, as shown in the picture in the post.
(Tomatoes can be roasted up to three days in advance and stored in the refrigerator. They can also be frozen in freezer bags for several months.)
5. To make the pizza, preheat the oven to 450ºF (235ºC) and place a heavy baking sheet on rack on the lower third of the oven.
6. On a lightly floured surface, roll and stretch the pizza dough into a 14-inch (36 cm) circle. Place the dough on a sheet of parchment paper.
7. Brush the dough with a thin layer of olive oil. Drain the tomatoes well (reserve the liquid for a vinaigrette or soup), then distribute the tomatoes and garlic over the dough. Put the mozzarella slices over the tomatoes, then place a dozen fresh basil leaves on top of the pizza and grate some Parmesan over the top.
8. Transfer the pizza to the baking sheet by grabbing the hot baking sheet out of the oven (wearing an oven mitt to avoid burning yourself) and slide the pizza onto the hot baking sheet.
9. Return the pizza to the oven and bake for 10 to 20 minutes (see Note), until the pizza is baked to your liking; the bottom crust should be crisp and the top should be slightly browned and bubbling.
10. Remove from the oven and strew chopped fresh basil over the top along with a generous sprinkling of additional grated Parmesan cheese.
Variations: You can use a different cheese if you wish. Fresh goat cheese, smoked mozzarella, or a semi-soft cheese like Fontina work well on pizza. You could also add bits of bacon or prosciutto to the pizza.
Note: Ovens vary greatly in terms of heat and browning ability. Very hot temperatures are recommended for pizza, although small home ovens often lack that power. So I encourage you to bake the pizza at a very hot temperature, but monitor it while baking and move it about the oven to cook the top and bottom evenly. (If using a pizza stone, they generally bake best on the bottom of the oven.)
Pizza Dough Recipes
Related Recipes
Tomato Confit (Preserved Tomatoes)
Farro Salad with Tomatoes, Mushrooms and Basil