I discovered the Spritz many years ago when I went to espresso-making school in Trieste, Italy, and wondered what those big, icy orange drinks everyone was drinking at aperitivo hour were. I found out they were Spritzes, a drink also with roots in Austria, that was widely enjoyed by people in the Veneto region.
Since then, the Spritz has taken off, and gone in many directions, in a number of countries. Thanks to a successful marketing campaign, and a market that responds easily to trends, young people in France started drinking Spritzs, which was unexpected in a country where icy drinks aren't that popular. (A friend went to a party where warm, room temperature Mojitos were served, and I have trouble getting the imagery of a tepid, minty-sweet drink out of my head.) The Spritz took a hit a few years back in the media, but that hasn't seemed to dampen people's enthusiasm for them. I'll admit to being a fan of them as well, in all the various guises.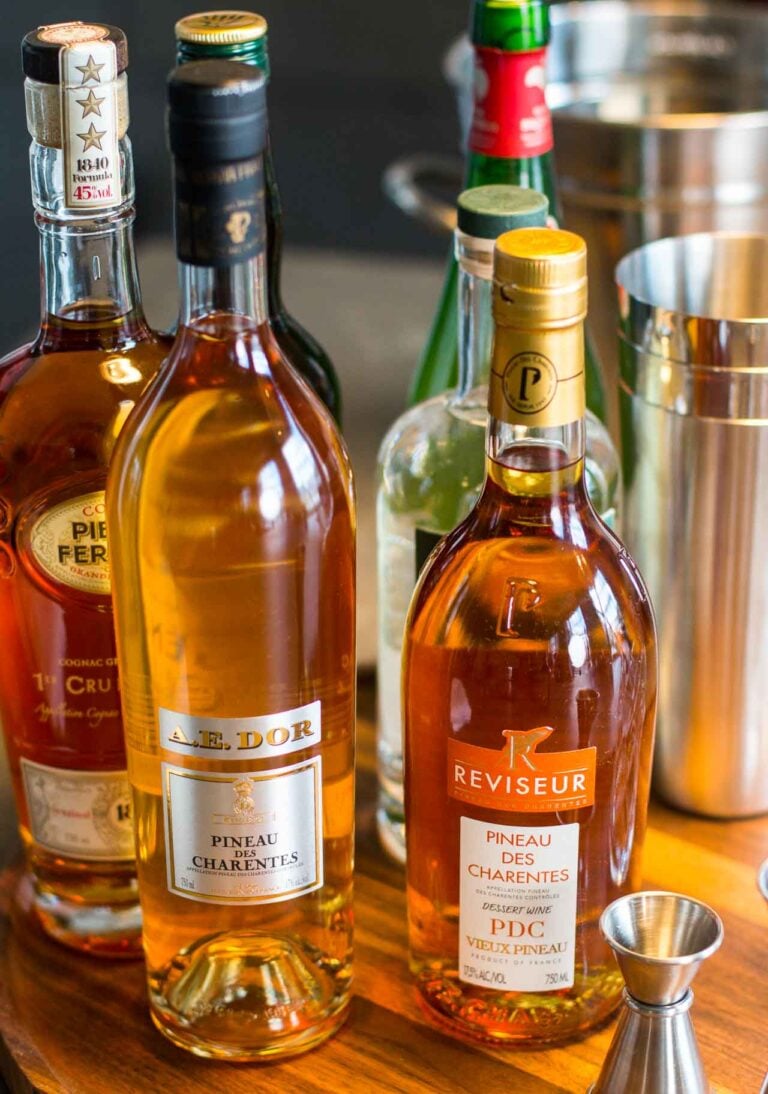 The Spritz is a drink that's become open to a lot of variations but it's generally an apéritif beverage (or bitters) mixed with something sparkling.
Pineau des Charentes is a full-in French apéritif and could not be made anywhere else but in France, more specifically in the Cognac region, and I wrote about it more extensively in Drinking French, where I also discussed several other classic French apéritifs. Said to have once been a mistake by a cognac-maker, who added grape juice to a barrel of cognac in error and decided to let it age and see what happened, months later he took a sip and voilà – Pineau des Charentes was born.
Nowadays the process is more standardized but is a blend of grape juice and cognac that's left to age for a certain period of time in oak. The white version of Pineau des Charentes is aged less than the red, and the rosé version is aged even less. I like them all. But the white goes particularly well in this French Harvest Spritz, since the juiciness of the grapes in the French apéritif (technically called a mistelle) come through and the dash of extra cognac gives it a little extra oomph.
I tested this out with a variety of sparkling apple ciders, and it was interesting to see how one sparking cider can differ so much from another, even when mixed in a drink. French ciders (above) tend to be rounder and naturally sweeter than the ones I've had in the U.S., and the French ones come in brut and doux, with doux leaning toward the sweeter side. (I prefer brut but it's simply a matter of taste.)
Basque ciders tend to be bone-dry and acidic, which sounds good on paper, but some people might find them more challenging. I like them all, although like wine, it's hard to speak in absolutes as some are drier and some are sweeter. "Sweet" has become a bad word in the cocktail lexicon but if you've ever had Champagne with no dosage (the small amount of sugar added) to balance it, to me, it's not as pleasing to drink.
I also tried this with American hard cider (above, right), which tend to lean more towards beer in terms of richness and frothiness, and just for fun, gave it a go with Martinelli's sparking (non-alcoholic) cider which is very apple-y, and a bit too sweet for my taste. So when people ask me about substituting ingredients, as you can tell, I often try various ingredients to come to a conclusion before finalizing the recipe.
This French Harvest Spritz is a great fall drink and one we'll be sipping regularly, and not just because I've got a few open bottles of cider on hand from trying so many when coming up with this recipe, to use up. It's perfect for holiday entertaining when you want something festive and wintery but want to keep the ABV down. Feel free to garnish with any fresh fruits you like; apples, pears, Fuyu persimmons, figs, and grapes all make apropos apéritif garnishes.
Harvest Spritz
I tried this with a variety of sparklers, including American hard cider (too beer-like), Martinelli's sparkling apple juice (quite sweet), and Prosecco (very good, but not French). I was hoping to keep it as French as possible and I liked it best with French sparkling cider. So my recommendation would be to go with one of them. (The Basque one I show in the post cost $9 in the U.S. so you don't need to break the bank on a bottle.)
"Sweet" has become a bad word in the drinks world, and I'm not a fan of overly sweet drinks or cocktails either. So I prefer a brut, or dry variety of cider, as opposed to doux (sweet). The dash of lemon juice helps keep the balance in check, as does the extra cognac.
2 1/2

ounces

Pineau des Charentes blanc (white)

1

teaspoon

cognac or brandy

1/2

teaspoon

freshly squeezed lemon juice

2

ounces

sparkling apple cider

,

(preferably French, see headnote)

sliced apples, grapes, pears, and/or figs

,

for garnish
Add the Pineau des Charentes, cognac or brandy and lemon juice to a goblet. Stir gently, then add the sparkling cider then a generous handful of ice.

Stir very gently, once or twice, just to mix the ingredients. Garnish with fresh fruit.