I am a bad blogger. While others are posting recipes for green bean casseroles, newfangled stuffing, and yet another way to improve turkey (it's amazing how many ways there seem to be, and they just keep coming…) this year, I'm back to digging into my recipe files, finally getting around to making some of the recipes I've clipped over the years.
This usual-sounding cake was one of the clipped recipes that have been patiently waiting for almost a few decades (as was the case for this chocolate hazelnut tart and these butterscotch bars), and I'm just now tackling. If a cake made with crushed Graham crackers and spicy speculoos cookies, along with butter, whole wheat flour, and flaky sea salt, sounds good to you, you're not alone. I traveled across the Atlantic with it!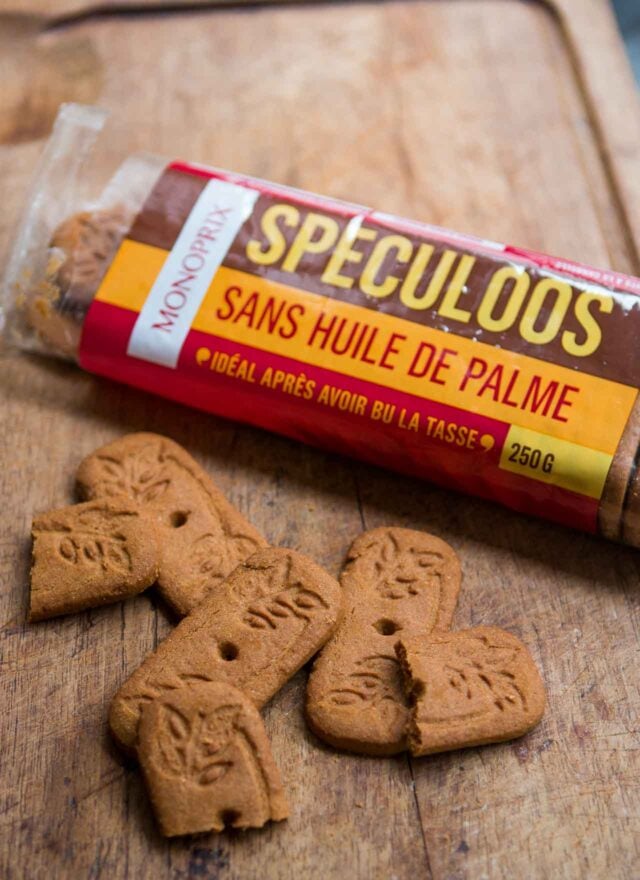 The cake is simple to make and while Instagram isn't super-friendly to plain brown cakes; there are no M & M's spilling out of this when you cut into it, it's not three-layers high with glaze dripping down the side and a flurry of flowers on top, I didn't make a snappy Tik Tok video of me putting it together along with a catchy song, and I'm not going to post a video of me shoving a whole piece of this cake in my mouth. (My friend Jake Cohen does that very well, but he's adorable so I give him a pass.) But it is a great cake and I'm happy to share it with you.
It's from Relish magazine that only seems to exist virtually these days. The magazine and/or website were actually were bought by a media company and Romain has been telling me to put mine on the block too, but I'm resistant (who would buy it?) but have been shifting my online life to my newsletter.
One honor I do have is that I seem to be the King of Substitutions (and the Queen of where to get things.) When I visited a friend in Burgundy last summer and she had the fixin's to make Smores, a lot of people asked me where one can get Graham crackers in France? (Here and here are two places that have them.) Of course, you can make them yourself, although the idea of making the crackers, then crushing them, then using the crumbs to make a cake, seems antithetical to the cause. I often tell people in Europe and elsewhere who ask about swap-outs for Graham crackers to use speculoos cookies, which are moister than Graham crackers, but what you lose in a bit of crispness, you gain in the dynamic spicy flavor. It's one of those expat first-world problems.
A few readers over the years (if I am the King and Queen of this monarchy, you, my dear readers, are the princes and princesses) have kindly noted that McVitie's digestives were a good swap-out for Graham crackers. I first had Digestives when a British college friend introduced me to them and in spite of the physiologically-connected name, they are indeed, delicious, especially the ones dipped in chocolate. But here I went with the plain ones, which I bought at Monoprix, for those who want to know. They're called Sablés Anglais, which may be a little more appealing to the uninitiated.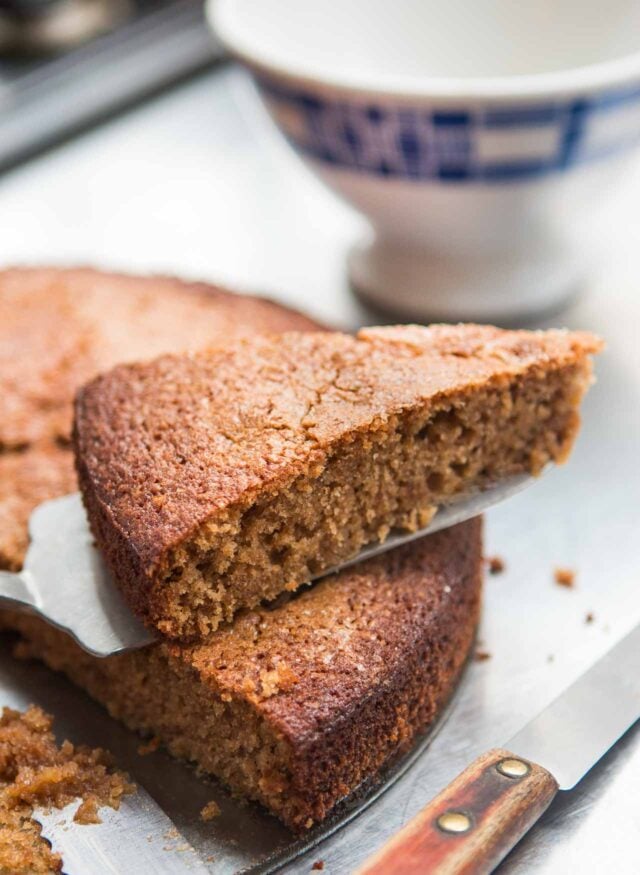 At the risk of this post looking like a sponsored post, I included the labels for those of you to see what I used, including the lait fermenté which is buttermilk, also called lait ribot. It's a popular drink in Brittany and sometimes served with crêpes and galettes, which grocery stores carry as well as stores that sell Arabesque and Middle Eastern ingredients.
Some loyal subjects in our kingdom might ask if they could reduce the sugar or use another sweetener and since I want to go down in history as a fair ruler, so you're free to try other ways and ingredients (and quantities) to make this cake. I made several myself and was going to give it another go, testing out a few more tweaks that were rolling around in my head, until Romain said, "Stop, Daveed. It's perfect." And he's right. So here it is.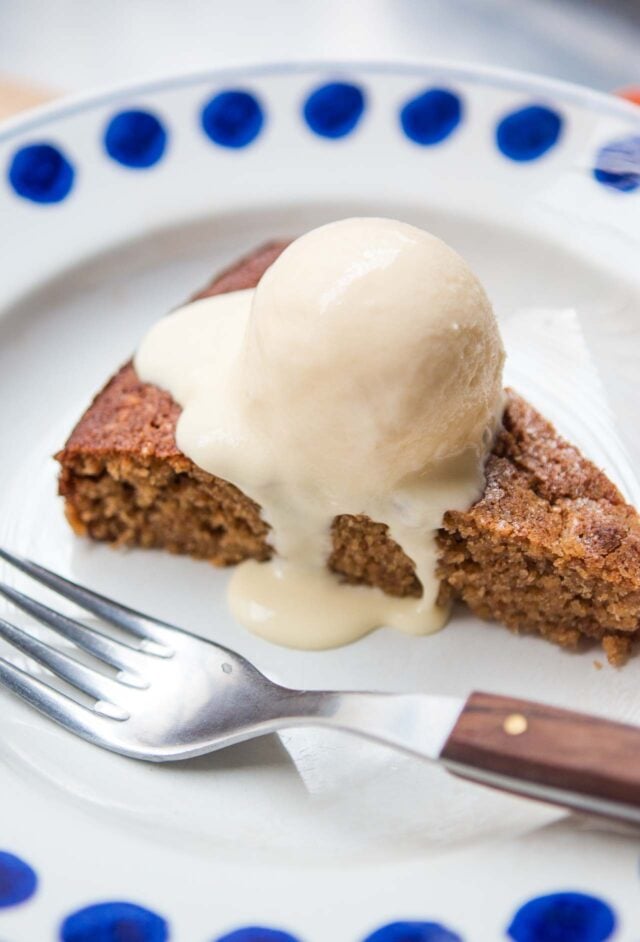 Graham Cracker Cake
Adapted from Relish magazine
I made a few tweaks to the recipe, adding vanilla to smooth things out, a bit of cinnamon to accentuate the spiciness, and dialed back on the salt on top since 1/4 teaspoon was plenty. (And that's coming from a flaky salt lover.) If you do have flaky sea salt, such as French fleur de sel, Maldon, or Jacobsen, use that on top.
This recipe uses spice cookies, which are called speculoos or speculaas in Europe. Lotus biscoff cookies are an internationally available brand and should be available in most well-stocked supermarkets nowadays. You could probably get away with using gingersnaps for the crumbs, which I haven't tried, or just use additional Graham cracker crumbs in place of the speculoos crumbs if necessary, although the speculoos add an especially delicious flavor.
6

tablespoons (3 ounces, 85g)

unsalted butter

,

at room temperature

1

cup (200g)

packed light brown sugar

2

large

eggs

,

at room temperature

1/2

teaspoon

vanilla extract

3/4

cup (75g)

Graham cracker crumbs

3/4

cup (75g)

speculoos crumbs

,

(such as Lotus Biscoff cookies, see headnote)

1/2

cup (70g)

whole wheat flour

1

teaspoon

baking powder

,

preferably aluminum-free

1/2

teaspoon

baking soda

1/2

teaspoon

salt

1/2

teaspoon

ground cinnamon

1

cup (250ml)

buttermilk

2

teaspoons

turbinado or coarse crystal brown sugar

,

(optional) - you could also use granulated sugar

1/4

teaspoon

flaky sea salt (preferable) or kosher salt

,

(optional)
Preheat the oven to 350ºF (180ºC). Butter a 9-inch (23cm) round cake pan (one that's around 2-inch/5cm deep) or springform pan, or spray the inside with non-stick spray. Line the bottom with a round of parchment paper if you'd like, for easier release.

In the bowl of a stand mixer fitted with the paddle attachment (or by hand in a large bowl and spatula) beat the butter and sugar until light and fluffy on high speed for about 3 minutes. Add the eggs one at a time, beating well before adding the next one and stopping the mixer scraping down the sides of the bowl to make sure everything gets incorporated. Mix in the vanilla.

In a medium bowl, mix together the Graham cracker and speculoos cookie crumbs along with the whole wheat flour, baking powder, baking soda, salt, and cinnamon.

Stir half of the crumb mixture into the beaten butter with the mixer at low speed (although I often do the final mixing by hand of cake batters to ensure they don't get overmixed and all the ingredients get incorporated), then stir in the buttermilk, then the remaining crumb mixture. Scrape the batter into the prepared cake pan and sprinkle the turbinado sugar and flaky sea salt over the top, if using. (I recommend it!)

Bake the cake until a toothpick inserted in the middle of the cake comes out clean, about 40 minutes. Let cake cool completely in the pan.
Notes
Serving: Serve the cake at room temperature with whipped cream, ice cream, sorbet, frozen yogurt and/or a fruit compote if you'd like, but it's also just fine on its own. Another option is a dollop of lemon curd that you've folded some unsweetened whipped cream folded into, just enough to lighten it but not too much as that would hide the lemon flavor. The cake would go very well with poached pears or Marsala baked pears, too. Storage: The cake will keep for up to three days at room temperature or could be frozen for up to three months.