"World's Best" Mac & Cheese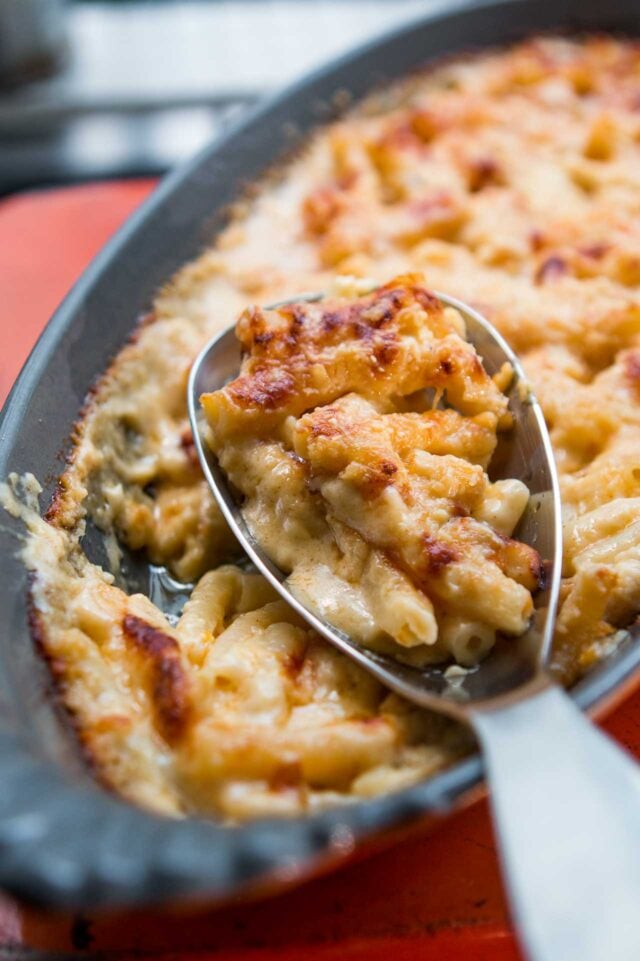 I don't know about you, but there are a few things I need to get off my chest. One is that I can't think of any time when I don't want Mac & Cheese. And two, long before the advent of the internet recipe (and food blogs), words like "world's best" weren't considered clickbait. They were a declaration by magazines, newspapers, and cookbooks that whatever dish that was being presented really was the best version they came up with.
Back in the day, when you said it, you meant it. (Even if, as everybody knows, there isn't just one "best" way to cook or bake anything. Whatever exists, there's always something that comes along that's better, cheaper, faster, slower, etc.) But nowadays recipe headlines scream "Life-Changing Cauliflower," or "Help! I can't stop eating these Oreo-stuffed Red Velvet cupcakes," or my least-favorite, "Top Ten Brownie Recipes…According to Amazon Reviews." I've eaten a few life-changing foods in my life, and I'm not stuffing anything into something else and deep-frying it (unless it's fried chicken stuffed with more fried chicken), nor do I have a lot of faith in a curated selection of anonymous online reviews.
However I did trust food magazines and newspapers, ones that had test kitchens where everything was tested, and tasted, before it was published. A few still do, but I've had some hits and misses with online recipes and prefer to use something where the writer talks about how they made it (so you know they actually made it), and they have a good track record.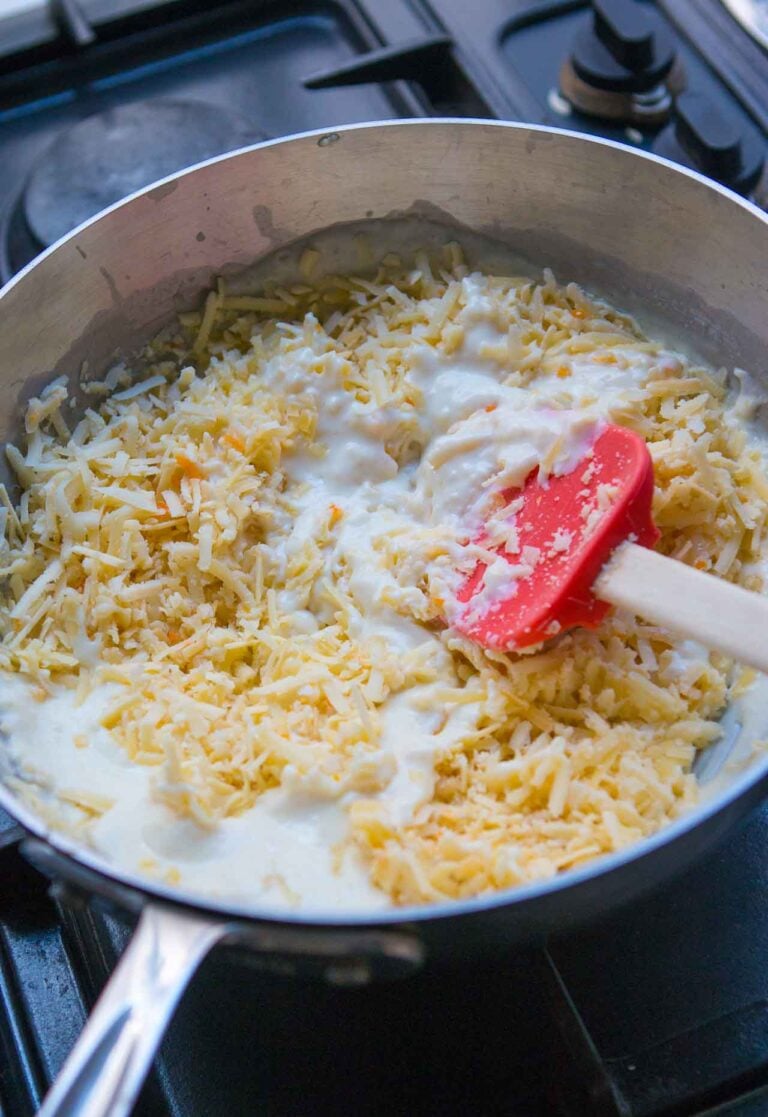 As I work my way through my recipe files that I've been lugging around for decades, this one I plucked from a magazine that was published in 2007. It's based on a recipe from Pure Flavors:125 Fresh, All-American Recipes from the Pacific Northwest written by Kurt Beecher Dammeier, with Laura Holmes Hadda. Kurt was the founder of Beecher's cheese in Seattle, which is indeed right up there with the world's best cheddars. So I had high hopes for this recipe.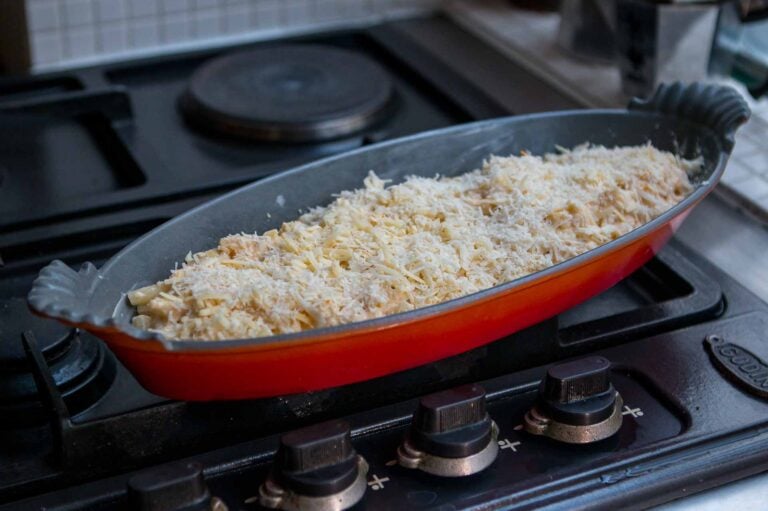 I went to their website and saw they even sell it frozen, which reminded me of when the French frozen food chain Picard had an "American Festival" and featured their Mac & Cheese, as well as a Pastrami Sandwich on a pretzel (also sold frozen, among other spécialities américaines) that included arugula, for some reason, which I bought on a whim.
Defrosted, the arugula wilted into a few flat, soggy leaves, and the lone slice of pastrami underneath them reminded of when Romain ordered a pastrami sandwich at a café in Paris and when he got it, he walked it back into the kitchen to tell the surprised cooks that there wasn't enough pastrami on it, showing him with his hands how high a pastrami sandwich needs to be…based on his actual New York City experiences.
But many foods from elsewhere are better-represented, and even in the land of outstanding fromages, Cheddar has become more available in Paris. Good fromageries offer artisanal brands, such as Neal's Yard, and supermarkets carry passable brands, which I used here, mixed with a local favorite, Comté.
Sharp eyes will notice that mine had a few flecks of orange Mimolette in it, which was leftover from making a double batch of Gougères a few days before, when I had the grating attachment out for my stand mixer and decided to grate a little extra cheese to make this recipe. Cheddar is really good here but if you can't get it (or if you live outside of France and want to splurge), Mimolette is very close in flavor and texture.
I'll have to admit that when this came out of the oven, I treated myself to a big spoonful of it as soon as it simmered down. It bubbled rather violently in the oven and I was concerned about the sauce breaking but instead I was treated to slender tubes of pasta, some crunchy on top, submerged in a creamy, but not devastatingly rich, Mac & Cheese sauce.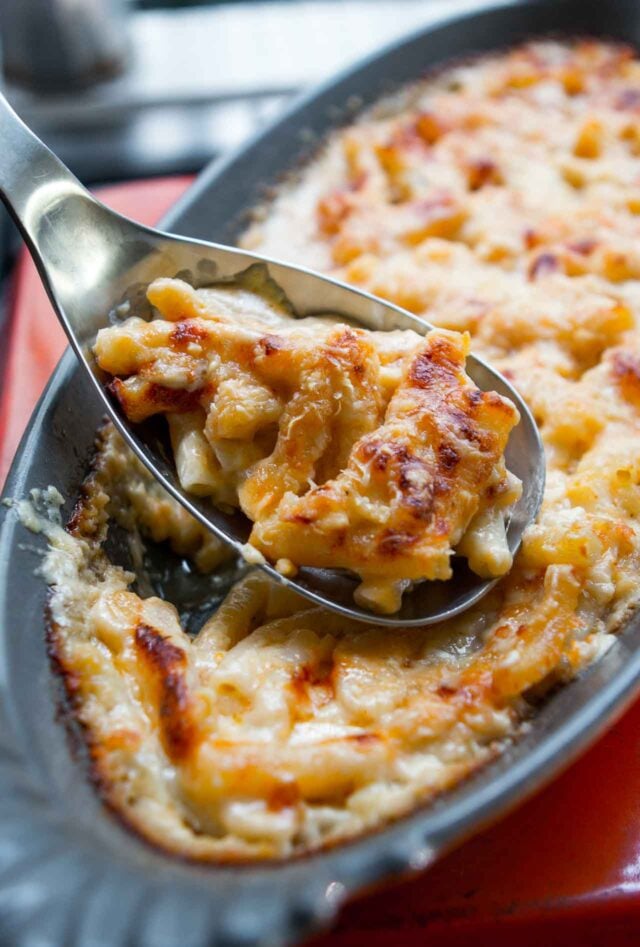 "World's Best" Mac & Cheese
Adapted from Pure Flavors: 125 Fresh, All-American Recipes from the Pacific Northwest by Kurt Beecher Dammeier and Laura Holmes Hadda
I used a combination of 50% mature or sharp cheddar, and close to 50% Comté cheese with a little Parmesan to sprinkle over the top. I skipped the garlic powder listed in the original recipe and cut down the cooking time of the béchamel, and tweaked a few other things.
In place of the Comté, you could swap in Gruyère, Emmenthal, Gouda or another flavorful melting cheese of your choosing, but I'd stick with 50% cheddar if you can. Chipotle powder adds a lovely smokiness, and I went with half the amount of the original recipe, and this was just right to my taste but feel free to add more.
Ridged pasta is usually a good idea with dishes like this but I am on a roll to use up bits and ends of bags of pasta I had, so I used ziti which are similar to what Kraft uses in their Mac & Cheese. If it's good enough for them, it's good enough for me. (And no offense, but this Mac & Cheese is better than theirs.)
2

tablespoons (30g)

butter

,

salted or unsalted

3 1/2

tablespoons (30g)

flour

1 1/2

cups (375ml)

whole milk

,

warmed

1/2

teaspoon

kosher or sea salt

10

ounces (285g)

mixed grated sharp cheddar and Comté cheeses

,

total

1/4

teaspoon

chipotle powder

freshly ground black pepper

6

ounces (170g)

dried pasta

,

such as ziti, elbows, shells, or another favorite shape

1/2

ounce (16g)

grated Parmesan cheese
Butter an 8-inch (20cm) square baking dish or another shallow baking dish with a 6 cup (1,5L) capacity.

Melt the butter over low heat in a large heavy-duty saucepan. Add the flour and stir constantly for two minutes. Slowly add the milk, starting with about 1/4 cup (60ml) at a time, stirring constantly, until all the milk is added. Increase the heat to medium and bring to a low boil, continuing to stir, then cook for 2 to 3 minutes stirring constantly until thickened. (If it appears lumpy you can give it a few strong stirs with a whisk while the sauce is cooking.)

Remove from heat and stir in the salt, 8 ounces (about 2 1/2 cups/225g) of the mixed cheese, the chipotle powder and some black pepper. Stir until the cheese is melted.

Preheat the oven to 350ºF (180ºC). Bring a large saucepan of lightly salted water to a boil. Cook the pasta until it's very al dente, about a minute less than the recommended cooking time. Drain, rinse in cold water, and drain well.

Stir the cooked pasta into the saucepan of cheese sauce then spread the mixture in the prepared baking dish. Sprinkle the top with the remaining 2 ounces (1/2 cup, 60g) of the grated cheese mixture then top with the Parmesan. If desired, sprinkle a little chipotle powder over the top.

Bake for 20 minutes until the mac & cheese is bubbling. If you want the top darker, turn on the broiler and watch carefully, removing it when it gets to the desired brownness. (Don't overdo it, though.) Remove from the oven, let cool 5 minutes, then serve.