Gougeres: French Cheese Puffs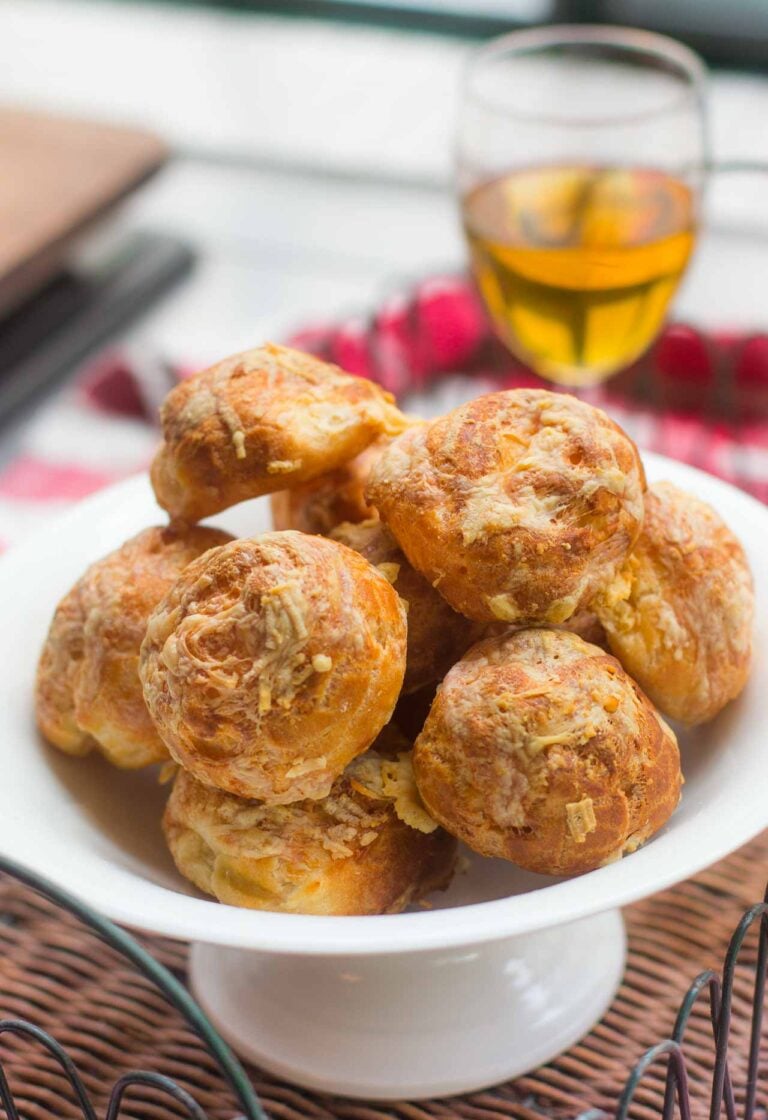 I recently went to a fête for my birthday at a friend's home in the Marais, whose family is renowned for making exceptional French wines. I don't know a lot about wine, but I know that when combined with certain things, the effect is transcendental. Gougères, or cheese puffs, are one of those things.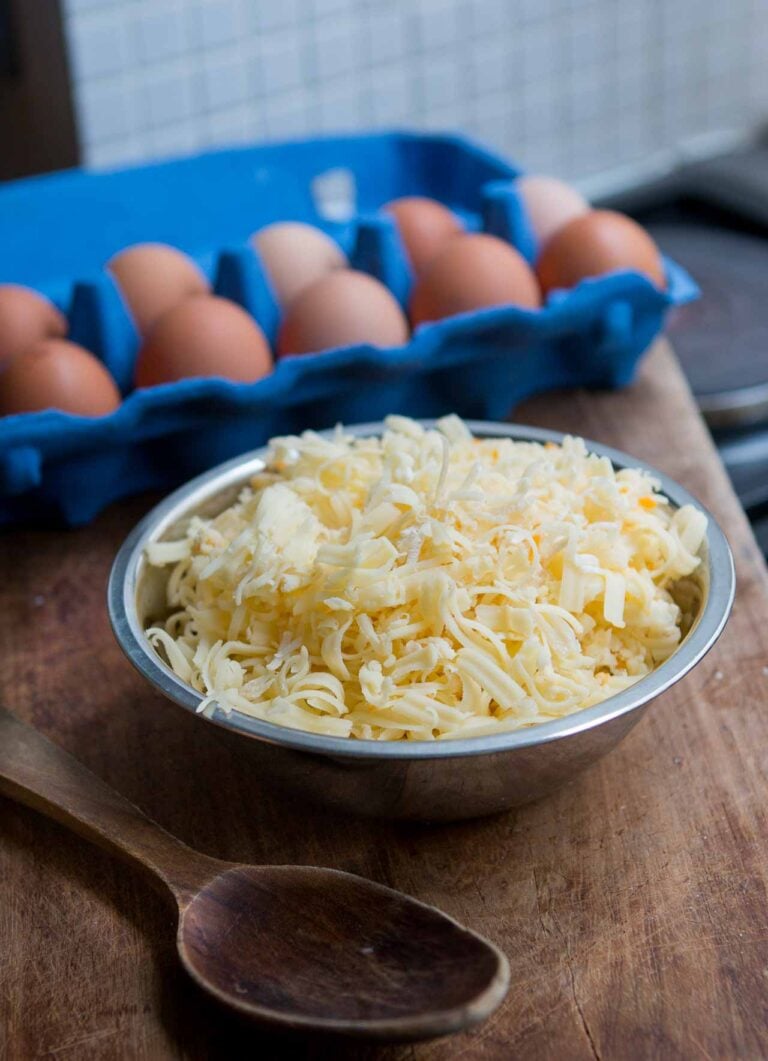 But really, who are we kidding. They're an appetizer that goes with everything! They're truly one of my favorite pre-dinner snacks with wine, beer, or a cocktail.
Known in English as "cream puff dough," gougères are cheese puffs made by folding cheese into the dough, then baking them in little rounds. You can vary the flavor by deciding what type of cheese that you'd like to use. I usually use Comté, Gruyère, Mimolette, or cheddar. The choice is up to you. You can also make them small or larger (or giant). Of course, smaller ones will bake in less time than larger ones. Just bake until well-browned and crisp.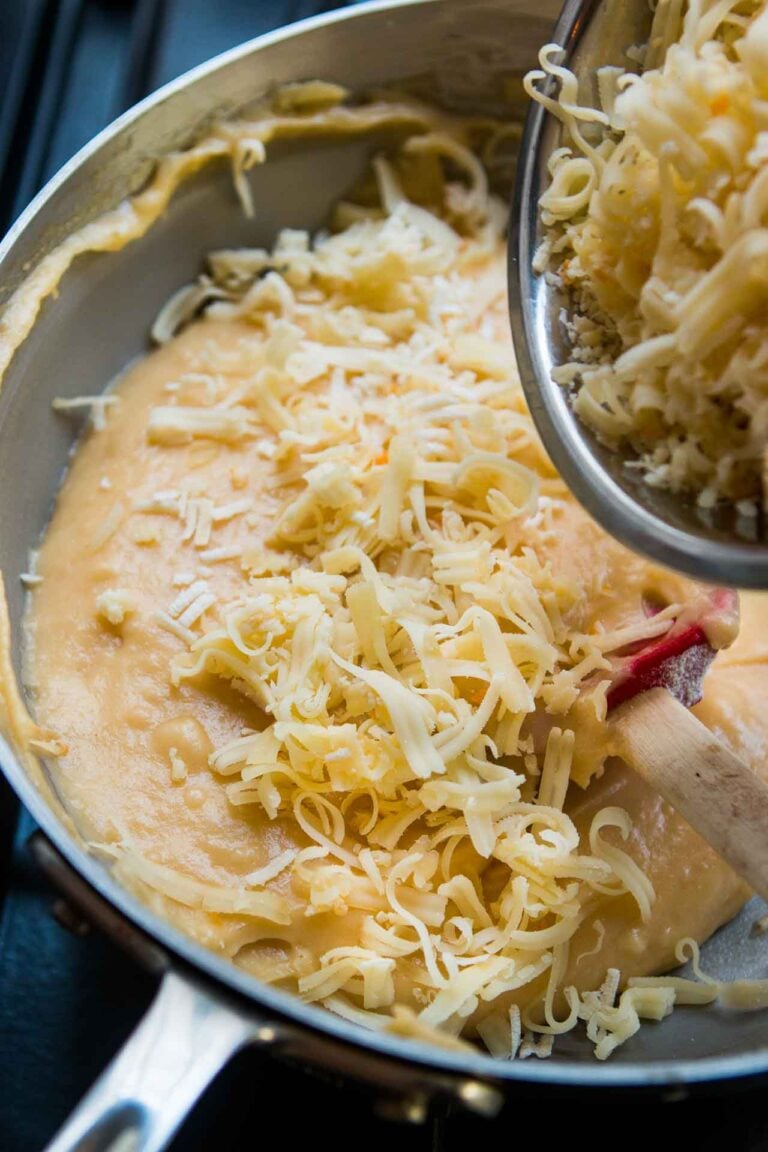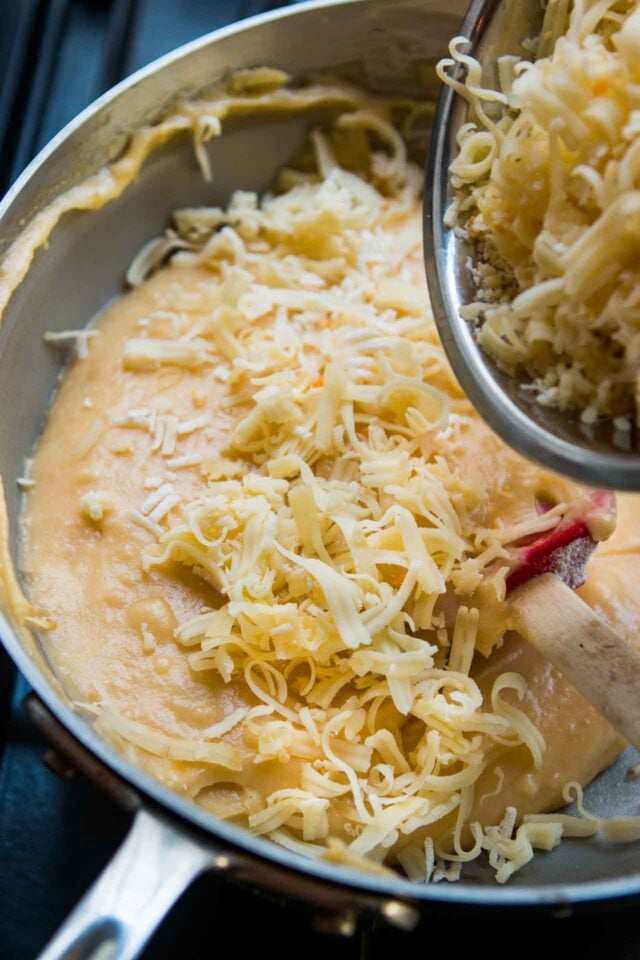 The best thing about this recipe, aside from being easy to make from ingredients one normally has on hand, is that they can be made earlier in the day, which is a good thing for those of us who like to take a break before our guests arrive. A quick reheat in a moderate oven makes them as good as new. For forming the puffs, although some people like to use piping bags, because of all the grated cheese, it's often easier to use a spring-loaded ice cream scoop if you have one.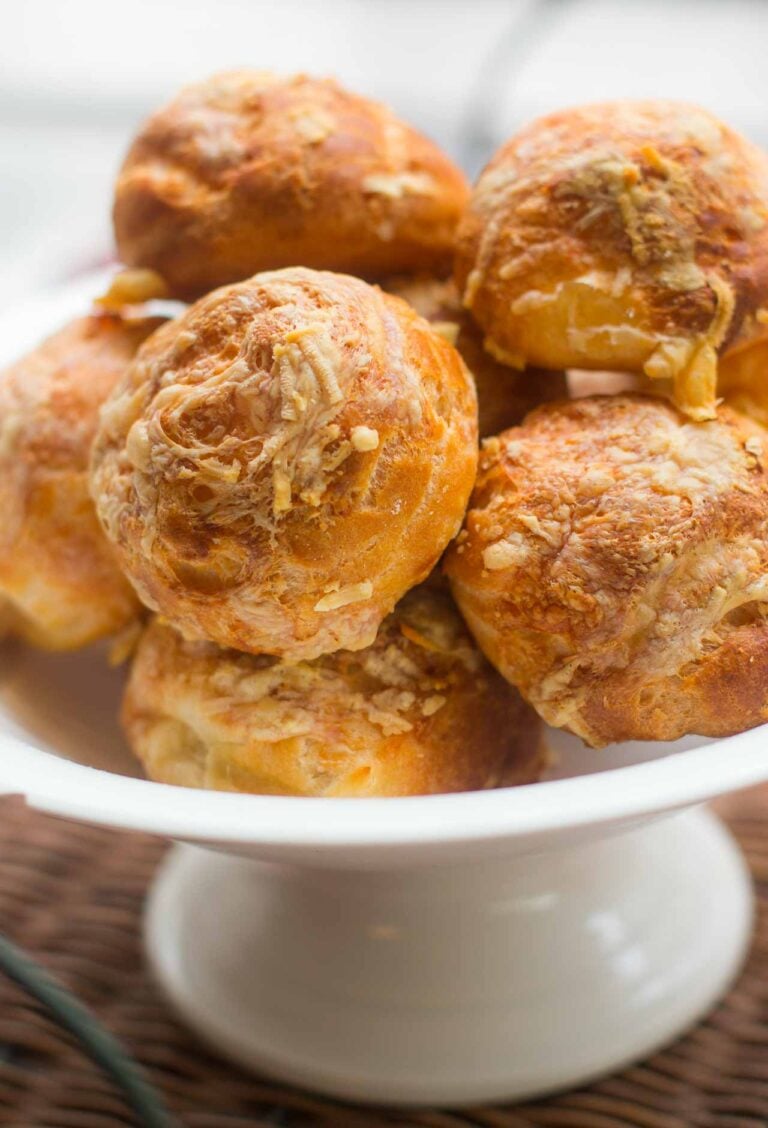 Gougeres
Adapted from
Drinking French
. Three things to keep in mind when making these. One is that you should have all the ingredients ready to go before you start. Don't let the water and butter boil away while you grate the cheese or you'll lose too much of the water. Second, let the batter cool for a few minutes before adding the eggs so you don't 'cook' them. When you stir in the eggs that you do it vigorously, and without stopping. I'm not a fan of extra dishes to wash, but a stand mixer is the best way to mix the eggs in quickly. And third, because these are unabashedly loaded with cheese, they won't rise as high as regular cream puffs, but they will get nice and crispy. Just don't expect them to rise to the same heights as standard choux puffs. Use a strong cheese, such as Gruyere, Comté, Mimolette, sharp cheddar, or a mix of cheeses. You can also add some smoked cheese or a bit of Parmesan to the mix. If you don't have a pastry bag with a plain tip, you can put the dough into a freezer bag, snip off a corner, and use that. Or simply use a spring-loaded ice cream scoop or two tablespoons to portion and drop the dough onto the baking sheet.
1/2

cup (125ml)

water

3

tablespoons (40g)

butter

,

salted or unsalted, cut into cubes

1/4

teaspoon

salt

big pinch

of chile powder

,

or a few turns of freshly-ground black pepper

1/2

cup (70g)

flour

2

large eggs

3/4

cup (about 3 ounces, 90g)

grated cheese

,

(See above for ideas)
Preheat the oven to 425ºF (220ºC). Line a baking sheet with parchment paper or a silicone baking mat.

Heat the water, butter, salt, and pepper in a saucepan until the butter is melted.

Dump in the flour all at once and stir vigorously until the mixture pulls away from the sides into a smooth ball. Remove from heat and let rest two minutes, to cool it down a bit. At this point, you can scrape the dough into the bowl of a stand mixer fitted with the paddle attachment. If you don't have a mixer, let it cool in the pan, stirring it a few times to let the heat escape.

Add the eggs, one at a time, stirring quickly to make sure the eggs don't 'cook.' The batter will first appear lumpy, but after a minute or so, it will smooth out. After the eggs have been added, let cool until tepid. (So as not to melt the cheese in the next step.)

Add about 3/4s of the grated cheese, and stir until well-mixed.

Scrape the mixture into a pastry bag fitted with a wide plain tip and pipe the dough into mounds, evenly-spaced apart, making each about the size of a small cherry tomato.

Top each puff with a bit of the remaining cheese, the put the baking sheet in the oven.

Bake for 5 minutes, then turn the oven down to 375ºF (190ºC) and bake for an additional 20 to 25 minutes, until they're completely golden brown.
Notes
Notes
For extra-crispy puffs, five minutes before they're done, poke the side of each puff with a sharp knife to release the steam, and return to the oven to finish baking.
The puffs are best served warm, and if making them in advance, you can simply pipe the gougeres on baking sheets, refrigerate (or freeze) and bake them shortly before your guests arrive. Or bake them, and reheat the baked cheese puffs in a low oven for 5-10 minutes before serving.
The most common problem people have with pâte a choux, or cream puff dough, is deflated puffs. The usual causes are too much liquid (eggs) or underbaking. Make sure to use a dry, aged cheese, if possible. Because these have cheese in them, and cheese is not a standardized product, sometimes they won't rise so high. That's ok (they even sell deflated ones in French bakeries, too!) - they'll be just as delicious.
Be sure to bake the puffs until they're completely browned up the sides so they don't sink when cooling.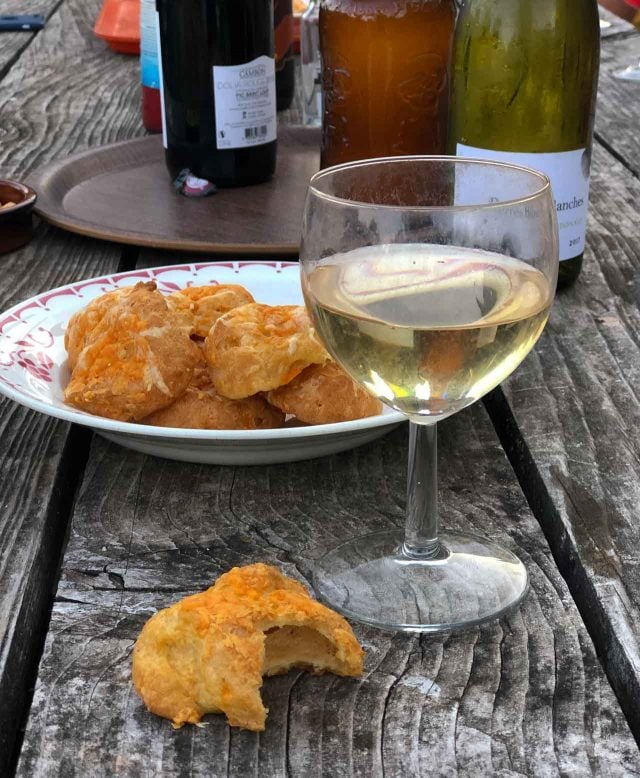 Related links