For a variety of reasons, we decided to extend our twenty-four hour vacation by forty-eight hours. Actually, there were only two reasons: One was that there was a massive heat wave last week in Paris that was roasting us, and everyone else in the city. And two, a friend who lives outside of Paris – who has a pool – invited us to come.
So we drove out of the city, away from the unshaded pavements, the barren open-air markets, and the locked-up storefront, to breathe in some fresh air and float carelessly in a calming rectangle of cooling water. We were in the Yonne, part of Burgundy, which also meant Dijon mustard, gougères, and Chablis.
On arrival, we tumbled out of the sticky heat of the car and hopped into the pool right away to cool down, then our friend called us to the table with a vegetable tart she'd whipped together; a simple pastry dough with a smear of Dijon mustard, sautéed zucchini and onions, then topped with cheese and baked. Basta. Score one for simple French food, and the women who make it!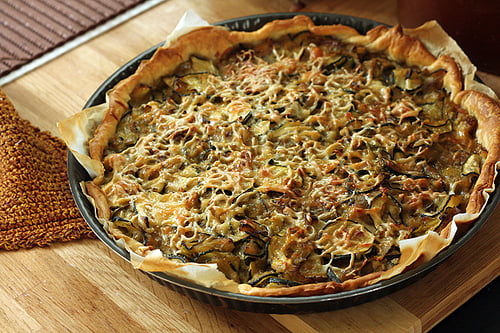 As we ate and drank chilled wine, our friend asked us if we wanted to head to the market in Chablis the next day, which got an enthusiastic "Oui!" and we woke the next day and hit the charming small town that the famed wine is named from. It's funny because a lot of people from outside of France are conditioned to think white wine=Chardonnay, most notably the oaky California kinds. And they don't associate Chablis with Chardonnay. So they're always perplexed when in France, I tell them if they want Chardonnay, order Chablis.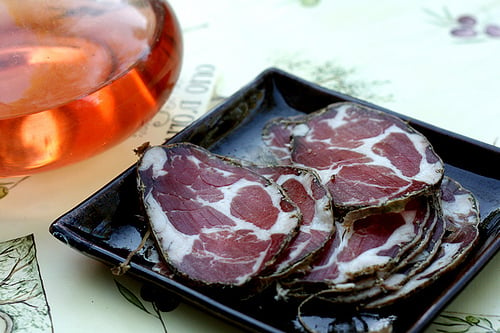 It's like a herculean leap of faith for them to get them to do that, and I usually get a skeptical look – as if the whole world is going to collapse if they don't get exactly what they ordered. (After I mistakenly once ordered a whole plate of steaming tripe, I kind of share their pain. But white wine and tripe are two different beasts and what good is visiting France if you're not going to try some wines that are different from what you have at home? Plus, if you order wine by the cépage, or grape variety in France, very few people will know what you're talking about. I love Chablis and when you're in the region – or not – well, what not?
We strolled up and down the market, which wasn't the best market in the world. Most of the stands had the usual year-round trilogy that you see at markets in Paris: zucchini, eggplant, and hot-house tomatoes. But when I zeroed in one on producteurs (growers) that had what looked to be nice cherry tomatoes, I snagged a basket.
It wasn't until later on, when I was out of the full sunlight and could see, did I realize that most of the little cheaters were picked unripe and not very good. But what was good, and reasonable, was the wine. And when we decided to stop for coffee at 11:30am, all of a sudden, seated in a shady spot under a tree, chilled glasses of Chablis seemed like a much better direction to go in than a hit of caffeine.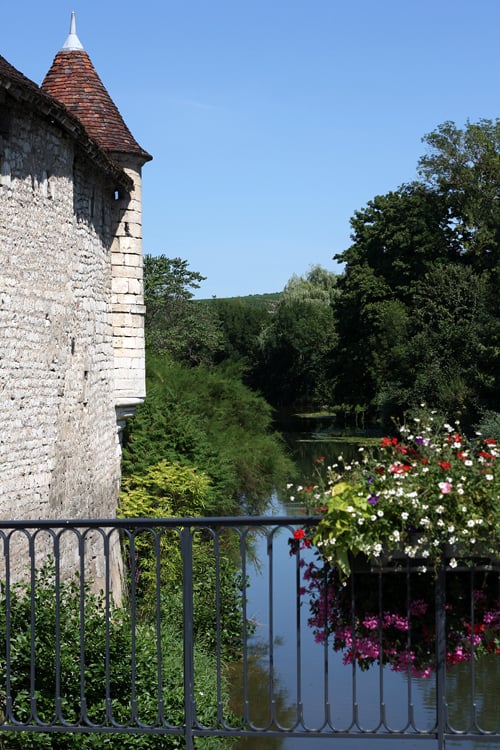 We had three glasses of Chablis, which cost €7,20 – vive la France!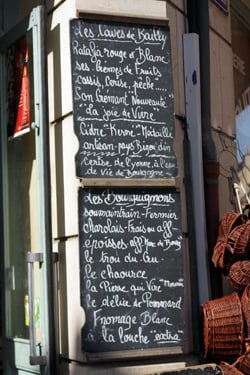 Our friend pointed out that we needed something to snack on with our wine, so she walked back to the market stall that was selling gougères unceremoniously piled up on top of each other, in two big baskets, that I'd remembered seeing. And she disappeared into the crowd for a few minutes.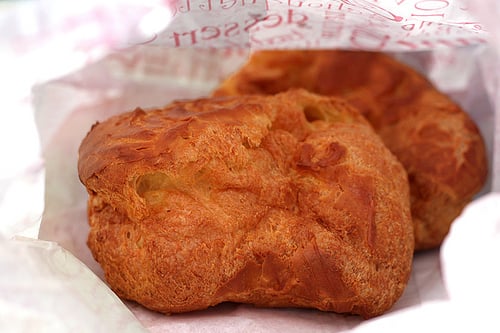 A number of years ago, a food critic pointed out that some cream puffs that we were serving in a restaurant I worked at weren't the pinnacle of crispness. Well, I think she'd have a conniption in Burgundy, where the grapefruit-sized gougères could qualify as burger buns, in a Franco-American mash-up. (Although Gou-burgers doesn't sound as enticing as Cronuts, so don't expect to see them anytime soon.)
When she brought back the bag of warm cheesy puffs, we ripped them apart and shoved the steamy pastry into our mouths. So…so good! But – of course – when we went back to get more, we found….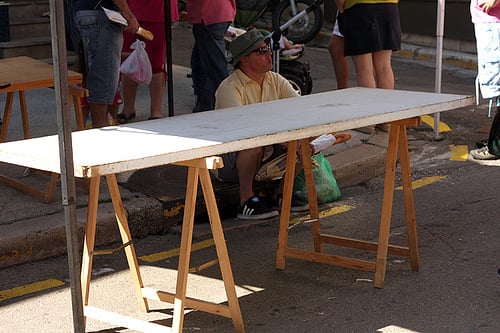 …the definitive rupture de stock. But it started a crusade for gougères for the rest of the trip and we couldn't get enough. The best were slightly deflated, thick and brown-crusted on the outside – and a little gooey and cheesy inside. We usually eat them in smaller sizes since they're cocktail fare and no one can plow through a hamburger-sized wad of cheese bread before dinner. (Although I think I could…) But I was changing my tune on these baked cheese puffs and was happy to try as many as I could.
For those who think les américans are squeamish, I was somewhat fascinated by a woman stuffing blood sausage, standing out in the hot sun. My two French friends, however, declined to go take a look with me and one said, "I don't like to see that."
And I'll have to admit, one look in the bloody pot was enough to make me rethink my decision to take a look as well. Speaking of stereotypes, lest you think all macarons are dainty little Parisian treats that you eat with extended pinkies, our friend also picked up some macarons from a local bakery, which we sampled when we got home.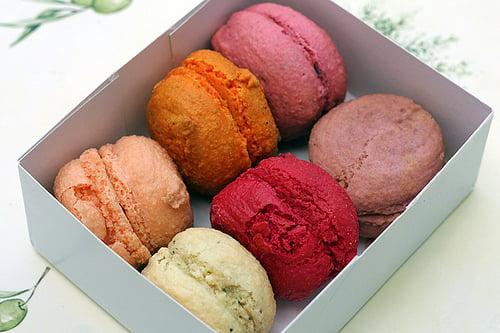 I try not to fiddle with colors so much when editing photos. But to save your eyes from being seared (like I saved your stomach by not showing you what exactly was in that sausage bucket), I did adjust the colors down a bit. Still, if you're feeling light-headed or need to recalibrate your monitor, feel free to do so now. Romain said, "They taste like soap." And with flavors ranging from lavender, to something that tastes like it was ready to be added to the bath water, most of them were left behind. Actually, they went to the dogs – literally.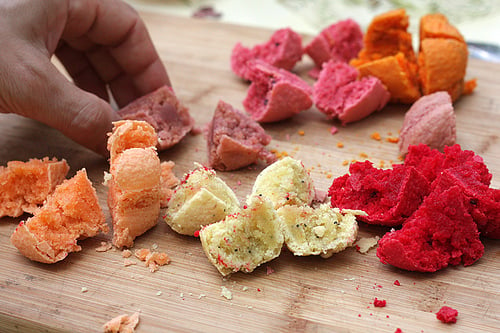 I'm not sure what two-legged creatures would have eaten those macarons, or why they felt the need to add so much coloring, but they had me back on the prowl at the bakeries for gougères, which all seemed to carry.
From the market, I did bring home some wonderful local cheese, which didn't have a name. It's just milk, curdled, then ladled into molds.
They were selling it fresh – or caillée (strained, on the left), where it's similar in texture to firm ricotta and can be sliced. Or as aged cheese, which is still in my refrigerator, waiting to be cut into. It's one of the great things about visiting different regions in France. You can find local products that are made on such a small-scale that they don't make it out of the region. And you have an excuse to drink a lot of the wine, under the guise of being a tourist with a small carbon footprint. I bought both (of course) and the crumbly one was great on the Salade façon greque that Romain made for dinner.
I won't bore you with how fun it was to be splashing around in a pool, how much I want to have teenagers since my friend's kids immediately hopped up after all the meals and whisked away the dishes to wash (and made us adults coffee, too!), or how much saliva a Great Dane can produce.
All too soon, it was time to go home. (Which was somewhat of a relief, since I my shorts were covered with doggie jowl-juice and gougère crumbs.) But it was suggested that we stop in the market of Saint-Florentin on the way home, then head to Auxerre, a beautiful little town which was nearly deserted when we got there.
The market in Saint-Florentin is clustered around a lovely older building that's been renovated and is now rather nondescript inside; outside are people selling jeans, dresses, shoes, and some produce. But inside, I zeroed in on a producer with bins of tomatoes. And I mean, real tomatoes, the kind that grow in the sun, not in hot-houses, bursting with the colors and flavor of summer.
I grabbed as many as I could and put them in a box, and even though the total was €24, there was not complaints as I was happy to have a few day's worth of meals from these sun-ripened beauties. No one had basil – merde, but back home, I unearthed some pesto from my freezer, which made a great meal smeared over the slices. I also recommend leftover gougères to sop up the last of the pesto on the plate, if you have any lying around.
On the other side of the food coin, it's hard for outsiders to understand the appeal of McDonalds in France, until you find yourself in a smaller town or city and the only places to eat are serving sandwiches on pre-packaged bread. As we wandered the streets of Auxerre, I just knew there just had to be somewhere to get some real food for lunch. And while the heat was getting to us, I was not ready to give in to the golden arches. (We did that a few years ago on a road trip because it's impossible to find places to eat on or near the autoroutes. I won't repeat what my other-half said about the food, as it was his first time there, but it made the sausage bucket suddenly look slightly more appealing.)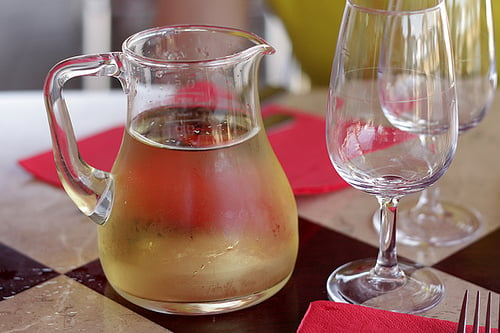 As we marched around the lovely city, we passed a few cafés, although it was nearly 1pm and no one was eating at any of them – which is always a bad sign – until we found one where most of the tables were occupied. (A café we almost settled on, because we were giving up hope, there was a couple slicing into croque-monsieurs that made with slices of fluffy-white sandwich bread. Uh, non, merci.)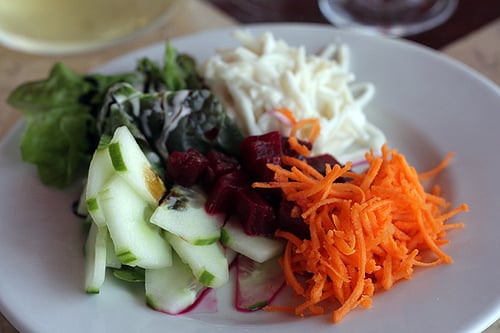 Then we came upon the inaptly-named Le Biarritz (15 place des Cordeliers) and sat down to a lovely little pitcher of Chablis and crudités, a variety of raw vegetable salads. But it wouldn't be France unless they were out of the dish we wanted, which happened to be the plat du jour, but the kitchen rustled up two beef brochettes with potato gratin and a great fruit salad made from real fresh fruit for dessert.
Now I'm home with an overload of perfect tomatoes, a nice round of cheese, and a bunch of fresh basil that I was able to scare up in Paris. All that's missing is a pitcher of chilled Chablis, a big bag of warm gougères…and a pool.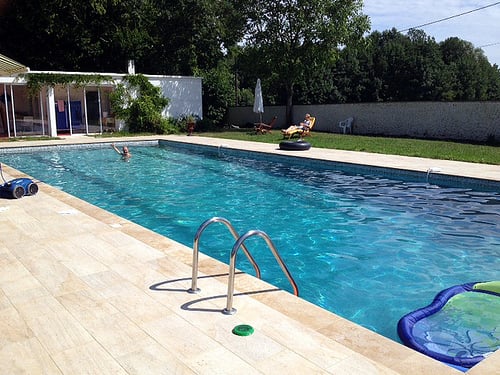 ---

Related Recipes
Zucchini and Ricotta Galette (Smitten Kitchen)
Blood Sausage Recipe (Honest Food)
Greek Salad (Pioneer Woman)
Dad's Greek Salad (Simply Recipes)