Our Tour de France, Part 2
I, myself, have recovered better than my camera's memory card, which is en route back to Sony, who said they would try to recover the rest of my trip photos. (Yes, I tried recovering software, none of which worked. And I passed on local outfit in Paris, who said they could give it a try…for €400 to €1000.) So in lieu of me shelling out the big bucks to get the photos back, I'm going to wait.
And we'll all have to be content with some photos I pulled from my iPhone because as much as I like you all, for a thousand euros, I could spend a week on a beach in Greece — with a hefty budget for Retsina.
(On a related topic, two photographer friends advised downloading and backing up photos daily, using high performance memory cards, and realizing that even new memory cards fail, so keep backing up as much as possible. Storing the photos on an external hard drive, or in a cloud, such as Flickr or Dropbox. Although they aren't fool-proof, they are other ways to guard and store your photos.)
Anyways, where was I? Oh yes, we were heading toward the Loire, where a friend of mine was spending the month. She's a good cook, and an easy-going vegetarian, and I was happy to arrive to find platters of beautiful fresh vegetables and locally produced goat cheeses, which the Loire is famous for. She was also delighted that we brought vegetables from our friends garden in the Lot, which included a fresh piment d'Espelette pepper, typically used in Basque cooking, and something I wish were grown (and sold) closer to Paris. I love them. If only just outside my window, the landing wasn't awash with cigarette butts from the neighbors, I could grow something livable out there.
Arriving in the Loire, we were greeted by more iffy weather, that always seemed to be arriving just as we were. But that didn't stop us from hitting the market in Loches, with a château (another thing that the Loire is known for) overlooking the city.
We bought some lovely wax beans from a local producer, which were one-third the price of the non-local wax beans that Romain had purchased at another stand just before. Miffed, he went back to the other stand to ask for a refund. We stood and watched from afar as they said they were sorry, but they couldn't refund his money for reasons of hygiene. Because he might have touched the beans. I guess the people don't realize how beans are grown, and picked – and how they handle them themselves (ie: with their own hands, which didn't look very tidy to me) – but he gave it a try. Me and my friend were amused. We also wondered what would have happened if we had tried returning something at the market.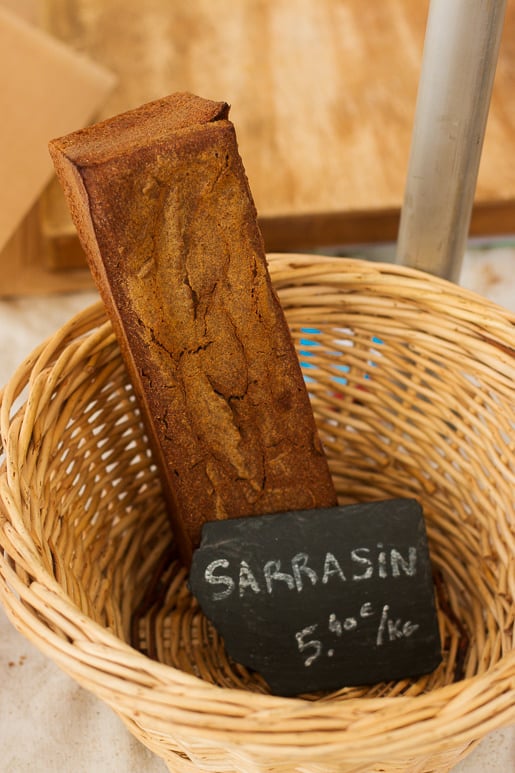 We did get some magnificent, hearty bread from a local fellow that grinds his own flour and buckwheat for his breads. And for those who think that homemade and "local" are more expensive, the breads clocked in at about €2,50 per loaf. We bought two, and they lasted us the whole week. And we eat a lot of bread in France. So like the wax beans, buy local – and save! (And eat better.)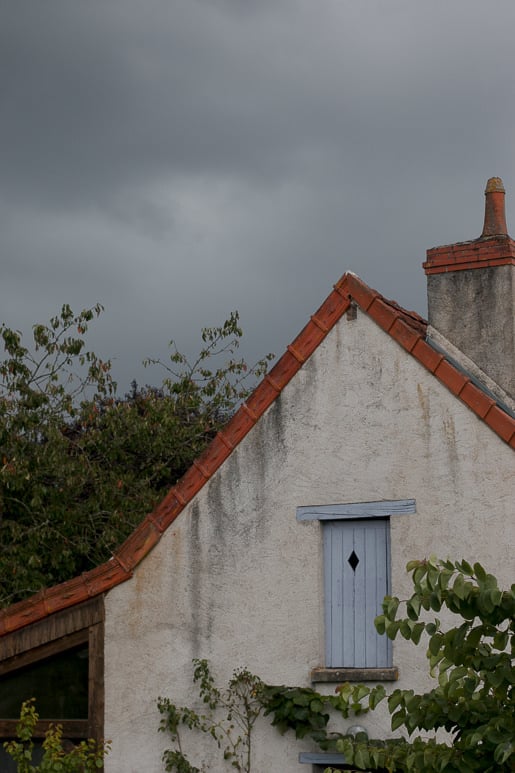 When I was in Corsica, a French fellow asked me why Americans were squeamish about eating rabbit. I didn't know what he was talking about, because I was at a dinner party last year with some Italian, Swiss and French friends, and of the entire bunch, I was the only one who said he ate rabbit.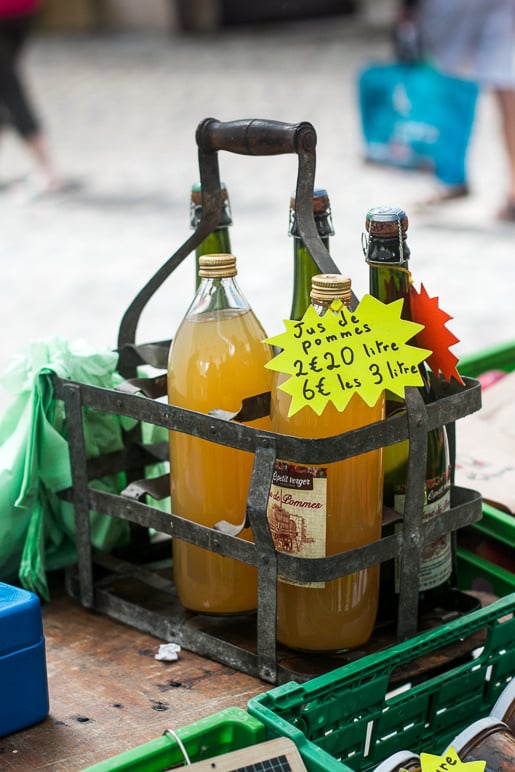 At a stand selling rabbit, I noticed a French publicity sign, noting that rabbit was available already prédécouper, to try to drum up more rabbit sales.
Part of it is the bad image that rabbit has, as cats were eaten during, and between, wartime, and there is a lingering image of cats being passed off as rabbits at butchers &dmash; even today. So instead of selling them whole, with the heads on (to ensure people that they're really rabbits), they're cutting them up and making them more presentable.
Although I like rabbit, I wasn't ready to eat it cru (raw), so we took them home to grill later (above), and we looked for a place for lunch. The restaurant we wanted to go to was having a fermeture exceptionelle, of course, so we wandered a bit around town. A packed corner café looked promising, so we sat down at the last vacant table. After looking at the menu, our easy-going vegetarian friend asked if it was possible to have the Croque monsieur without the ham. Which doesn't really seem like a herculean task to execute. The server went into the kitchen, then came out to tell us that it wasn't possible. After she left us to study the rest of the menu, Romain wondered aloud if the sandwiches weren't only pre-made in advance (since it would have been a snap to not include the ham), but pre-cooked as well.
It never crossed my mind for a restaurant to buy pre-made sandwiches. But after a little too much back-and-forth with the server, and the kitchen, trying to get a simple dish without meat (you would think being in the middle of goat cheese country, there would be at least a goat cheese salad on the menu…), I saw two plates of "Quiche Lorraine" land on tables. Each was an eerily perfect 360º circle of a tart, without a single aberration, making it obvious that human hands had never touched that quiche. (And likely the rest of the food in the café. Although that probably would have pleased the wax bean stand owner.) So we decided it was probably best for us, and them, if we went elsewhere.
Happily we did, and found ourselves at La Loir en Tonneaux (29, Grand Rue, Loches). True to the motto on the window, the owner was super nice, and went out of his way to make sure we ate and drank well.
We had terrific platter of goat cheese from local producers – including a pyramid-shaped beauty called Valençay. Reportedly, it was presented to Napoléon as a full-on pyramid, but he was still smarting from losing a conflict with Egypt and when presented with the cheese, he angrily lopped the pointed top off with his knife.
The charcuterie platter was especially good, with tender bits of confited pork, local sausages, and the best rillettes I've ever had, which they told me were from the Charcuterie Berruer (5, place au Blé), and gave us directions to go there after lunch.
Normally rillettes are packed in an overload of fat. But these particular rillettes, tasted as if someone cooked down a batch of pork until it was soft and meltingly spreadable, and packed it into containers. Wow, were those good. (There's actually a confrérie, or brotherhood, to a exalt the rillettes from the region with some recipes on their site. I couldn't find a similar-sounding recipe to the one we had anywhere. But here's a recipe for pork rillettes if you want to give 'em a go.) I brought a big tub of them to bring as a gift to our hosts at the next place we would be freeloading. I mean, the next friend's place where we would be staying.
Another treat we had was a tin of Rödel sardines. (Warning: Site opens with a video.) They're pricey little fishies, but boy, are they good! I may need to go to the La Grande Épicerie in Paris, after as stop at the pawn shop, to pick up a few tins.
We Americans may have our food trucks, but the Loirois (sp?) have their hardware trucks. And this one also sold wine. Which happened to be en promotion (on sale), the day we passed it. Hence the crowd gathering as they opened.
And for anyone who dreams of moving to France, at least one-third of the houses in the Loire that we passed were empty, and up for sale. So you could have a picturesque little home in a sweet French village for what wouldn't even buy you a closet in Paris. We passed a street of deserted storefronts and I dreamed of opening a few little shops, including one that could become a desserted store front.
Speaking of big dreams, it's impossible not to visit at least one château in the Loire. There are certainly plenty of them, and everyone has the one that you must see. But we were near to Château de Chenonceau, and went there. Our friend said to prepare for massive crowds. And while we certainly weren't the only ones visiting, it was a pleasant visit. (For €12,50 per person, it should be.) The kitchen was the best part.
Even before Pinterest, people were collecting rustic cutting boards…
And it's nice to see that even back in the old days, someone shared my inability to stop collecting vintage kitchenware…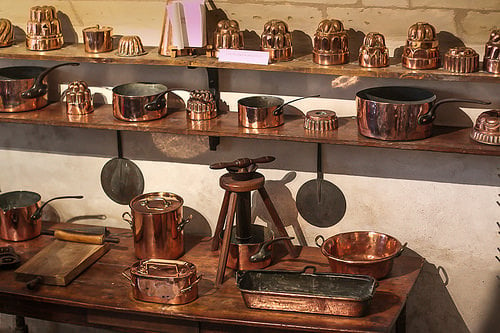 During the First World War, the kitchen was turned into a hospital, which conjures up some, uh, interesting images indeed. But according to the château's literature, it was fitted with modern medical equipment. (Well, modern for 1915.)
The château dates back to the 16th century, and while the place was beautifully restored and preserved, stepping into the public restroom was like a trip back to the 1515. Honestly, for €12,50 per person, you would think they could have someone clean the restroom a couple of times a day.
[No picture here. On purpose.]
Before we left the Loire, we stopped at the Ferme-Auberge La Lionnière for lunch in the countryside. After driving through lush fields (due to all the recent rain, which at least was good for the grass…), we pulled up to a big garden bursting with tomatoes on our right, and a barn that normally holds their goats on the other side.
The three of us love goats — what's not to like? — but they were out in the fields, munching away on grass, having already been milked that morning for the spectacular goat cheese they make and sell in their shop. So we weren't able to pet the sweet goats, which, like most animals (including me), put food before anything else. And they weren't interested us with all that lovely green grass around.
Further proof that vegetarian food doesn't have to be limited to trying to coax restaurants to remove ham from pre-made sandwiches before serving, we had a splendid lunch on the farm.
Big, generous beignets of goat cheese were excellent, and had me craving a pot of spicy sauce to dip them into. The meaty pâté was fine. But paled next to those warm cheese puffs. Fortunately vegetarians not only like to eat well, but are nice about sharing.
The owners happily made an omelet, cracking a few eggs from their neighbors, and roasting some tomatoes they'd just picked from their garden.
We were served a chevreau (kid goat) from their herd of biquettes – which is slang for goats, in French.
Before dessert, there was a nice sampling of goat cheeses as well. All were terrific.
After bisousing our friend in the Loire goodbye, it was time to head to near Burgundy, to stay with our French gal-pals who live in Asia, but come back to France every summer with their four extraordinarily well-behaved kids. Our friends don't have a garden, but they have a pool, which kind of makes up for it. (And those kids do an amazing job washing the dishes after dinner…without being asked!) The first night our friends fed nineteen people, including four hungry teenagers visiting from England, without breaking a sweat.
My favorite souvenir of our last visit to Chablis, and the town of Saint-Florentin, were the jumbo gougères. Unfortunately our favorite baker was on vacation, just like the rest of us (and this was about the point where I lost all the photos on my memory card) so we had to scrounge around for some elsewhere. We found some, just next to a café by a fountain – where a market vendor apologized to us because his truck was blocking our view of the historic fountain (!)
And it was certainly nice of the café waiter, who asked if we wanted large or small glasses of wine, to go alongside, which he poured tableside. Since it was mid-morning (hey, it's France…lighten up..), we went with the smaller ones, which he filled up as much as he possibly could.
Our friends bought some lait cru (raw milk), which they promptly brought to a boil when they got home (!)
We picked up a farmload of cheeses, which Romain later made a spectacular nectarine and apricot tart with passion fruit jam that our friends brought from Asia, underneath. And I fondled the gorgeous summer tomatoes, wondering how many cases I could fit in the car (which was filled with bags of vintage kitchenware that I'd picked up along our 2 1/2 week trek across France), to bring back to Paris.
It was also great having an open fire to grill over, one of the perks of being in the country. (In addition to trucks that deliver wine that's on sale.) Romain grilled off three hefty côtes des bœufs that he studded with garlic, and I chopped up bunches of fresh herbs to make a lively chimichurri sauce, which visibly frightened a few of the older folks in the group, when I told them I was making a sauce that had chiles in it. (However, everyone ate it all up without complaint.) And we feasted on yet another tomato salad, using as many as we could before we had to return to Paris.
Like great tomatoes, another thing that you don't find easily in Paris are horses. The last (and only time) I rode one, I was in upstate New York and as soon as I got on, the horse took off at full gallop before I could barely grab the reins, racing through the woods, sideswiping trees – which my legs didn't appreciate – while my friend yelled after me, "Control the horse! Control the horse!" Um, it doesn't take a rocket scientist to realize that when you are on top of something that weights five times what you do, and is fifty times stronger, who is the one that has control of the situation. After the harrowing ride, I managed to get off…and I wasn't all that anxious to get back on to a horse, ever.
Depending on who you ask, perhaps it's a good thing that the photos of me riding a horse were lost on the memory card. And while it took my friend's 9-year old daughter to teach me how to tame a horse (she stared it down before I got on, with the fiercest determination I'd ever seen), I got hopped on, which I learned how to jump on without scaring the sh*t out of the horse. We galloped and trotted about until I'd had enough, and let the horse go back to the field with her friends, to munch on grass and shoo flies away with its tail. I went back to nurse my injuries. (Obviously whoever designs horse saddles doesn't have testicles.) But chocolate-covered madeleines helped me recuperate. [No photo : ( ]
Our post-ride, and last lunch, was Chicken Lady Chicken (from My Paris Kitchen), which Romain grilled off, while I waited for the pain killers to kick in. Our friend made an excellent dessert by whipping mascarpone with a bit of sugar, crumbling speculoos cookies over the top, and topping it with sugared blackberries that he son had picked outside. (Note: I am going to be checking Ebay.fr to see if I can buy some of those French kids.)
Then it was finally time to leave our friends and head home. One clue was that my French friends – and Romain – were starting to speak French like me. (Yikes..) And another was the dwindling daylight hours, signaling that summer was winding down, and it was time to go back to Paris.
We hit the autoroute…and drove as fast as the speed limit would allow on certain sections…
And stopped at some of the rest stops, my favorite being the one with the space-age, retro feel.
Less-favorite were the ones with fast-food restaurants and shops selling prepacked sandwiches and snacks, where it was easy to tell we were getting closer to Paris by the chain-smokers clustered around the entrances…
…and I got body-checked a couple of times, trying to make it to the restrooms inside.
After living in cities most of my adult life, I sometimes wonder – after spending so much time in the beautiful villages and small towns in France – if life would be calmer out there. If I had a garden, I could eat my own tomatoes every day in the summer. (Although after recently reading the hilarious The $64 Tomato, maybe not.) But what if, instead of people racing — and pushing — past me, I got to pet the friendly goats, and eat luscious cheeses from their milk every day? I could buy my cheeses directly from the producers, and get raw milk (and pasteurize it myself), if I wanted to. And I could have picnics by a lake, whenever I wanted to.
Someone could go out and pick wildflowers to give to friends. (And to me!) #keeper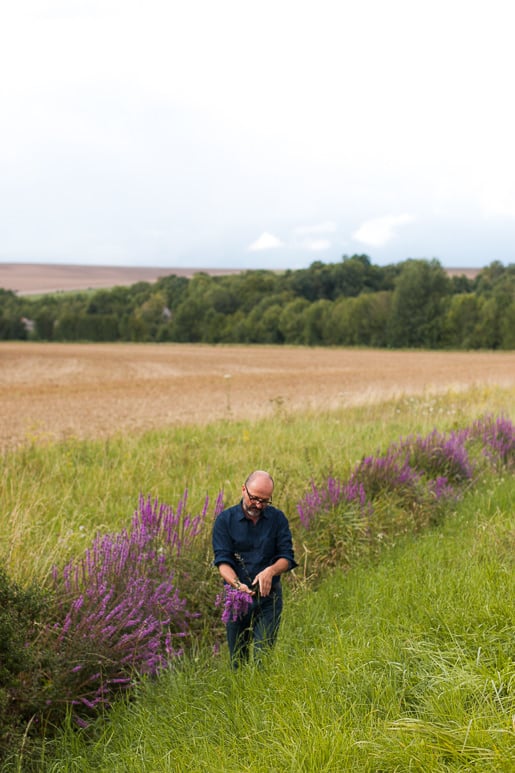 I could open a stand selling oversized gougères, like those in Chablis, since every place we went to was sold out by midday, and I think there's a niche out there for cheese puffs that are available in the afternoon. And I could drink overfilled glasses Chablis alongside them. Even on a weekday morning, at 10:30am.
The horses? Well, you can keep them. But I wouldn't mind a few well-behaved teenagers to wash dishes and pick fresh fruit and berries for the desserts. And a 9-year old, to whip everybody into shape.